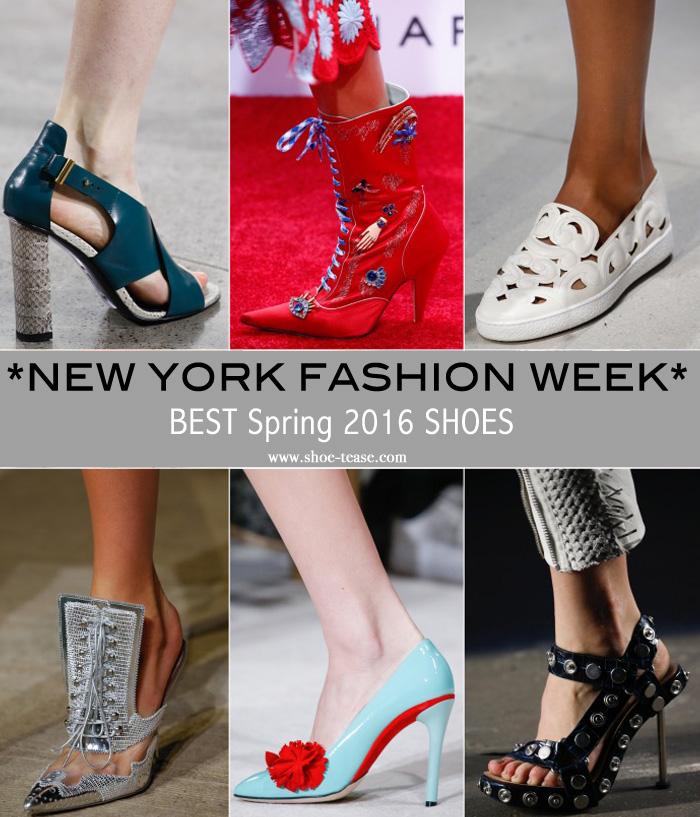 Best Spring 2016 Shoes – New York Fashion Week
I usually do a recap of the Women's runway shoes referencing specific shoes trends each season. This time around, I'm doing things a little differently. How? By segmenting the most notable shoes, footwear collections & trends derived from each major fashion city, before the macro shoe trend lineup goes up. First up: New York City!
Because New York Fashion Week kicked it all off, let's have a look at what I deem the most interesting & shoe blog-worthy Women's designer collections up for Spring 2016. But first, let's talk shoe trends from the most famous Fashion Week in the USA, shall we?!
NYFW Spring 2016 Shoe Trends
I can't say the Spring 2016 shoe trends spotted on the runways of New York City are entirely new this season. What I can say is that statement-making shoes are in, even when designed by minimalist brands such as Jason Wu & Calvin Klein. Platforms continue going strong, but the VERY chunky heels from Fall/Winter 2016 have been taken down a few notches.
There's a serious divide between extraordinarily fun & whimsical shoes (Marc Jacobs, Givenchy) to more understated architectural designs (BOSS, Proenza Schouler). From looking at all of the NYFW shows (not all could be featured here!), I'd say the top shoe trends for Spring 2016 from New York are as follows:
3D Embroidery: beading & various adornments
Flat laces & straps go one step further, with corsetry detailing seen on all types of footwear
Athletic footwear: sneakers & après-workout sandals. Many with thicker outsoles.
Espadrilles-style shoes
Pointed toe shapes
Victorian booties
Western inspired ankle boots
Floral prints
Kitten heels: these seem to be making a comeback & I'm not sure how I feel about it!
Best NYFW Shoes from Spring 2016
Oscar de la Renta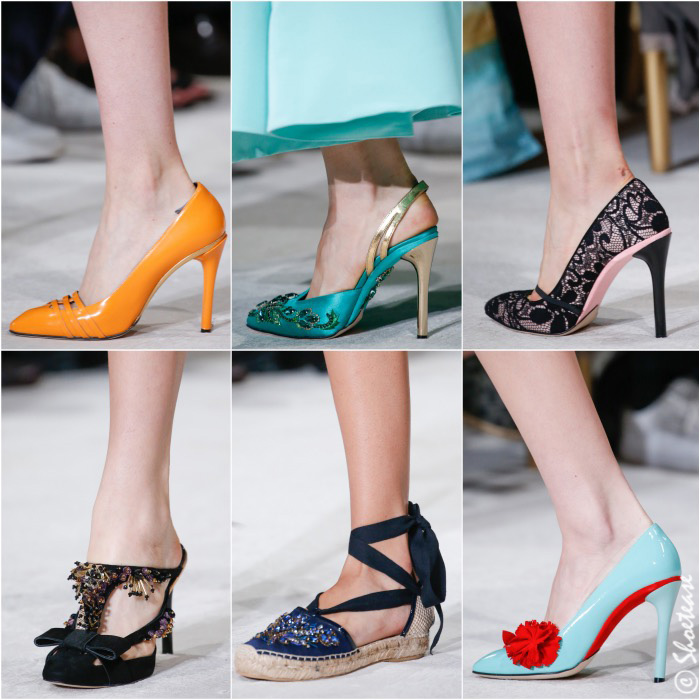 Love the mostly simple pump & espadrille shapes doused with colorful uppers & a large helping of embellishments. The pale turquoise pumps with red flower & partial outsole (wonder if Louboutin will be bothered?!) is my personal favorite. Feminine shoes at their best, even in this gender-neutral social climate!
Tamara Mellon – Spring 2016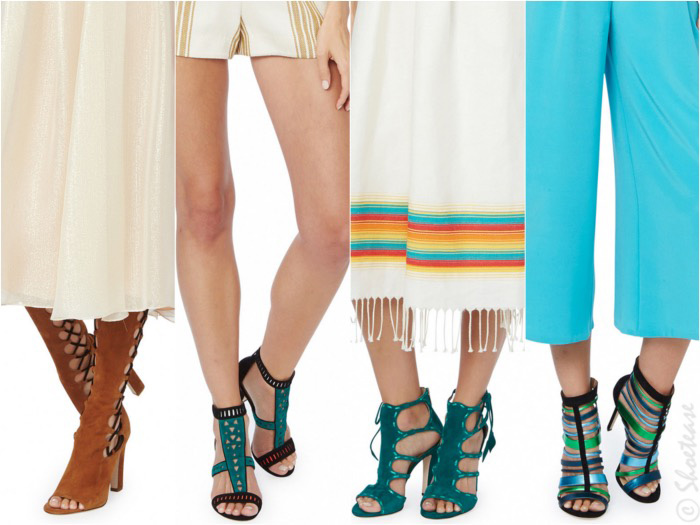 Love seeing a footwear-heavy collection & not surprising from Tamara Mellon. You know, the Shoe Queen & all! Her Spring 2016 shoe collection is fresh, wearable & the blends of blues & greens are utterly divine.
BOSS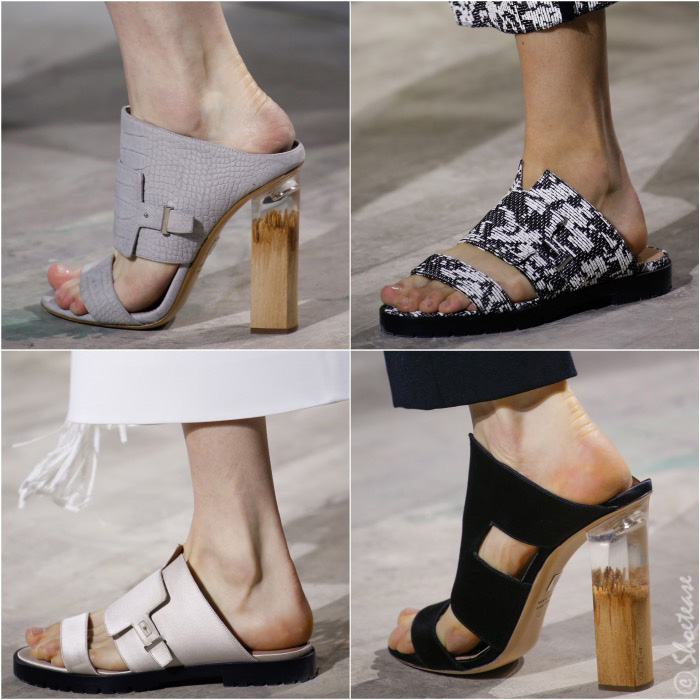 Minimal but anything but simple! Suffice to say that plexiglass hybrid heels are still in! These styles are completely wearable, but I don't know what BOSS what thinking with its crazy high heels on its mules this Spring 2016 season. Maybe they'll scale them down for retail.
Marc Jacobs – Spring 2016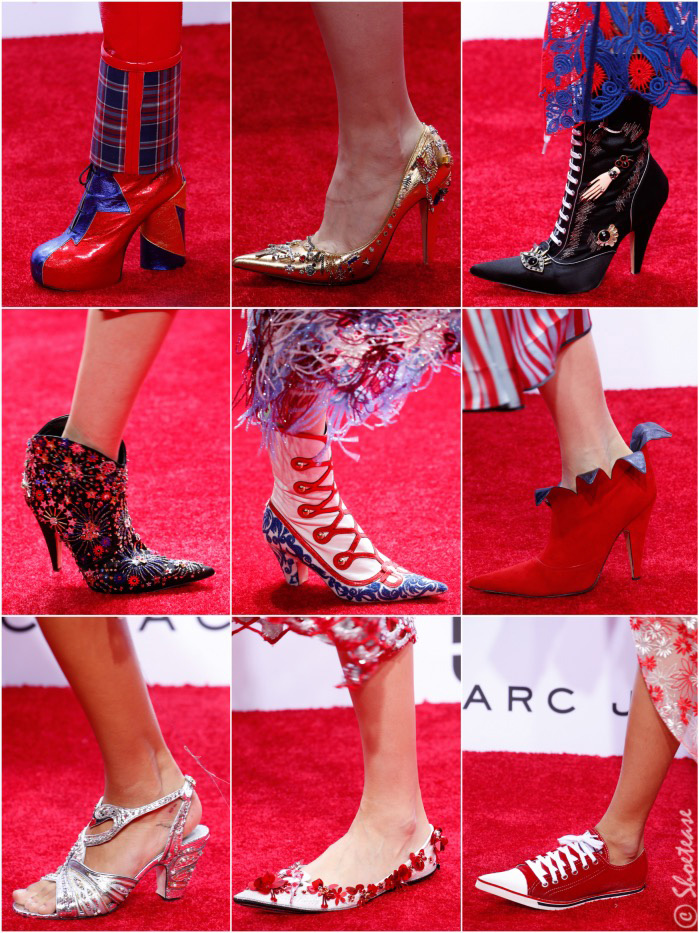 Possibly the craziest designer shoe collection from the Spring/Summer 2016 runways was surely that of Marc Jacobs! With an astounding amount of shoes & throwbacks to a fictional Victorian era & 70s disco, there was nothing short of suprising. Maybe the pointed toe Converse-inspired sneaker was the tamest of them all. What about those baby doll hands sewn onto the ankle booties though?! Completely spectacular & awful at the same time, Marc Jacobs definitely put on a shoe show to remember!
Alive+Olivia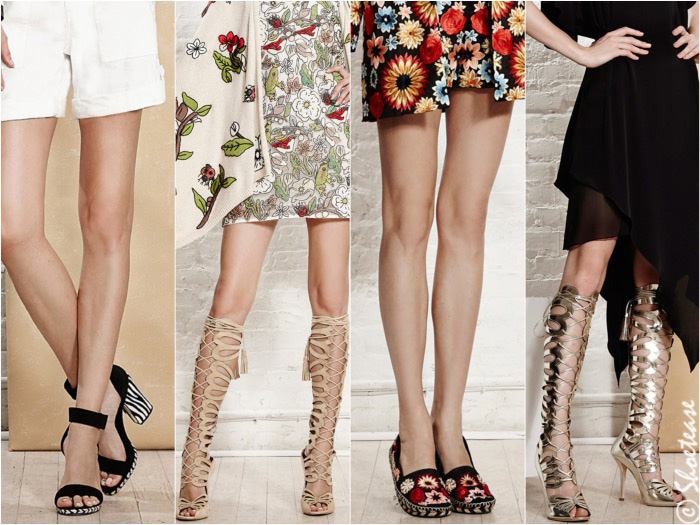 Nothing tame at Alice+Olivia for Spring! Slip-on flats are heavily embroidered, heels are patterned & the caged high heel lace-up tall gladiator sandals are fantastic! Although they eerily resemble Sophia Webster's gladiators from last season.
Alexander Wang – Spring 2016 Shoes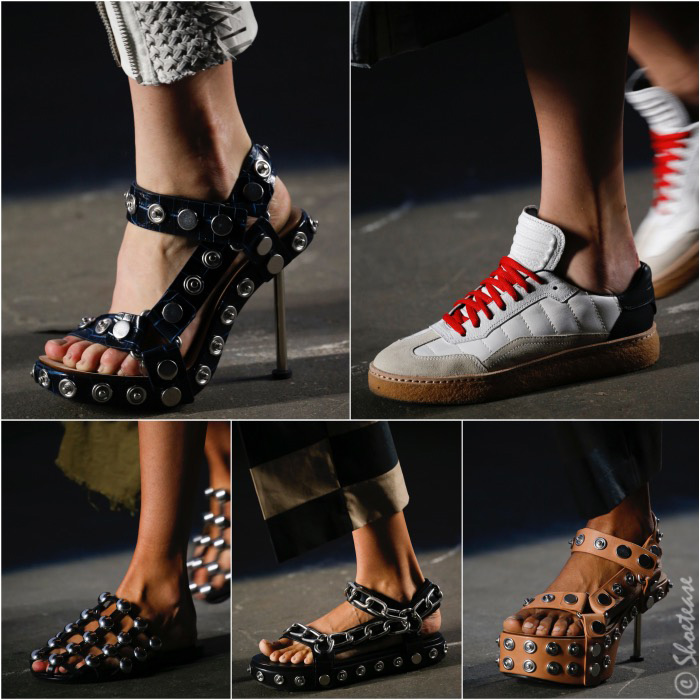 As a huge studded shoe lover (did you see my post featuring these studded heels?), there is nothing for me not to love about Alexander Wang's Spring 2016 Women's shoes. Some of the "studs" are actually snap buttons, but no less glam & rock 'n roll in nature. The chain detail Teva-like sandal is insane & cage slip ons with huge baubly studs are tremendous. Not sure about the enormous platforms paired with the stiletto heels, though. A definite improvement from Wang's Fall 2015 shoe collection.
Givenchy – Spring 2016 Heels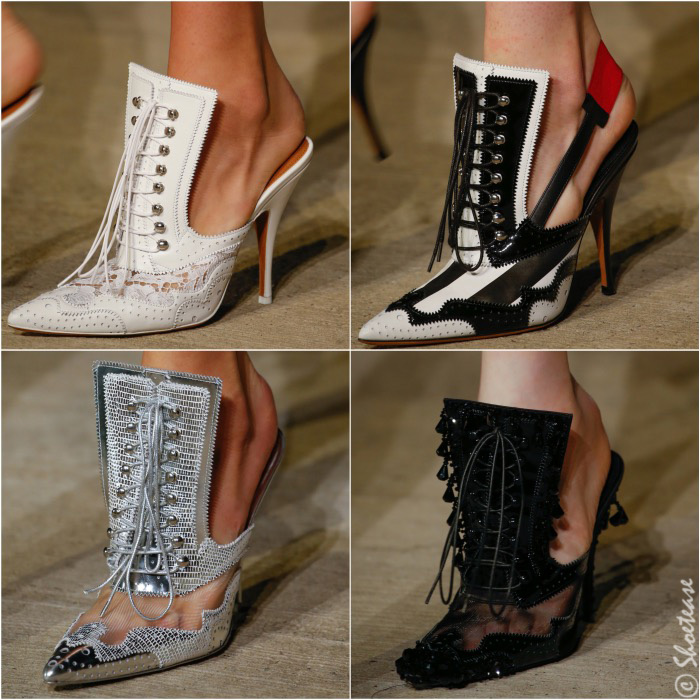 Possibly the most loved of all Spring 2016 shoe collections is Givenchy's take on the Victorian era bootie. With its mixed materials & backless designs, loads of creative genius was at play over here! My fave pair is the silver lace up non-bootie mule. What a statement those would make paired with a white shirt dress!
Cynthia Rowley – Spring 2016 Footwear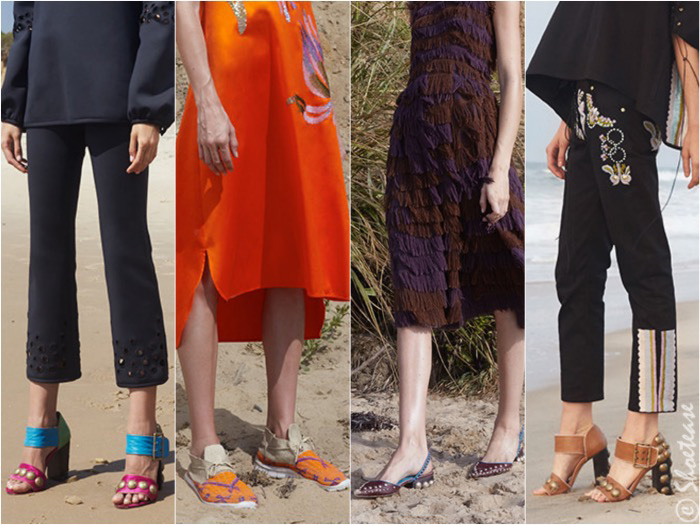 The ENORMOUS studded heels on Cynthia Rowley's sandals has me dying for a pair for Spring 2016. The color blocking, the large hardware…just stellar. Probably one of my fave New York Fashion Week shoe collections for Spring 2016! Even the sneakers are pretty cool!
Jason Wu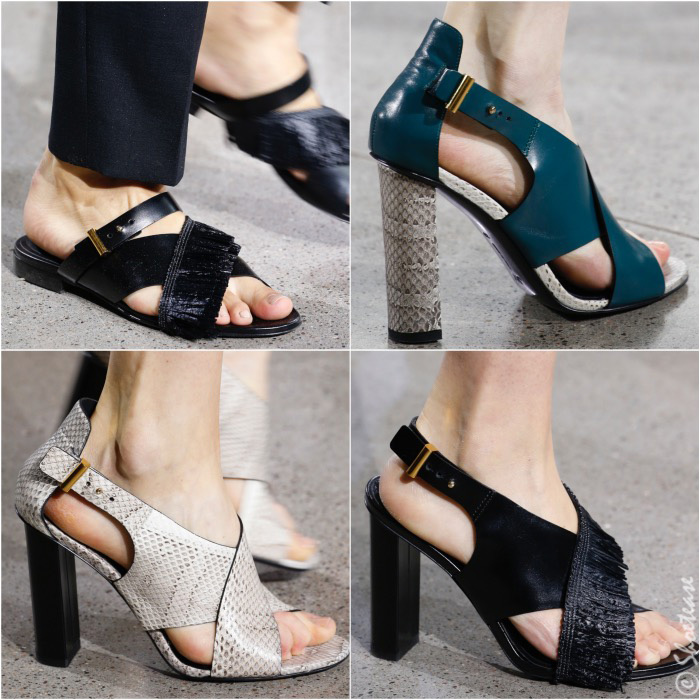 Seriously, Jason Wu & BOSS's Spring 2016 Women's shoe collection could have been designed by the same person. Oh wait, it was! Jason Wu surely left his linear & "clean" aesthetic on both his namesake & BOSS labels. Both are equally gorgeous, but Wu's own collection is a tad bit easier to wear.
M Missoni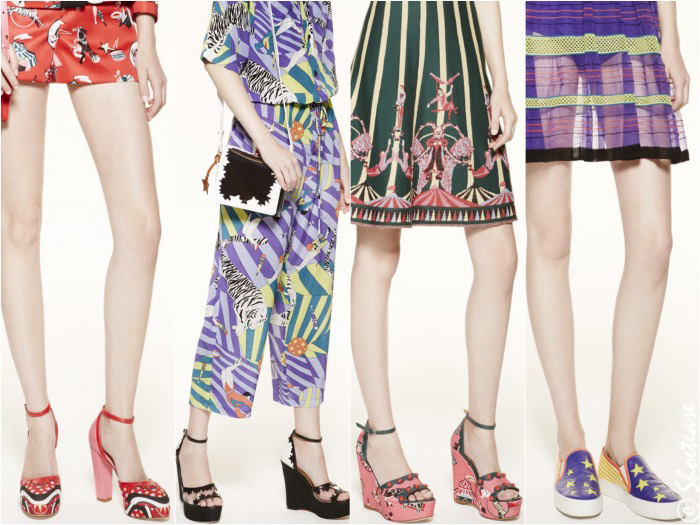 M Missoni's shoes are a riot. Less crazy, but just as colorful as Marc Jacobs', Missoni's more casual line does fun, flirty & wearable shoe styles so well for Spring 2016. Love the pink printed wedges with green accent & little red baubles!
Calvin Klein Collection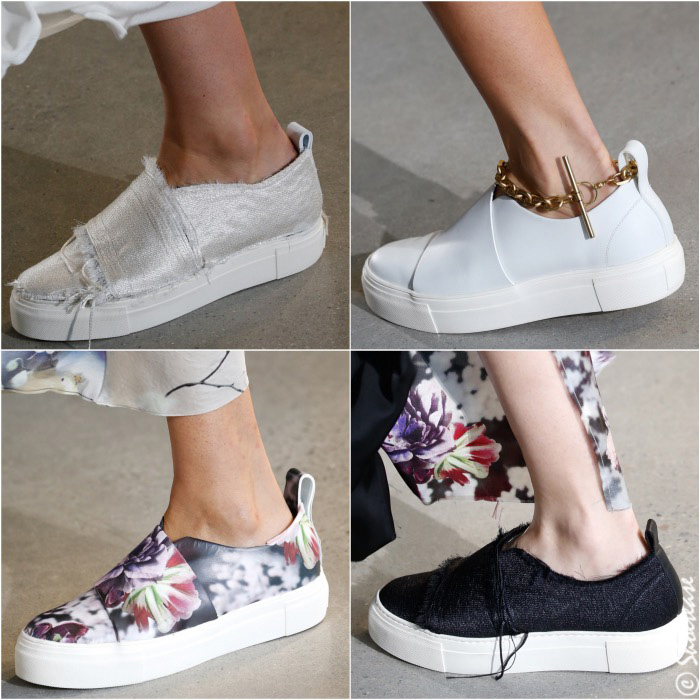 I feel like I've seen these platform slip-on sneakers before (Mother of Pearl, ACNE?) but I don't care. Love the pulled raffia uppers & gorgeous floral print. The chain detail on the ankle is a fun touch.
3.1 Phillip Lim – Spring 2016 Shoes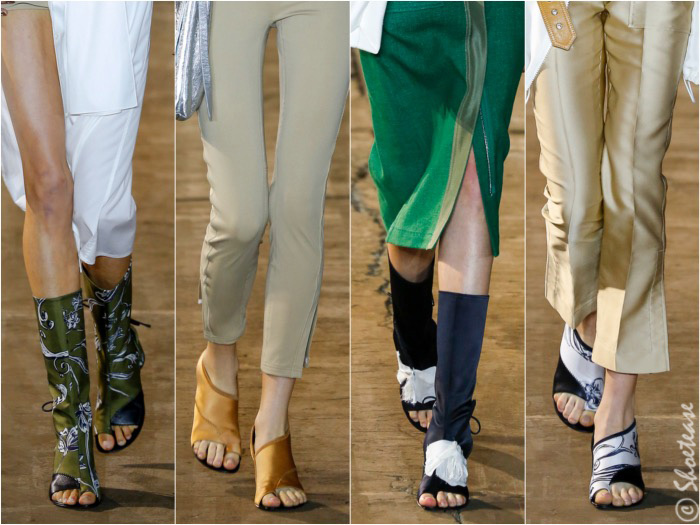 These 3.1 Phillip Lim shoe aren't anything I would personally ever wear, but I fully appreciate the gorgeous prints & interesting fabrics.
Altuzarra – Spring/Summer 2016 Shoes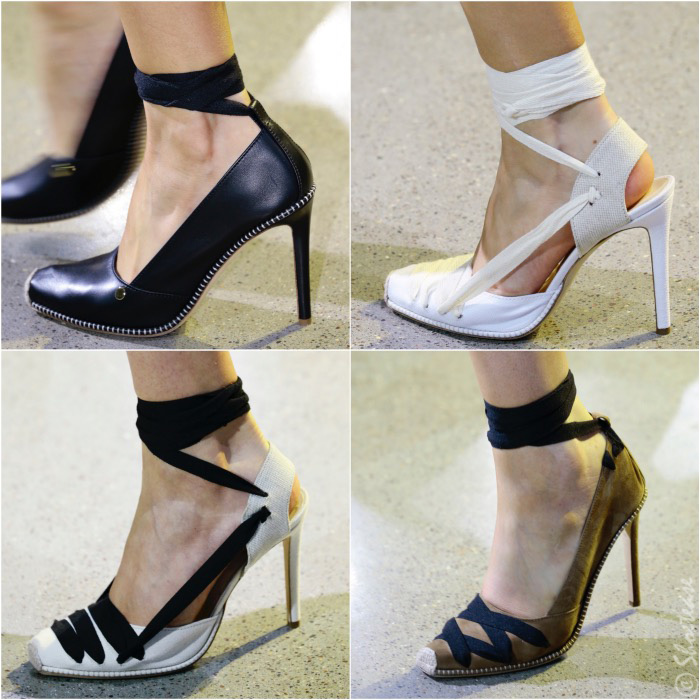 I'd be lying if I didn't say that I am a tad disappointed by Altuzarra's Spring shoe collection. Nonetheless it's still interesting enough to be featured in the best Spring 2016 shoes from New York Fashion Week. I do like the black leather pump with contrast stitch detail, but wish it had those flat lace straps adorning the toe cap as well!
RED Valentino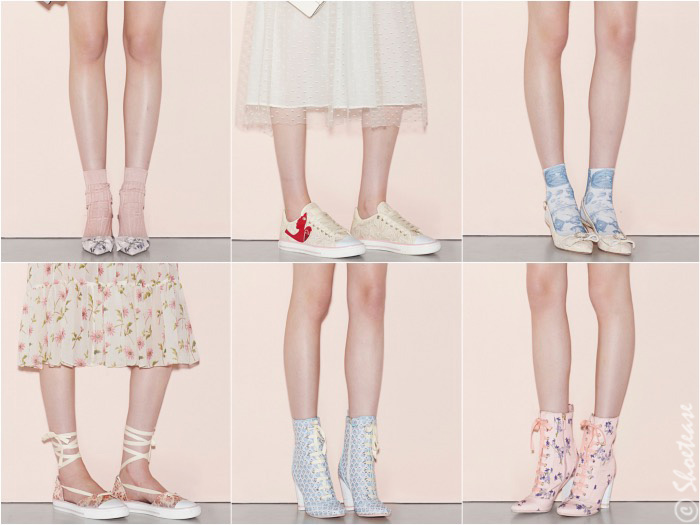 Feminine & pretty as can be, RED Valentino is full-on pastel for Spring 2016. Love the pretty socks with the kitten heels & the patterns on their lace up booties. Surely a girlie-girl's dream!
Derek Lam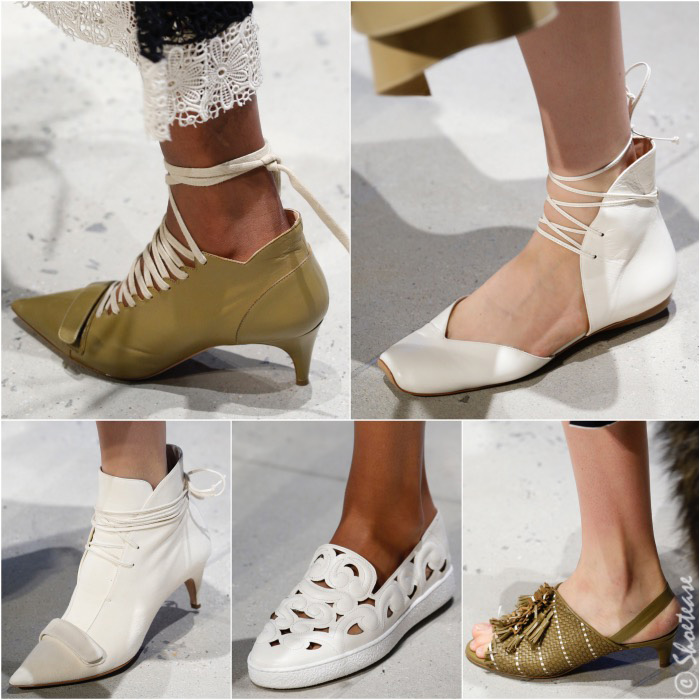 Love this minimalist-but-not-so-minimalis aesthetic. There's something so clean & cool about it. Love me that slip-on laser cut sneaker!
Rebecca Minkoff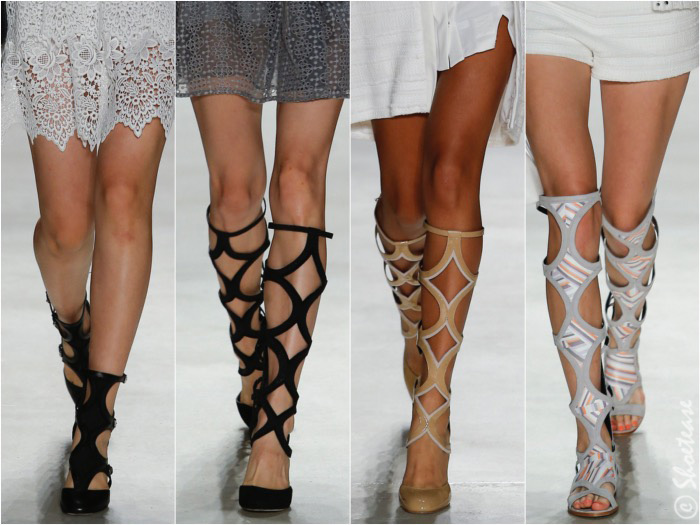 Yep, I love a tall gladiator or short gladiator sandal & do appreciate the new cuts & color play that Rebecca Minkoff added to them. Although some could be considered gladiator pumps with their closed-toe & all.
Coach – Spring 2016 Shoes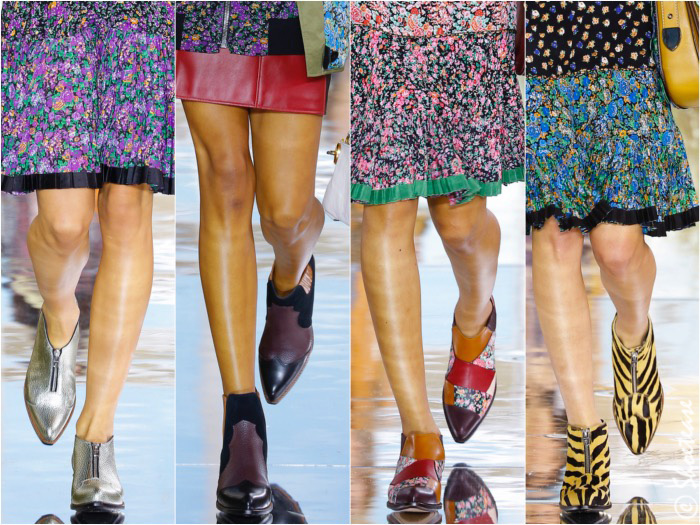 It was all about western influence on Coach's Spring 2016 runway! These boots, definitely made for walking, were seen in a vast array of prints & colors.
RAG & BONE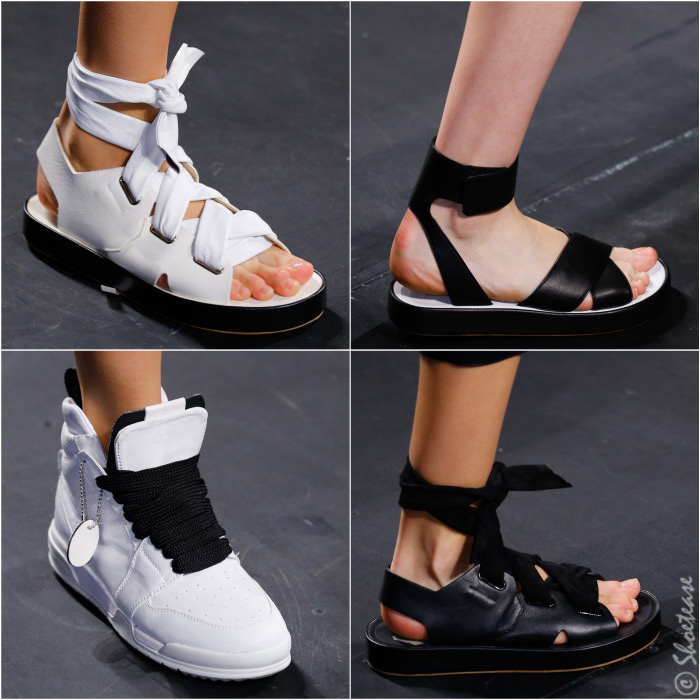 Another sporty footwear collection on this season's runways. And with possibly the widest ribbon laces of all shoes from Spring 2016 collections! Could easily be considered a unisex collection to some.
Delposo – Spring 2016 Shoes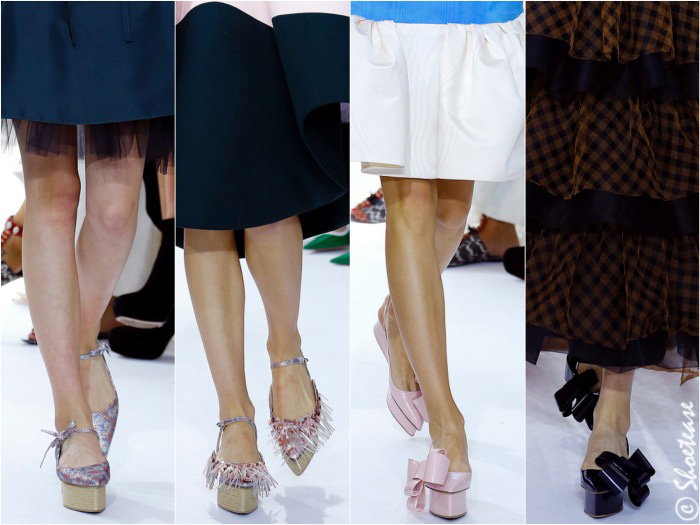 Quirky & feminine to the max, Delposo possibly stole the show from the rest of the Spring 2016 runways shows with these flirty creations. The angular flatform, the long fringe-like beading & the amazing extra large patent bows hanging from the side of the slingback pumps are what crazy shoe dreams are made of! Love love love the drama!
Proenza Schouler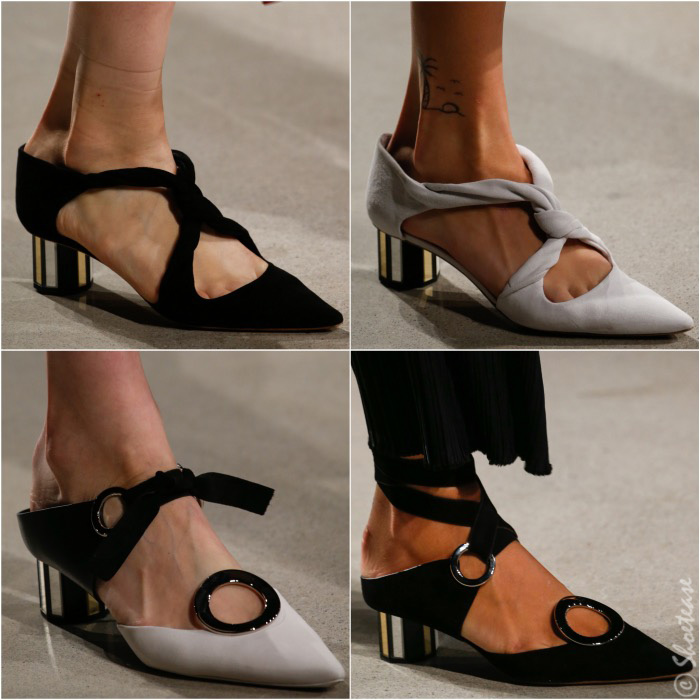 I've been wowed a lot more by Proenza Schouler's previous shoe collections, but their Spring 2016 shoes for women aren't lacking in the creativity department. Love that mirrored heel (although would have looked more proportional if higher) & the large circular hardware could make lacing one's shoe up that much more fun!
J. Crew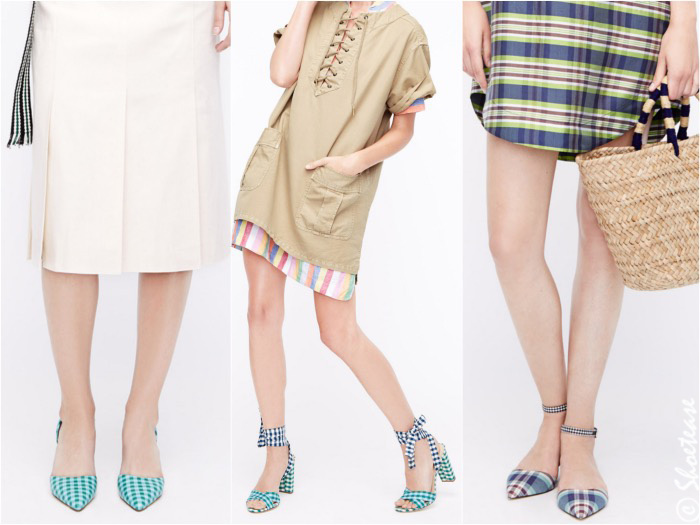 Ok, so J. Crew isn't high fashion or anything of the like, but these shoes got me! As they always do, though. Just look at those quirky & colorful gingham chunky heel sandals. And aren't they darling?! Yes, I just said "darling"!
So there you have my Spring 2016 shoe round-up from New York Fashion Week. What do you think of the various collections? Any designers I might have missed that should have made the cut? Please do tell, in the comments below!
xo Cristina
Photo credit: Vogue.com