In case you haven't noticed, bright + colorful shoes, heels & sneakers are a big shoe trend this Spring/Sumer season. If you (*GASP*!) didn't know this yet, then get yourself trend schooled & shoot on over to my post featuring the best shoe trends for Spring 2015! Nine West has incorporated the über colored trend into their current collection, having created some vibrant shoes in fun styles using velvety soft suedes.
And it's a great mix, really, as the vibrancy of the juicy colors balances out nicely with the softness of the material. Aptly named "Soft to Touch", the brand's featured footwear trend this month is a great way to quite literally step into Spring! Not to mention that it's a great break from previous years of now yawn-worthy dreary shades of blah (that would be my definition of them tiresome pastels, HA!).
So cutting to the chase: I'm very excited to have teamed up with Nine West Canada to showcase my favorite styles from the "Soft to Touch" themed Spring collection & while doing so, illustrate two of the best (& easiest!) ways of wearing these bright, trendy shoes.
How to Wear Colorful Shoes 2 Ways
1. Colorful Shoes with Black & White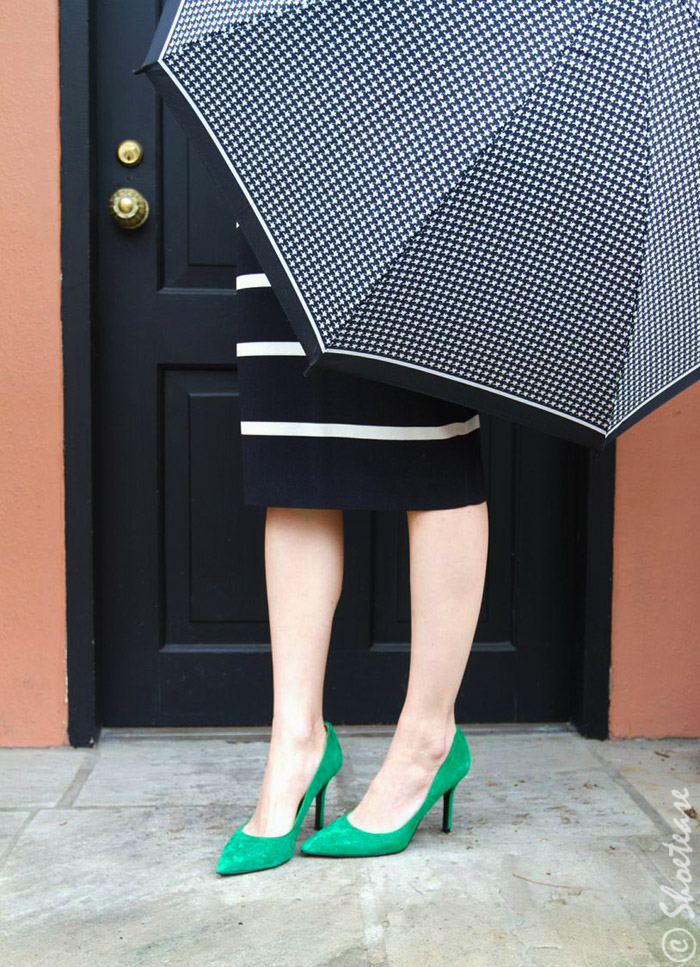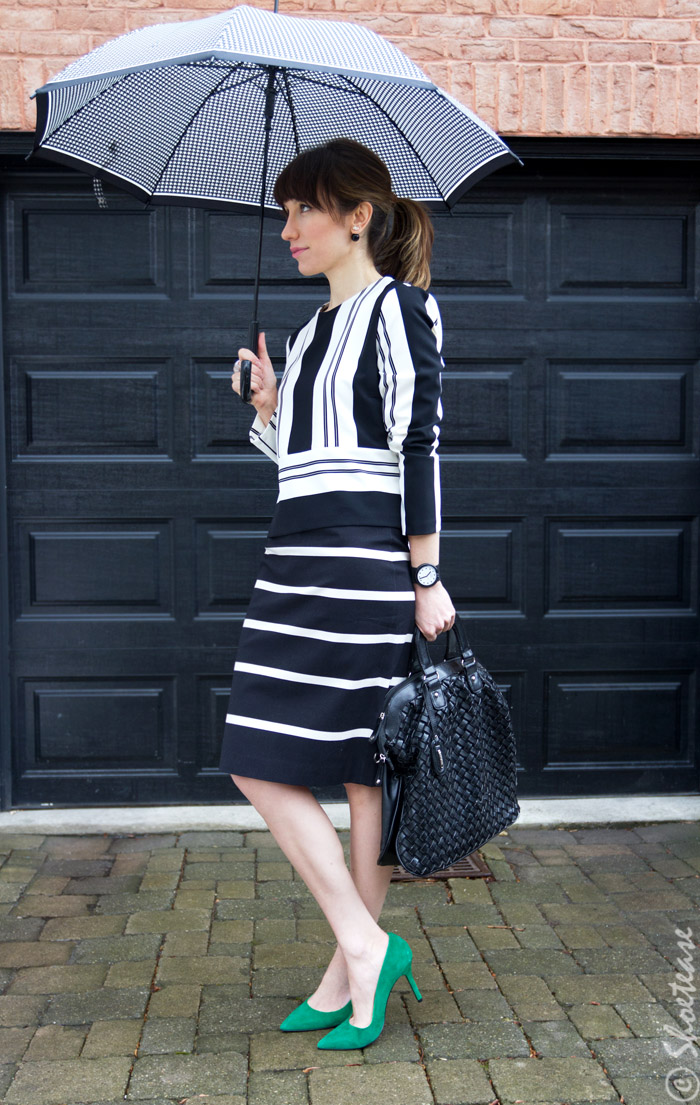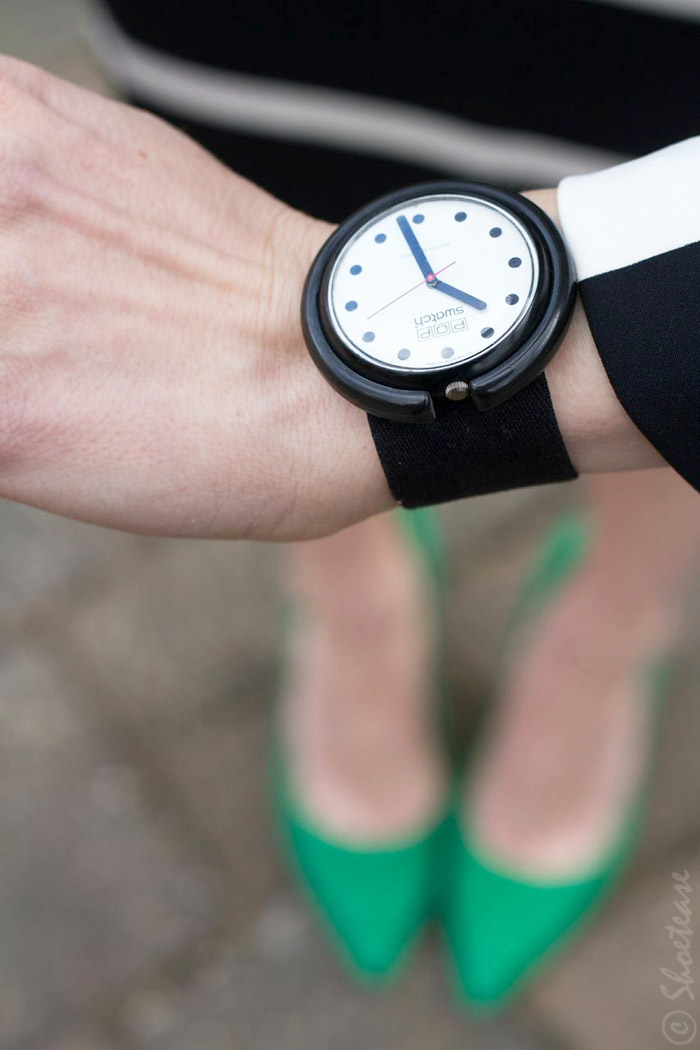 What makes you think you can't wear bold colored shoes to the office? Black & white looks great with each & every bright color in the rainbow. See my recent "What Color Shoes to Wear with a Black and White Dress" guide for more!).
Whether it's a simple top & bottom color pairing, or a black/white printed outfit, you really can't go wrong. I paired my Nine West apple green "Martina" pumps (c/o) with contrasting striped pieces. If you don't feel comfortable with that much pattern, swap the top for a crisp white blouse or the striped skirt with a solid black version. The structured top is from Zara (was in stores March 2015) & the stripey pencil-skirt is the sloan cut from Banana Republic. Aaaaand I also included my VERY old (so old it's vintage actually!) Pop Swatch Watch that I recently unearthed from what seems like bazillion year ago!
Check out more outfits with green shoes in this Pinterest-inspired post!
Shop the Look
---

---
2. Colorful Shoes with Denim & Brights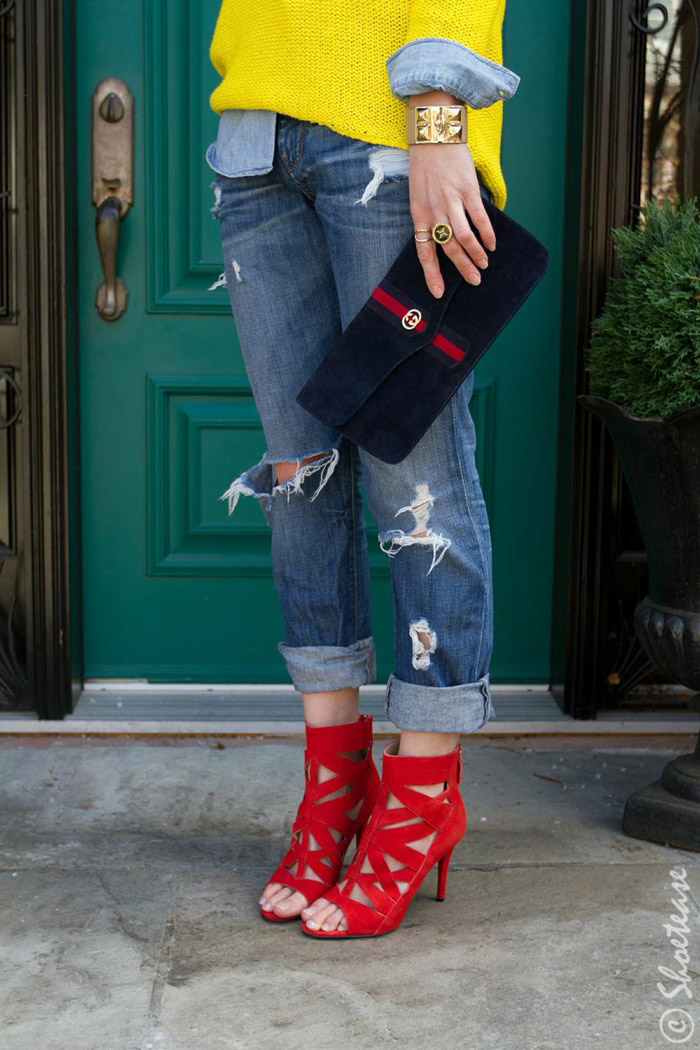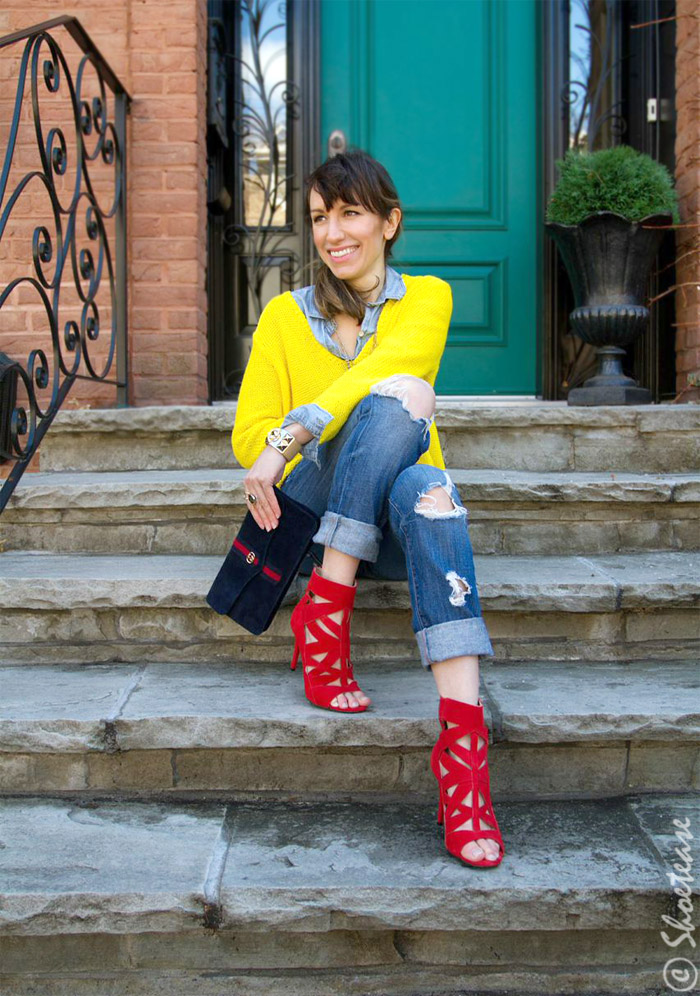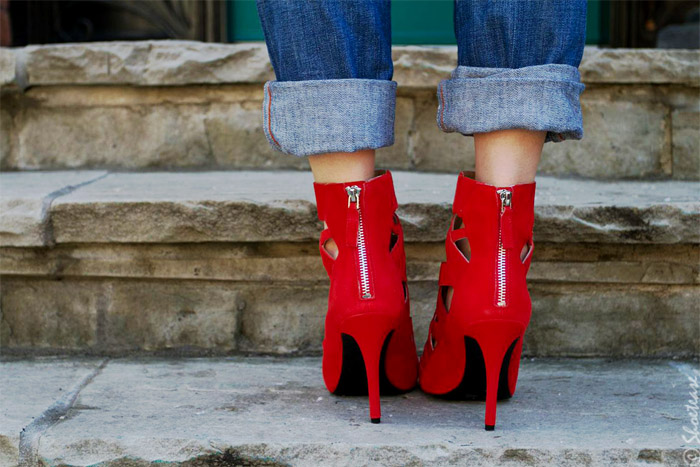 When in doubt, wear the latest denim trend with your colorful shoes (or really any shoes for that matter -except for denim shoes – that'd be way too much!). I'm partial to pairing any colorful shoe not only with blue jeans, but with an added contrast color or two. I decided to pair my poppy red suede Nine West "Delfina" cut-out booties (c/o) with dark destroyed denim + a pale chambray shirt topped with a sunshine yellow sweater. You could easily swap the clutch for a cobalt blue one to pack some extra color-punch, but as I didn't want to take away from the vibrancy of the shoes, I chose a vintage navy blue one instead. And don't forget to care for your delicate suede shoes! Learn how by reading my guide on how to clean suede shoes from just about any stain & keep them in great shape 🙂
Shop the Look
---

---
Of course, these are not the only 2 ways of wearing vibrant colored shoes! My other favorite brightly hued shoe + outfit pairings are as follows:
With a mix of neutral tones (grey, off-white & beige)
Leopard print or cheetah animal prints
Double or Triple denim
Black total look
White total look
Love this particular colorful shoe trend & want to see more of what this shoe & accessories brand has to offer? Take a look at the Nine West's Spring 2015 collection & get the scoop on their top trends & the best styles they have to offer from the Spring/Summer season!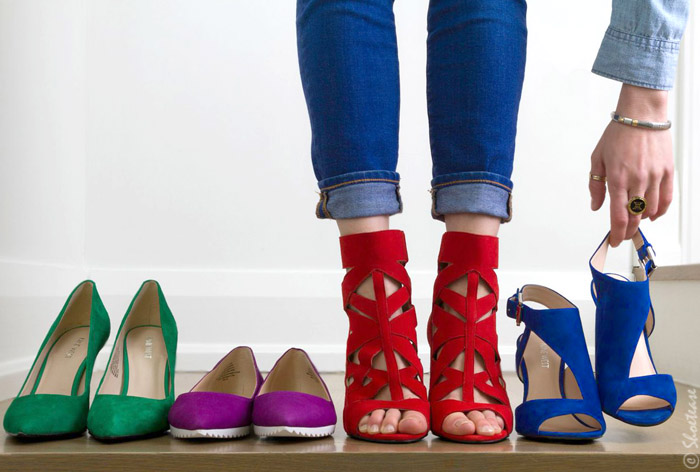 Shop Nine West's "Soft to Touch" Collection:


xo Cristina M.
**This post is brought to you in collaboration with Nine West Canada. All opinions expressed are my own**