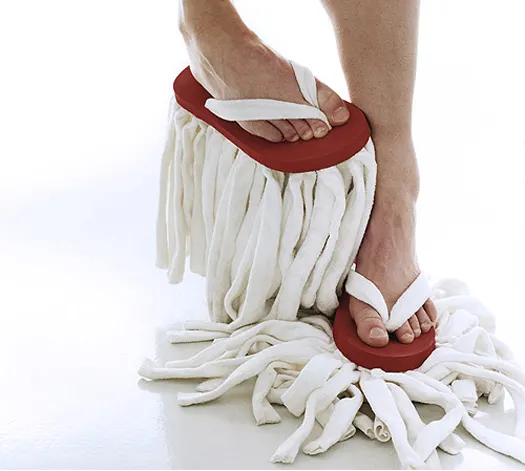 Your mother might have told you to keep your feet clean. But to clean with your feet? Not so much!
So if you're feeling your floors lack that certain lustre & are bored with the usual floor cleaning routine, you can always try a new & creative mopping alternative in the form of spongey tentacled thong sandals. Or maybe you'd be tempted to wear 'em for style points? You know, if octopus-like footwear is your thing.
I imagine it'd be rather difficult to walk in these flip flops, let alone successfully clean floors. Oh, fashion vs. function: the balancing act continues! Conceptualized by Scandinavian designer Marie-Louise Gustafsson.
Any thoughts?
That is all.
xo ShoeTease
Cristina is the chief editor, fashion & shoe expert here at ShoeTease. As a seasoned stylist and women's fashion & shoe designer, she boasts over 20 years of experience in the fashion industry. She loves crafting effortless outfits for ladies both online and off and believes that styling advice should be accessible to everyone. Whether you're a styling pro or just starting out, Cristina's here to guide you on your fashion journey! Learn more.