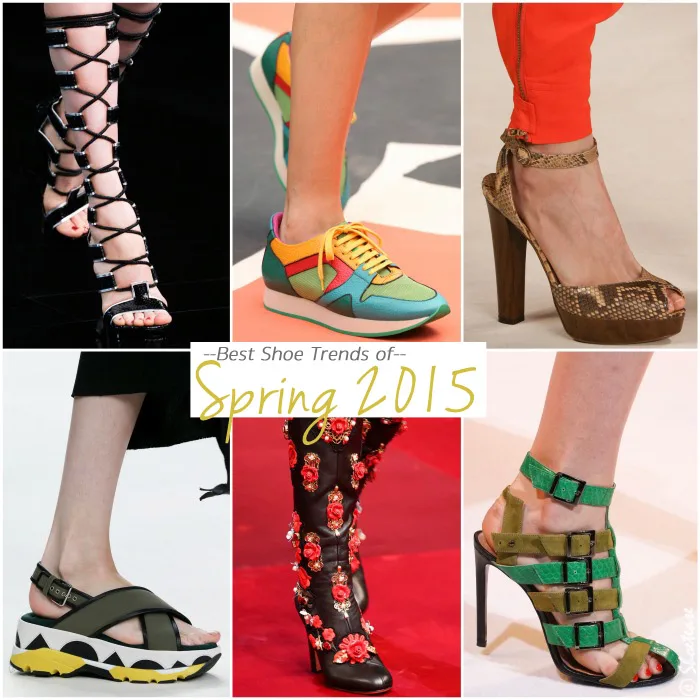 I'm talking Spring shoes today! The weather has finally gotten somewhat warmer here in Toronto, so it makes Spring anything shopping actually exciting. Either way, it's my shoe blogger duty to showcase the best Spring 2015 shoe trends from the runways of the world in order to keep your feet as up-to-date as possible. I know, I know; you're welcome!
The past Spring/Summer Women's RTW collections presented some fantastic fashion & glorious shoes. Amongst them, some tremendously inspiring heel types, colors & materials. From comfortable sneakers, sporty flats, towering platforms to over-the-top statement heels & sandals, there is no doubt in my mind that you'll find a summer shoe in here for you! Below are the best & most notable shoe trends (which the Nine West 2015 Spring shoe collection took serious note of!) from the high fashion runways. Like them or not, they are surely to become fashionista essentials for the upcoming warm weather months ahead. So kick back, enjoy a hot cup what-have-you & Enjoy!
(Shoes from top left & clock-wise: Alexander McQueen, Burberry Prorsum, Ralph Lauren, Marni, Dolce& Gabanna, Roland Mouret)
16 Best Spring 2015 Shoe Trends
1. Gladiator Sandals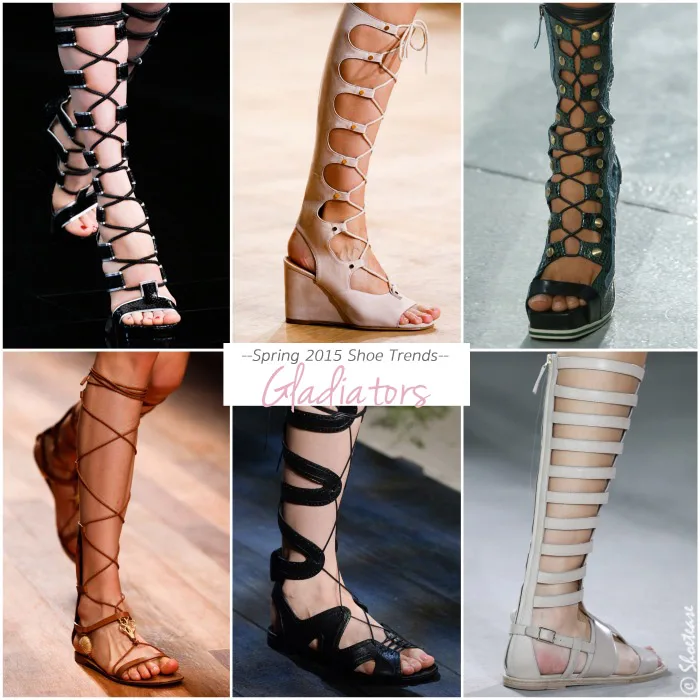 Alexander McQueen, Chloe, Rodarte, Valentino Thakoon, Erdem, Boss
Stuart Weitzman was on point when he designed his knee-high gladiator sandals last year, famously worn multiple times by stylish celebrities last summer! If you bought a pair, you're right on trend for the next season. Whether classic panelled leather styles, embossed, brightly colored or a laced-up version, gladiators were one of the biggest trends on the runway for 2015.
2. Chunky Heels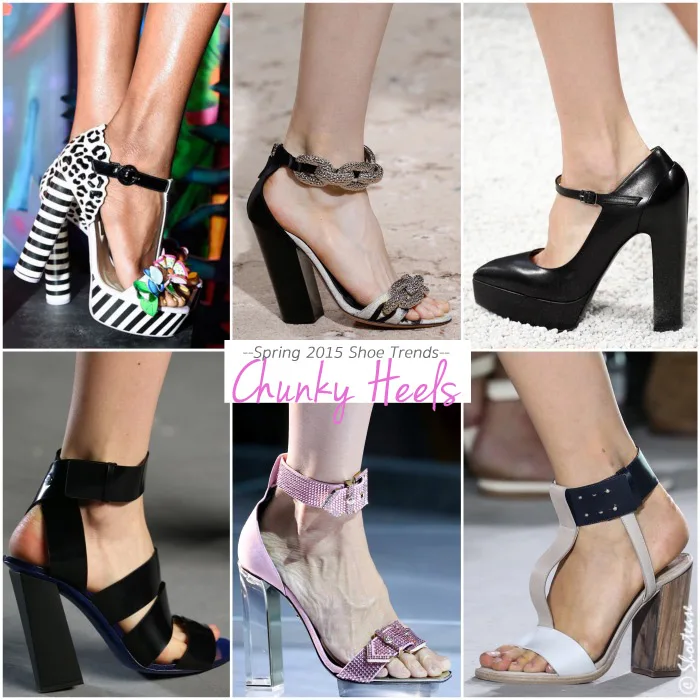 Sophia Webster, Gianbattista Valli, Vera Wang, Versace, Boss
Stiletto who? Yes, chunky heels in all types of materials & forms dominated on various heel heights. I just love me a very high heeled block heel, so my perspective was quite skewed with respect to the ones I decided to represent, above. Love the woodgrain Hugo Boss heel on that t-strap sandal!
3. Mega Platforms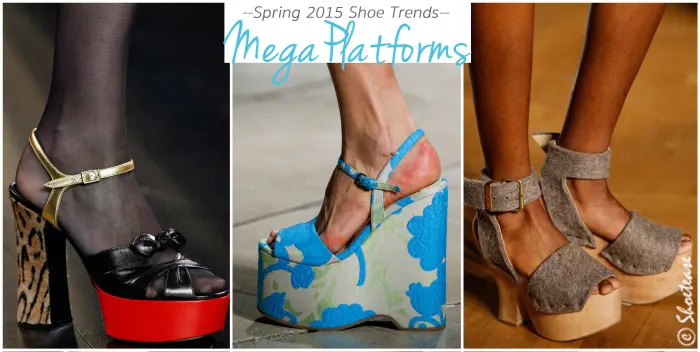 Saint Laurent, Miu Miu, Vivienne Westwood
After the single-sole heels we've been seeing the past few seasons, it's almost nice to have a more comfortable alternative back to inspire us. And I say almost, because these aren't you're usual help-with-the-height platforms. These will increase your heel height to towering heights you may not have experienced prior! Some are pretty chunky. Some are very 70s retro & others are just plain ugly. But then again, style is subjective, isn't it?!
4. Towering Flatforms

Rick Owens, Derek Lam, Thakoon
Oh yes, the visual oddity that is the flatform is back to haunt your wildest dreams this coming Spring! Added onto dress sandals & any other shoe type imaginable, flatforms were seen in almost every Paris, Milan, London & NYC S/S fashion show. The outsole has been interpreted in various creative & unique ways (see: Rick Owen). Not sure if I'm going to buy into this trend, but I'm surely going to be looking at it!
The New Comfortable Shoes
5. Chic, Updated Comfy Sneakers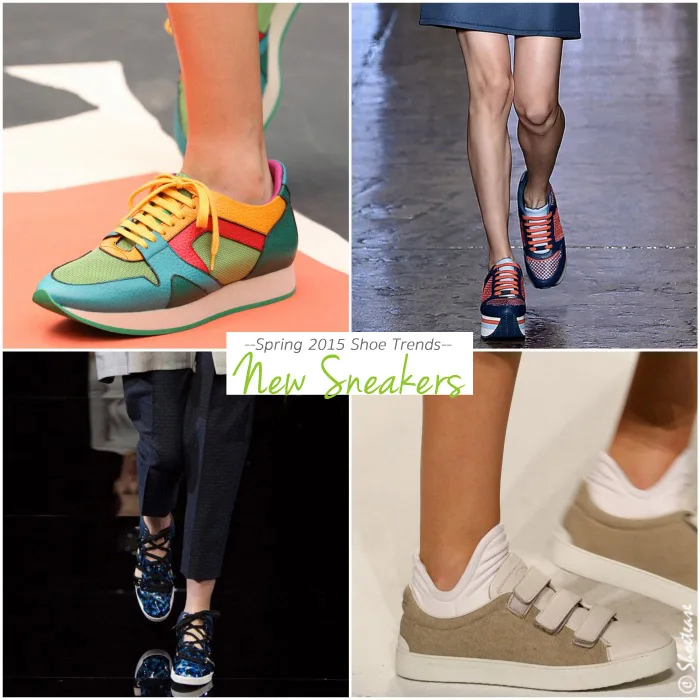 Burberry Prorsum, DKNY, Emporio Armani, Rag & Bone
The new sneakers for next season continue to exude comfortable cool. This time around, are made with even more unusual materials, textures & colors. The outsoles are even higher, giving the previous Fall/Winter thick-ish soles are run for their money. A few styles looked more like flatform sneakers than anything else. Yes, I said flatform sneakers. What's the world coming to right? Lots of color blocking & fun is had with straps, laces & unusual designs, such as Rag & Bone's faux-sock leather insert.
6. Sporty, Comfortable Sandals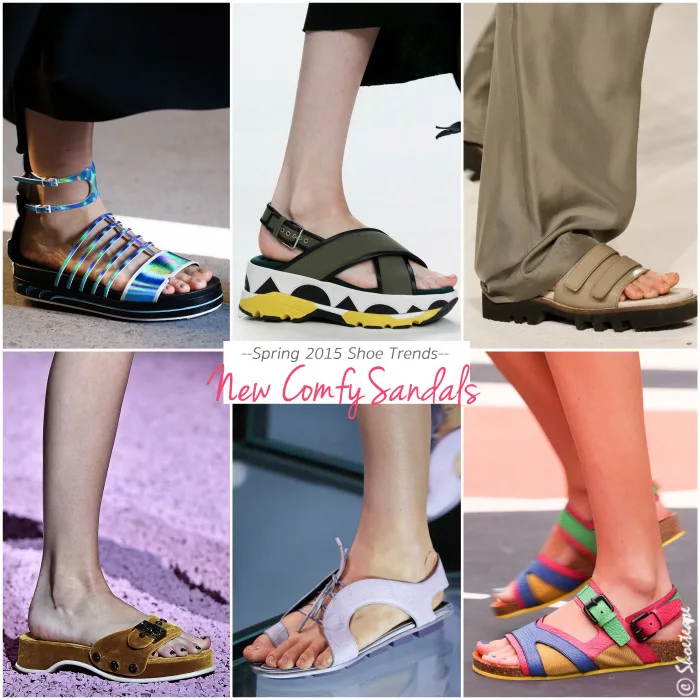 Fendi, Marni,Rag & Bone, Marc Jacobs, Balenciaga, Burberry Prorsum
Following the ugly sandal trend from last summer, comes the new (& thankfully somewhat less ugly), yet always comfortable designer sandals for 2015. Sporty details such as a track sole, straps & velcro are added. Very Teva-lik. And yes, Birkenstock-like bottoms & squishy interiors to massage your feet were spotted about too, don't worry! I quite like Marc Jacobs' velvet take on Dr Scholls slip-on sandal. Almost makes them look nice!
7. Mega Strappy Sandals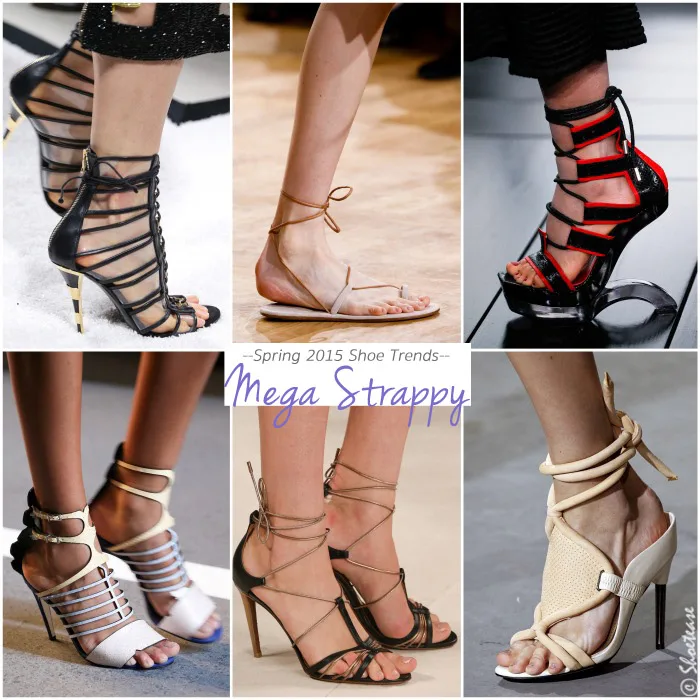 Balmain, Chloe, Alexander McQueen, Fendi, Ralph Lauren, Phillip Lim,
Moving on from comfortable footwear to a plethora of strappy high heels & flats. As the gladiators, some were bound my buckled leather straps while may others added some intense lace-up details from toe to ankle! Pretty,yet usually rather painful, this is visually, a top favorite trend of mine. I just love me some infinite straps & they look so lovely worn with anything from a sombre little dress to your most distressed jeans. Just make sure you don't have to walk a lot; those laces have a tendency to strongly tug on your feet!
8. Reptile Print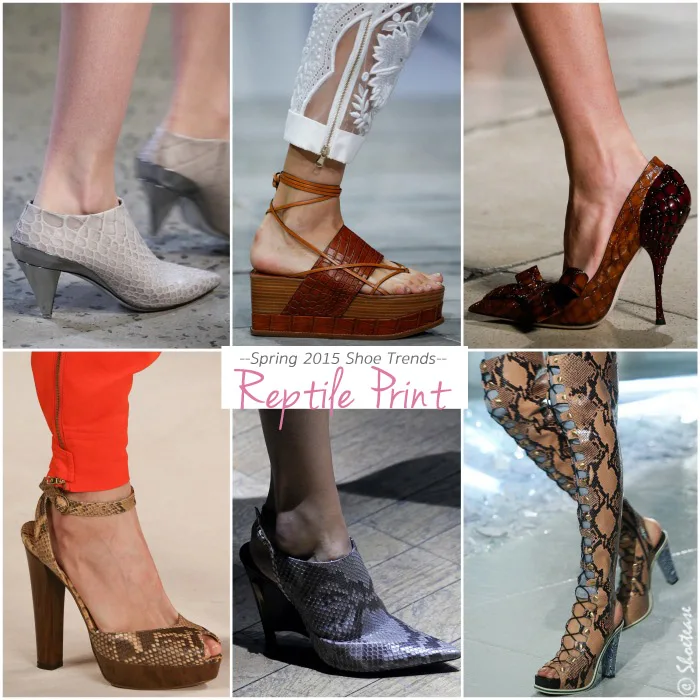 Narciso Rodriguez, Roberto Cavalli, Miu Miu, Ralph Lauren, Lanvin, Rodarte
This is a trend that died down a little over the last year. But if the runways are any sort of trend indicator (ha, who am I kidding here!??!) then reptile print is making a dominant comeback! Many prints are over-size, highly textured & glossy. Snake & crocodile prints prevailed the most. Gotta love that matchy-matchy croc-print bow on that Miu Miu pump!
9. Rhinestone Embellishments

Nina Ricci, Roberto Cavalli, Fendi, Dolce&Gabbana, Sophia Webster, Saint Laurent
Embellishments with sparkly, massive & intricate rhinestone details were another significant shoe trend for Spring 2015. From tone on tone to contrasting shine, these rhinestones almost speak louder than the shoes! If any of you were avant-garde enough to buy those sporty jewelled Prada sandals last year, they'll fit right back into your Spring/Summer wardrobe! Prada is always a few steps ahead of the curb isn't she?!
10. Spring Knee Boots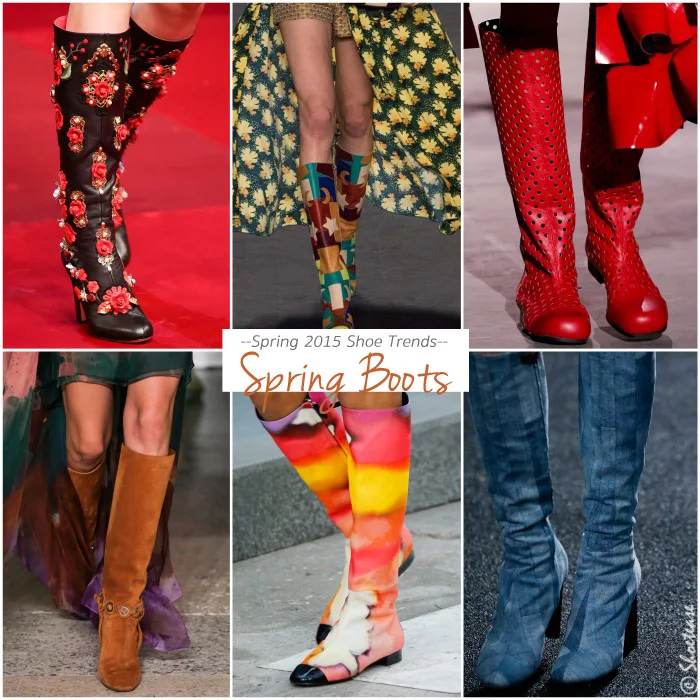 Dolce&Gabbana, Anna Sui, Comme des Garçons, Emilio Pucci, Chanel, Louis Vuitton
Depending on where you live, boots for Spring can be a good idea (yep, it's cold in Canada 'til June, so these are much appreciated!). And we're not talking plain old rain boots, either. From western-inspired suede & print styles, to graphic print, patchwork & bejewelled elements, these warm weather, knee-high boots are definitely not your ordinary rainy seasonal pair!
11. Mules & Slip-on Sandals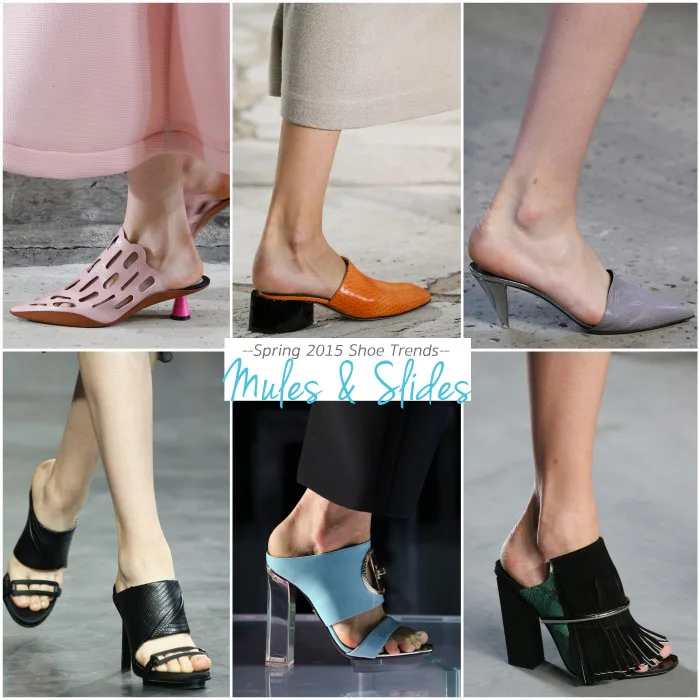 Kenzo, Narciso Rodriguez, Loewe, Jason Wu, Versace, Proenza Schuler
12. Upper Weave

Alexander Wang, Bottega Veneta, Sportmax, Christian Dior, Altuzarra, tbd
Woven uppers were a hit on the S/S runways in all shapes, forms & sizes. Classic leather weaves made out of leather & technical materials were seen. Weaving certainly definitely adds a nice bit of texture & interest to a shoe!
13. Pointed Toe Shoes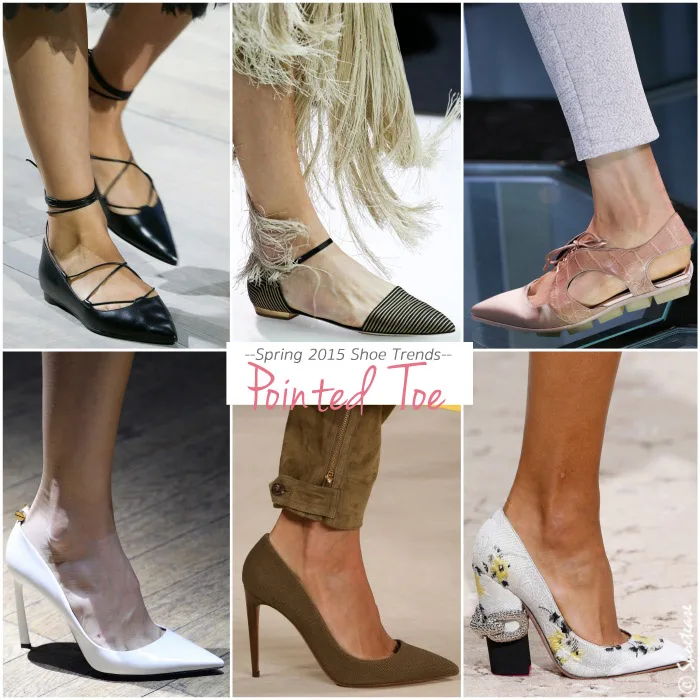 Michael Kors, Emporio Armani, Balenciaga, Lanvin, Ralph Lauren, Gianbattista Valli
Yep, a pointed toe is still on, well, point for Spring 2015! Every type of shoe, including brogues, fancy flats, sporty sandals, pumps, boots & even sneakers had a pointed toe on the runway. When the pointy to trend comes into styles, it's one to stick around for a while, isn't it?
14. Color Blocking

Phillip Lim, Roland Mouret, Rag & Bone, Dolce&Gabbana
Color-blocking is baaaak (or shall I say, still lingering?!). Most notable are contrasting colorful straps on multi-buckled shoes. These are what statement shoes are made of!
15. High Heel Thong Sandals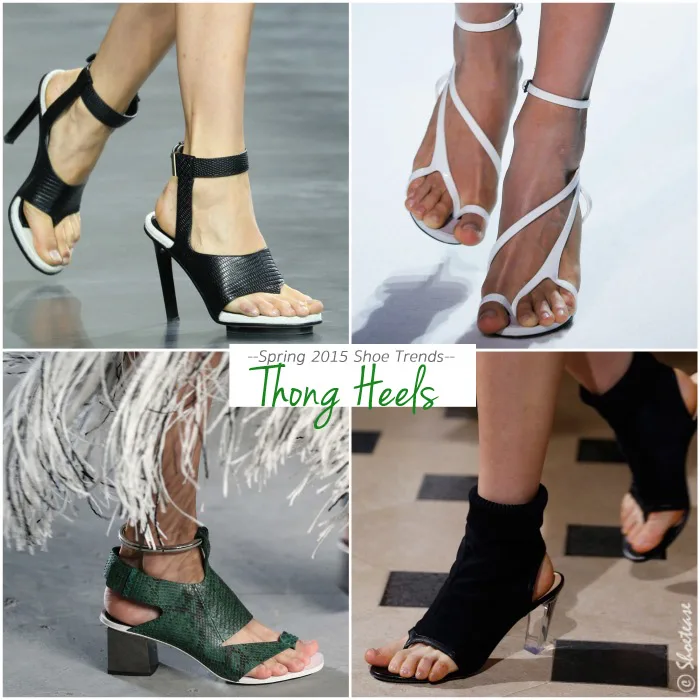 Jason Wu, Haider Ackermann, Proenza Schouler, Victor & Rolf
Now if you're got skinny feet like me, a thong detail on a high heel is a great design element to prevent your foot from sliding out of the sandal. So great news that the high heel thong is trending in a variety of colors, heel shapes & heights!
16. Metallic Shoes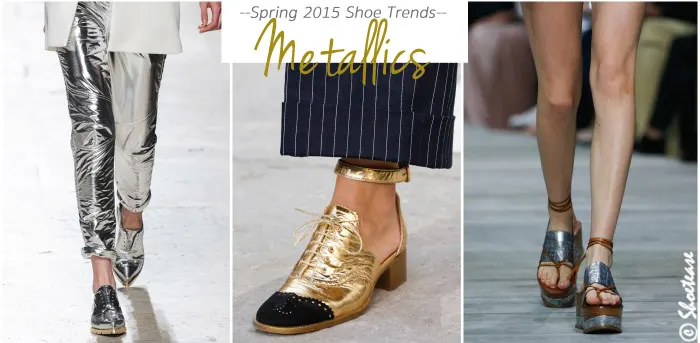 Victoria Beckham, Chanel, Roberto Cavalli
Metallics are not new as a shoe trend, but have come to be used not only in pumps & high heel sandals, but in brogues, flats, sneakers & more. Metallic materials are being exploited to the max with various metal colors, prints & finishes. Mirror metallics were again a bit hit on the runway & I particularly love the silver ones with gold tread outsoles from Victoria Beckham's fashion show.
So there we conclude the most important & best Spring 2015 shoe trends. Which of the above trending shoes will you be digging your feet into this coming season?
xo Cristina M.
Photo Credits: style.com, glamour.com, vogue.com