I recently finished reading, ok no, devouring Tamara Mellon's memoir. In My Shoes, tells the story of the co-founder (or is it more correct to say founder, now?) of Jimmy Choo Limited: designer shoe brand extraordinaire.
And it's safe to say that this is a VERY interesting look at the ins & outs of the company. So in this a-typical "shoe" book review, I give you 5 reasons you might like or dislike it!
In My Shoes by Tamara Mellon – Book Review
Although I'm a year or so late in reading this book, which was released late 2013, I find it actually more interesting to have read it now.
This is because sometime after, Mellon's ties with Jimmy Choo have were severed & now that her namesake label has been kicking around for a few seasons since its launch.
Less of a memoir & more of a tell-all, really, it explores Mellon's personal & professional life from start to present.
Well, 2013 present to be exact! Conflicts between the creative & business sides in addition to how Jimmy Choo came to be are examined in an in-depth manner. This is why you'll find me talking about this book on the web pages of this shoe blog.
It's not only an eye-widening look within the business of shoes, but it recounts, almost step-by-step what it took to build Jimmy Choo. And it is one of my favorite luxury shoes & accessories brands. All from Tamara's perspective of course.
It's the ups & downs of the brand as well as Tamara's own personal trials & tribulations that makes this book so interesting. But instead of boring you to no end with what it's about, here are–in my humble opinion–5 reasons you make like, or dislike reading In My Shoes.
RELATED POSTS:
5 Reasons you might enjoy In My Shoes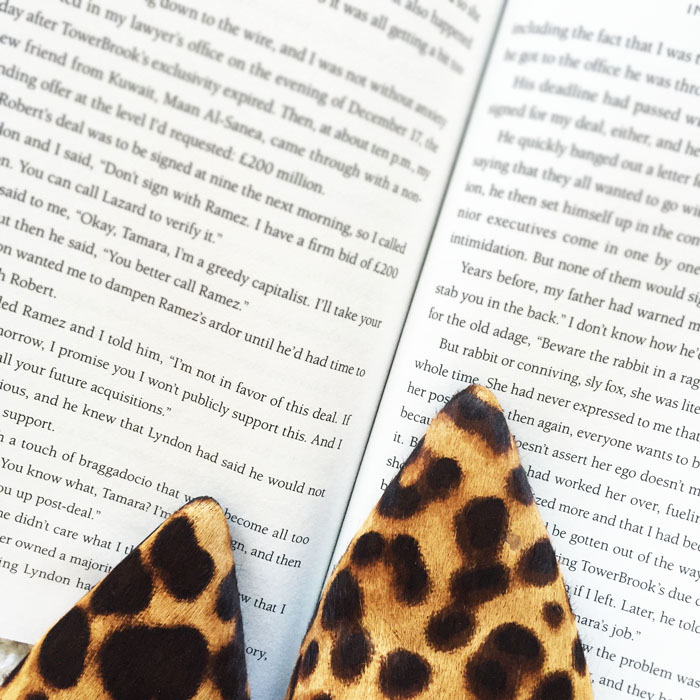 Solidly entertaining. It's hard to put down once you've started reading it.
You're seeking motivation & advice from a successful #GirlBoss.
If you love soap opera-style stories, juicy celebrity/industry gossip & have a propensity for the dramatic, you'll love this book.
The apparently honest, no holds barred approach to sharing. Mellon names everyone, high profile figures or otherwise, who did her wrong with detailed accounts of every betrayal. Unprofessional? Possibly. Captivating? You bet!
If you love fashion, work in fashion or want to work in the industry. Even more so if you want to start your own brand. Makes a unique gift for shoe lovers – and that can include you too!
5 Reasons you might not like this book
It's not particularly well-written or constructed, with choppy chapters & an often rambling telling of events.
The amount of time this book focuses on the financial & legal side of things might leave you dizzy. And with so many parties involved, it's often difficult to keep their names straight.
Trigger warning: there are heaping accounts of parental abuse suffered by Tamara that can hit close to home if you've experienced childhood trauma yourself.
If you want a 'fun' & 'light' read. This book is entertaining, yes, but an emotionally exhausting one. Mellon's cyclical ups & many downs can be easily comparable to a wild, almost nauseating roller coaster ride of emotions.
If you're an idealist & side heavily with Mellon's side of the story, you may not want to buy anything Jimmy Choo ever again. Which might, on the other hand, be a good thing?
Final Thoughts on In My Shoes, by Tamara Mellon
All in all, it's an interesting account of the ins & out of how this brand dealt with the struggles between the creative & business sides and the story of a hard-working woman who truly conquered albeit her many setbacks.
These include mental illness, familial instability & the male-dominated corporate world of nay-sayers. In My Shoes is not a high-brow read by any means, but definitely an entertaining and enlightening one!
Looking for another shoe-related read? Check out my post reviewing Patricia Morrisroe's "9 1/2 Narrow, My Life is Shoes", which, spoiler: is another great read for shoe lovers! For some shoe-related fun, have a laugh at all the best puns for shoes and jokes in my new post!
xo ShoeTease