Loafers have been a staple in women's closets now for literally decades! Currently, chunkier soled and lug sole loafers have taken the fashion world by storm. It's difficult talk about how to wear loafers without mentioning socks!
I mean, all the IT fashion ladies are wearing a variety of socks with their loafers for added style. Most notable? Those new, but retro-inspired Prada loafers with simple white ankle socks!
So not only can women wear socks with loafers, but there are so many to choose from. And any of the many different types of loafers will benefit from some socks styling!
Socks for loafers are a great way to stay both warm and stylish during the cooler seasons. But they also can make a fashion statement in the spring and summer. Socks also keep your feet dry and make stiffer loafers more comfortable.
There are many different styles of socks to wear with loafers, but don't get overwhelmed! From simple black socks that match any outfit, to patterned or mesh socks that add some style and flair, there is a perfect pair for your needs.
How to pick the best socks to wear with loafers? Well, that entirely depends on the outfit, t, where you're going and the look you're after.
Generally, ankle and crew socks work well paired with shoes and cropped dress pants, and with short and midi dresses. Knee socks that hide under long pants are a good look too.
However, that doesn't mean that you can't break the rules (whatever those may be) with some contrast color or statement socks!
Today on shoe-tease.com, I will guide you through 15 pairs of great socks for loafers, how to style them and give you styling tips on how to complete your outfit.
15 Stylish Socks for Loafers – Women's Outfits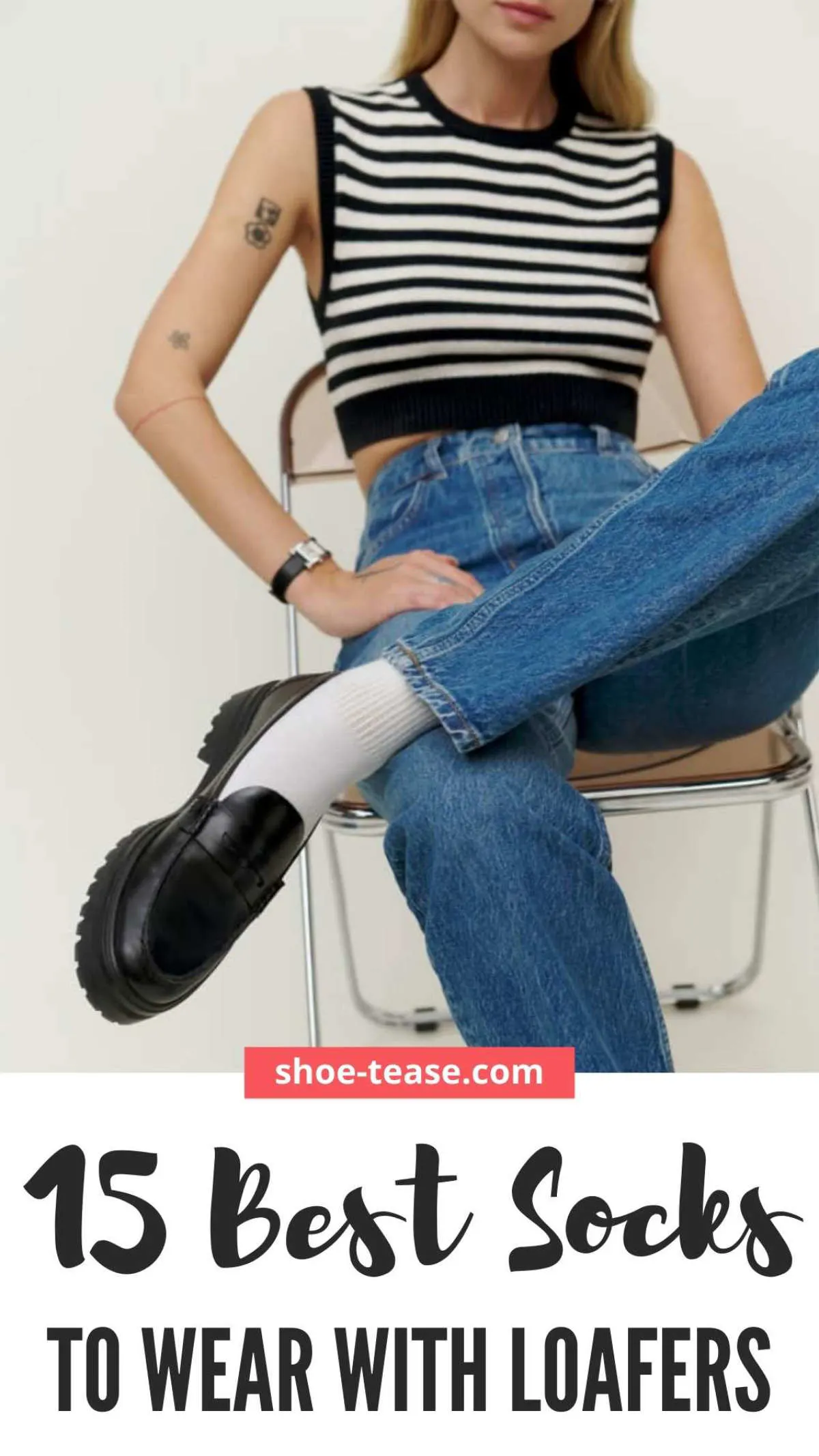 From the best no show socks for flats – including loafers – to bright white, colorful, or statement alternatives, you will find a sock type for all outfits, occasions, and of course, loafers!
1. Basic Crew Socks
White or black crew socks will never ruin your outfit – not if you style them the right way! Crew socks, tennis socks or tube socks, as they are often referred to, are thicker and ribbed over-the-ankle sporty socks.
These thicker socks for loafers are extremely fashionable at the moment. Pull them all the way up or slouch them down for an off-duty vibe.
They are commonly white, but can also be black and/or colorful and have a contrast logo. Think Nike Swoosh or Adidas trifoil.
However, high fashion brands such as Alexander McQueen, Balenciaga, Burberry, Versace & many more are jumping on the logo crew socks trend.
Crew socks with loafers can be worn with almost any outfit including a mini dress, a skirt suit or cropped jeans to give any outfit a preppy vibe. Logos are optional.
2. No Show Socks
No-show socks are low profile socks that are meant to be invisible when worn with loafers. These socks are a great choice when you're not wanting to alter your outfit's aesthetic with your socks. Especially with sleeker, single-soled, low profile or daintier loafers.
Style-wise, you won't want to wear no show socks for women's slingback or loafer mules – as it kind of defeats the purpose when they can be seen at the back. Ankle socks, including crew socks will look far better.
Choosing the right sock material is key. The best no show socks for loafers are a cotton or cotton blend. Cotton is a fresh, breathable natural fibre that helps absorb moisture, making for a more comfy loafer.
Fit is also important, as the right no show socks should fit snugly at the ankles and arch, to prevent them from sliding and bunching up to the top of the shoe. Be sure to pick a sock color similar to that of your loafers, or one that matches your skin tone.
You can find no show socks that are thinner, thicker, higher and lower profile. The most invisible socks are liner socks. If going the liner sock route, make sure they have rubber grips inside them to keep them in place.
Other than being invisible, no show socks can also make big shoes fit smaller and prevent heels from slipping out of shoes!
3. Fishnet Ankle Socks
It can be challenging to find the right kind of socks to pair with your loafers during the summer season. If you are looking for a street-style look, then the mesh or fishnet socks could be your go-to socks for the hotter or transitional months.
Mesh or fishnet socks give the illusion of socks without the bulk or coverage. I love wearing these socks in the same color as the loafers, or at least very close in tone.
A simple yet fashionable look is a pair of mesh socks with heeled or flat loafers and cropped wide leg jeans. They also pair well with a pantsuit and loafers to give your look more of a rock'n roll edge.
4. White Cotton Ankle Socks
Simple white ankle socks are easy to wear socks for loafers and give off a private school uniform vibe. Dainty and a great accessory to accentuate black or colored loafers, there's no denying how stylish this combo can be.
Wear them with cuffed or cropped straight leg or mom jeans and a cropped sweater vest over a crisp white shirt. Or add them with black chunky loafers to an all-black mini dress or skirtsuit for pretty appeal. I love them with black and white outfits.
5. Contrast Color Socks
This is where you can add a pop of bright color, or neutral contrasting tones to your loafers. I love color blocking any simple shoe like a loafer with the trending color of the moment, whether it be lime green, hot pink or blush.
Wear a short-fitting black dress with black lug-sole loafers and white socks. Or try a floral midi dress with a more dainty tan loafer and pink socks. I've also seen ladies style their colored socks over a pair of tights, so that might be a look to consider!
A shorter hemline or unicolored suit will help highlight your contrasting socks. A contrast white or black pair of socks with loafers is fun when playing with black and white looks.
6. Ruffled Socks & Bobby Socks
Are you looking to go back in time in terms of fashion? Ruffled or frill socks aka bobbysocks will help you get there if you are looking for a retro 50s look or girlie vibe.
Some ruffles will be bold with lace, while others have more of a subtle lettuce-edge like these pretties by UGG or these movement light ruffle socks from Free People (all come in multiple colors). You can pair your frilly socks with a pair of penny loafers to give a simple jeans and t-shirt look a youthful touch.
Wear a floral sundress, bobby socks with saddle or chunky loafers for a casual look, or pair your boggy socks with loafers and a cuffed pair of boyfriend jeans.
7. Sheer Socks
If fishnet socks are a bit too risque of a sock choice, a softer, flirtier alternative is a pair of sheer socks with loafers.
Tight black sheer ankle or calf socks are perfect for wearing with loafers, ankle length pants or pantsuits. Or add some pattern in the form of a minimal polkadot or something larger.
For a summer outfit in a cute dress, opt for a pastel of beige shade of sheer loose tulle socks. Elevate the socks to quirky levels my opting for patterned sheer socks such as polka dots of embroidered or sequin floral tulle socks.
8. Monogram Socks
If there are any socks for loafers looks that derive from menswear styling, for it's the logo sock. If you love designer accessories, then an all-over monogram ankle or knee sock might be for you.
With the repeated designer logo all throughout the socks, they will definitely get your loafers noticed! Full on monogram too much for you?
Give your loafers the monogram sock appeal with a simple accent logo sock. Like these from Gucci and Balenciaga.
One of the ways to make sure your monogram socks look fashionable is by pairing them in tone with your outfit.
Show them off with shorter hemlines or have them peep through in ankle length pants and midi desses. Style them pulled all the way up, or semi-slouchy.
For a double dose of designer shoe lover, pair your monogrammed Gucci socks with their signature horsebit loafer or furry loafer slides.
9. Lace Socks
If you're after a feminine sock with some grit, lace socks with loafers might be for you! Lace socks come in a variety of colors, heights fits and patterns – with or without a scalloped or ruffled edge.
Lace socks make a surprising and unexpected accent to your loafers, popping out from under your long jeans, giving them a hint of romanticism. Alternatively, you can show off your socks by rolling up your pant hem.
10. Striped Socks
Vertically or horizontal striped dress socks or striped athletic crew socks are great socks for loafers. You can wear almost everything with your striped socks and have fun with color. Yes, men wear them often with their suits or jeans, but women can wear them too!
You can try wearing your tailored shorts, tux shirt, colorful striped socks, and pointed-toe penny loafers. Or pick a pair of black and white sporty striped socks with optic white loafers. Then add a pair of jean shorts and a simple white tee or crisp shirt.
Add a dose of designer flair with a striped pair of Burberry socks. The brand's beige/black/white/red stripes work with all loafer colors. However, black and white striped socks are also fun with black or white loafers.
11. Black Socks
Black socks go well with all loafers, no matter the color or style. These work well with any color loafers, and are an especially great combo with black, white, tan or pink loafers.
Choose a thin pair of black ankle socks, a thicker pair of tall ankle black crew socks, or opt for calf height black dress sock slouched at the ankle.
You can pick a thicker wool brand pair for cooler months and opt for moisture-wicking active or cotton socks in summer.
12. Wooly Socks
Nothing looks more comfortable in fall or winter months than a pair of wooly or thick knit socks for your loafers. Comfort aside, fuzzy sor cable knit socks make any outfit look cozy and inviting.
Wear your soft wooly calf height socks casually with a pair of cuffed straight leg jeans, or mini dress and cardigan, completing the look with a pair of chunky loafers.
Wooly, over-the-knee socks are also a great option to warm your legs in loafers during colder days – over bare legs or stockings.
13. Knee Socks
If you think white ankle socks add some private school prep to your loafers, I present you with knee socks for loafers! Wear them in a dark shade to contrast a beige or white pair of loafers, or keep the socks in tone with your footwear.
You can opt for a patterned or sparkly pair of knee socks if you want to elevate your look. If you're looking for warmer alternative, choose a cable knit or fleece-lined knee sock for those cooler fall/winter months. A knee high sock with a scalloped top edge will add a playful touch to your outfit.
14. Patterened Socks
All-over patterns like plaid, polka dots, hearts, argyle or other geometric motifs will never go out of style and add a quirky vibe to any outfit with loafers. You can keep your outfit minimal and add polka dot socks, or play up the contrasting prints in your outfit.
If the socks are colorful, match one of the shades to your outfit. Choose socks with embroidered or textured detailing to add more quirk to your loafers.
15. Over the Knee Socks
If you want an alternative prep school girl feel, you can create the look with a pair of over-the-knee thinner tall socks with loafers. Play up the look with a classic button-down shirt, miniskirt, and a pair of polished penny or tassel loafers.
How about wearing your little black dress and over-the-knee socks, with black or white loafers? In the winter, a pair of thicker cozy tall socks work great with a sweater dress, lug, or simple soled loafer.
There's something a little cheeky about OTK socks with shorter skirts and mini dresses that add some je-ne-sais-quoi to the outfit.
Final Thoughts on Socks for Loafers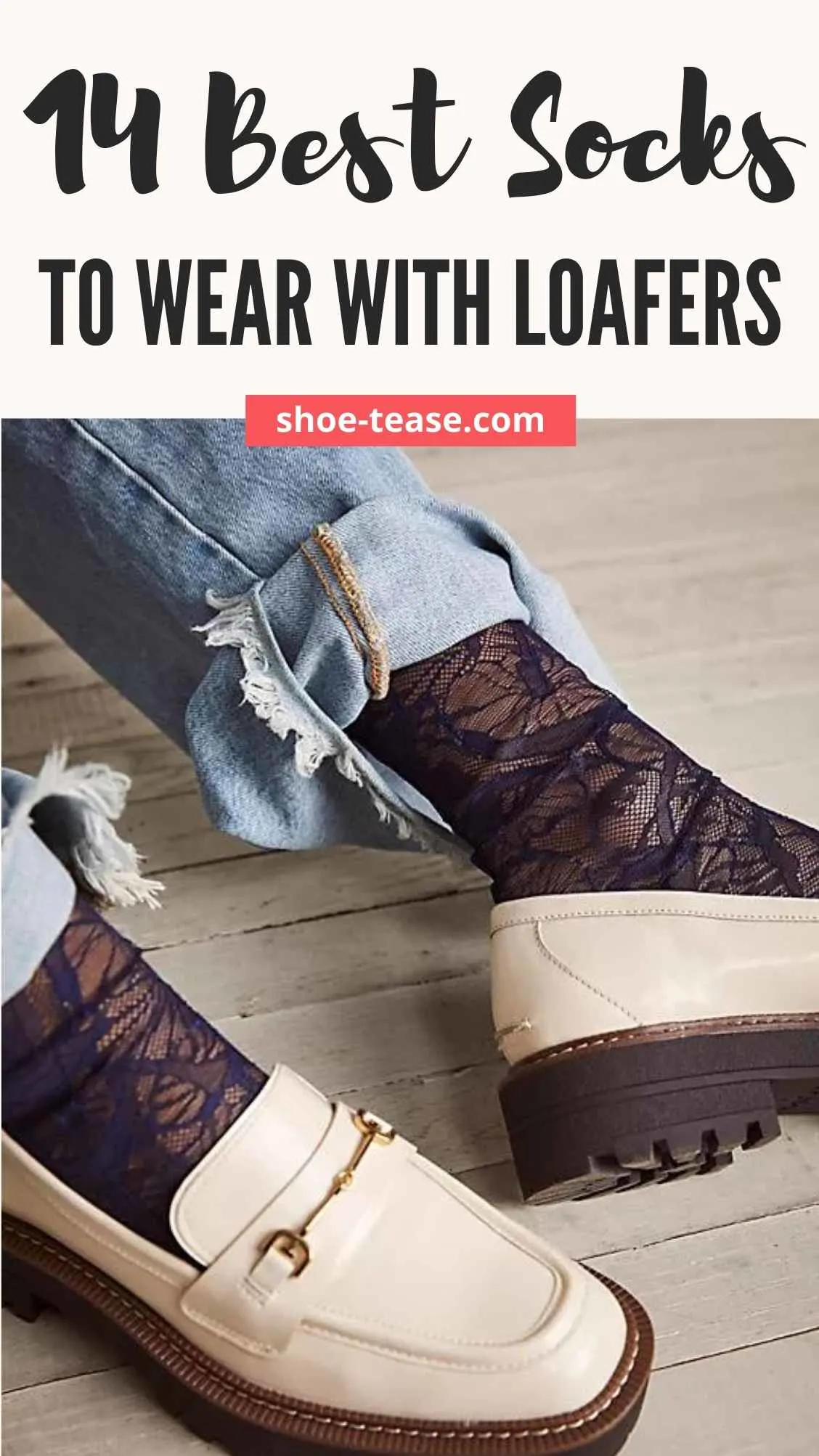 I hope this post has inspired you to not only hop onto the loafer trend, but also try a few looks out with socks!
Although the most popular socks for loafers – especially black loafers – is a pair of white crew socks, you have many more choices. Like opting for colorful or wearing tone-on-tone socks for loafers to create less contrast.
Not feeling the socks with loafers look? Not to worry, there are many no-show socks available to keep your loafers comfortable and your socks hidden!
The choice of how to wear your loafers with socks depends on the occasion you're wearing your outfit to, the outfit style you're going for and what you feel most comfortable in. Feel like breaking the rules – then go ahead and do it!
What are your favorite socks for loafers? I love the look of black chunky loafers with a mesh or crew sock with an athletic contrast logo – with a midi dress or cropped black pants!
xo ShoeTease