I'm not sure what prompted me more to write this Shoes to Wear in the Snow post: the many daily visits I get per day on my shoes you shouldn't wear in the snow post, or the shoe abuse I see over on Instagram!
What is "shoes abuse" you ask? Well, it involves wearing heels, suede shoes, satin shoes & classic sheepskin boots in the snow.
Nope, NONE of the above are appropriate footwear to wear in the snow! And don't get me started on those poor Hunter rain boots I see so many wearing in freezing temps, eek!
It's important to choose the right shoes to wear in the snow because if you don't you run the risk of ruining your pretty shoe things, but more importantly, choosing the right shoes for the snow can help you safely get around during winter.
Slipping on ice or tipping over in a puddle is never fun. And if you've ever fallen flat on ice or compact snow, you know it ain't pretty!
Shoes to Wear in Snow – 4 Essential Elements
---

---
Winter in the North can be tough, so make sure your shoe can handle it! Here are the shoes to wear in the snow, slush & winter. Some of the styles I'm suggesting may surprise you.
Because best shoes to wear in the snow aren't necessarily winter boots. But if they are regular looking, they will need certain elements to be able to stand the test of winter.
Just like the boots I'm wearing in this post from EMU Australia. This stylish alternative is fully winterized & has all elements of the perfect footwear to wear in the snow!
And if you're in a cold, unpredictable climate such as the one here in Toronto, Canada, your shoes are definitely going to be put to the test! These are the 5 essentials to make a shoe (or boot!) fit for the snow.
1) Insulation (To Keep you Warm)
OK, starting with a given (although you may not believe it to be when you see what some people are wearing in the snow!) is how warm they will keep your feet.
Of course, that means wearing shoes that are well insulated to keep the cold outside & your feet toasty on the inside.
If you're going to be standing or trekking in snow for a significant period of time, you will need to take a closer look a your shoes' temperature rating. If your boots are — in fact — temperature rated, it will say so on the tag.
The degrees listed are the lowest temps your boots can keep you warm. Some specify degrees based on if you're moving in them or standing idle.
Some winter boots even come with a special removable lining, so you can control how warm you want your feet to stay. More of Sorel's winter boot have this featuring, including their widely popular Joan of Arctic styles.
But some winter shoes that may not have temp rating guarantees can be just as warm. Just like Sorel & other brands make boots with lining to keep feet extra warm, some winterized footwear use a permanent lining that can keep feet just a toasty warm.
For instance, my EMU Australia boots pictured in this post as well as other styles from this brand, are some of the warmest winter boots you can find for women. Why? Because they have an incredibly thick sheepskin lining that is hard to beat in terms of warmth. I wrote a whole blog post bout them here if you're interested in checking them out.
I personally look closely at whether the shoe is temperature rated & how thick the sole is. It's always a good idea to buy your winter boots a tad roomy, so you can add extra warm socks inside your boots to keep your feet extra cosy.
The part of my feet that get coldest during the winter are the toes & soles. So the further removed they are from the ground, the more likely that they will keep the cold at bay.
2) Waterproof Shoes (To Keep You Dry)
When choosing shoes to wear in the snow, another factor to consider is the waterproofing. We may not think we need rain boots when walking during snowy winters.
Yet your snow boots or shoes should be just as capable of keeping your feet warm as they should keep them dry. Think of them like cold weather rain boots!
Remember, snow & ice quickly turn into water & if your shoes can't handle stepping in a puddles of mush without sopping it all up, they won't make much of a winter shoe. And if your feet aren't dry, they aren't going to be warm either.
3) Traction (To Keep You Stable)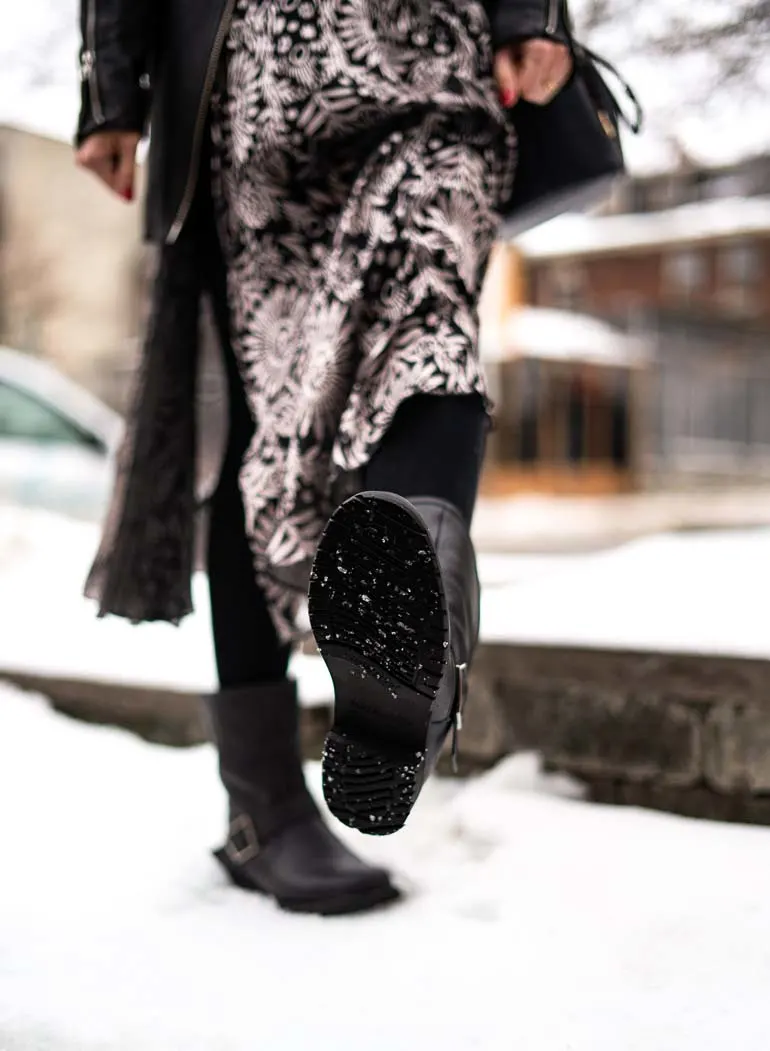 With winter & snow comes ice & slick sidewalks. When thinking about what shoes to wear in the snow, you need to think about how well the outsole will keep your feet firmly planted to the ground. So a solid lug sole is in order.
I'm a huge fan of Cougar's original pillow boots for their amazingly thick gummy soles with grips that can get me through any slush or snow pile! Love these in black too!
The deeper & strategically angled outsole grips, the better they will be at allowing you to plow through snow & keep you steady on ice like a Canadian pro. The flatter & smooth the outsole, the more likely you are to fall flat on your ass.
In the event that you must wear a pair of non-snow friendly shoes outside, you there are a few shoe accessories around that can add traction to certain types of non-winterized shoes.
However, unless you're strapping one of those ice & snow grips on your shoes, they won't be much use to you. You can read more about some gadgets & hack in a previous post I wrote about how to make shoes less slippery.
Pajar & a few other Canadian winter boot brands, make winter boots that have retractable grips build into the outsole. Perfect for those with much more icy roads to venture on!
4) Winter Resistant Materials (To Keep Them Longer)
The best shoes for the snow must also be build of suitable materials. Many winterized shoes are made of pretreated leathers & canvases for waterproofing, strength & durability amid extreme cold temperatures. Which is why opting for a winter boot is always best.
The most important of these parts is the insole. I see many people wearing their Hunter or other rain boots in snowy cold winter days & that's crazy.
Not only are they the most uninsulated shoes ever, the rubber used isn't meant for the cold & will actually crack. Which is a waste of a $200 welly, if you ask me!
Many winter-friendly shoes are made or treated with salt-stain resistant materials. There's no faster way of ruining a perfectly good pair of shoes in the winter than by with ice melting ice marks.
Not only may this harsh salt strip & alter the texture the materials (genuine leather & suede is particularly vulnerable), the white stains will make your shoes look permanently cheap & dirty.
That's why a winter shoe made with optimal materials will be able to resist & endure much more than just the cold!
---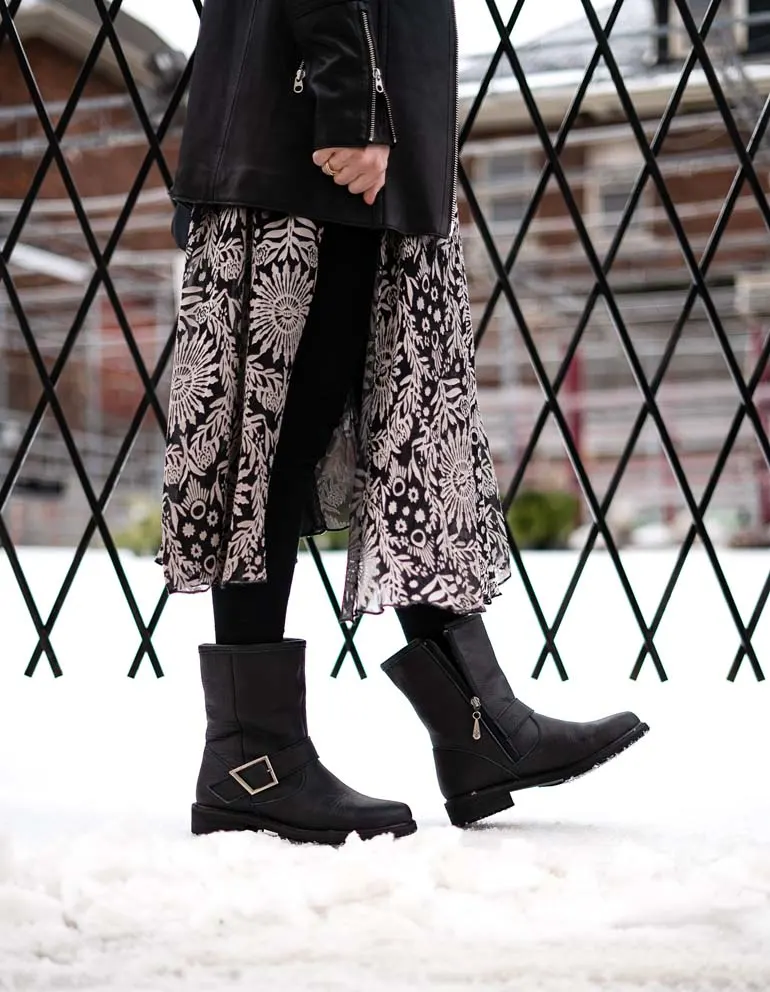 Ok, now that I've run down the basic elements of a good winter shoe, here is a list of what shoes you should avoid in the snow:
Any shoes with a heel that isn't a winterized boot like those from La Canadienne
Porous mesh sneakers
Classic UGGs
Rain boots such as Hunter boots
Delicate shoes made of satin, or suede
Shoes with leather or smooth faux-leather outsoles
There's a reason why winterized boots are meant to be worn in the snow: they're just equipped to manage it for a few seasons in a row. But that doesn't mean that there aren't other options out there.
Many winter boot brands are making snow & cold friendly shoes, such as Cougar, Sorel & especially La Canadienne with their you'll-never-believe-they're-winter-boots shoes.
Some innovative brands are also adapting their signature designs to bear the brunt of winter. Geox is one such brand, offering hybrid Amphibiox shoe series that are all waterproof & many insulated for the cold, with extra thick outsoles.
So next time you're wondering what shoes to wear in the snow or what shoes to buy wear in the winter, (either while shoe shopping in stores or in your own closet!) remember these 4 basic elements so that you'll be kept comfortable & safe!
---
Shop Shoes to Wear in the Snow:

---
xo ShoeTease
Cristina is the chief editor, fashion & shoe expert here at ShoeTease. As a seasoned stylist and women's fashion & shoe designer, she boasts over 20 years of experience in the fashion industry. She loves crafting effortless outfits for ladies both online and off and believes that styling advice should be accessible to everyone. Whether you're a styling pro or just starting out, Cristina's here to guide you on your fashion journey! Learn more.