Are you planning on wearing an orange dress outfit and unsure how to style it? Check out this guide that includes 5 favorite color shoes to wear with orange dresses, along with purse color tips, below!
Orange – especially light or bright versions of the color – is becoming an increasingly fashionable color to wear these days & I'm not at all surprised. Orange rust dress tones are also popular for Fall/Winter months.
It is a fabulous, rarely worn shade that looks great on any skin tone & plays well with other hues. I truly believe orange is the new red!
It's a cheerful hue and the perfect color dress to wear to a wedding or party, especially if you want to be a little different!
And so many options exist from bright coral to dark salmon, so bright orange outfits are not your only option.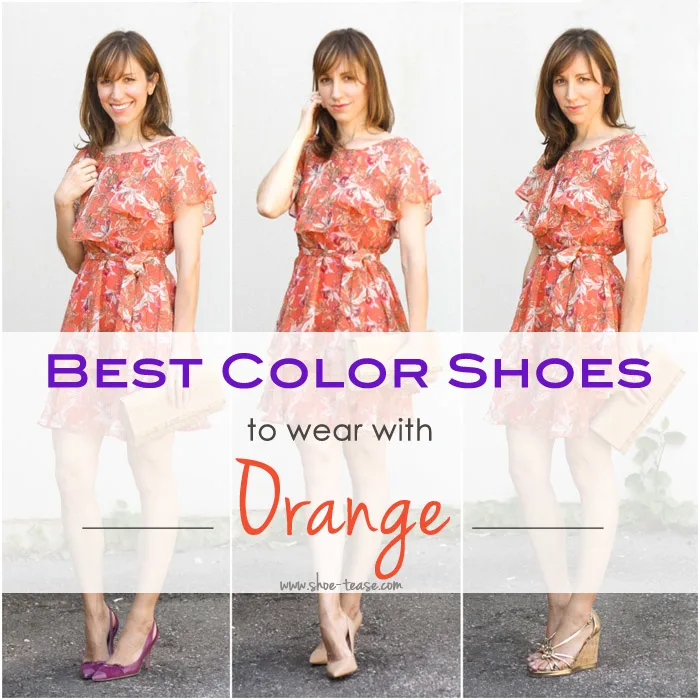 I know I've worn my multi-colored orange dress, above, to a slew of parties & events. But because orange is such a particular color, shoe & accessory pairings might seem a bit tricky.
So I've rounded my the top 6 favorite shoe colors to wear with an orange dress or any orange-hued outfit.
Shoes to Wear with an Orange Dress
1. Gold Shoes with an Orange Dress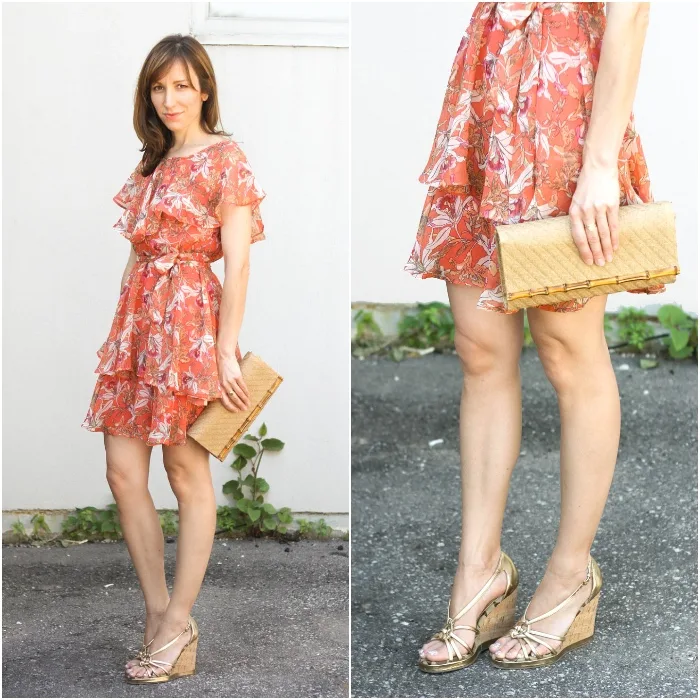 Gold is so so pretty with orange, whether light or dark rust colored! That's why I picked gold shoes as one of my favorite metallics with an orange outfit.
It's still a neutral & warm tone like the dress, but it's festive & adds an element of interest to the outfit. Also, I really love gold anything 🙂
Purse Styling Tip: Your best choice is a beige or black purse here. However, purple could look quite fun, depending on if you're wearing a plain orange dress (yes) or not (yes, if purple's another color in the dress, otherwise, not).
2. Purple Shoes with Orange Dresses
Unexpected & a perfect complement to orange, purple is a great shoe choice. It's no coincidence that orange is a great color shoes to wear with purple dresses!
Not only will it contrast beautifully with your outfit, but you'll be the most originally dressed gal at the party (while showing your styling know-how to all!).
I prefer a deeper purple vs. a lavender shoe myself. However, light purple shoes with an orange dress can look fab!
Purse Styling Tip: Because you're already wearing two bright colours, keep a neutral purse on hand. Quite literally 😉
3. Nude Blush or Beige Shoes with an Orange Dress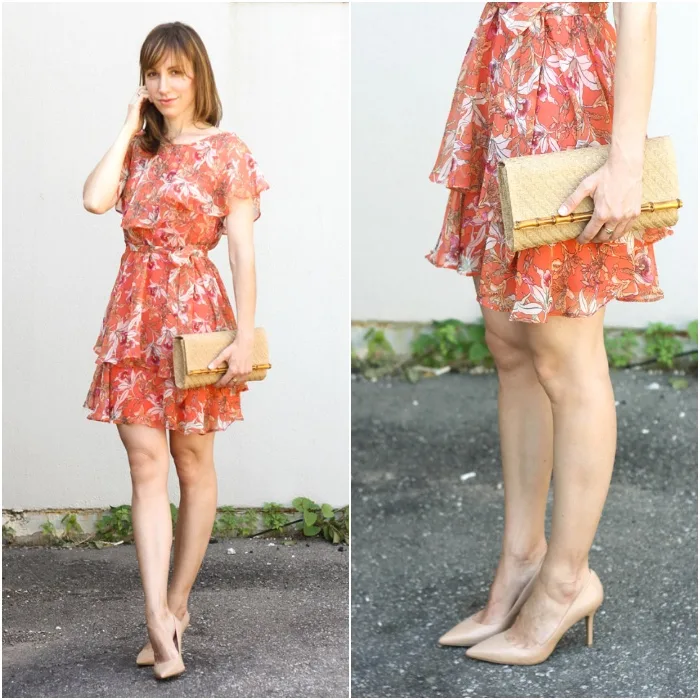 Easily my favorite orange outfit & shoe color combo is beige or blush! If beige is your "nude" like it is mine, even better.
That's because it will elongate your legs & allow the brightness of the dress to speak for itself.
Beige not your nude? Not a problem! It will still look fab, but if you want a leg-lengthening effect, pair your orange dress with the nude for you (maybe from Louboutin's New Nudes collection?) and you're good to go!
Purse Styling Tip: Because beige or skin tone shoes are so neutral, you can go for a contrasting purse in, say, a purple (my fave). Easily pair it with a black, white or a metallic handbag too.
Favorite Beige Shoes & Heels:
4. Black Shoes with an Orange Dress
Black color footwear is certainly what I'd consider the color shoes that goes with everything! And of course, it looks amazing with black. Almost any shade of an orange dress or outfit, black shoes will look great.
That being said if the outfit is purely pumpkin orange, well, with black shoes you might end up looking like you're dressing for a Halloween theme, so watch out for that! So I do recommend black shoes with more rust or salmon colored frocks.
Purse Styling Tip: Match your orange dress with black shoes with a white or metallic purse. You can have fun with a contrasting pink purse for fun! Avoid a green handbag at all costs – again, you don't want to look like a pumpkin!
Favorite Black Shoes & Heels:
5. Red Shoes with an Orange Dress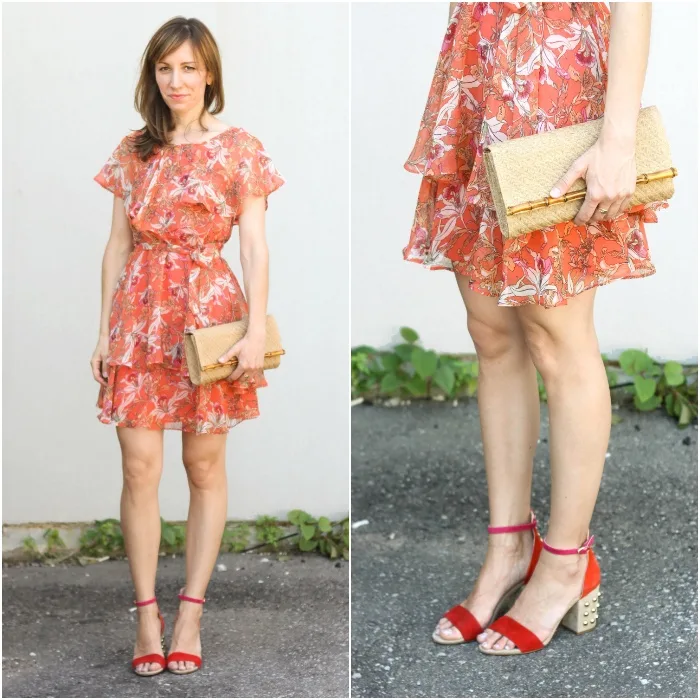 Funny enough, I would usually tell someone to avoid wearing red shoes with orange dresses. Had I not seen the dress or shoes, of course!
Now, because this peachy orange dress is multi-colored and has pink and beige in it, a primarily red shoe with pink, gold & beige looks rather good. That's why red footwear is one of the color shoes to wear with brown dresses that I also suggest.
And yes, pink shoes would have worked well with this dress too 🙂
Purse Styling Tip: I'd remain neutral when you've got a colored dress & shoe happening at the same time. That way, it doesn't call too much attention to itself & allows the shoes & outfit to shine.
Favorite Red Shoes & Heels :
6. Brown Shoes with an Orange Dress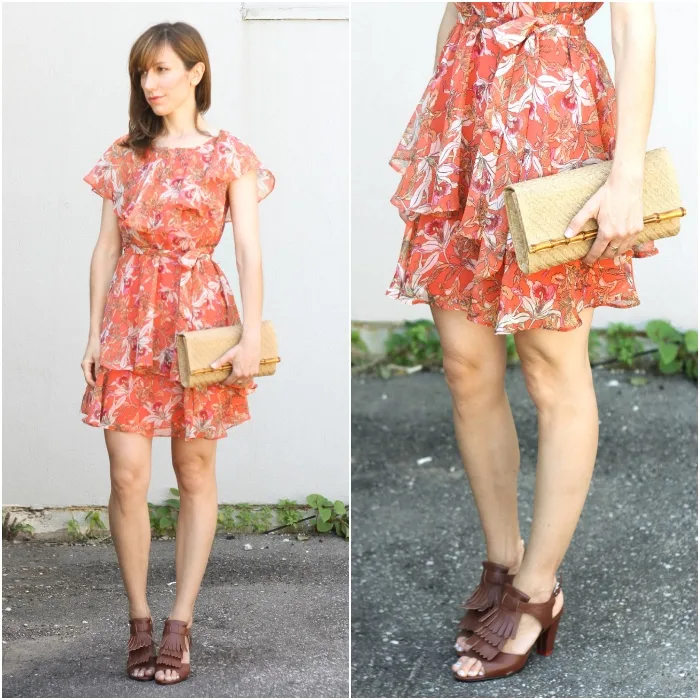 I chose brown as my 5th shoe color choice for an orange outfit, because not only does it works as a visual pairing, but it is such a coveted accessory color at the moment.
Keep in mind that brown shoes with pretty much any dress or outfit (unless it's glittery brown) are going to make your outfit more casual.
Especially with a pair of fringe sandals like the ones pictured in the photos above.
Purse Styling Tip: Beige, white or gold are your best purse choices with this combination.
Colors Not to Wear with An Orange Dress Outfit:
Green shoes (unless it's a halloween costume & you're dressed up as pumpkin)
Yellow (that's a bit much if you ask me)
Blue (unless a dark shade, like navy or deep, a bright blue could make you look a clown-ish)
But then again, if you're a styling pro (and likely not reading this post!), we all know that fashion rules are meant to be broken 🙂
Final Thoughts on What Color Shoes go with an Orange Dress
Of course, there are many color shoes with orange dresses that will look fabulous. Like black, white and even silver (these three will go with just about anything!). That includes orange!
I've omitted these three colors, not because they won't look good with orange, but because they're not necessarily my top choices, especially with this particular dress.
Now, when thinking what color shoes to wear with what outfit, always keep in mind the outfit itself. Does it have a pattern or other colors in it?
If it does, just like mine featured here, an easy way to select a shoe color is to match it with another, secondary color in the dress.
If it's a solid color, you can pair it with a shoe, even a multi-colored one, that compliments the outfit color. That's where a more neutral, black, white or metallic shoe can look its best.
The only shoe color with orange that I'm not a big fan of to pair with orange, is orange itself. Getting matchy-matchy with any outfit aside from black is a bit of a no-no in my books.
Unless, you're going to a gala or the Oscars, where matching shoes to dress is appropriate.
Any less fancy event likely warrants a contrast color shoe. Just like I illustrated in my "What Shoes to Wear with a Red Dress" post.
I hope this post has given you some useful and hopefully new ideas of what to wear with an orange dress (particularly which shoes which orange dresses look best!).
Any questions? Feel free to comment below!
xo ShoeTease
Cristina is the chief editor, fashion & shoe expert here at ShoeTease. As a seasoned stylist and women's fashion & shoe designer, she boasts over 20 years of experience in the fashion industry. She loves crafting effortless outfits for ladies both online and off and believes that styling advice should be accessible to everyone. Whether you're a styling pro or just starting out, Cristina's here to guide you on your fashion journey! Learn more.