Your Complete Guide to Women's Fall 2016 Shoe Trends
The best part about scouring the fashion week runways is to spot quirky new takes on trends & the possible introduction of new ones (as nothing's completely "new" in fashion anymore – not that it makes it any less fun!).
Where designers really like to get creative is in their handbag design & even more so with their footwear creations. And this Fall/Winter 2016 is no exception! Although most of the Womens Fall 2016 shoe trends aren't completely novel, it's difficult not to fall in love with the crazy shoes that literally walked down the Paris, Milan, London & New York runways.
Take a look at them all, below!
Women's Fall 2016 Shoe Trends
If I were to describe the F/W 2016 shoe trends in a few words, what would I say? Well, anything goes! From 70s shapes, extreme maximalism, dainty classics to space-age silhouettes, there's a trending shoe for all tastes.
But there's a definite increase in footwear embellishments, heel shape play, allover metallics, and bold animal print & snake materials. Oh, and don't give away your ankle boots or pointy toe shoes anytime soon. They're as relevant as ever!
Fall 2016 Shoe Trends – Shapes & Styles
70s Style Platforms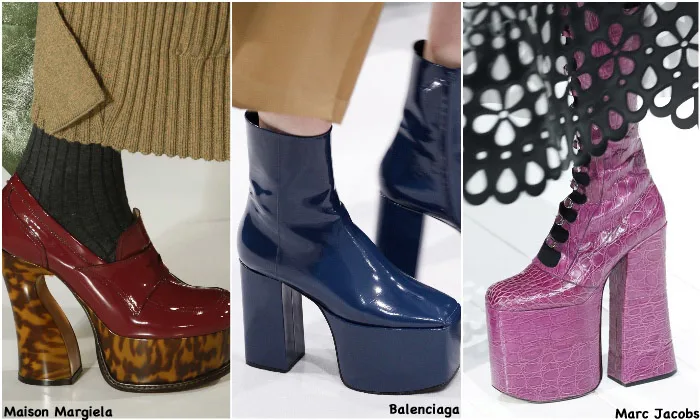 Definitely hard to miss these! Looking like something right out of the Bata Shoe Museum, 1970s Bowie-ish square toe boots & shoes with their ridiculous proportions are the statement making Fall shoes of 2016. If anyone other than runway models can pull them off, that's a different story!
Wedges & Flatforms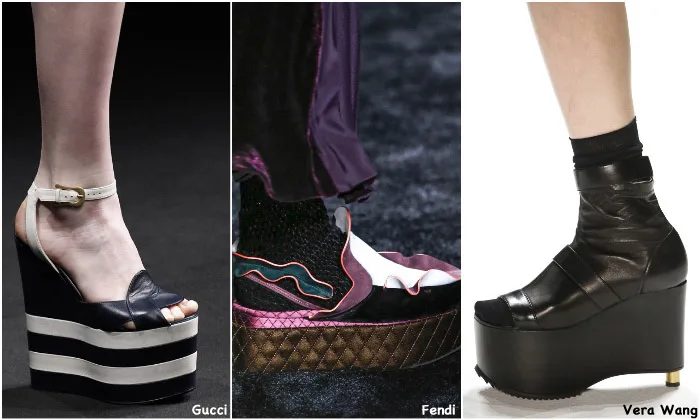 For those with more subdued tastes who still want to make a statement, there are plenty of sky high platforms, wedges & flatforms to choose from. And you can find a good lift added to all types of shoes including sandals, brogues, ankle boots & more.
Pointed Toe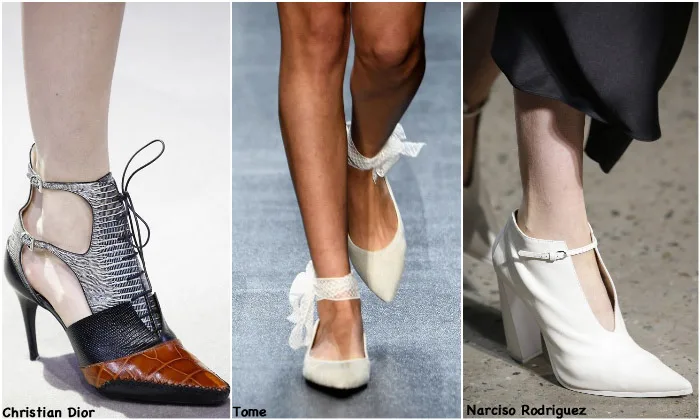 We saw the rounded square toe shape there as a Spring 2016 shoe trend, but it seems like that vintage form didn't take full reign in terms of toe shapes. It's safe to say that although the square-ish toe is still prevalent for Fall 2016, we've definitely taken a step back to everyone's favorite toe: the pointy one! In heels, booties, brogues, thigh highs & flats. And probably more!
Menswear Inspired Shoes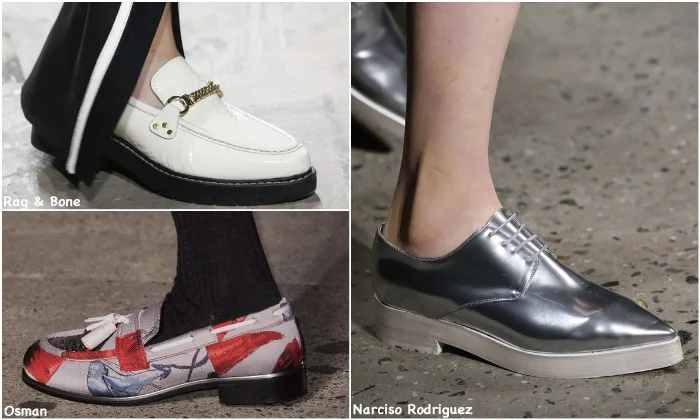 From loafers to oxfords, playful menswear inspired shoes for women continue as a main trend for Fall 2016. Love the Osman floral printed tassel loafer. A great take on a classic!
Thigh High Boots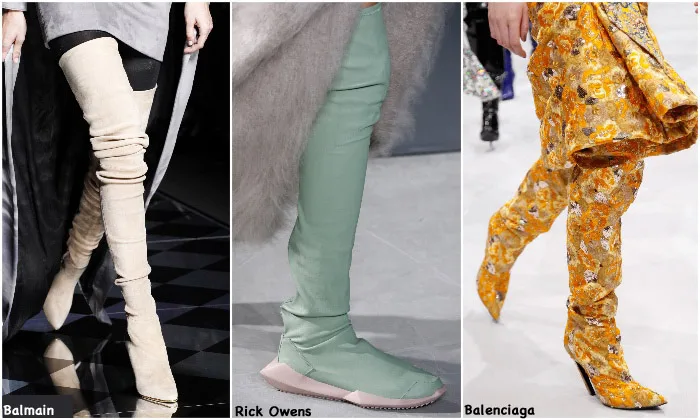 Thigh high is still going strong, although knee high boots this season are giving them a run for their money. Over-the-knee boots were mostly seen in outrageous prints, embellishments & "out there" designs. Yep, the sock boot thigh high from last season is still a thing.
Knee High Boots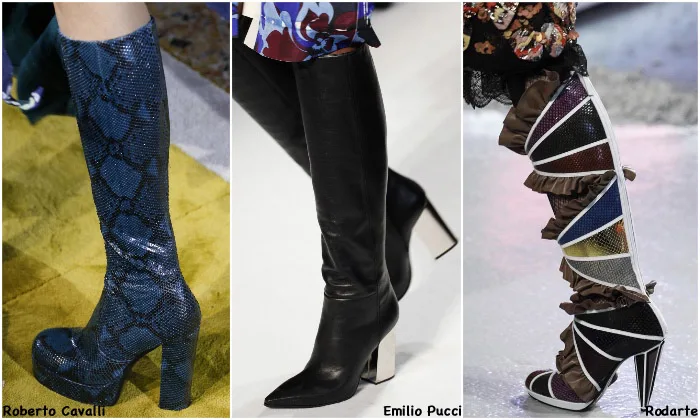 Speaking of knee boots, they're baaack people! I'd like to think it's due to my past efforts last winter to bring back the knee high boot, but let's be serious: brands will just sell more of these & maybe the thigh high trend is fizzling out. It was particularly hot last year, but it isn't the easiest boot to style, nor is it as comfortable as good knee high one!
Just-Over-the-Ankle Boots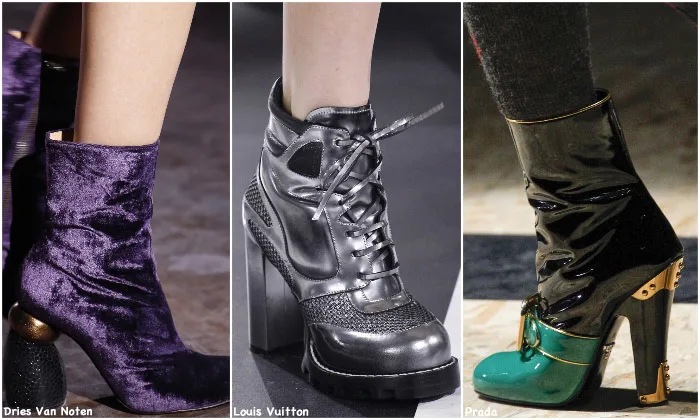 I'm of the opinion that ankle boots will just never go out of style. Speaking as someone who has, every season, continuously discussed ankle boots as a prevalent shoe trend, I'm likely not calling this one wrong!
As ubiquitous as they were again for Fall 2016, the height of the most ankle boots were ones that fully covered the ankle, rather than exposing it. The most popular ankle boot style of the F/W 2016 season? Surely the go-go style boot with rounded-square toe & block heel. Yep, just like last year!
Fall 2016 Shoe Trends – Heel Types
Cone Heels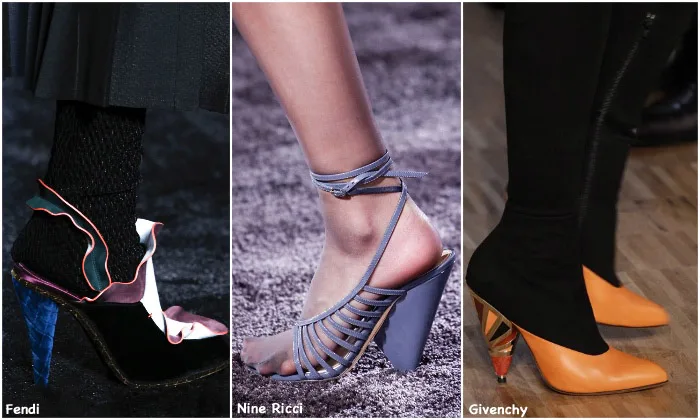 Creative, Sculptural Heels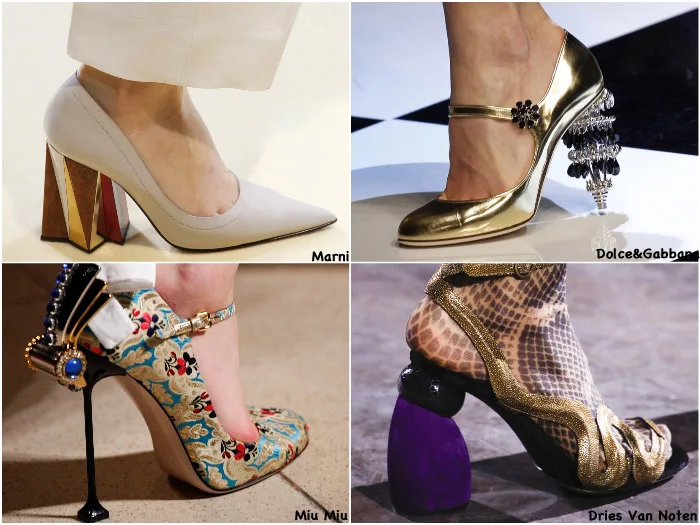 Heel shapes & designer are getting weirder & more wonderful by each upcoming season! Some are thick, some are thin, but none are of the average heel shape that your toddler can name!
Mixed Media Wooden Heels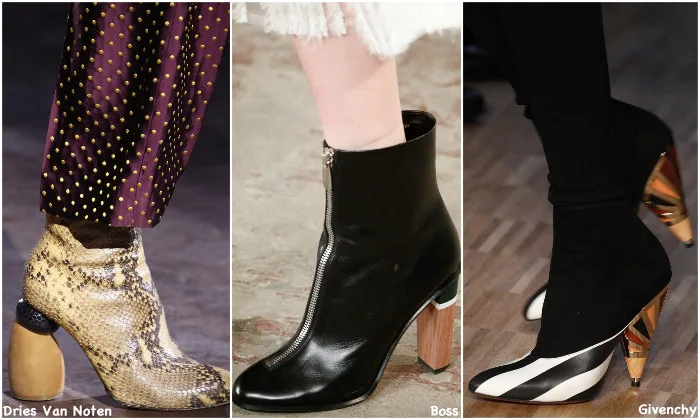 Not your typical wooden or stacked wood heels (although lot of those too for Fall 2016!). Tying back to designer heel creativity, there was a notable experimentation with mixing wood with other materials & fabrics to create interesting & certainly different heel types. Possibly inspired by furniture feet? I'd certainly screw any of the above 3 bad boys to my couch, thank you very much!
Block Heels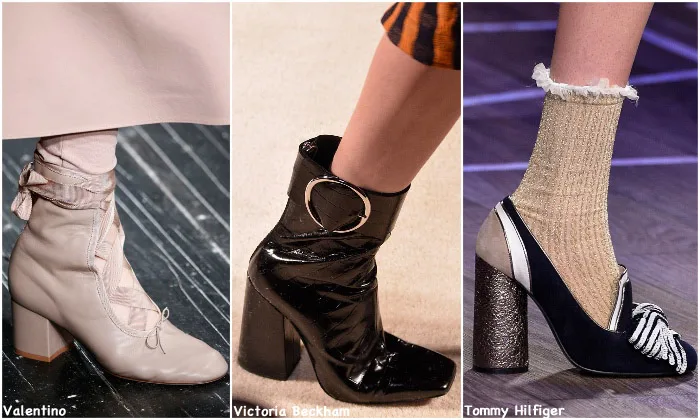 If a simple block heel is what you're looking for, don't worry. These are still going strong. Don't see this comfier-than-stiletto heel going away anytime soon, either!
Fall 2016 Shoe Trends – Prints & Textures
Snake Print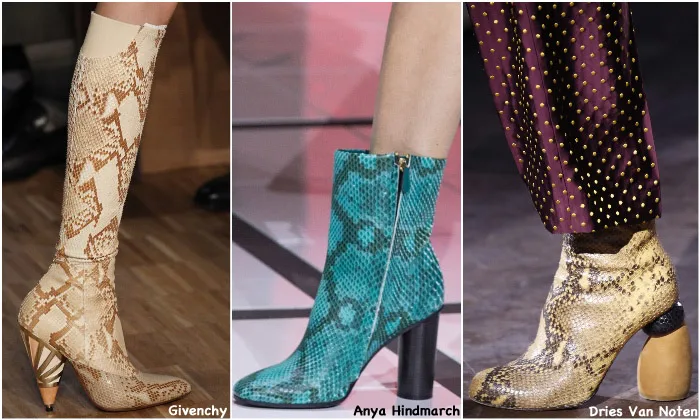 All-over, bold colors & in your face, this reptile has made a forceful comeback for Fall 2016!
Colorful Zebra Print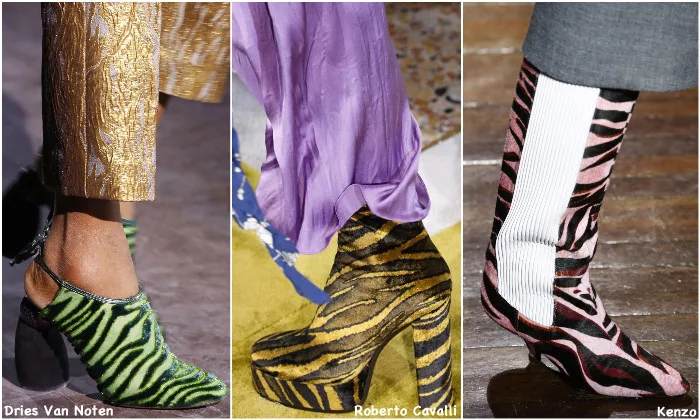 Didn't see this one coming (but I probably should have!). These zebra prints in the brightest & most obnoxious colors possible, would put your little stuffed animals to shame. A little furry, a little shiny, these, along with 70s platforms are probably the loudest of the Fall 2016 shoe trends spotted on the top runways!
Patchwork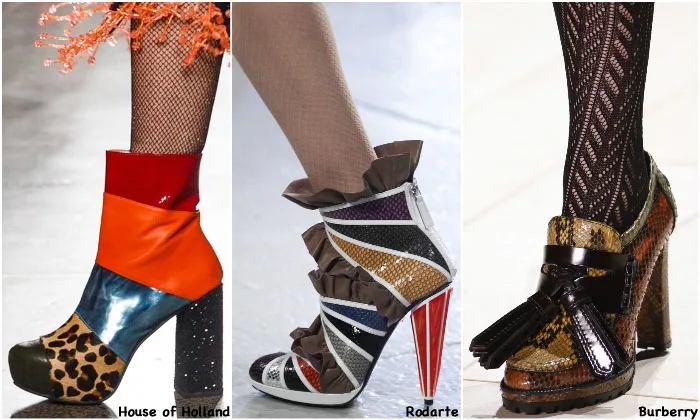 This one's not new, as it was certainly a trend that caught my eye during the Fall 2015 runway shows. Designers are apparently still loving it & keeping it as weird as they can. Must to our enjoyment of course!
Baroque Brocade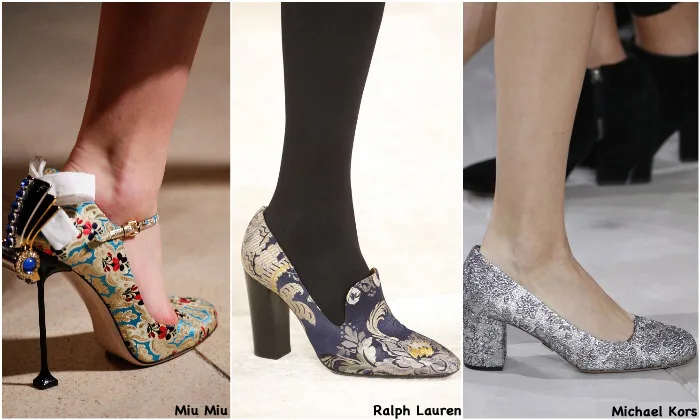 Whether colorful, with small motifs or big, metallic brocade is a thing for Fall.
Metallics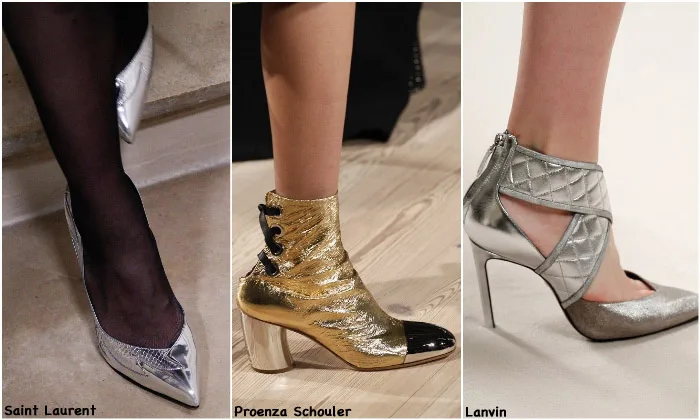 All over metallic shoes is a big trend for this particular season. And we're not just talking mirror metallic, either! From crinkled to satin & non-reflective glittery metallics, this is a shoe trend for Fall 2016 that was hard to miss. Most prevalent metallic colors: silver & gold.
Fall 2016 Shoe Trends – Dainty Detailing
What distinguishes Fall 2016 shoe trends from the previous season is a heck of a lot of feminine detailing! Although back last year, there was a lot of beading, but it's been taken to new extremes. From pearls, sparkles, added ruffles & more, there's more than one dainty Fall/Winter 2016 shoe to love!
Pearls
Pearls are the most in-your-face & completely new trending embellishment. We might have seen a bead here or there in the past few runway seasons, but this time it's making a statement in its original pearly white! Oh, and the more pearls, the better!
Ruffles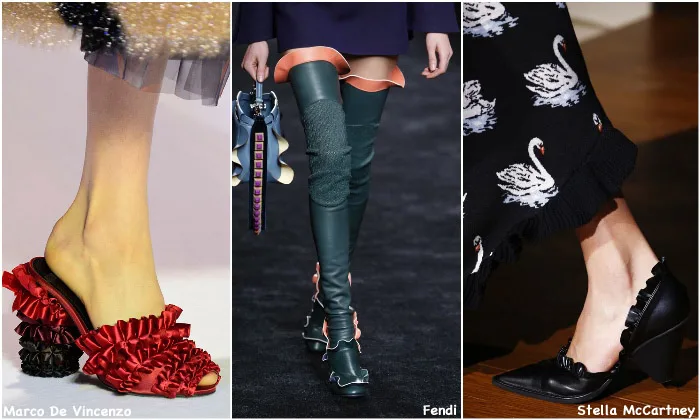 Ribbons & ruffles were another very different shoe embellishment seen on many a Women's shoe during the fashion weeks! So glad I didn't sell my ruffled top teal booties from 5 years ago. I'll just say they're a current Fendi boot design 😉
Glitter & Sequins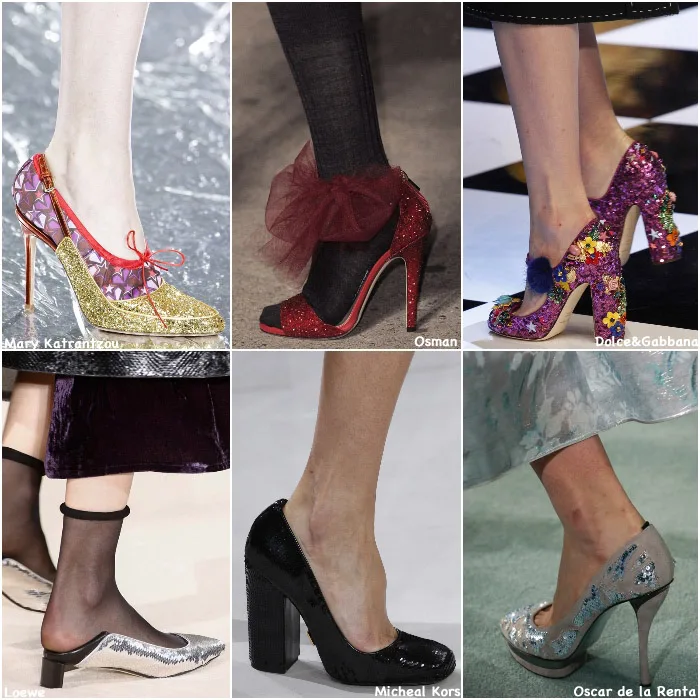 Loads of sequins & lots of glittery sparkles on the Fall 2016 runways. Whether all over shine (most prevalent) or strategically placed, we will gladly welcome sparkly shoes onto our feet no matter what time of day!
Bows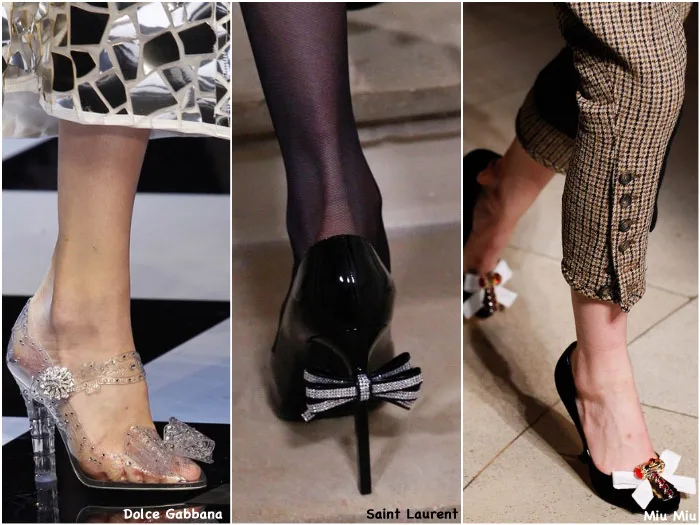 Bow and more bows. So many bows trending on shoes for Fall 2016, it was hard to keep track. Good time to grab some bow-shaped shoe clips from your nearest shoe store for an instant shoe update!
Painted Flowers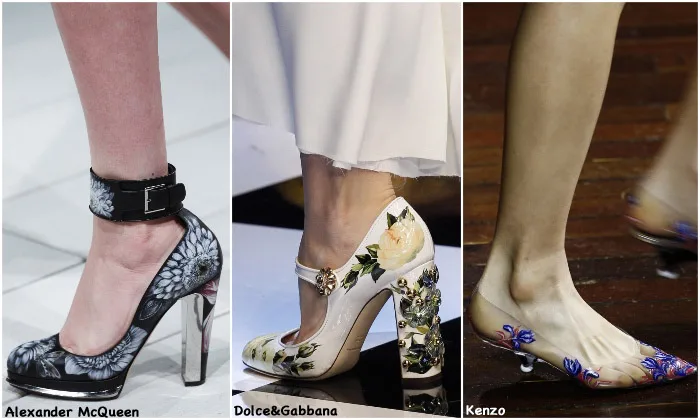 Whether tattoo-like or something you'd imagine on your fine china, hand painted florals were spotted on many a women's shoe for Fall 2016. Such a great departure from the all over floral print. The strategically placed flowers look beautifully haute & likely just as expensive 😉
Fall 2016 Shoe Trends – Daring Details
Over-the-Top Statement Embellishments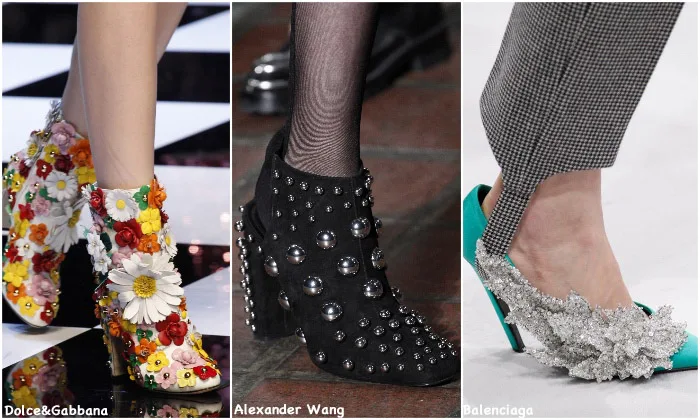 Nothing makes more of a statement than an over-the-top footwear detail, repeated all over a shoe! From boots in full on bloom at Dolce&Gabbana to huge studs & shoe sparkles from many designers (including the ones featured from Wang & Balenciaga) maximalists don't have to be contained by minimalist convention any longer!
Furry, Hairy & Pom Pom'ed Shoes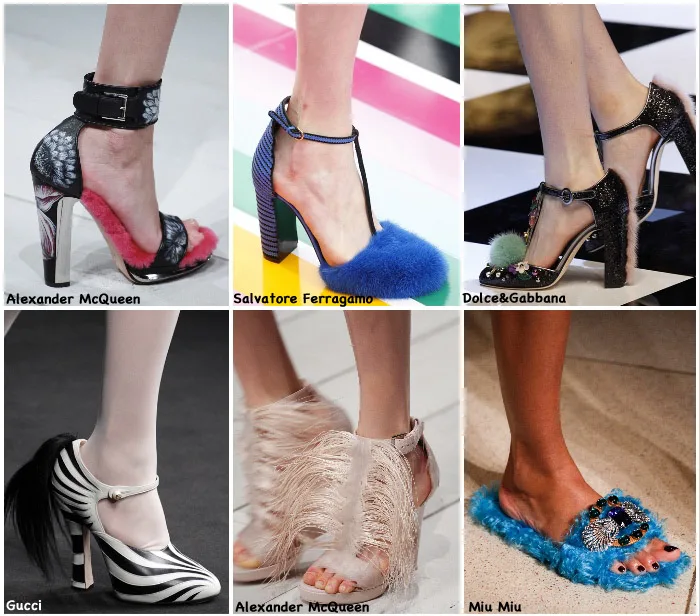 Hairy shoes are still relevant! And in all forms: tacked on as a shoe "tail", used as an all over furry material, added as a fountain of feathers, or a simple pom pom detail. The trend is geared to obviously man-made, cartoonish fur types. And the more colorful, the better! I don't think we're ever going to get away from this one. But that's ok, 'cause I kinda like it!
Thin Multi-Straps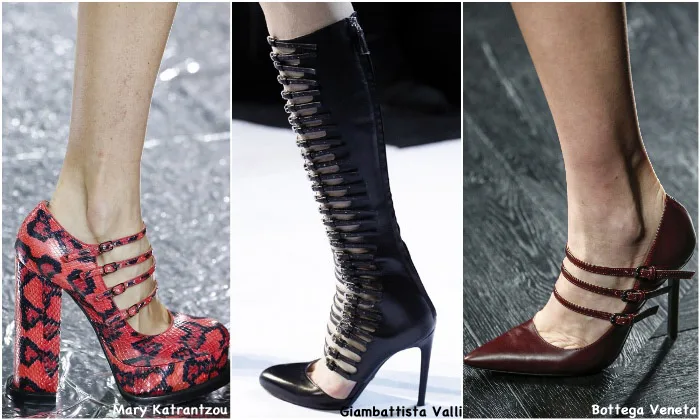 As a fan of strappy heels, this is one of my favorite Women's Fall 2016 shoe trends. The straps are impossibly thin & look best when multiplied as many times as you can fit onto a shoe! The perfect dainty compliment to refine a clunky shoe or add interest to a plain pump.
In conclusion, simple shoes at the Fall 2016 women's runway shows, there were not (many). The more complex & intricate the better! Even though most of these designer shoes aren't going to be plucked out from store shelves to be simply on a day-to-day basis, they're certainly an indication that it's time to have even more fun with fashion! But most importantly, not to take fashion too freaking seriously! Especially not the shoes 😉
xo Cristina
Photo credits: vogue.com