Vionic Footwear + ToeSox, Socks with Toes GIVEAWAY
It's that time of the year when shopping's at an all time high & your stress levels might be on the rise with the upcoming holiday season (only 24 days left!). So why don't I help take a load off your mind with a shoe giveaway c/o Sole Provisions? You're welcome!

If you remember in the Spring, I hosted my first Sole Provisions giveaway of comfortable shoes & socks, including a Vionic shoes review & a glimpse into my first Toesox socks with toes (and without!). For Fall/Winter we've come together again and are hosting a similar sock & shoe giveaway this time around too. And with a ton more products available from both Toesox socks & Vionic footwear brands. Here's me checking out a few of my favorite newer arrivals!
---
Shop the Post:

---
Vionic Footwear "Torri" Sneakers with Snake Print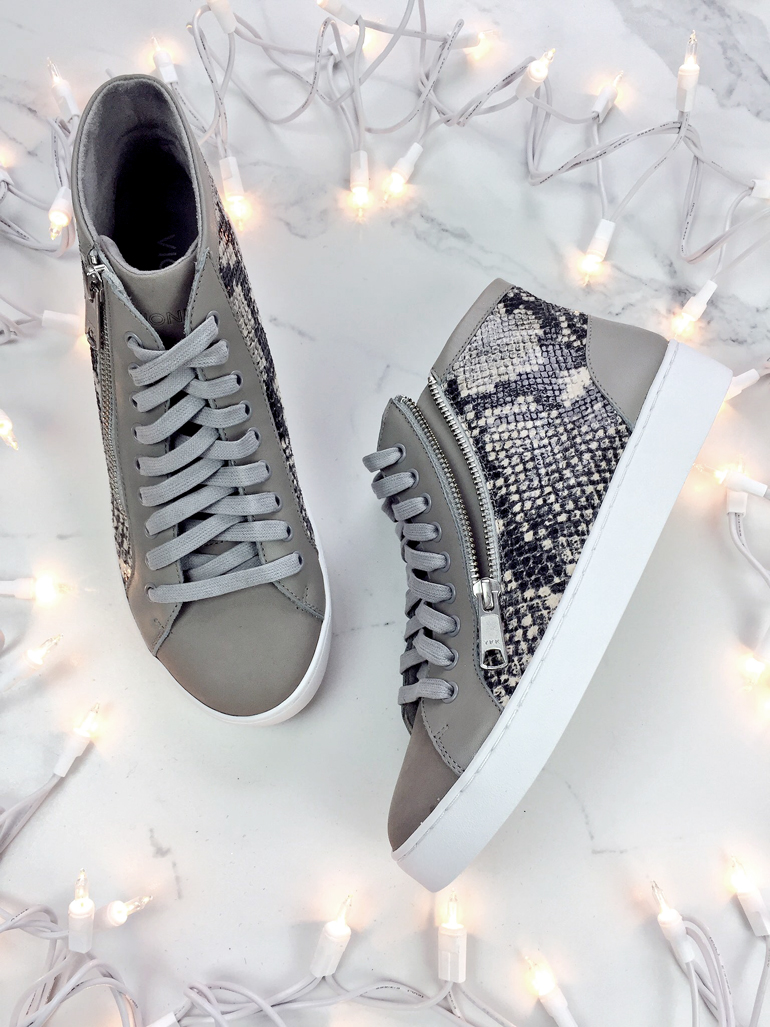 I love a good snake print, especially a shimmery one! I have a perfect reptile print clutch, another pair of low snake sneakers and now, these wonderful hi top sneakers by Vionic footwear (in my defense these are a different print & completely different style!). I just love a good greige with an animal print, what can I say?
These thicker soled side zip sneakers are a great mid-season fashion sneaker you can easily sneak (see what I did there1?) into dinner. Stylish and comfy, it's hard not to love them. In terms of fit, they are roomy in both length, but primarily width, compared to the other Vionic sneaker style I own. I ordered a size 8, but could have easily fit into a 7.5 of even 7. Which actually gives me a good excuse to finally wear my Invisible Heels, giving me a 3/4″ lift (and filling in the shoe where I need it most), while no one's the wiser 😉 These sneakers also come in all black and leopard print. Yes, leopard print!
This style of shoe, as all Vionic footwear, is very comfortable. However, I have yet to walk miles in them, but when I do, I'll keep you posted on the results 🙂 Remember,Vionic makes predominantly orthotics shoes using Orthagel technology. But with all their cute styles, it's easy to forget that part!
Although I've been obsessing over their sneakers with great prints, Vionic makes all kinds of footwear, not just running shoes! They have fabulous chic ankle booties and these amazing shearling lined winter moto boots called "Rosa" that I'm kicking myself for not grabbing…yet!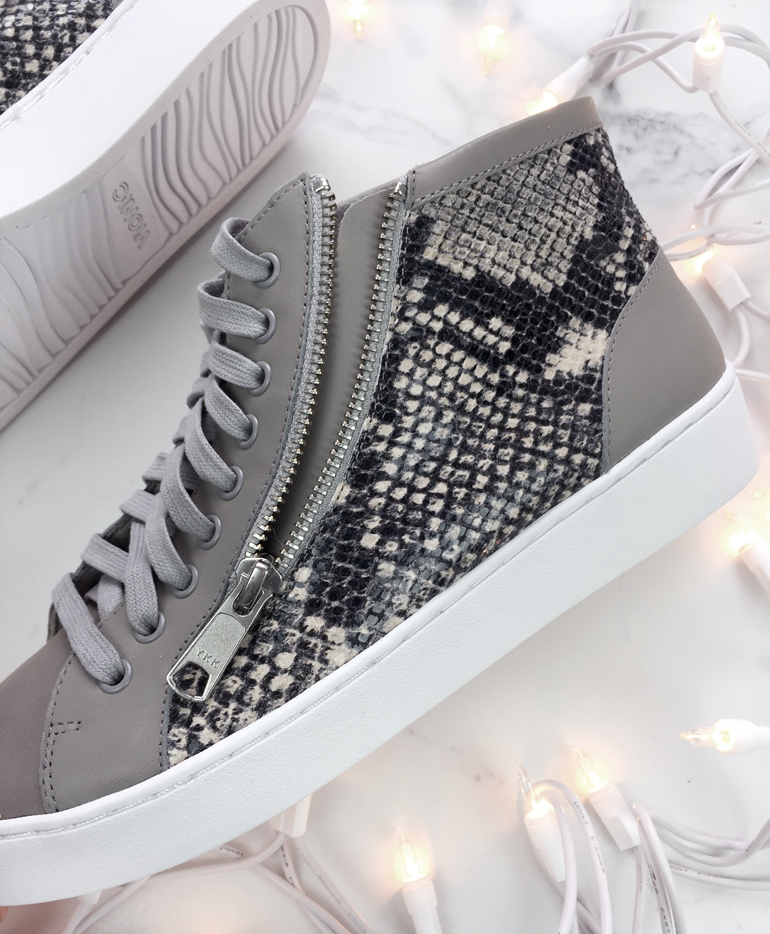 ToeSox Socks with Toes – Crew Style with "Groove" print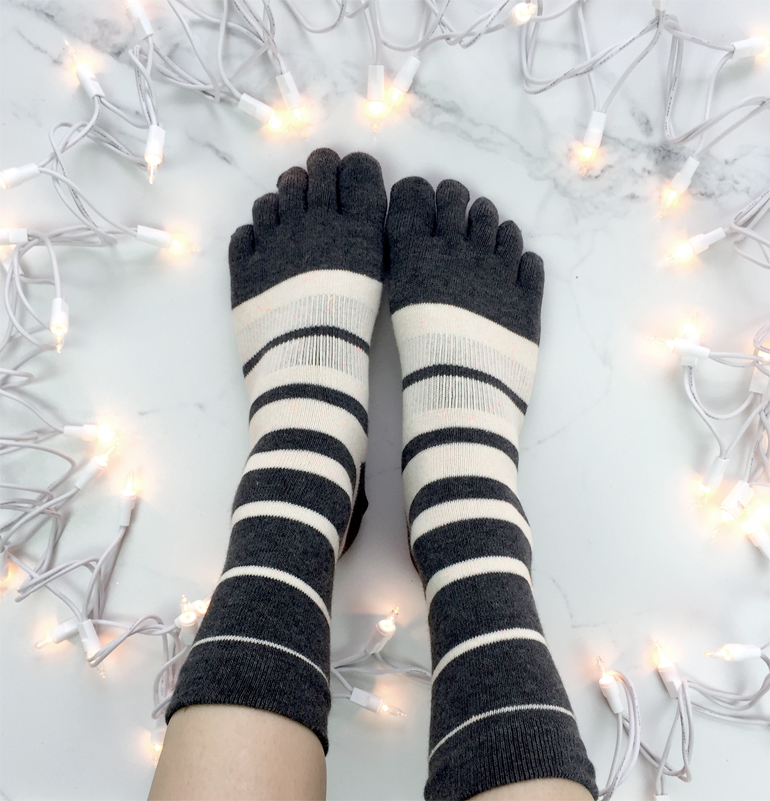 This is my second pair of Toesox socks with toes, in the "Crew" style. I'm so happy to have another pair now, because they have so many features that actually work! The arch and extra support on the foot help not only with my high arch while walking, but also with them staying on.
You know those socks you wear with certain boots or shoes that keep slipping off your feet and into the top portion of the shoe? Well, with these Toesox, that doesn't happen. I reach for them when wearing particularly bad sock "eating" footwear such as rain boots, preventing me from ever having to go fishing for my socks in my shoes again!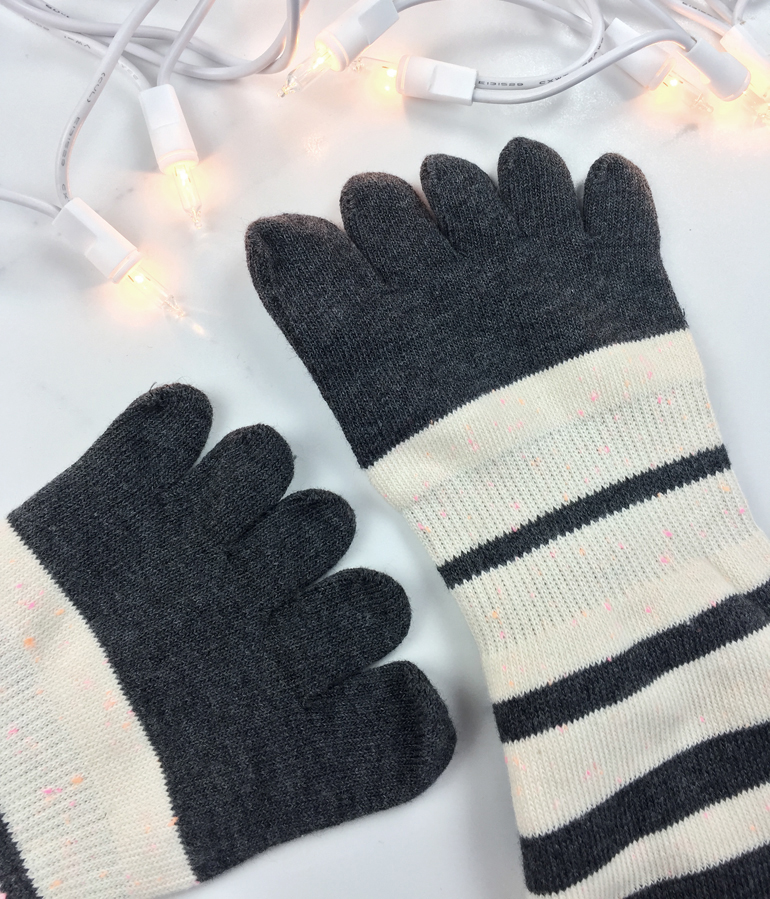 Yes, these socks with toes do take a bit of getting used to, but trust me, they're so worth it in the end! Toesox has so many socks available in all styles, colours, with grips, no grips, toes, toe holes etc. Yeesh, it's really hard to keep track. Many styles they offer have rubberized bottoms to help with foot grip when you're doing yoga or dancing. That being said, these are the newest of the Toesox prints and I love the stripes.
Hard to tell without a close up, but the cream coloured portion of the material has neon pink & orange fleck in them. Socks never look so good! Toesox socks also have a high percentage of cotton in them, making them feel great. And it might just be this pair, but the upper cuff that I had found so tight in my first pairs of Toesox aren't an issue here. Maybe they've lessened their elastics a little, or maybe my ankles shrank? You never know…!
Toesox Thigh High Leg Warmers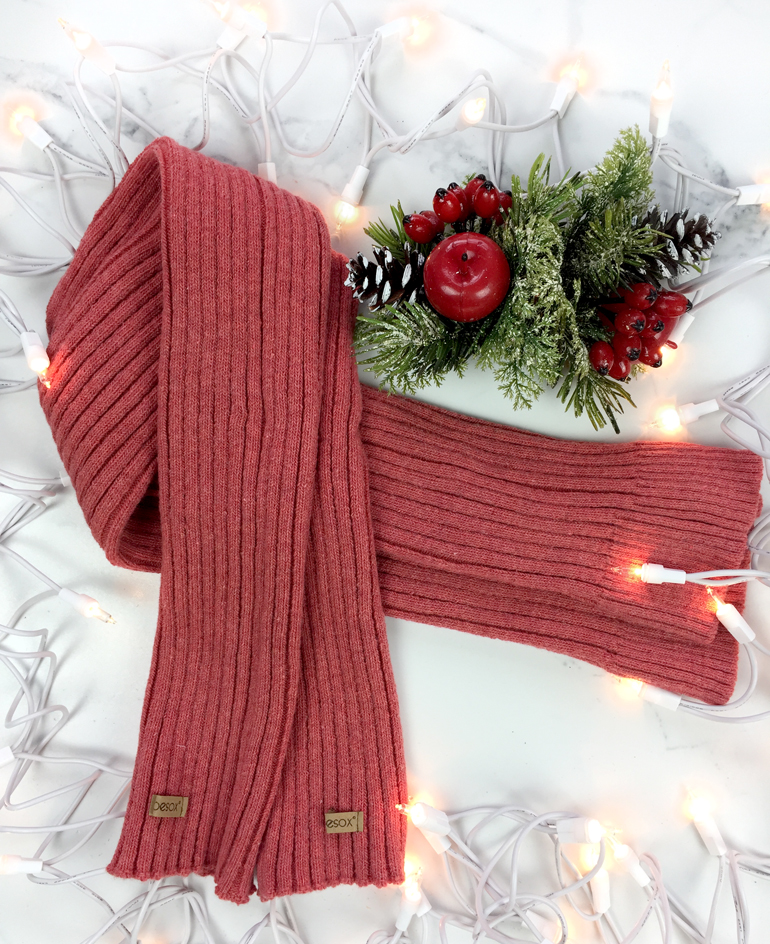 I originally ordered these in a charcoal grey, but they were sadly out of stock. Le sigh. However, with Christmas around the corner (and Valentine's day right up next, heehee), a light red does not an unfortunate color choice make!
These thick ribbed very long Toesox leg warmers can be worn up high or scrunched low. I prefer an in between! I will definitely be wearing these on top of my leggings & pajamas while working at home, where the floors are oh-so cold, brrrrr. But if you train or dance, these are a great way to warm up your muscles as you…well, warm up!
---
This Giveaway has Ended
Sole Provisions Vionic/Alegra + Socks Giveaway
What you could Win:
1 pair of comfortable Vionic or Alegria shoes and 1 pair of socks from either ToeSox o Injinji for 1 winner (subject to availability)
Who can Enter:
Anyone 13+ years in age, located in the US or Canada
How to Enter:
It's easy! Enter by using the Rafflecopter widget below. Each entry has its own value. Gain more entries by tweeting daily (see all options when activating the widget, below).
GOOD LUCK!
Giveaway Fineprint:
Giveaway starts Dec 1, 2016 12AM EST and ends Dec 16, 2016 12AM EST. 1 winner will win 1 pair of Vionic or Alegria shoes AND 1 pair of ToeSox or Injinji socks of their choice from soleprovisions.com. Chosen prize is subject to availability. Contestants must leave a comment on the blog answering our question to qualify to enter. All other entries are optional. The winner will be announced shortly after the end of the giveaway. The winner will be randomly selected by Rafflecopter. The prize is non-transferrable & cannot be redeemed for cash value or exchanged for another product. Applicants must be over 13 years of age and must reside in the USA or Canada. Prize will be shipped directly from Sole Provisions.
xo Cristina