If you're wanting to get festive with your fashion during the holiday season, but think that the ugly christmas sweater has become redundant, don't despair. With so much focus on sweaters, I have an itch to switch our attention to holiday shoes. And makes them the perfect ugly holiday sweater alternative! The best feature about them? That they don't have to be a permanent thing. Let me explain…
Ugly Christmas Sweater vs. Ugly Holiday Shoes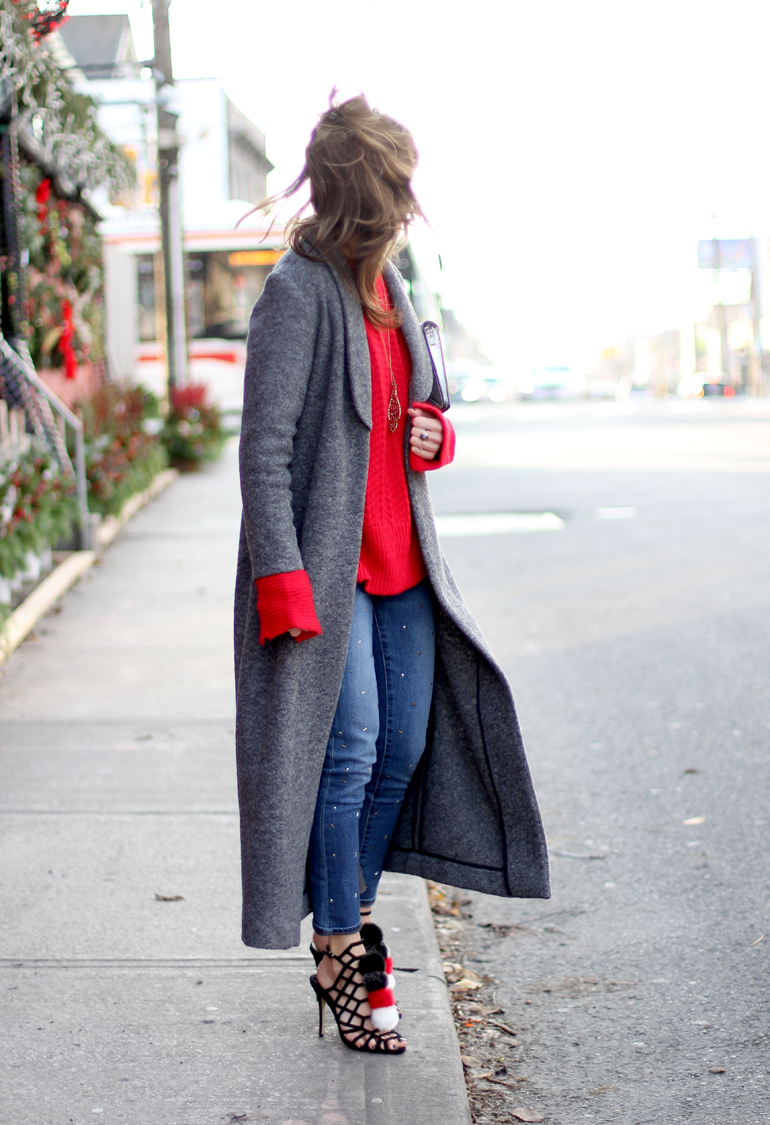 Pom Pom Shoe Clips: Pombons holiday collection set. Cage Sandals: Steve Madden. Duster Coat: Davis Project c/o. Star Studded Jeans: GAP. Sweater: H&M. Necklace & Tiered Ring: Shop for Jayu c/o. Silver Clutch: similar
---
Shop Pombons Holiday Sets:
---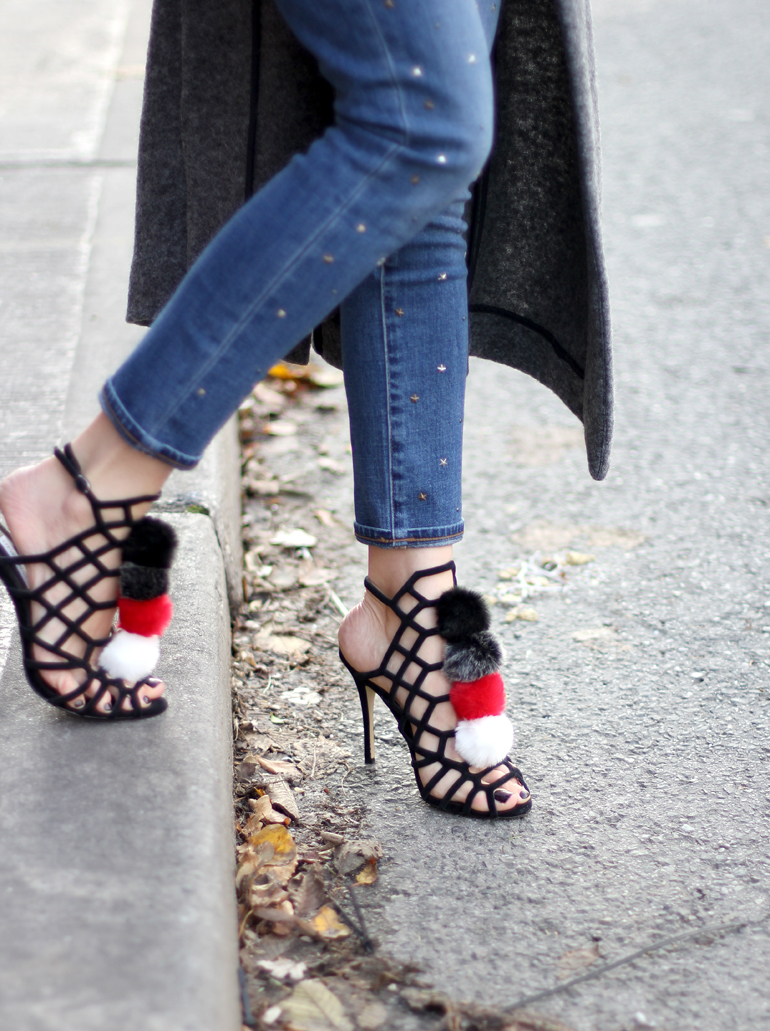 I mean, don't get me wrong. I do find great humour in ugly Christmas sweaters: they're weird, wacky and always fun. Have you seen the ones that light up & all? Yeah, they're pretty awesome! But what generally annoys me about them is their one-time use and the mega space they take up inside our closets. And if you've got a larger family, these items can use up a lot of closet space. You know, in addition to all the already bulky decorative lights, ornaments and all!
So why not opt for tacky but temporary holiday shoes instead? The easiest way, is by adding some pom pom holiday fun onto your favorite shoes! Which is what I meant about a non-permanent solution to replace the ugly holiday sweater.
If you saw my last post talking about Pombons shoe clips, they're a fun little faux furry addition for your shoes, bags, hats & more. And they can be customized in the colours you like best. Like the Christmas-inspired sets for the holidays I'm wearing in this post. Because, why not opt for some temporary holiday shoe fun that you can semi-DIY, mixing and matching them for other occasions as well? Just clip on, then clip off. It's that brainless!
You can scroll down to the bottom of the post for my suggested holiday pom pom pairings, or head on over to pombons.com to customize your own sets of 3 pairs.

And if you're wondering on how to style these shoe clips, well, it's really up to you! I went more festive in a red sweater. a minimal yet sparkly necklace and literally star studded jeans. But you can go as crazy as you like, because we're talking tacky holiday fun here! (You have seen the ugly Christmas sweaters that are in stores now, right?).
I chose to tone down my Christmas outfit to make it more wearable in day-to-day life. So I added a classy grey duster coat from the Toronto-based Davis Project collection. If you haven't seen their beautifully sculpted pieces, you should definitely have a look. The fit is incredible!
What do you think of these holiday shoes made up of detachable pom poms? Will you be wearing something holiday-themed to celebrate?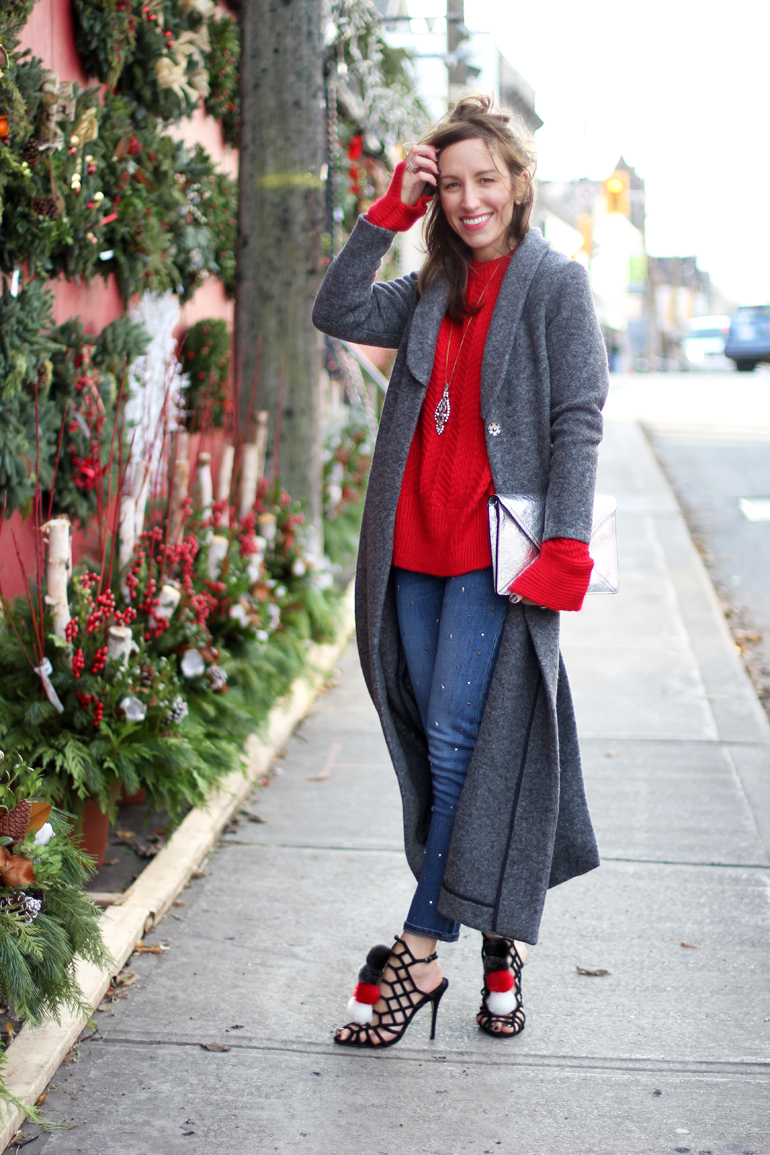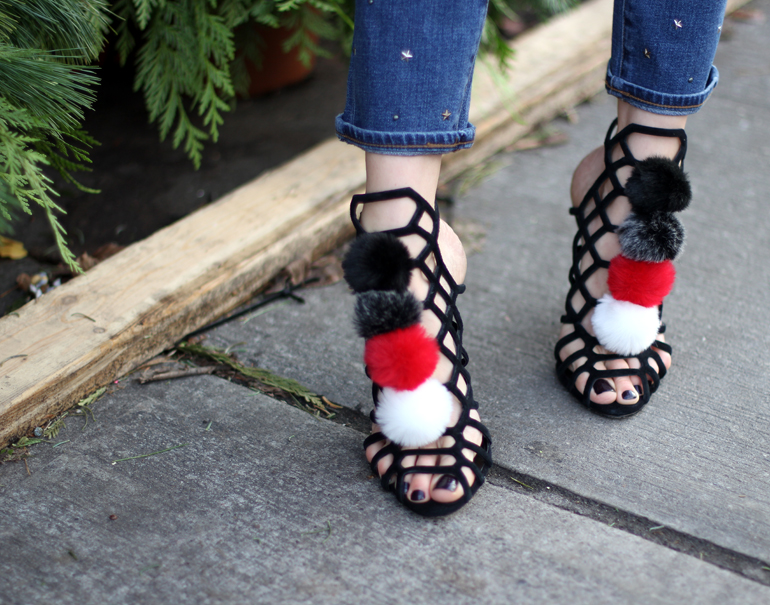 xo Cristina