Ssh-oes Quiet Shoes & Comfortable Heels for Spring 2016
I don't know about you, but I get pumped for seasonal wardrobe changes! Yet as much as new Spring shoes are exciting, I have trouble finding comfortable shoes & heels for the warmer months, especially when there are peep-toes & cut-outs involved.
I walk a lot, and heels that dig into my feet or sans ball of foot padding are not going to serve me well. So I'm always on the lookout for both stylish and comfortable sandals. Particularly ones that are made & lined with leather &/or soft, breathable materials.
**This Brand is No Longer Available***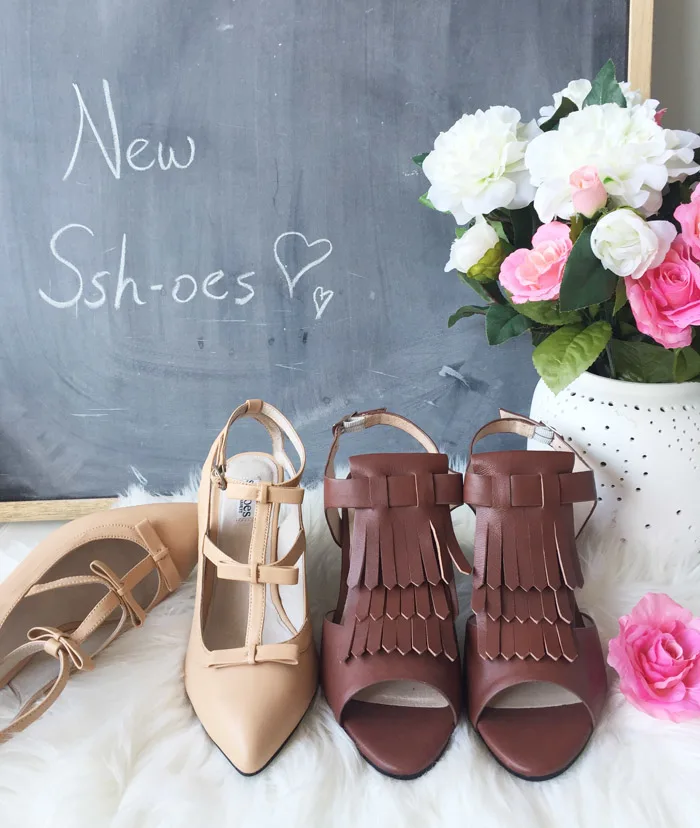 Spring Ssh-oes! Quiet Shoes with Built-in Comfort
If you read my previous post & review of the 3-in-1 convertible boots from Ssh-oes by Mary Arnett, you'll know that this brand offers comfortable & stylish shoes with a bit of an innovative twist: their heels are created with noise reducing technology. This results in very quiet heels with a patent-pending technology built right into the fun red heel tips.
Quiet shoes, you ask? Why would these be useful? Quiet heels can be an asset in many more situations thank you'd think:
Going out/coming home & don't want to wake up kids or roommates? Check!
Want to walk around your office & not attract undue attention? Check!
Live in an apartment building & want to keep the peace with the neighbors downstairs? Check!
Need to sneak up on someone & scare the life out of them? Check!
Don't think that these shoes will help strut more quietly in heels? Just watch this video! Or try them out yourself. Yes people, they really work.
Ssh-oes now offers new styles for the current season in various shapes & colors. Here are my two favorite heels from the bran'd Spring/Summer 2016 collection.
Olivia Bow Strappy Pumps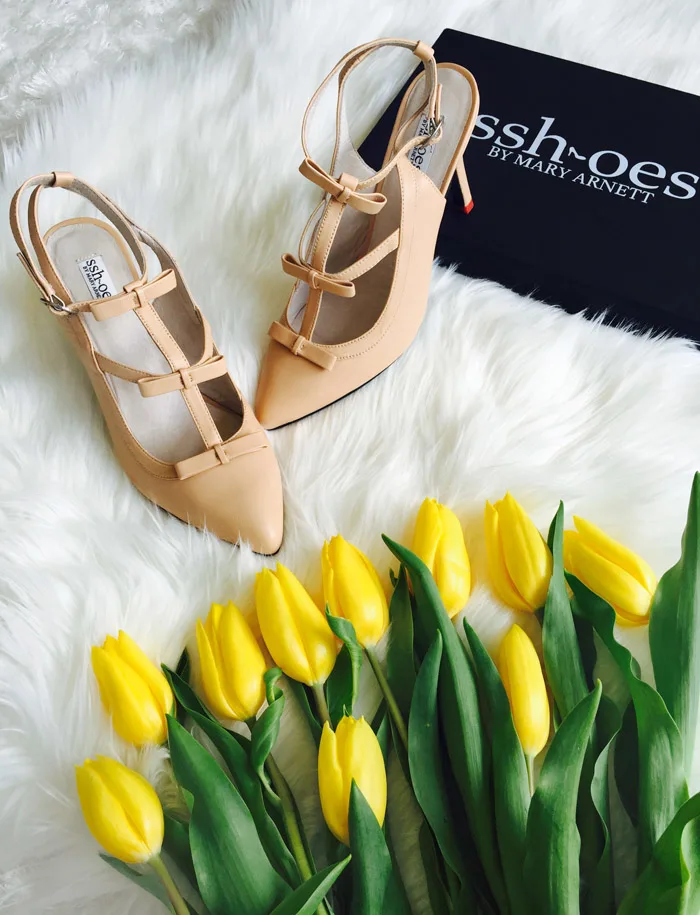 This style might hint at the famous Valentino Rockstud pump, but the Olivia heel is definitely its own shoe. Feminine, classy & understated, there are many things to love about this beige pointed pump. Including the triple tone-on-tone mini bows that are a cute yet subtle addition!
As with all of Ssh-oes shoes, the extremely soft leather exterior & lining conforms to the foot, making them more comfortable with every step you take. These are like slippers with heels!
And best of all, the pointed toe doesn't mercilessly squeeze your toes together, so you can walk those extra blocks to your next meeting or event without any worries (or sore feet!). Great padding under the foot too!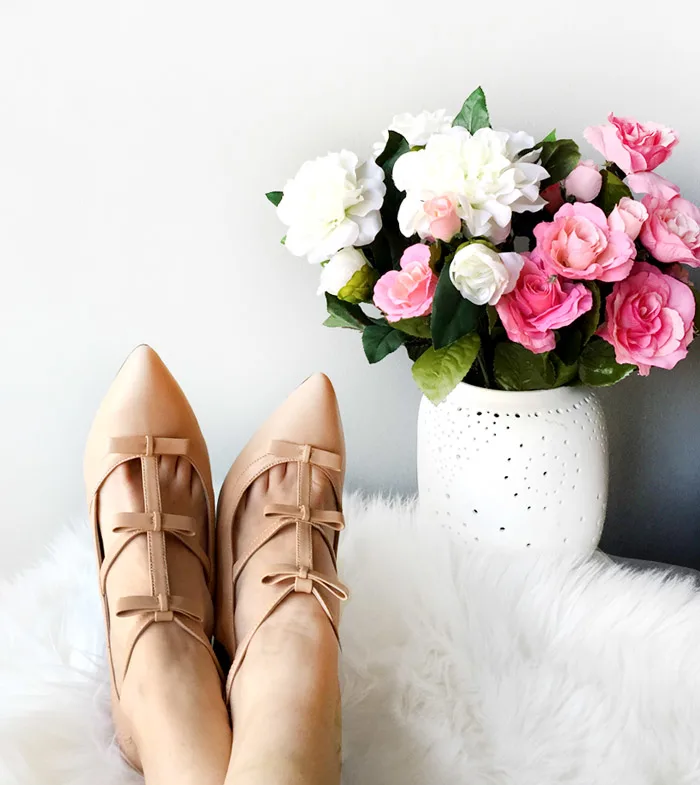 And if your skin tone is as pasty pale as mine, the beige will blend right into your feet, elongating your legs for an extra 3″. This strappy pump is a versatile addition to one's shoe closet & can easily be dressed up or down. Perfect to wear all year round for anyone's wedding (even your own!), to the office or on a date night.
The Olivia also comes in black & fits true to size. I must admit that a stiletto heel has never made so small a sound as I walk!
Mackenzie Triple Fringe Sandals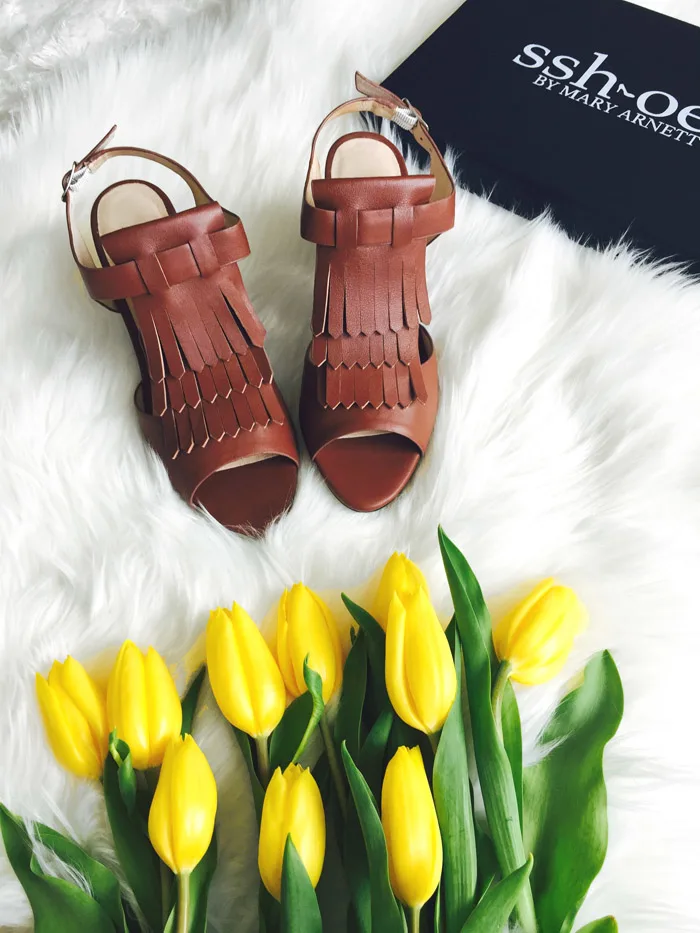 It's no secret that I love fringe & this chunky heeled shoe incorporates it so well! And with not one, but three layers of it! Stylish with menswear flair, this is the fringe sandal you can wear to complete a business casual outfit without looking too flashy, yet still maintaining a fashionable sense of style.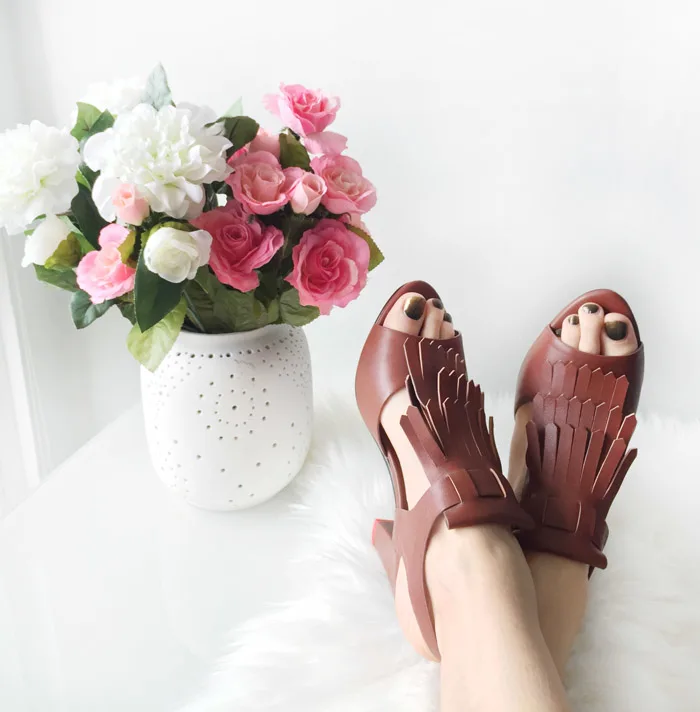 The 3″ block heels make them stable & easy to walk in, while the soft leather (as with the previous style) feels soft & smooth against the feet. These lovelies also come in black & you can shop both hues here. These sandals also fit perfectly true to size & are relatively click-less!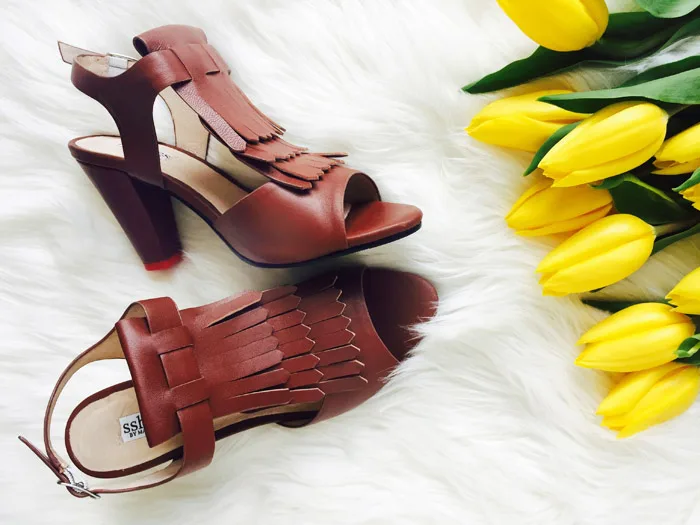 What I love most about Ssh-oes is their ease of wear & apparent simplicity, masking the thought & process that went into create each & every style. All you need to know is that they look & feel great!
So if you're in the market for stylish heels that put quality & comfort at the forefront (without forgetting about those of us who prefer a far less noisy heel, of course!), give Ssh-oes a try. They have 12 new Spring styles in store, all of which are under $150. A truly great price for a solidly built, thoughtfully designed genuine leather shoe (with a shoe box so fab, you'll want to keep it!).
So go take a look at the full range of Ssh-oes created by innovative thinker Mary Arnett, over at ssh-oes.com! You know my favorites from the collection, what are yours?
xo ShoeTease
*** This post is brought to you in collaboration with Ssh-oes by Mary Arnett. All opinions expressed are my own ***