3 in 1 Convertible Boots from Ssh-oes: Review + Giveaway
**This Brand is No Longer Available***
It's always fun to test out new and innovative shoes & shoe-related products on the blog! Ssh-oes by Mary Arnett is a shoe brand that goes over & beyond a woman's footwear needs with its design concept.
Especially concerning these amazing 3-in-1 convertible boots with noise-reducing technology.
Read all about Ssh-oes & enter to win a pair of fabulous boots from their current collection, after the jump! And take a look at my fave quiet shoes from their Spring 2016 collection too!
RELATED POSTS:
Convertible Boots with Quiet Heels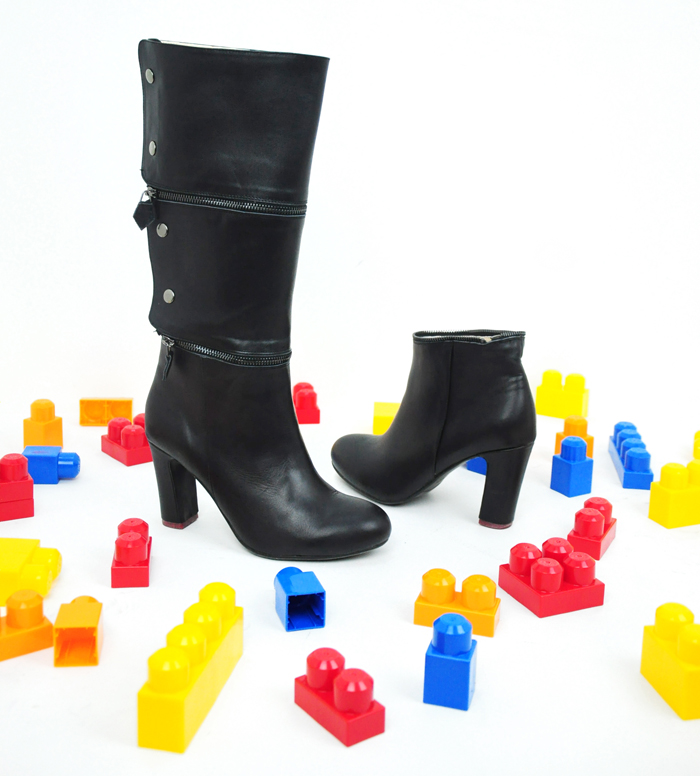 With so many of us wanting functional accessories that speak to us on multiple levels, it's great to have shoes that are both functional + attractive.
And these convertible boots from Ssh-oes that stylishly disguise 3 boots in 1, that are built for comfort and have added noise-reducing technology, are just that.
To Click or not to Click?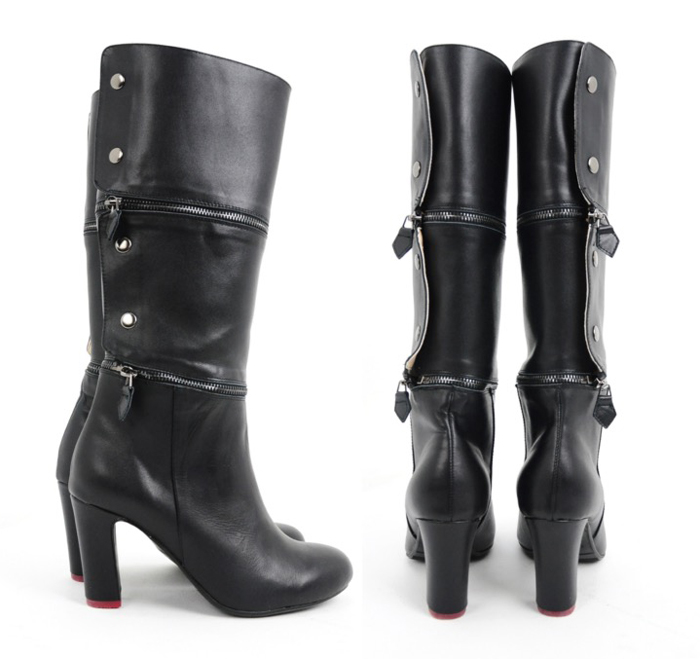 Now I've had a few Twitter conversations & discussions with friends about the sound of clicking heels & loud shoes in general after I wrote a blog post about how to stop heels from clicking.
Some women hate having (and hearing!) noisy heels, while others wonder why the heck you'd ever want to silence them in the first place!
We're a divided bunch.
So where do I weigh in, you ask? Honestly, I prefer people to notice my presence rather than sound of my noisy heels, especially indoors. It can embarrass me at times. I mean, I'm loud & obnoxious enough myself; I certainly don't need my shoes to add to the mix!
And I know a lot of women who'd love the idea of a less noisy heel: litigators in court, teachers at school, realtors & also medical professionals working in hospitals.
Ssh-oes designer Mary Arnett came up with the idea because she herself didn't like the attention her noisy heels were attracting & the disturbance they were causing her neighbors.
Special Ssh-oes Shoe Features:
Memory foam footbed
Leather & "blister-free" lycra lining that molds to the foot over time for added comfort
Soft leather uppers
Shock absorbing non-slip rubber outsole
Fit tested on real women & designed by a woman
And of course, a patent pending noise reducing heel lift to decrease heel clicking while walking
The packaging is so sleek!
And these boots are also convertible, giving you 3 boots in 1. Which not only reduces the overall cost of buying Fall/Winter boots, but the horizontal "lines" the zippers create when they're zipped up look phenomenal!
Just wait take a look at how great they look on! Did I mention Taylor Swift & Reese Witherspoon were both snapped wearing Ssh-oes heels?
Ssh-oes Convertible Boots – Review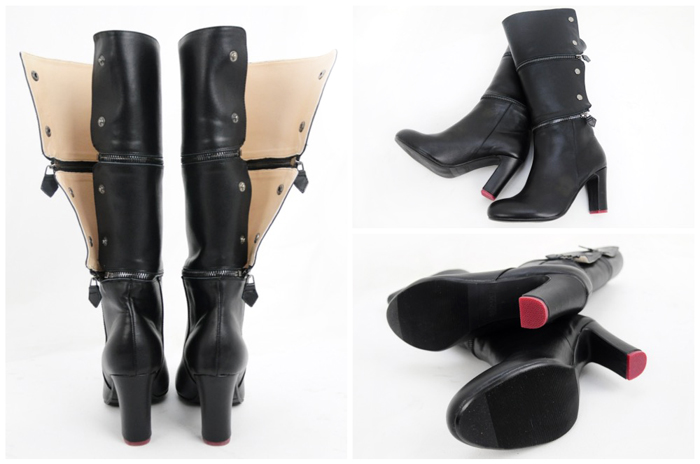 Ssh-oes Silent Convertible Boots: Do they work?
Now are these boots with silencing technology actually quieter than regular shoes? And how easy is to convert between all sizes? Read on and/or watch the video, below!
Are they silent?
As a natural skeptic, I tend to be of the "believe it until I see it" school of thought. And now that I've seen & tried these boots, I truly believe.
Tested by me on concrete, ceramic tile & hardwood floors, the minimal amount of noise these boots make is surprising. They're actually almost completely silent on concrete.
The sound was difficult to capture in my video, however, but even so, there's a difference between my regular high heeled boots & these Ssh-oes boots.
Heck, my movie editing app even showed distinct differences in the sound frequencies between the two pairs!
Are they easy to convert?
In terms of the convertible nature of these boots: the zippers are strong, the snap buttons sturdy & yes, they're simple to convert.
Obviously constructed to allow multiple shoe conversions without much hassle, or wear & tear. You can see just how easy it is to switch between sizes in the video above.
Are they comfortable?
Google maps calculated my first walk in these boots to be 2km long. I didn't get blisters or pain from the boots at all.
And to think the special lycra lining is going to mold to my foot, further increasing my comfort! So yes, these are comfortable shoes!
How do they fit?
As Ssh-oes fit a tad small, I sized up to a 9 US (I'm usually around a size 8/8.5). A bit roomy for my narrow feet, but likely perfect for the average ladies' foot width these shoes were fit tested on.
The boot shaft is roomy enough for a wider calf, but still looks great if you have a smaller one like mine. I'll be able to fit in my handy boot wallet, woohoo!
In conclusion, these boots are everything they claim to be. Other than some minor creases in one section of the leather, these are truly gorgeous boots that are built to last.
A quality that's particularly important when you're looking to purchase 3 in 1 convertible boots. You'll be walking 3x more in them after all!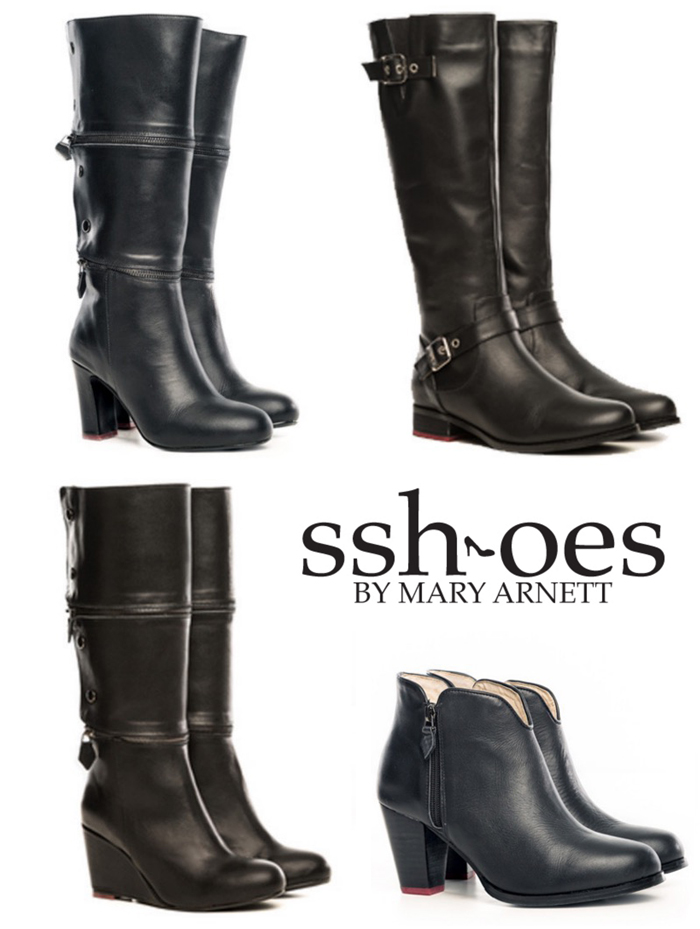 xo ShoeTease
*** This post is brought to you in collaboration with Ssh-oes by Mary Arnett. All opinions expressed are strictly my own ***