From skinnies to straight leg to loose fit, baggy jeans are becoming increasingly popular, the tides have changed on women's jeans trends!
And if you're curious what shoes to wear with baggy jeans, loose jeans and even slouchy jeans, this post on shoe-tease.com is for you.
What are baggy jeans, exactly? Baggy jeans are looser-fitting jeans that are roomier around the hip area and wide in the legs.
They can be straight cut, flared or somewhat tapered, and most baggy jeans will sit lower on the waist or hips. Some can be long in length or be cropped at or above the ankle.
There is for sure a spectrum of the "baggy" jeans aesthetic. What is clear is that these jeans are definitely oversized!
Are baggy jeans still in style in 2022? Yes, they are, if street style during the fashion shows and Gen Z have anything to say! Women's baggy jeans are arguably one of the top trending denim staples.
With an increase in more comfortable clothing, like joggers, it's no surprise that we've shifted from gravitating to skin tight jeans, towards looser, baggy versions.
These will flatter most body types, however the wrong outfit or fit can make your look overly casual and even sloppy. However, with the right wash, shoes and accessories, oversized jeans can look chic and on-trend.
For advice on what shoes to wear with baggy jeans, keep reading! I'll give you examples of everything from ankle boots to cowboy boots to heels, clogs and sandals.
Want to shop trendy baggy jeans? Have your pick from Zappos, Saks Fifth Avenue, Free People, Revolve, Reformation, MyTheresa and Luisaviaroma, just to name a few.
15+ Shoes to Wear with Baggy Jeans Outfits for Women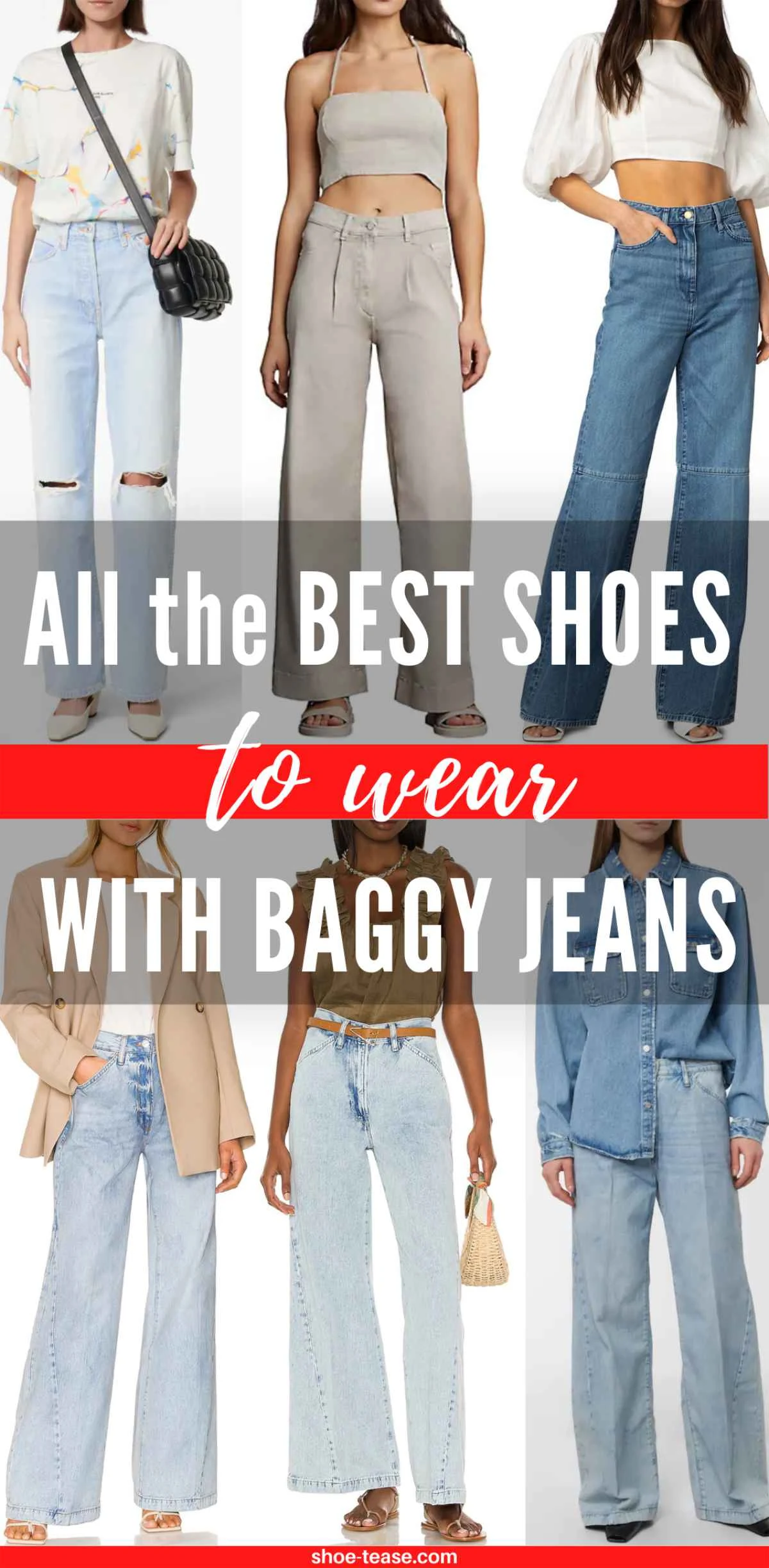 RELATED POSTS:
What Shoes to Wear With Baggy Jeans
Sneakers with Baggy Jeans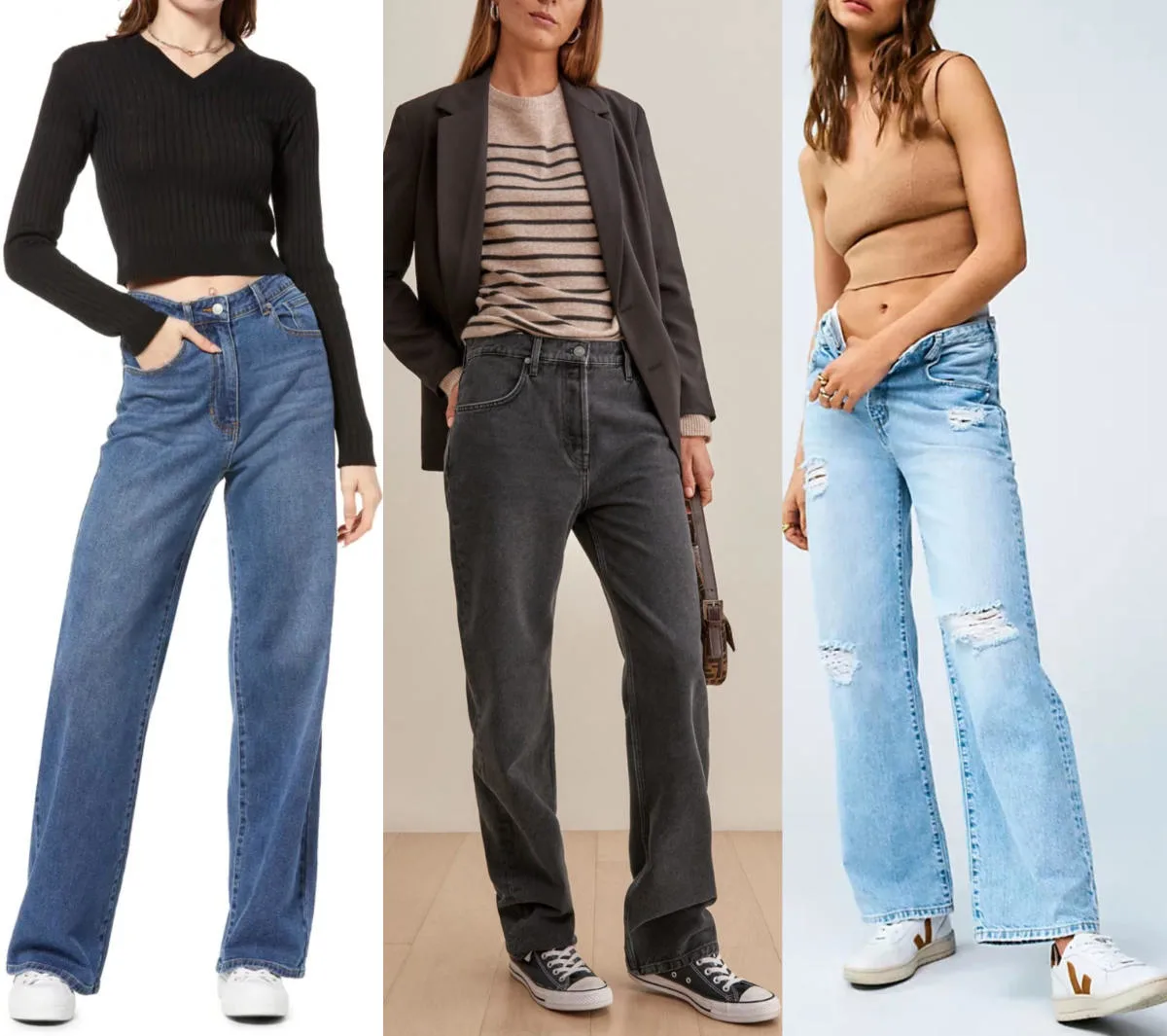 White Sneakers
We can all agree that classic white sneakers are timeless and a must-have shoe in our closets. Now that baggy jeans are back as if they never left, let's wear them with a white sneaker. You can wear baggy jeans that go over shoes or fold them to expose the shoe.
White sneakers with baggy jeans pair effortlessly and are very comfortable to walk in. You can wear them with ankle socks to look more sporty, especially if you choose short tube socks.
Complete the look with a basic t-shirt or hoodie for a relaxed look.
Chunky Sneakers with Baggy Jeans
Chunky sneakers are a big trend right now – if social media and fashionistas are anything to go by. You may be afraid to pair up the two because they're both bulky, but don't be. Chunky sneakers and loose jeans are a great combo!
Futuristic-looking sneakers are for sci-fi enthusiasts. It is essential to expose the amazing shoe design (the shoe is the statement). Wear your chunky with light wash loose jeans, a fitted tee or crop top, and a slim belt metallic belt for a summery look.
Dad Sneakers
80s Suburban dad sneakers, previously deemed ugly, are now a fashion statement, especially New Balance 990s or 930s. Dad sneakers with baggy jeans are suitable for a casual weekend look. Have fun with colorful chunky sneakers if that's more your look.
Retro sneakers are a great way of introducing old school or vintage into your baggy jeans with sneakers outfit. They're a playful addition to your wardrobe. They can be worn during spring, summer, and even beyond.
Platform Sneakers with Loose Jeans
Just find the right platform height when it comes to platform sneakers, and you are good to go. Platform sneakers can be worn casually with a pair of high waist baggy jeans and a t-shirt tucked in halfway or around.
Opt for small to medium platform height baggy jeans with a fitted blouse and a blazer for a more business 'casual' look. Add on an oversized jacket or loose-fitting one with a crossway bag.
Sandals for Baggy Jeans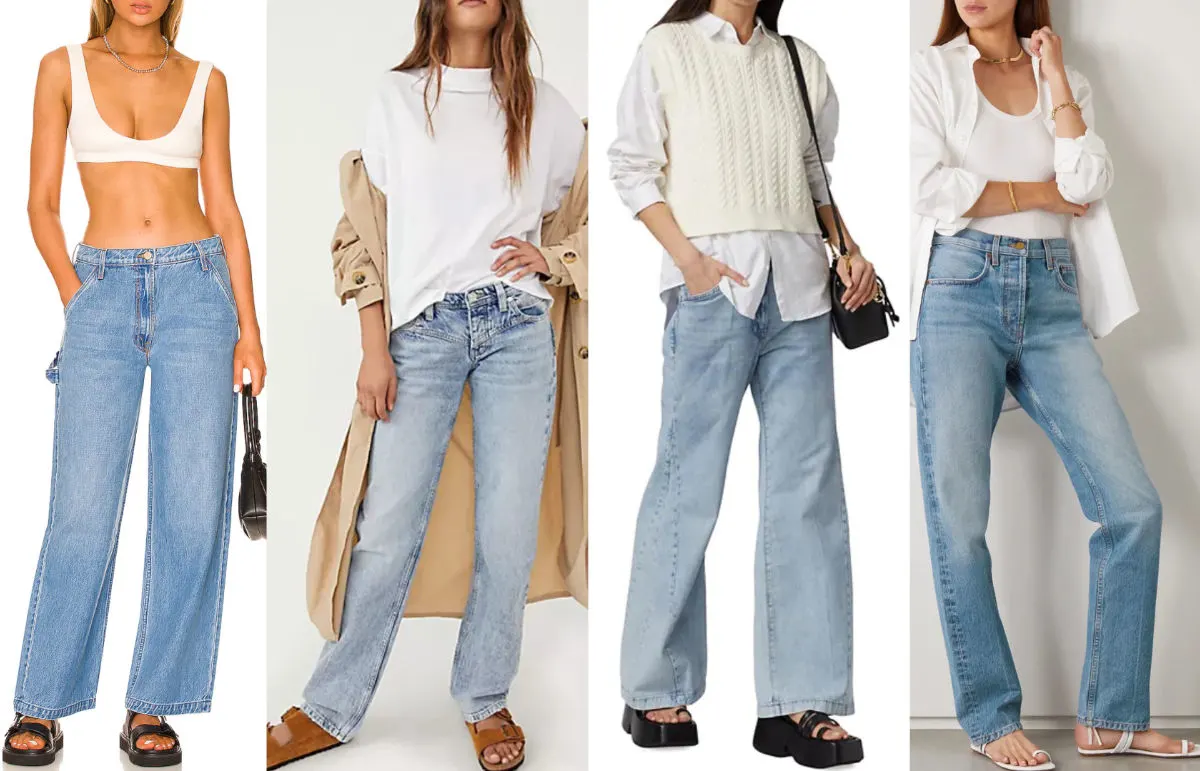 Flatform Sandals
Flatform sandals are the perfect footwear for when you want to be comfortable but still elevate your look. In summer, flatforms can easily take you from day to night – with the right loose jeans!
Pair espadrilles-style flatform sandals with high waisted baggy jeans and a floral blouse. Accessorize with a straw hat and fine gold jewelry to complete the look.
Sporty Slides
One of the most effortless ways to wear baggy jeans is with sporty slides. Sporty slides are very comfortable and are cool even if you're not coming from the gym. Wear them with jeans of any length and wash.
Don't be boring with the basic black or brown slides, be bold and play with colors and bold patterns. You can even match your purse with the slides for more pop of color. Thanks to Adidas and Nike – to name a few – you'll have a variety of sporty slides to choose from.
Minimal Slides
These are great summer staples for any look, including baggy jeans outfits. Perfect for a stroll in the park or a drink with friends. If you're stuck on choosing which shoes to wear with baggy jeans, then minimal slides are the perfect summer option, whether flat or with a block heel.
For a relaxed and laid-back look, go for the flat slides, baggy jeans and any classy top in your closet. Throw on a cool-toned blazer for a more polished look.
Heeled sandals are also great if you want a more elegant look. For a night out, try out strappy heels with baggy jeans, a bodysuit and add a loose jacket such as a trench. For the bold lady, you can choose to forgo a top and just rock the jacket with a bralette!
Birkenstocks
For maximum laid-back vibes, add a pair of Birkenstocks with your loose jeans. Grab a pair of patent metallic Big Buckle Birks or opt for a casual cool suede neutral.
Add a simple white or rocker tee and layer over a classic trench and chic leather crossbody purse to complete your baggy jeans and Birkenstock outfit!
Baggy Jeans With Heels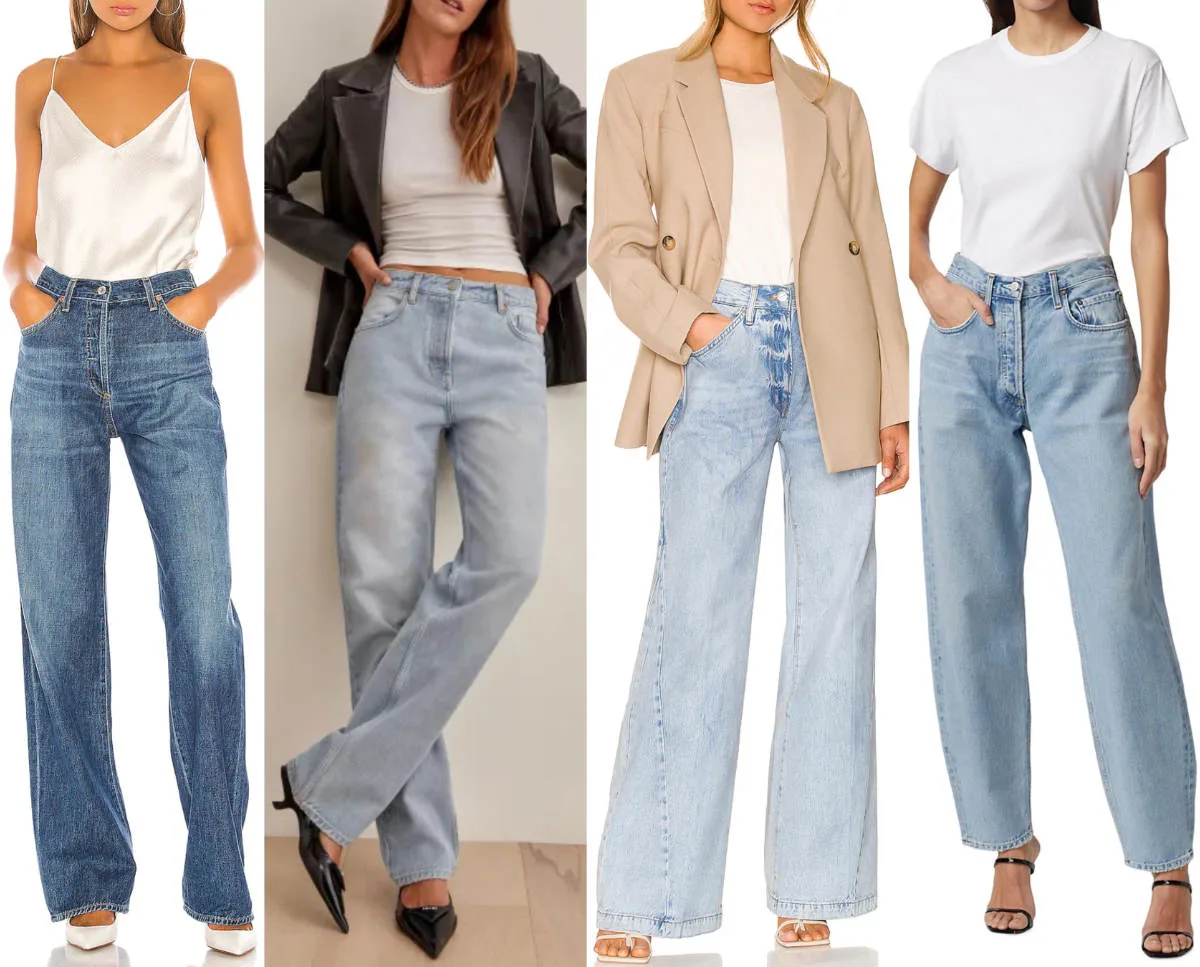 Square Toe Heels
Pair your baggy jeans with square toe strappy sandals for a vintage-inspired look. A crop top or neutral bodysuit will do you justice. Add on an oversized leather bag to complete your look. Square toe mesh pumps are also sexy and trendy right now.
Pumps with Baggy Jeans
Pumps are great as they can be easily worn with any outfit. Baggy jeans are no exception. Slingback pumps are especially classic and chic and can be worn with ankle-length or longer light baggy jeans.
Just make sure the heel pops out at least 1 inch or you risk stepping on the hem.
Throw on a turtle neck and a blazer to complete the look. If you're going to the office, carry a structured shopper or handbag. Add a canvas tote bag for a casual summer look.
Kitten Heels Slingbacks
Kitten heels can be worn to so many functions; to the office or to a restaurant for drinks. Pair them with ankle height baggy jeans to show off the straps on your kitten heels.
Low pumps are also a great choice for those who prefer not to mess with high heels or stilettos. They can be paired with your favorite baggy jeans, a crisp blouse, and a blazer for a classy look.
Block Heels with Loose Jeans
Block heels are quickly replacing stilettos as they are easier to walk in, especially if your heels have an ankle strap. They have always been great with baggy jeans as the more substantial heel compliments the heavier jeans.
With block heels, you can play around with baggy jeans that are tapered or wider legged. Trow on a tucked-in baggy sweater and grab a soft oversized bag for a more edgy look.
Dress Shoes For Baggy Jeans
Loafers – Classic and Chunky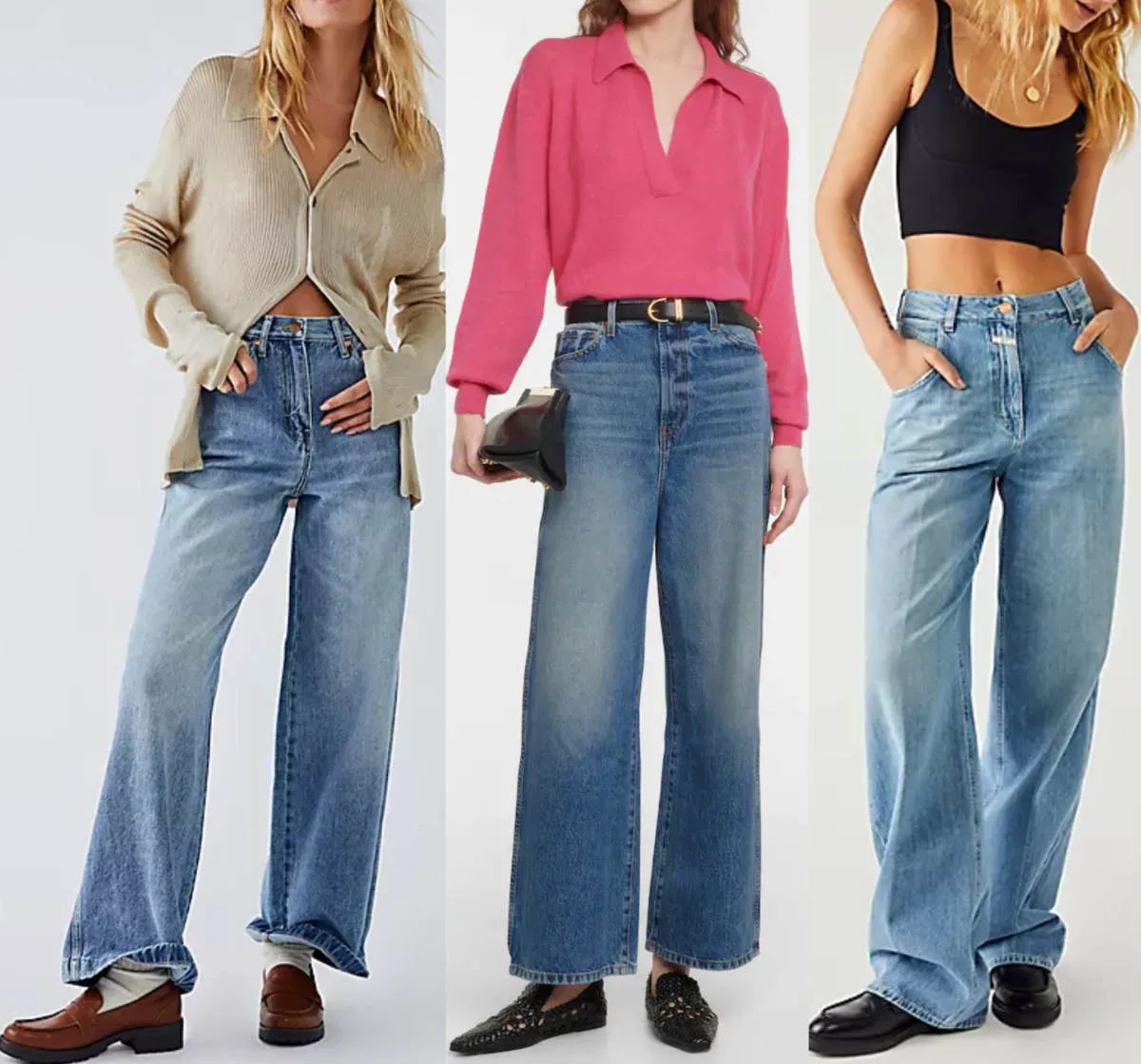 You can't go wrong with loafers and baggy jeans. Classic loafers are good to make your baggy jeans look more pretty, when paired with a crisp shirt or flowy blouse topped with a blazer.
For a more casual and funky look, choose a chunky lug-sole loafer pair with either a tight top and loose cardigan, or a tucked-in baggy sweater. Choose an ankle pair or long length baggy jeans.
Loafers with loose jeans can also be appropriate for the office, when the jeans are an even, dark or black wash, polished off with a tight tee and well cut blazer.
Clogs with Baggy Jeans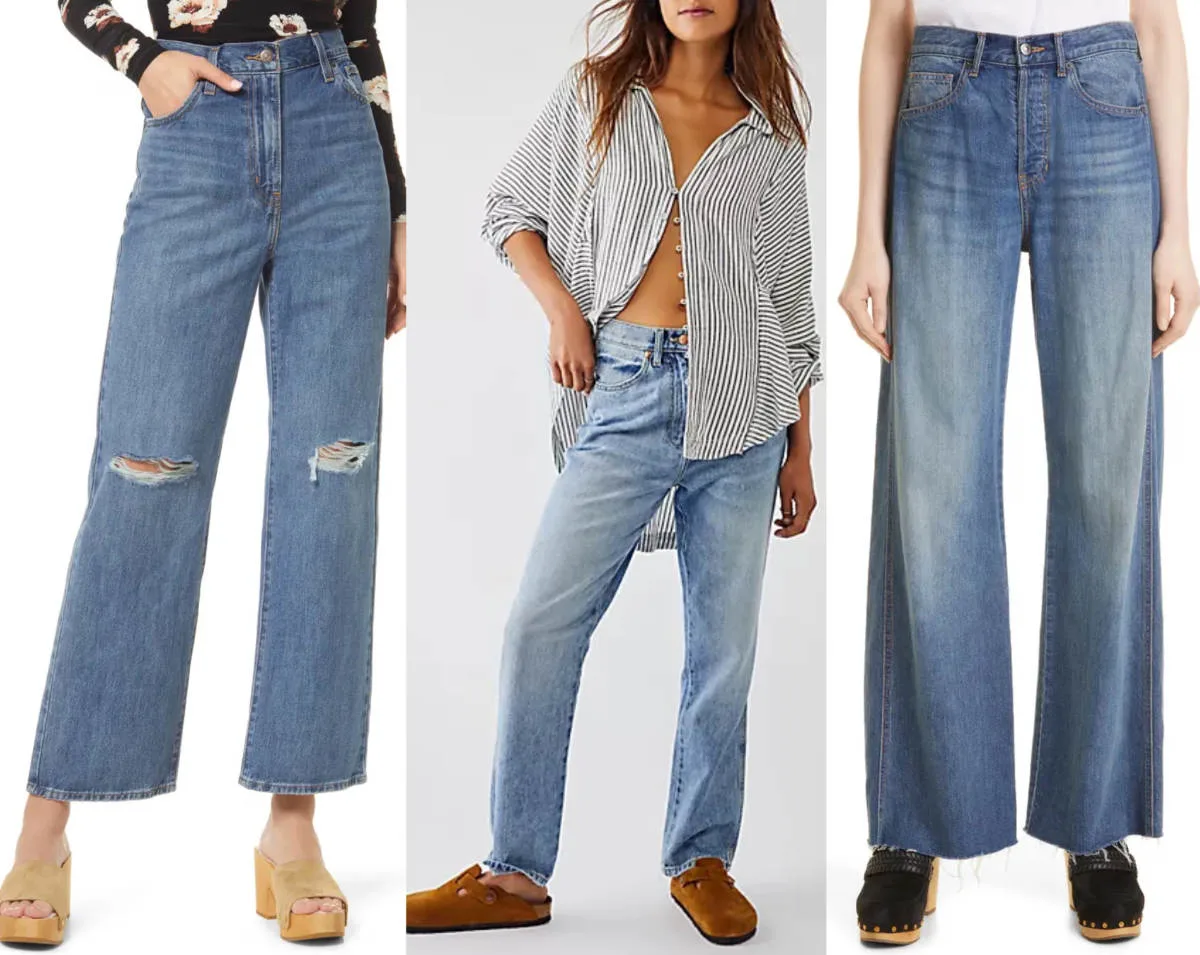 Clogs are back! There are different clogs such as wooden classics, sandals clog, Birkenstock clogs, and even Crocs. These are all great shoes for baggy jeans for comfy and laid-back looks.
Black, brown and neutral colors are still the best picks, although deep red or orange hues are picking up momentum. Classic clogs with baggy jeans can be chic, paired with a tee and well textured knit sweater.
Wear them with floor-length baggy jeans and let them cascade over the front of the shoe, or wear them cropped to show off your cute clogs. Check out how to wear clogs with all the best jeans and clothing in my new post!
Baggy Jeans and Crocs
Never thought I'd be chatting about how to style Crocs, but here we are! Many pants outfits, sweatsuits and even baggy jeans have been a trendy pairing as of late.
And when paired with loose, longer jeans a cute hoodie and a simple leather crossbody bag, it is a look many younger and older ladies have been embracing!
Opt for white or colorful Crocs for light wash jeans and pastel sweatshirts. Darker baggy jeans and Crocs work when the shoes are grey, black or an added pop of color.
Boots With Baggy Jeans
Combat Boots
Combat boots make one of the most stylish loose jeans and boots pairings. If you prefer a minimal look, go for classic black combats or lug sole combat boots like Doc Martens. Wear them with ankle-length baggy jeans.
Combat boots can be very stylish if you opt for an all-black outfit and top the look with a leather jacket. Or, you can have fun contrasting black baggy jeans with a patent white combat boot.
Learn more about how to wear combat boots in my dedicated post and find stylish top-rated waterproof combat boots, here.
Ankle Boots with Baggy Jeans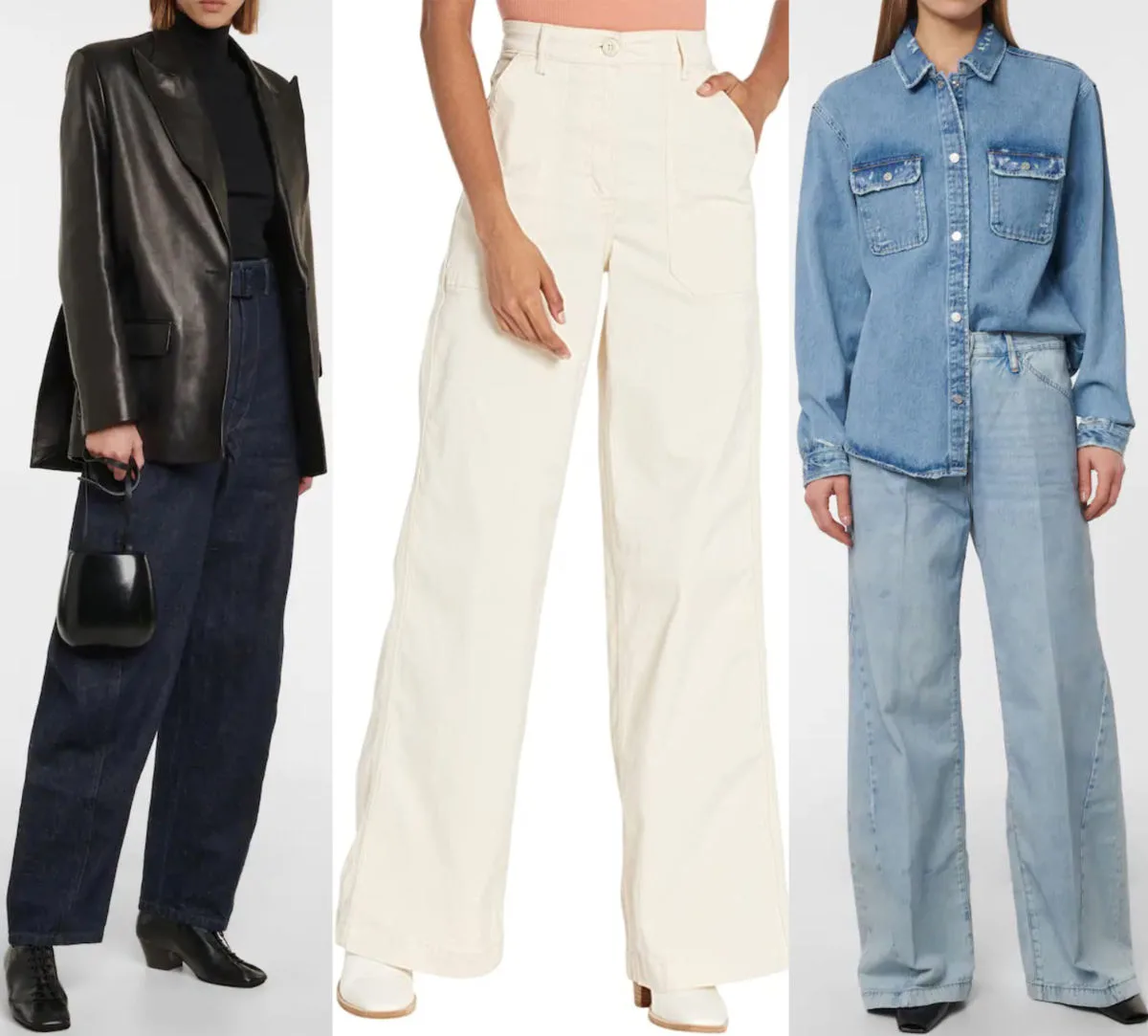 Ankle boots are great boots for baggy jeans. There are so many options to choose from when pairing loose jeans with ankle boots.
The most worn are square toe, rounded toe boots made of leather. Simple, metallic or reptile print leather ankle boots can suit loose jeans with an oversized sweater.
Fitted tops and crop tops, can also give a sultry edge under a jacket, to baggy jeans.
Stiletto boots are easy to rock with baggy jeans. During cold seasons layer with a sweater and a long jacket. Even sock boots or stiletto boots can work well, if the loose jeans are cropped or rolled up, to show off the heels and not risk tripping.
Check out my in-depth guide on how to wear ankle boots with jeans, including baggy jeans, in my recent post.
Shop Classic Ankle Boots for Women:
Cowboy Boots with Baggy Jeans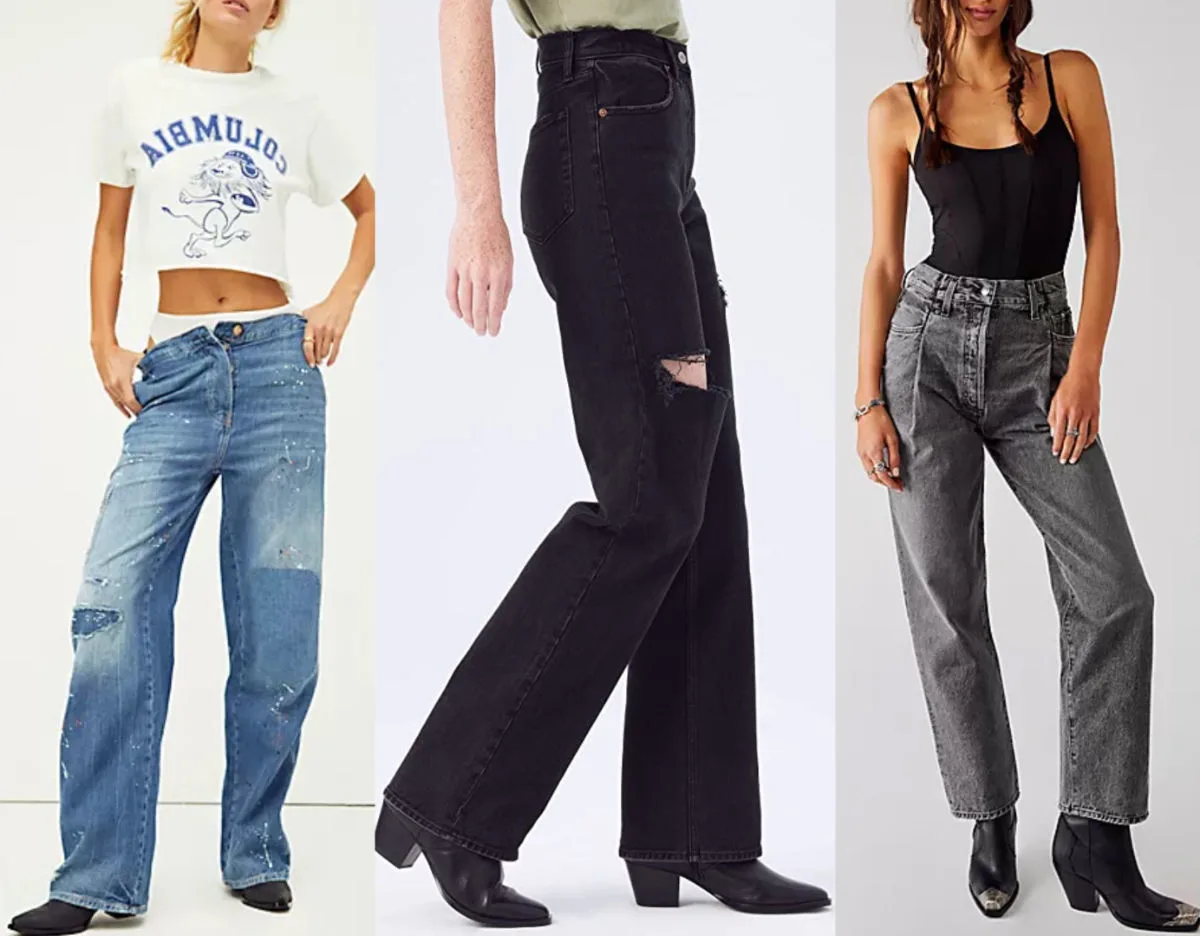 If you are wondering what shoes to wear with baggy jeans for a western look, then go with cowboy boots. You can go for colorful cowboy boots or black and brown classics – with or without metallic detailing.
The look calls for a button-down blouse or simple black or white fitted top with plaid shirt wrapped at your waist like cowgirls do.
Wear your baggy jeans over the boots or tuck them magazine and fashionistas are styling them. Don't forget to add a western belt for an all-over yee-haw look!
Chelsea Boots
Chelsea boots outfits are a great combo with wide leg jeans for a laid back, but edgy vibe. Especially if you choose chunky soled Chelseas.
A cropped wide leg jean will show off your boots, while longer, baggier jeans will cover them up. I like a platform Chelsea boot with wider leg jeans, as they add visual interest and height.
You can go for a head-to-toe black look with Chelsea boots by earing black wide leg jeans and a black top, topping it off with a moto jacket. White Chelsea boots will contrast a total black look.
Or for more toned-down looks, reach for a pair of brown or black Chelsea boots with lighter wash wide leg jeans. Distressed or more faded jeans will be the most casual.
Shop Chelsea Boots for Women:
Timberland Boots
How to wear baggy jeans with timberland boots, you ask? This pairing merges the utilitarian feel of the baggy jeans with the ruggedness of the boots. Not quite hiking boots, so they deserve their own section as a timeless classic.
Complete your look casually with a white tee and plaid shaket or hoodie, and a fashionable knit hat. Or opt for a tucked-in crisp white shirt, with trench or structured wool coat.
Final Words on What Shoes to Wear with Baggy Jeans
If you've been eyeing what shoes to wear with baggy jeans, you've seen that there is no shortage of footwear to style with these trendy jeans!
Whether you're looking to wear these laid-back jeans for a casual outing, or out to drinks with friends, there will be a sneaker, boot, or heeled shoe to choose from.
If you've gravitated to this trend, what kind of shoes and outfits with baggy jeans do you prefer to wear? For me, I love an ankle boot with a chunky heel for ankle length baggy jeans. Chunky sneakers are great for longer baggy jeans to keep things super casual. boot.
Want a pair of baggy jeans? Shop for oversized and slouchy jeans at my favorite retailers, including Zappos, Saks Fifth Avenue, Bloomingdale's, Mytheresa and Luisaviaroma.
If I've missed one of your preferred types of shoes for baggy jeans outfits, let me know in the comments, below and I'll include it in the post.
xo ShoeTease