Have you ever gone on a hunt for fun & stylish comfortable high heels to wear to work or party, only to be met with ghastly geriatric styles that even your frumpy grandma would refuse to wear? Ok, maybe that's a slight shoe blogger exaggeration on my part, but there seems to be something rather matronly when it comes to most comfortable womens shoes. Thankfully there are some brands that feel your pain & create fashionable, reasonably priced shoes that won't give you any. Pain, that is!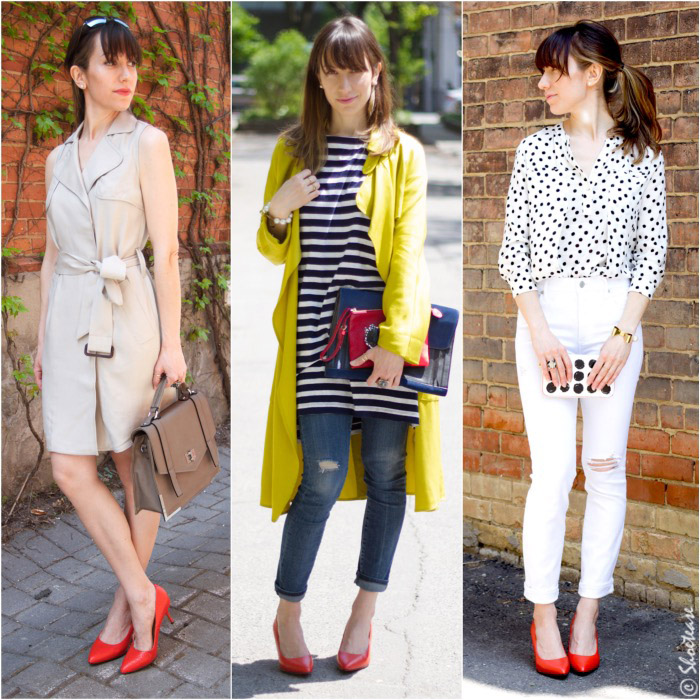 If you're looking for high quality, comfortable pumps that are practical for the office & after hours, then your feet may become great friends with UKIES' AM-PM collection! You can see how I wore these heels 3 ways to create fun desk to dinner outfits. The "Arianna" pointed toe styles are graceful & the platform "Paris" heels are so classic & chic, I wouldn't bat an eyelash if Kate Middleton wore them anytime soon. But aside from the perfect shape of the upper & heel, UKIES offers a lot more than just a pretty shoe. Take a look at some of the features these pumps offer:
UKIES

patented nanoGel™ technology inside the soles. This prevents your feet from sliding forward & evenly distributes foot pressure for long lasting comfort all day. Seamlessly built right into the heels so you'll never need to buy another insole again!

High quality leather upper & sole
Injection moulded base featuring breathable material for greater stability and flexibility
Slip-resistant strips in the leather outsole provide extra traction. Which means no slipping & no need to visit the cobbler to apply rubber outsoles!
An added shock absorption layer reduces fatigue from repeated ground impact
COOLMAX® layer is anti-microbial and moisture-wicking, so your feet stay dry and odorless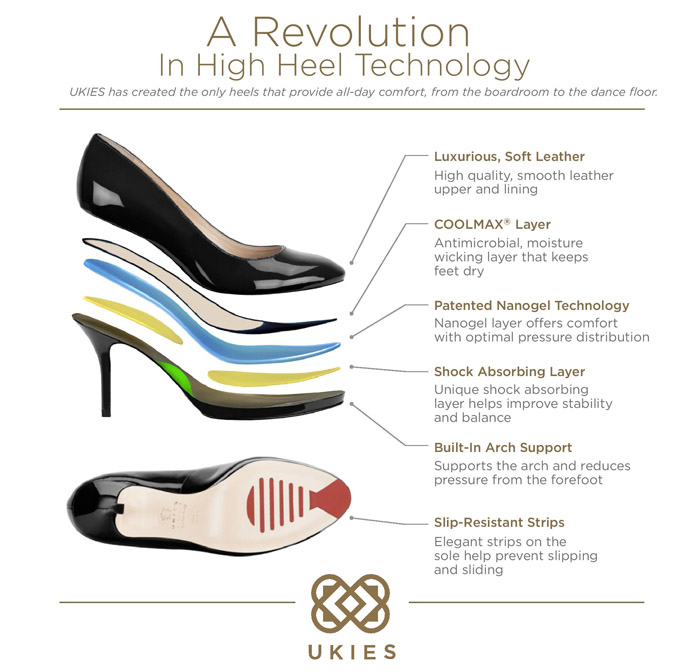 UKIES – Comfortable High Heels Review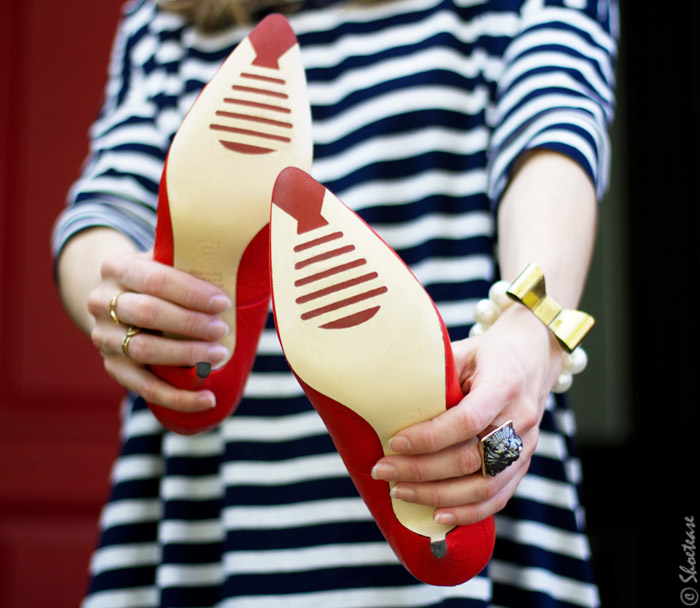 But enough of what UKIES says & onto what I think 😉 I was lucky enough to receive a pair of the "Arianna" pumps in a red/coral python print to review. I wore mine on a few occasions, without socks, in medium to hot days in Toronto. Here are my thoughts on this particular style, ranging from look to comfort:
1. Upper Material:
The color is STUNNING: very vibrant & original. Definitely not your average-looking comfortable high heels! The UKIES website describes them as "red" but they definitely slant towards orange, so I'd consider them more of a "coral" hue if we were to get picky here.
The tone on tone python texture is subtle & mimics the animal print well, varying the shape/size of the reptile scales.
The toe box & general upper is a somewhat stiff at first. I would recommend you break them in with a pair of thin socks, walking around the house in order to loosen them up before wearing.
2. UKIES Patented NanoGel™ Technology (black cushy insole):
This aspect of UKIES shoes is a huge comfort factor & you adds padding so you don't feel as much pressure on the balls of your feet as with regular 'ol pumps. I also love how the front of the foot doesn't slide into the tip of the shoes, cramming the toes & potentially causing blisters.

As per the keeping your feet dry claim, they do! Even on a hot summery day, my feet stayed put & get sweaty & slip/slide inside.

Does it prevent odor? So far, so good! The interior still smells of leather. I'll have to update this section once I've worn them a few more times.
3. Heels:
The 3″ stiletto heel height gives them a sexy look without the pain of very high heels. Although, really, these shoes are comfortable enough that I believe even a higher heel would be just as manageable & painless.
The sleek shape & heel curve is beautiful
4. Outsole:
The outsole looks pretty nifty with its red rubber inserts. Makes me feel like I'm secretly wearing space shoes! But the special outsole also prevents slipping, making the shoes easier (not to mention safer!) to walk in. I'm a terrible klutz, so this element is important to me!
5. Size & Fit:
Length: As stated on UKIES' website these pumps run large & I was told to go a 1/2 down, bringing me to a 37.5 rather than an 8 US. The 37.5 does feel like a snug 8.
Width: I have a slim foot & these fit me snugly in the front & wide in the middle/arch section. Which makes sense, given that these are considered to be an M (medium) width & my feet are a AA narrow. If you have extremely high arches on your feet like me, the built-in arch support isn't quite going to reach. That being said, I don't think it has any negative impact on the comfort factor of the shoes.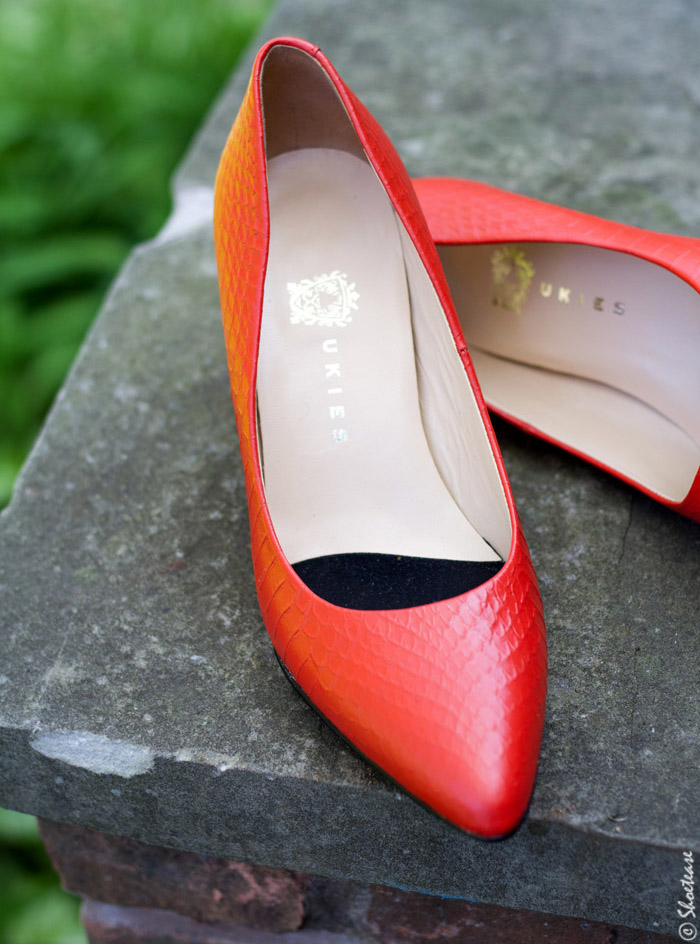 So in sum, these are great, actually comfortable shoes that are exactly as described, look fantastic & are well constructed. I love their offering of this particular pointy-toe pump style in a fashion-forward patent beige & metallic gold. But don't worry; they've got you covered with a classic black nappa too!
UKIES offers free shipping & returns on US-based orders. This style retails for $199 US, but is currently on sale for $149 at ukies.com. Both styles from the AM-PM Collection are also available at Amazon.com. Comfortable high heels that are great quality and affordable? Yes please!
xo Cristina
Photography by Conrad Collaco. Infographics courtesy of UKIES.
**This post is brought to you in collaboration with UKIES Shoes. All opinions expressed are my own**