Traveling, whether for work or pleasure, can be a drag when it comes to organizing your shoes & accessories.
And since many of us tend to overpack in the shoe department (you know you who are!), practical shoe storage, organization & shoe care ideas for travel are always welcome.
ottique Shoe Storage & Accessories
In collaboration with the ridiculously organized ladies from Boottique (dubbed "the shoe hanger company"), I've found 5 travel accessories for your shoes & boots that are handy in everyday life, allowing for your shoe & boot wearing self to become fabulously organized!
---
Shop Boot Organizers & Accessories from Boottique:

---
But before I get into some of the best travel-related shoe accessories you never even knew existed, here's a little about Boottique.
Based in Minnesota, the company was formed in 2007 by Lindsay Sokolowski after the invention of The Boot Hanger, which as many great shoe accessories featured on this shoe blog, was born out of pure necessity.
In this instance, the necessary element was to clear some of that footwear clutter. And we all need some of that, don't we!? Since then, Boottique has expanded its accessories range to include more storage & shoe care products, along with cute & quirky fashionable boot accessories for Women.
The latest addition is the Baby Boottique, a practical & stylish line of baby products that include baby boot storage, belly bands, adorable leg warmers & more!
5 Smart Travel Accessories for Shoes & Boots
1. The Hidden Boot Wallet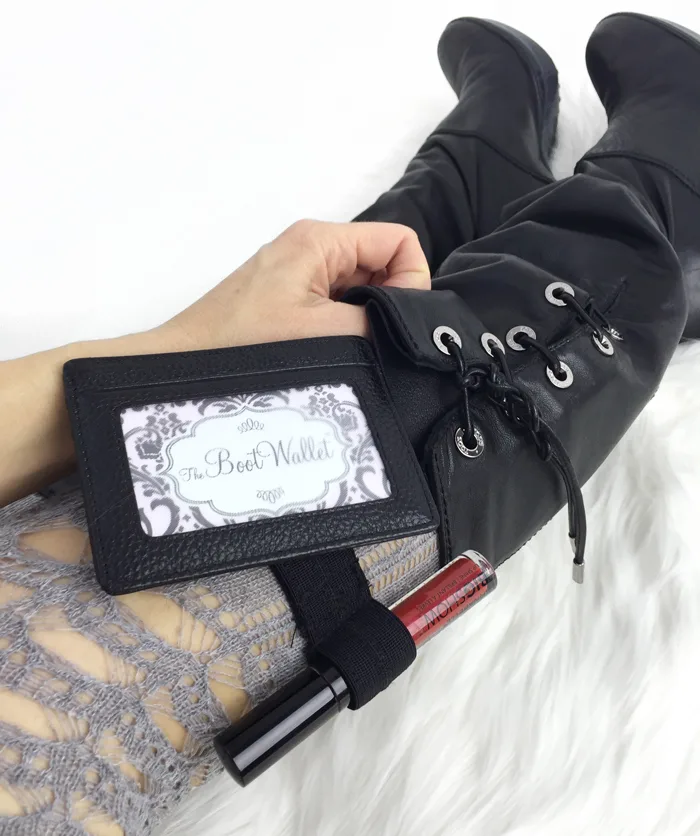 This secret money holder for travel that tucks neatly into boots, is probably my favorite of the travel accessories I've come across thus far.
I'm always looking to wear my valuables (ie: cash, cards & phone) somewhere discreet, where no one would even think of "lightening" my load!
This boot wallet is the perfect solution, because not only will it leave you worry free, but it'll also leave you hands free to do more important things, like carry your 45 pound toddler or Venti latte & blueberry scone.
Made out of genuine leather so you don't have to worry about sweaty wallet legs, it's not only a handy boot travel accessory.
It's also the perfect hidden boot wallet for daily activities such as taking your kids to the park, going to a concerts or club.
Handy in any situation that requires your money & other small items to be kept close, safe and out of your purse & pockets!
The Boot Wallet has an adjustable elastic strap with velcro closure. It also has a lipgloss compartment & detachable wallet with clear front slot for ID & designated sections for cash & credit cards. Best for slouchy &/or roomy boots and also doubles as an armband wallet!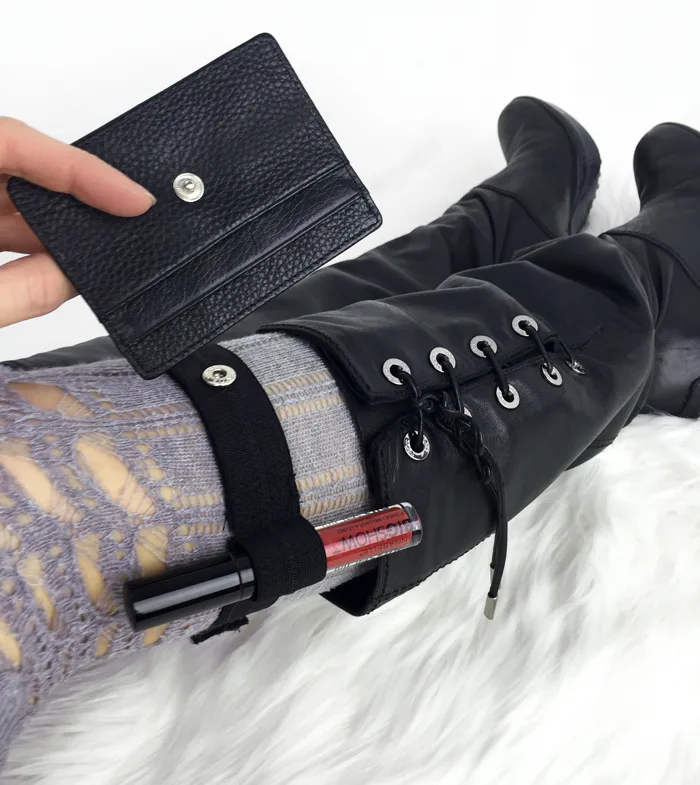 2. The Boot Bag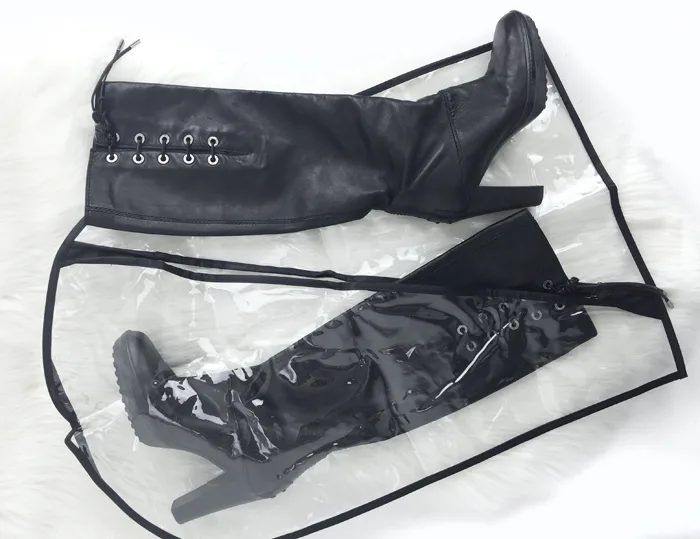 It's pretty easy to find travel shoe covers, but how about boot covers? Knee to OTK boots needs some travel storage shoe love too, don't they?!
These transparent boot bags with slanted zipper are easy to get your boots in & out of, while safeguarding them from spills & preventing them from dirtying other items in your luggage. 'The Boot Bag' is a great seasonal at-home storage idea for boots too!
3. The Boot Hanger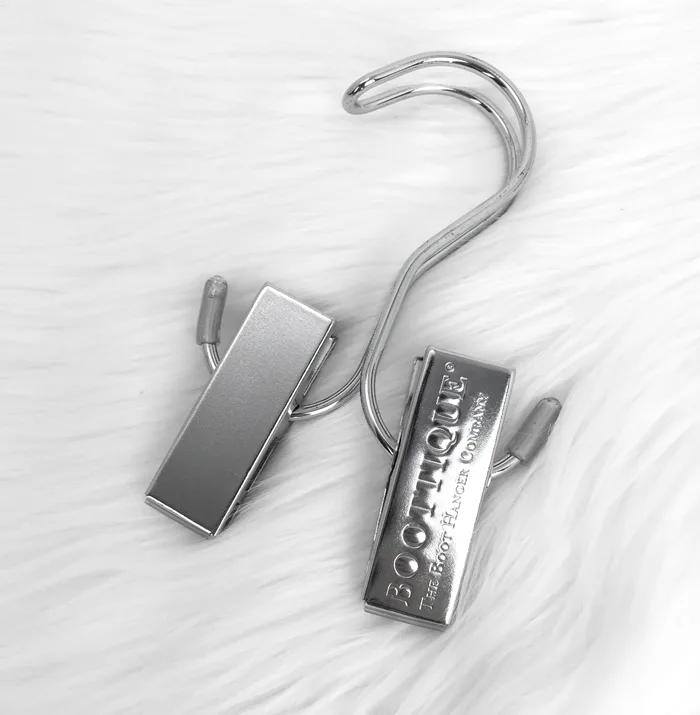 Need to add a little extra to your boot bag when you get to your destination? Like a garment bag, these boot bags have a hole on the top to easily slide a boot hanger clip into. Featured above is the "Short" 'Boot Hanger'.
By using them this way, you can hang your boots protected in their own bag, in a closet or behind a door & more importantly, out of the way! Of course, you can always use these compact boot hangers sans bag for a quick hang.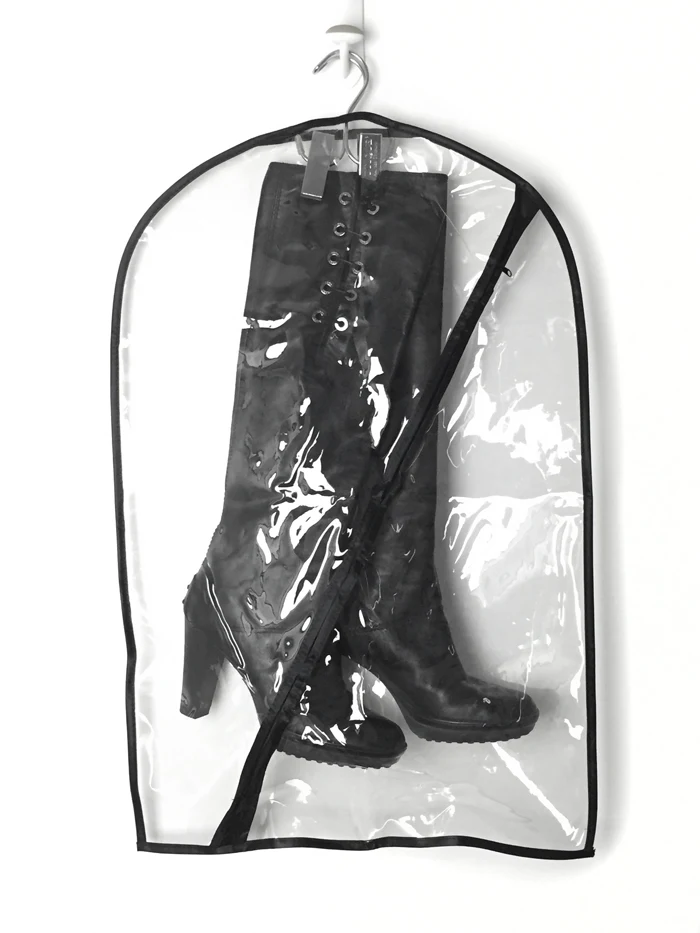 4. The Polish Pen: Travel Size Shoe Polish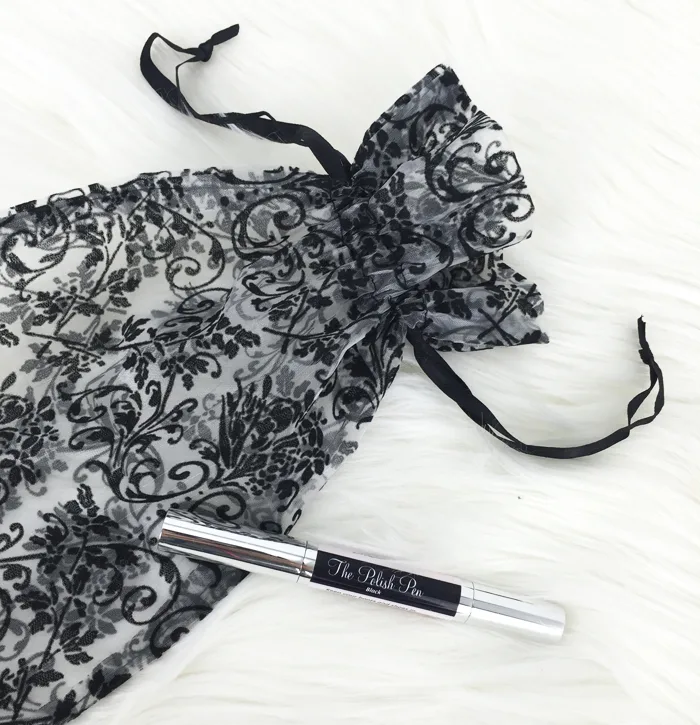 Caring for your shoes on the road isn't always easy or practical. High quality cleaners & polishes are usually bulky to carry & the possibility of them leaking all over your belongings is downright frightening (that stuff stains, man!).
'The Polish Pen' is small, stylish & safe for travel. It acts like one of those portable makeup concealers where the liquid is only dispensed into the soft brush when you turn the opposite end to release it.
'The Polish Pen' comes sold individually in black, brown, or clear polish, or you can buy the full set of 3 shades. T
ake it on the road, keep at your office desk or in your car, the possibilities are endless! Oh & the 3 polish color kit makes a great stocking stuffer 😉
5. Shoe Stax: High Heel Shoe Stacker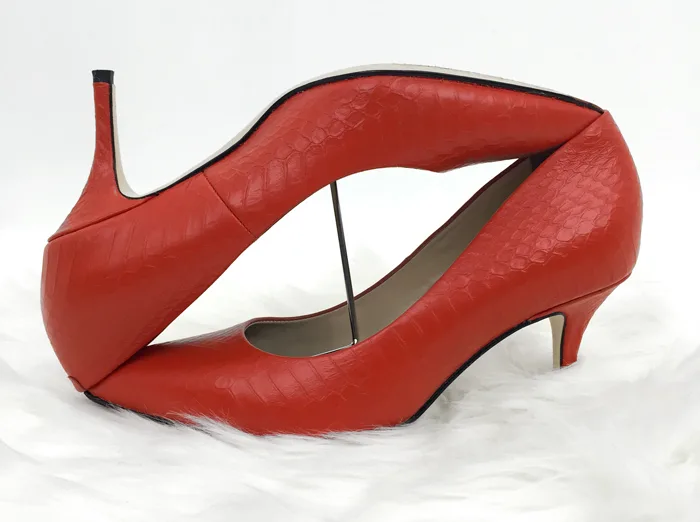 Featured in InStyle Magazine, the 'Shoe Stax' is a great product that can be used as a travel accessory. It will keep your heels paired up & sturdy in your suitcase) in addition to an at-home high-heel shoe organizer that will save you a ton of shoe closet space.
It actually doubles it, by fitting two pairs of shoes where only one pair used to fit! But most of all, it'll make it easy for you to shelve your heels vs. leaving them on the floor.
This will eventually save them from damage that is bound to happen when your shoes are simply left lying around, at the mercy of vacuum bumps, pet nibbles & stomping feet.
I love how this accessory separates the two shoes in such a way as to prevent the outsole of one to damage the upper of the other.
How do you use them? Simply slide the front end of one metal 'Shoe Stax' into the front of one shoe & then do the same with the other, placing it upside down.
These are sold in a pack of 6 & work with most high heeled pumps & peep toes. This is a great accessory for cruise travel, where dinners require fancy heels, but the cabin room is less than ample!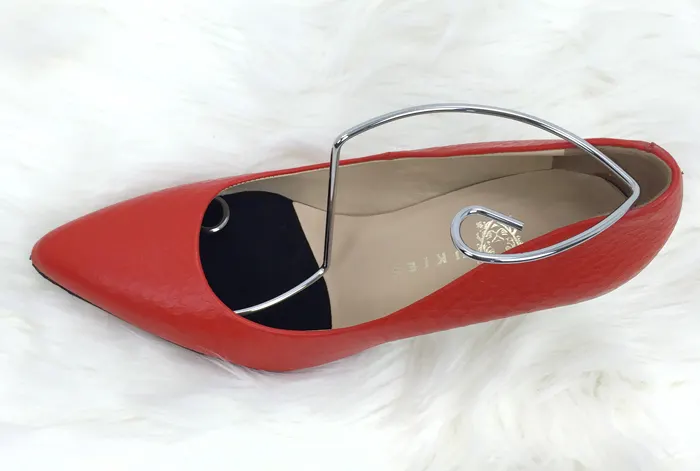 Stylishly branded to evoke the sophistication of Paris & luxury goods, Boottique wants you to enjoy storing, caring & traveling with your shoes and boots just as much as you do buying them.
They have a plethora of nifty gadgets both big & small to help reduce boot clutter in your home & make your day-to-day fashionable life that much easier.
Each product I received was beautifully packaged. It was cased in either a flocked baggie or motif-matching tissue paper which added a touch of je ne sais quoi to simple, but oh-so practical shoe organization & care.
You can find all of their products on their website at www.boottique.com & various accessories on Amazon, Wayfair, Joss & Main, Zulily and Joyus.
Loved this post about shoe & boot travel accessories? Well, if you love the concept & are looking for more ways to keep your boots organized, stay tuned for an amazing giveaway from Boottique, next week here at ShoeTease!
Want to see more tried & true shoe accessories <– click on the link!
xo ShoeTease
*****This post was written in partnership with Boottique. All opinions expressed are my own.******