This post was most recently updated on October 18th, 2016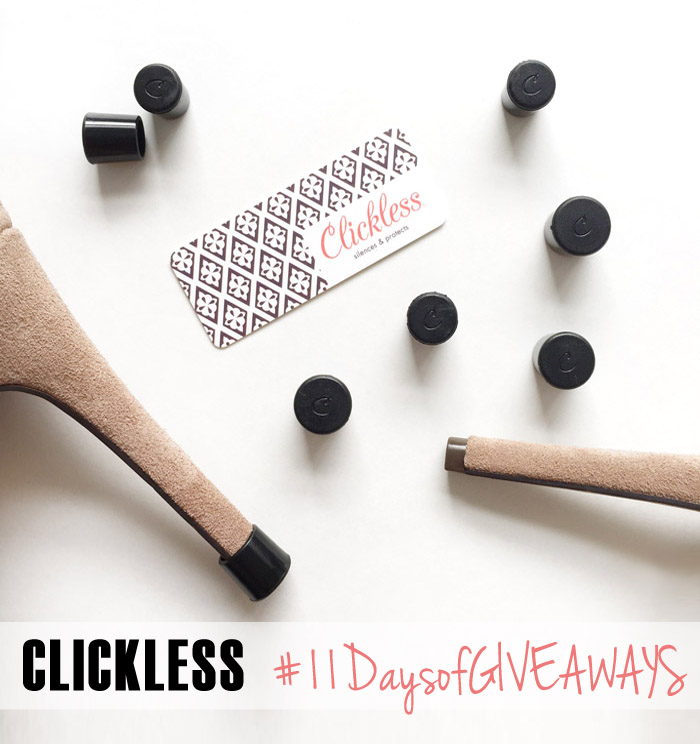 It's Day 7 of ShoeTease's #11DaysofGIVEAWAYS & another amazing shoe accessory is up for the taking! 5 lucky winners will be receiving 3 Clickless branded instant high heel protectors & silencers. Yes, that's 1 pack each of black, brown & taupe in different sizes, so no stiletto of yours will be left unturned!
Read all about how these heel tip savers that double as little nuggets that help reduce the sound of noisy heels & win yourself a few!
Enter the giveaway, open to US & Canadian residents, after the jump!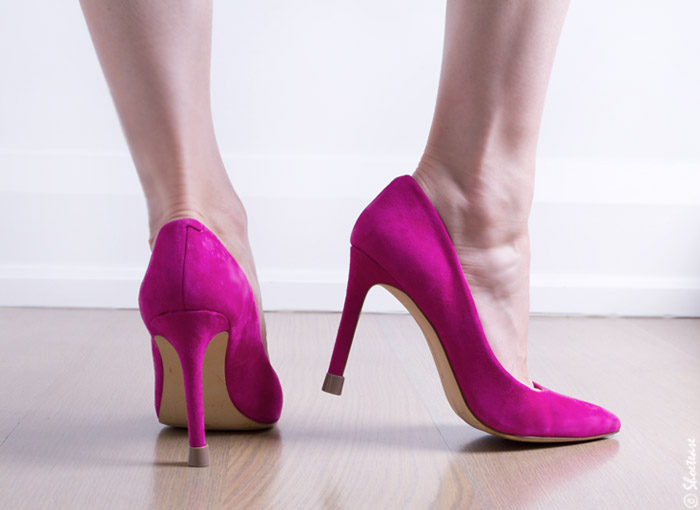 There are many reasons to love these high heel shoe accessories. Here are 5, right off the bat!
They're silly simple to use. Just literally click the right size on & you're good to go!
They stay put & no fear of them slipping or snapping off mid strut
They're hardly noticeable when worn on your heels. Just check out the picture above of me wearing them on my pink heels to see for yourself
Because they're tapered & slightly larger than the heel tip, they make walking on grass & cobblestones easier
Clickless adds padding to the heel, softening your step so that the sound of clicking heels doesn't travel as far as it would without
Clickless High Heel Protectors Giveaway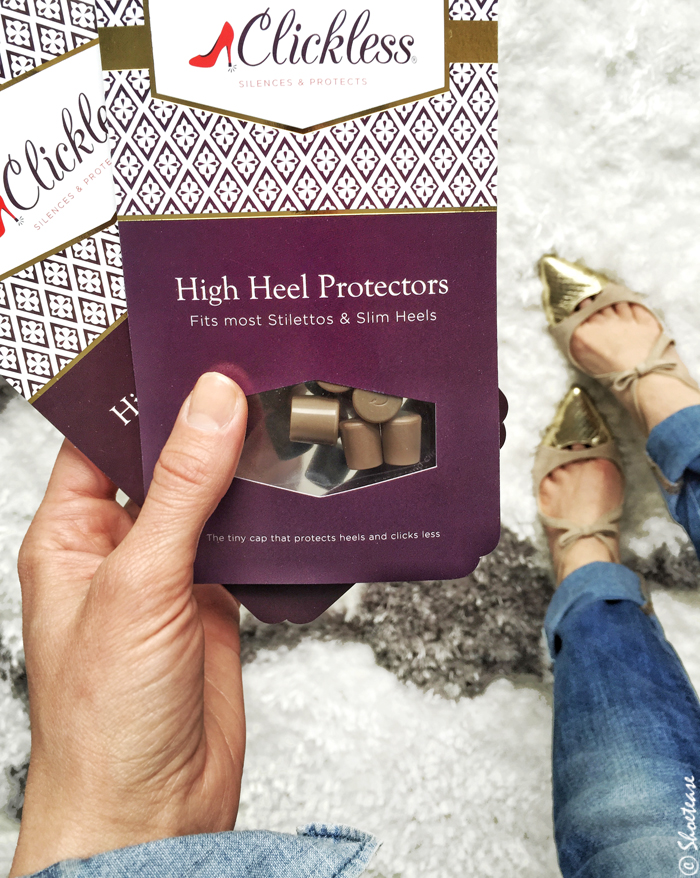 What you could Win:
5 Readers can each win 3 packs of Clickless High Heel Protectors (1 Black/1 Brown/1 Taupe)
Who can Enter:
 Anyone 12+ years in age, located in the USA & Canada
How to Enter:
It's easy! Enter by using the Rafflecopter widget below. Each entry has its own value. Gain more entries by tweeting daily (see all options below).
GOOD LUCK!
Giveaway Fineprint
Contest starts November 29, 2015 12AM EST and ends December 12, 2015 12AM EST. 5 winners can win 3 packs of Clickless High Heel Protectors each. The winners will be announced at the end of the #11DaysofGiveaways series. The winners will be randomly selected by Rafflecopter. The prize is non-transferrable & cannot be redeemed for cash value. Applicants must be over 12 years of age and must reside in US or Canada. Prize will be shipped to the winner by Clickless.
Next Giveaway —> I Want Shoes Giveaway: Enter to win a pair of shoes of your choosing from www.iwantshoes.ca!
Previous Giveaway <—  Outrageously Organic Foot Spa Treatment: Enter to win 1 set of all natural, organic scrub & moisturizing treatment!
All other giveaways —> Click here to see more
xo Cristina