I'm not usually one to specifically seek out super cheap online shoes from China. But when an interesting opportunity knocks, I open the door…to try out more trendy shoes of course! Because we're not just talking about lower costing, direct from factory shoes, but shoes that are also cruelty free.
We're seeing a strong transition to animal free foods, fashion & this of course includes shoes. Vegan shoes, specifically. I already gave these vegan dress shoes a try & was wondering how Yoins would fare in the low cost, animal free shoe category! Not to mention as a brand & shoe maker as well. So I ordered two pairs, c/o of the online shop: 1 strappy happy snake skin printed pair of high heel sandals & a pair of more simple knotted flats. What do I think of each shoe and of the shoes as a whole? Read on to find out, below…
Black Bow Pointed Toe Flats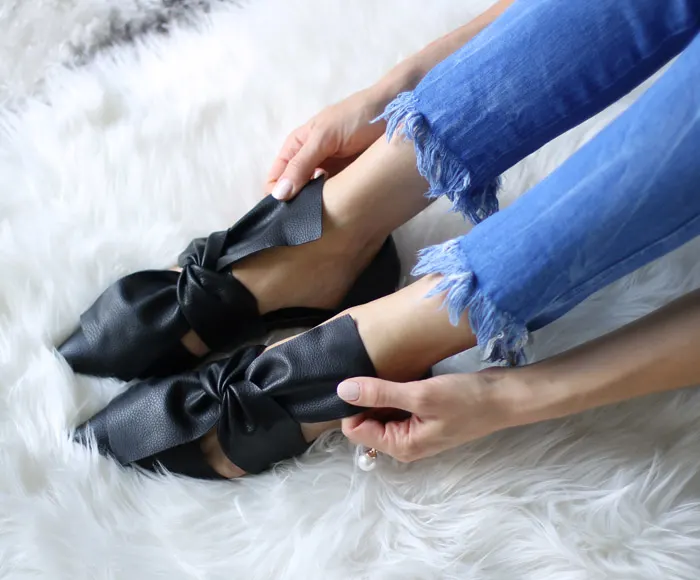 In terms of talking specifics of each styles, let me start with these black bow know flats, which are my absolute favorite. Firstly, they look exactly the same as the picture & as described. The vegan leather has a nice grain to it, and is a great leather looking dupe. I love the laissez-faire look of the floppy bow, which is a huge trend in footwear right now. Although knots are quite ubiquitous at the moment, these are original looking in their own right. I've not seen any other brand with anything exactly like it. Similar, maybe, but not exact.
Because these fit about a half size too big (my heels were falling out of the backs as I walked) I added heel tabs. Now these fit more snug & I'm ready to style them with just about every outfit I own! They're currently 40% off & selling for $32 US, which is a great deal.

---
Shop similar styles, below:

---
Strappy Studded Reptile Print Sandals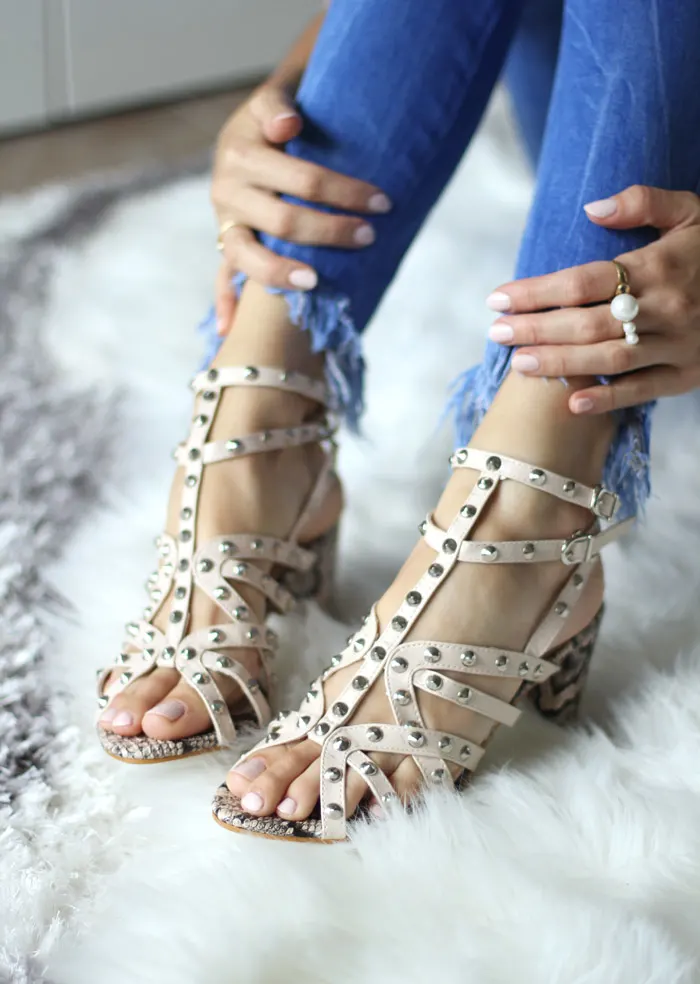 The studded block heel strappy sandals are objectively stunning. I love the added bit of Valentino Rockstud feel. The studs are shiny & captivating, while the snake print is textured & has great visual depth to it. The 3.5 inch heels are so very walkable and considering they are made of faux leather, are extremely soft and cushioned under the toe & heels. But these didn't come to me without a few problems. If these issues are ones that less shoe savvy fashionista would likely notice, I'm not sure!
I ordered the "Apricot" colored sandals (they have these ones in 4 different colors). The pictures of the product, however, looked like it had a very white base. Knowing how so many direct-from-factory products from China tend to be incorrectly named, I assumed the picture was worth the thousand words.
In the end, these actually look identical to the pictures of the "Pink" sandals of the same style. In their defence, my own pictures of these snake heeled sandals look a lot less pink than the shoes themselves actually are. But you can at least see a faint blush tone. These are still gorgeous, attention grabbing sandals, but not the actual color I was expecting to receive.
The main flaw, however has less to do with color & more with the quality. There are the 2 noticeable studs missing from the outer left shoe. (You can take a look at the pic above & below to spot the empty space). And both upper straps have what look like silver pen (or pencil?) markings all over them. I felt as if I was receiving a pre-production sample vs. a finished product. And let me tell you, I've seen loads of each! I happily managed to "erase" the upper marking with rubbing alcohol, so at least that was easily solved. But DIY fixing is not something you should have to do to any product, even if the shoes are only $50 (down to $46 right now, though).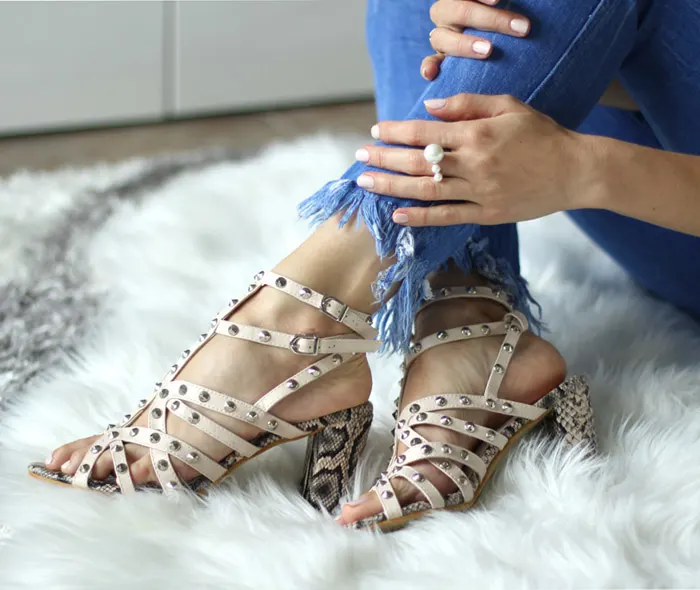 ---
Shop similar styles, below:

---
Yoins Shoe Review
Comfort & Fit:
It's so easy to walk in them because they're so freaking soft! As someone with experience with usually hard, man made materials, these are a dream to put on and keep on. The outsoles of both shoes are flexible, making them ridiculously comfortable to walk in. Very much looking forward to styling these comfy heels & great wear-with-everything flats, without the fear of blisters!
Sizing:
Before ordering these two pairs of shoes, I noticed the US & EU numbers not adding up. For instance, I'm a size 8 US and which (usually) corresponds 38-ish EU, sometimes a 39, depending on the brand. However, Yoins' size 8s correspond with a 40 EU, which is a huge jump. I went with the US sizing, figuring that would be more accurate. Which in the end, wasn't.
Both the flats & heels feel like I'm wearing more of a size 9 US. However, I took my own shoe advice from my "how to make shoes smaller" post and added a heel tab to the flats & an insole to the heels, so I'm able to walk in them with no problem. So if ordering from Yoins, buy a whole or half size down in US sizing, as the EU sizing is more indicative of the size.
Quality:
The quality of the materials is far superior than what I'd expect for a Made in China brand. One, however, one can't deny the strong, plasticky odor when opening the package for the first time. Quite typical of faux leathers from China. Letting them air out for a couple days outside, did manage to eliminate the bulk of it.
I'd say the construction of the shoe is what I expected for the price. However, the sandal with missing studs and marking was a little disappointing.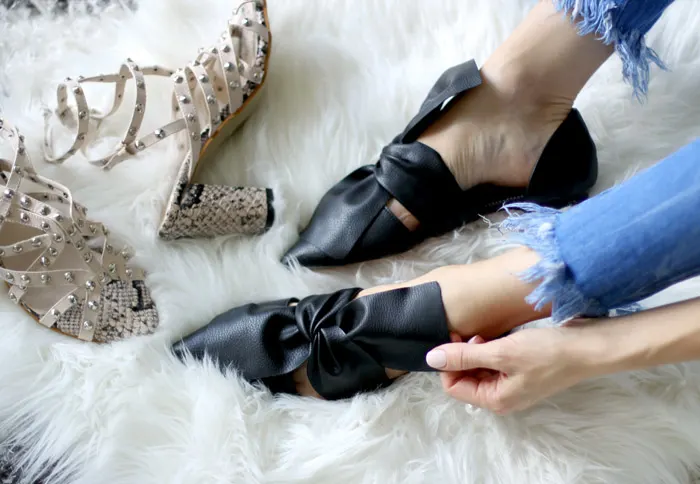 Overall, if you want a pair of low-cost, trendy man-made shoes that you can easily order online, these are a good bang for your buck. I don't know if my experience with the sandals is out of the ordinary at all, but other than the color difference, the shoes pictured on the site were the shoes I received. I've heard of some China-based online fashion retailers where items pictured are nothing like the ones you end up receiving. Although I've only shopped for these two pairs of shoes at Yoins so far, I don't believe this store like the others. Then again, the prices are not as low as other similar low cost online stores.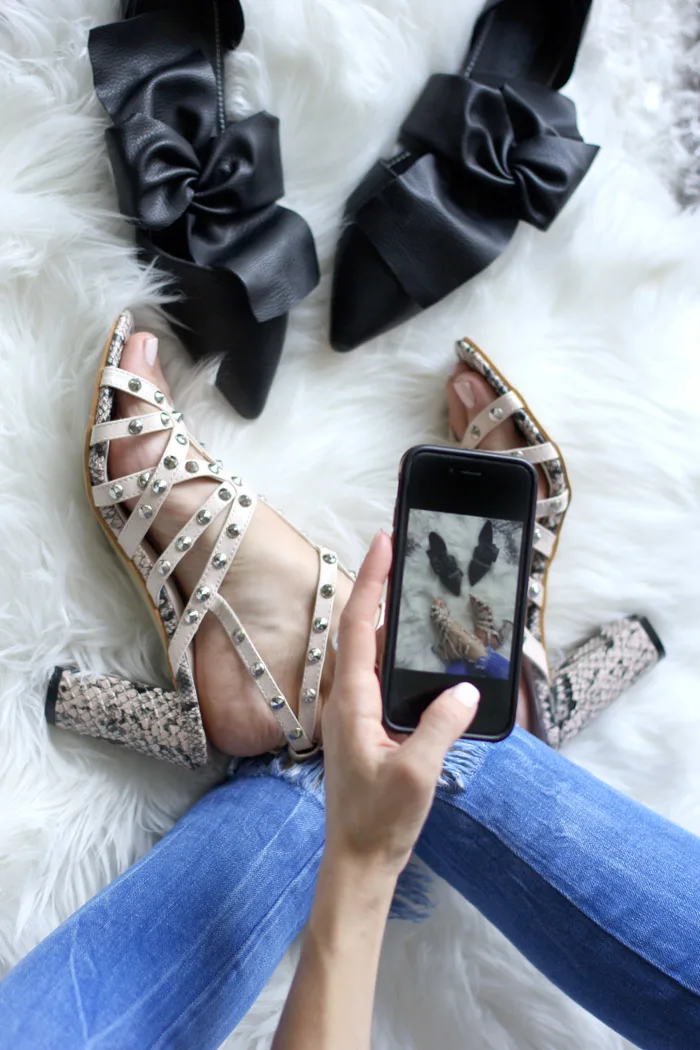 Do you have any experience (good or bad) with Yoins or any comparable fashion retailers that sell low cost & cheap shoes from China? I'd love to hear your thoughts!
xo Cristina