And I thought I'd never wear Mary Janes again! But that was before I met these particularly lovely double strap Mary Janes in store for Fall 2016!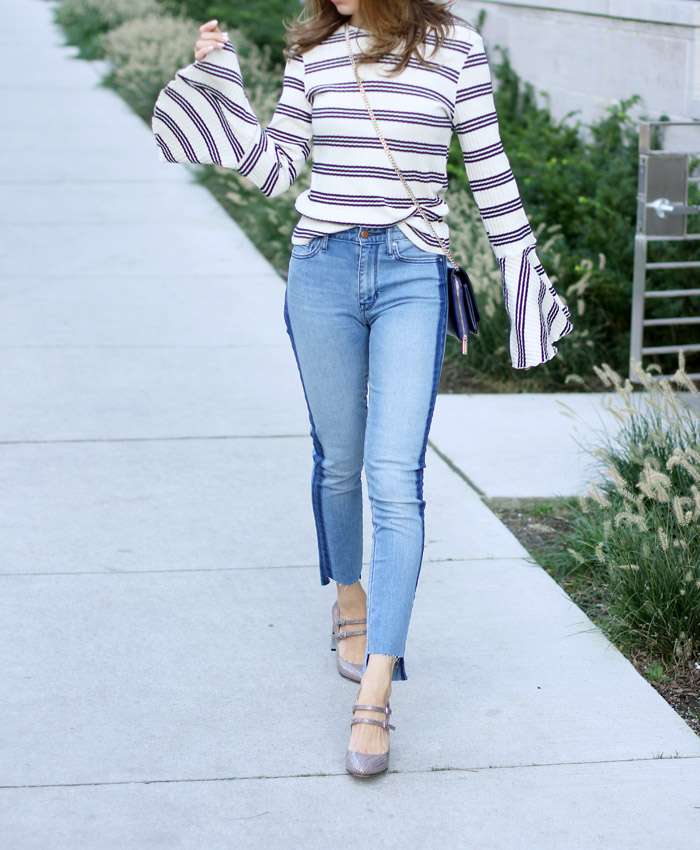 Double Strap Mary Jane Heels: Nine West. Bell Sleeve Top: Zara (Fall 2016). Jeans & Purse: old.
---
Shop the Look: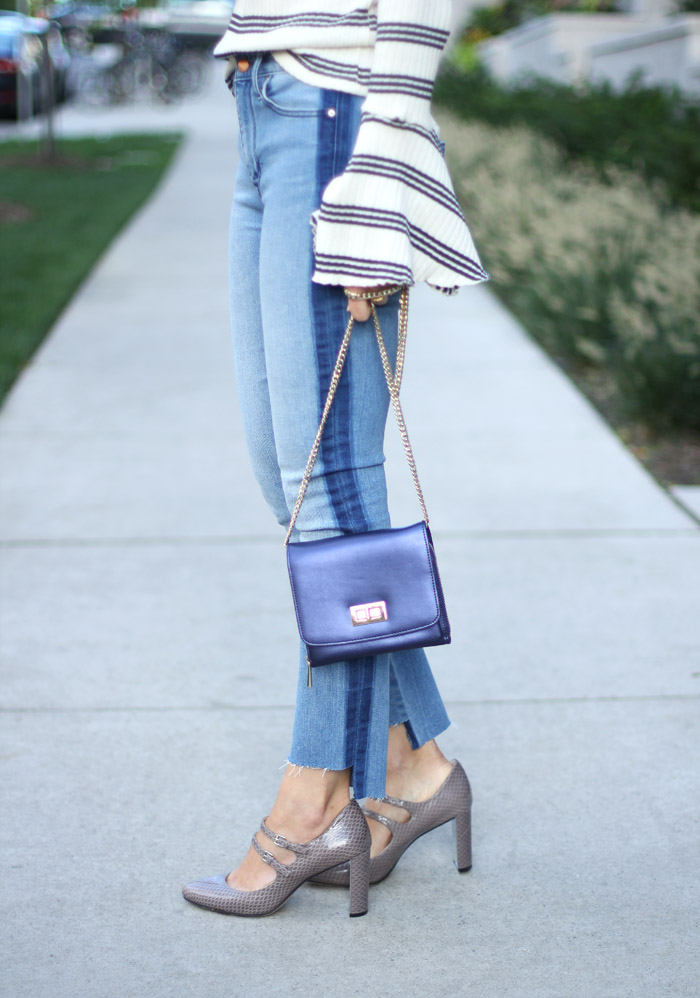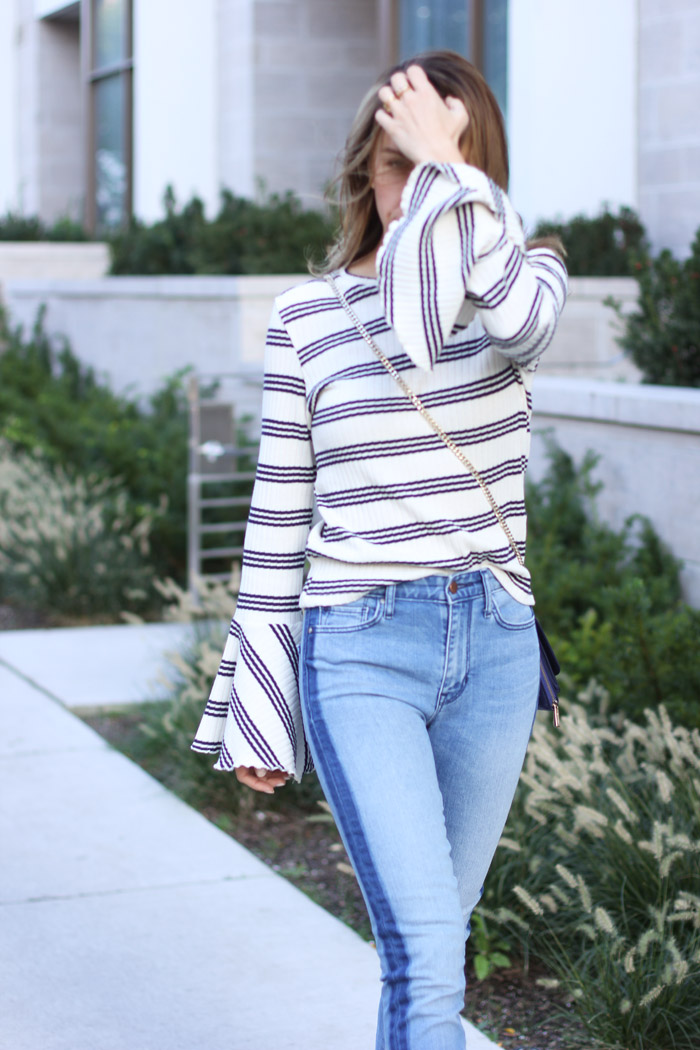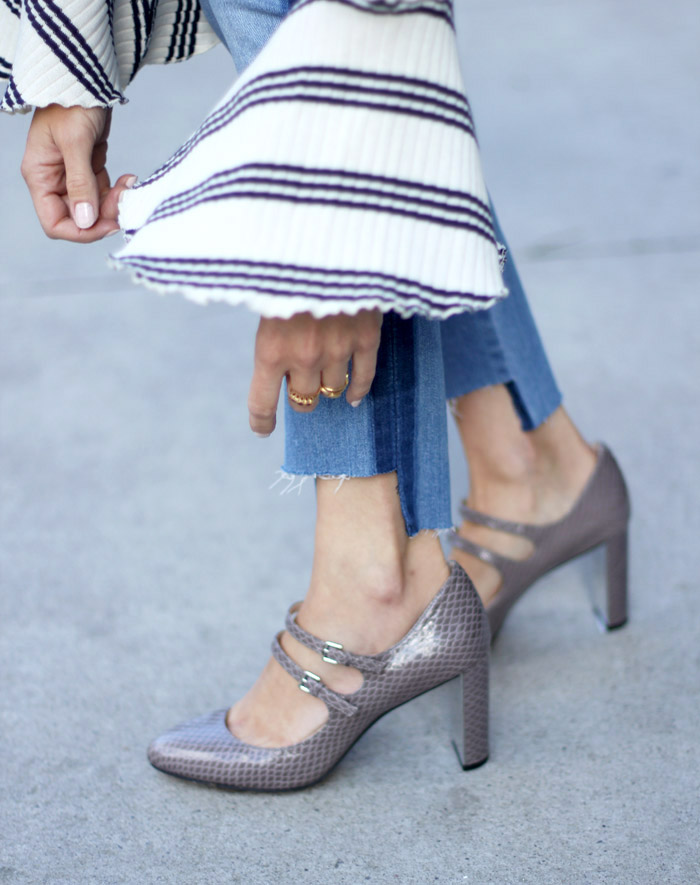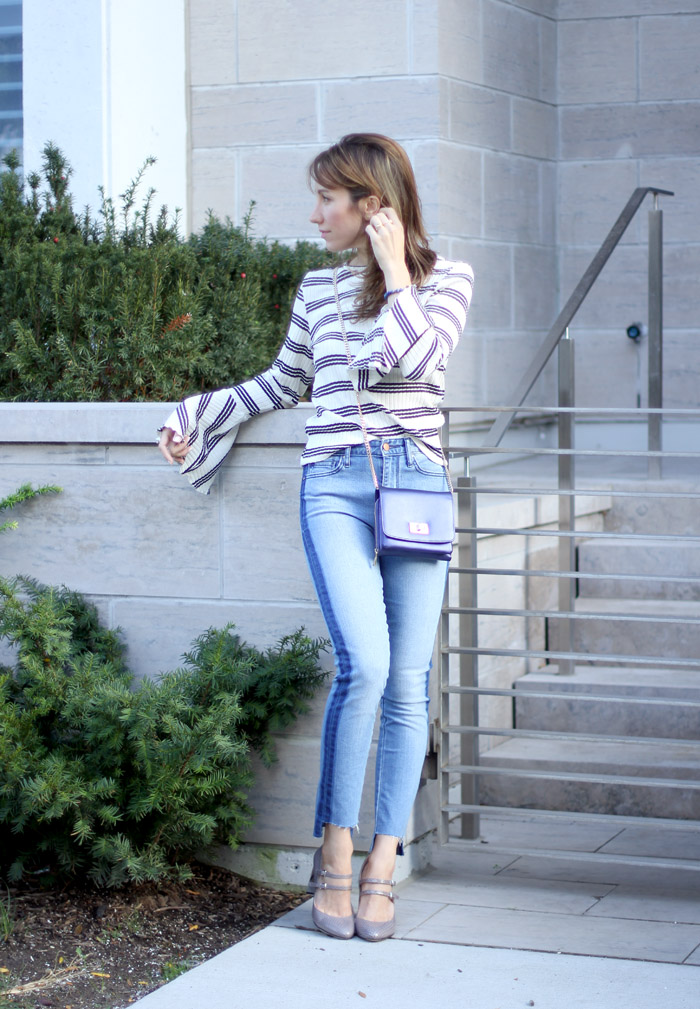 I haven't worn Mary Janes since I was young. And I mean, really young! I've always loved their flirty, school girl appeal, but never thought anyone over the age of 25 could pull them off. But then I started seeing some amazing street style. You know, with these fabulous older women wearing their strappy closed-toe heels with kick flare jeans, boho dresses and more. I was inspired.
So as "pulling things off" has more to do with mindset than anything else, I tucked away my preconceived styling notions & kept an open mind. And I knew as soon as I saw these Nine West shoes from the Nine West Canada Fall 2016 collection that they had to be mine! They come in quite a few colors too, btw. With the perfect almond toe, dainty straps, easy-to-walk-in wide heel & fab snake-like embossing: there's nothing not to love with these shoes. Did you notice the mirror metallic detail on the inside of the heel? Gotta love that detail too. The multi-straps are a huge shoe trend for Fall 2016 & I'm happy to partake 🙂
And to style these pretties without looking homely or too old lady-ish, I opted for my default: jeans! I found these old two-tone GAP jeans in the back of my closet from a couple years back & decided it was time to resurrect them. Two-tone denim is oh-so fashionable right now. What wasn't fashionable were the long, hemmed legs.
So I decided to DIY a uneven hem with my handy (and mostly deglected!) fabric scissors to achieve an even more trendy look. Of course, I kept a frayed hem, since they're all the rage nowadays (and I love them!). I love how this type of hem gives an edge to a potentially very preppy pair of heels. Did you ever see these crazy jeans of mine? Mayor fraying going on over there!
To give the whole look a 70s twist, I opted for a bell sleeve top (had to try at least one out!) from Zara. Cheap, cheerful & perfectly on trend, you gotta love this long sleeve tee from Zara for only $19. I just wish it had slightly shorter sleeves, as these look great (and make a huge statement) but aren't the easiest to do mundane things in, such as write and eat!
What would you wear these double strap Mary Janes with?
Check out more of my shoe-inspired outfits, here.
xo Cristina