There are a lot of things that happen when you approach middle age & drier skin is one of them. I find that hands & feet (especially in the winter) suffer the most.
So I've put together a list of how to treat dry hands (and feet!) with 7 of the best products. These include the best cuticle oils, moisturizing hand creams, masks & scrubs that I've found so far!
How to Treat Dry Hands & Feet (with the Best Moisturizing Hand Creams!)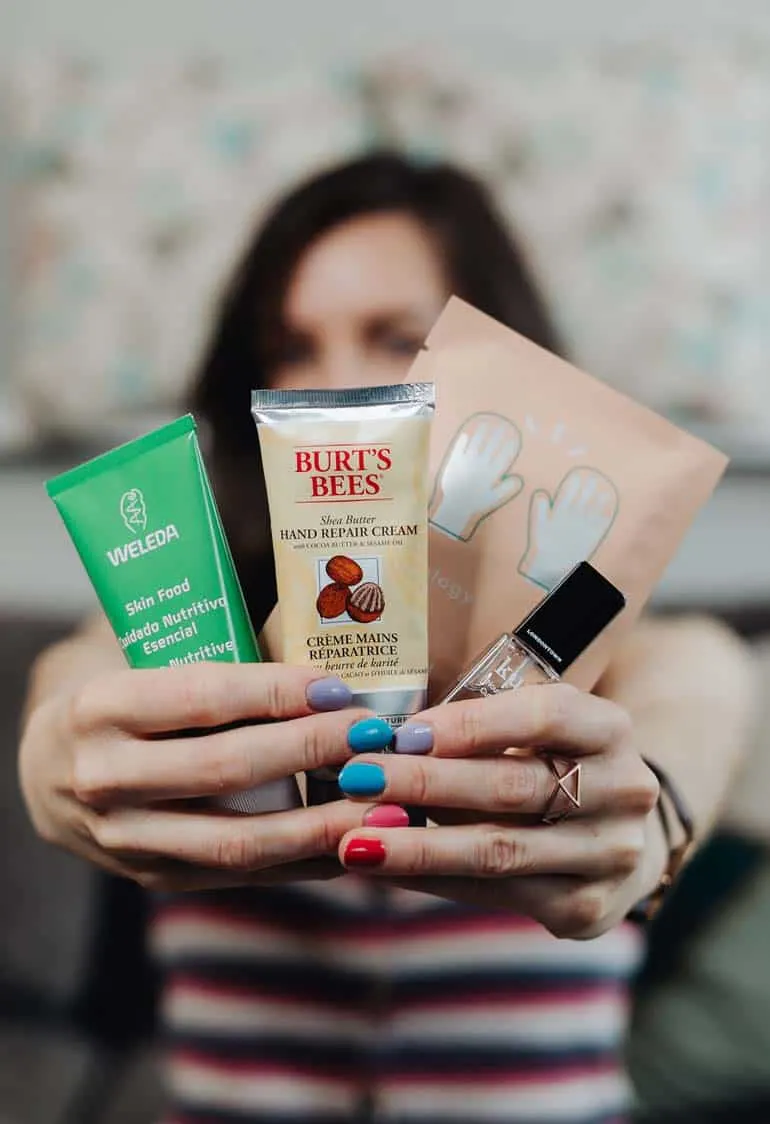 Keeping your hands moisturized in the winter, or keeping them from drying out in the summer sun, can be a challenge. Of course, proper hydration (drinking lots of water!) is key.
As is a balanced environment. A humidifier can also help prevent your extremities from drying out, especially during the winter.
But harsh outdoor weather is hard to control & it's that much harder to keep your skin & body hydrated when you throw aging into the mix. Eeek!
I've always had dry skin during the colder months, but as I'm getting older, my skin – especially hands & feet – have been getting progressively drier. This, of course, has contributed greatly to the appearance of age.
And we all know that you an always tell someone's age by their…hands. And mine can sometimes look worse for wear if I'm not taking care of them properly, making my hands look wrinkly & even cracking.
I've tried handfuls of different potions & lotions over the past couple of years. This, in an attempt to shield my palms & digits from the Northern winds & ozone-depleted rays.
And I've found some absolute hydrating winners, which I have rounded up in this post. Seriously, these have cured my dry hands & feet – and hopefully – given them some anti-aging help!
These intensely nourishing hand & cuticle creams also work great on dried-out feet, elbows, knees & so forth. Also a bonus: most of them are completely natural & non-toxic! Because we all know how much I love my clean beauty; )
---
Quick Shop All Moisturizing Hand Products:

---
Best Moisturizing Hand Creams to Treat Dry Hands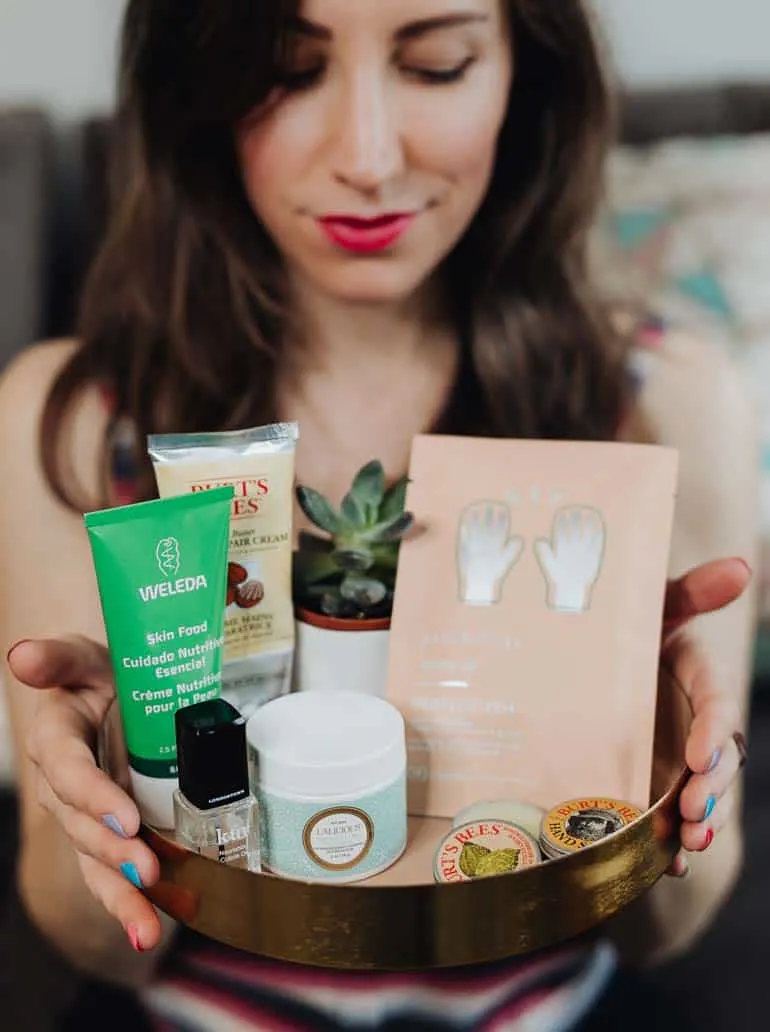 1. Weleda's Skin Food
I think Weleda's Skin Food is the best moisturizing hand cream on the market. Thick & nourishing, it lasts for hours & can even resist a few hand washes!
It has a pleasant, lemony scent & with its natural essential oils, it's one of the few clean brands that I trust, not only for it's useful formula, but also for its non-toxic ingredient list.
Some might find this moisturizing hand cream a little too thick, but it absorbs nicely & leaves a silky coating on the skin.
To avoid having sticky hands, however, I tend (unless it's before bed) to apply & rub it on the outer part of my hands, avoiding the palms. The consistency does make it the perfect foot cream as well. Especially when used as a foot mask before bed!
For a lighter feel with the same high quality formula Weleda Skin Food Light . Both the original & lighter formulas come in different sizes, even travel-friendly ones.
The only setback was the aluminum packaging. However, they've recently changed their packaging (which is BPH free, btw) and it's much easier to get all the product out now.
2. Burt's Bees Shea Butter Hand Repair Cream
Another favorite hand cream, just discovered this past winter (and also works amazing on feet!) is Burt's Bees Shea Butter Hand Repair Cream. It's slightly less thick than Weleda's counterpart. And also has a more slick, consistency to it.
It works just as well, albeit rinses off more easily after washing hands & consequently lasts a little less. The main ingredients are cocoa butter and sesame oil, it's 99.9% natural & it has a lovely scent to it.
3. Burt's Bees Hand Salve
Whoever said good things come in small packages, must have been talking about Burt's Bees' Hand Salve. This tiny tin is jam-packed with nourishing goodness with botanical oils & beeswax.
Although it also comes in a larger container, I love how the tiny 3-ounce tin. It easily fits into the smallest purse & is a go-to, on-the-road, moisturizing travel companion!
It's the thickest/oiliest of the three hand moisturizers mentioned & also does wonders on cracked heels. And it's 100% natural. This is a one-stop solution on how to cure dry hands & even the toughest of dry soles!
The Best Moisturizing Cuticle Creams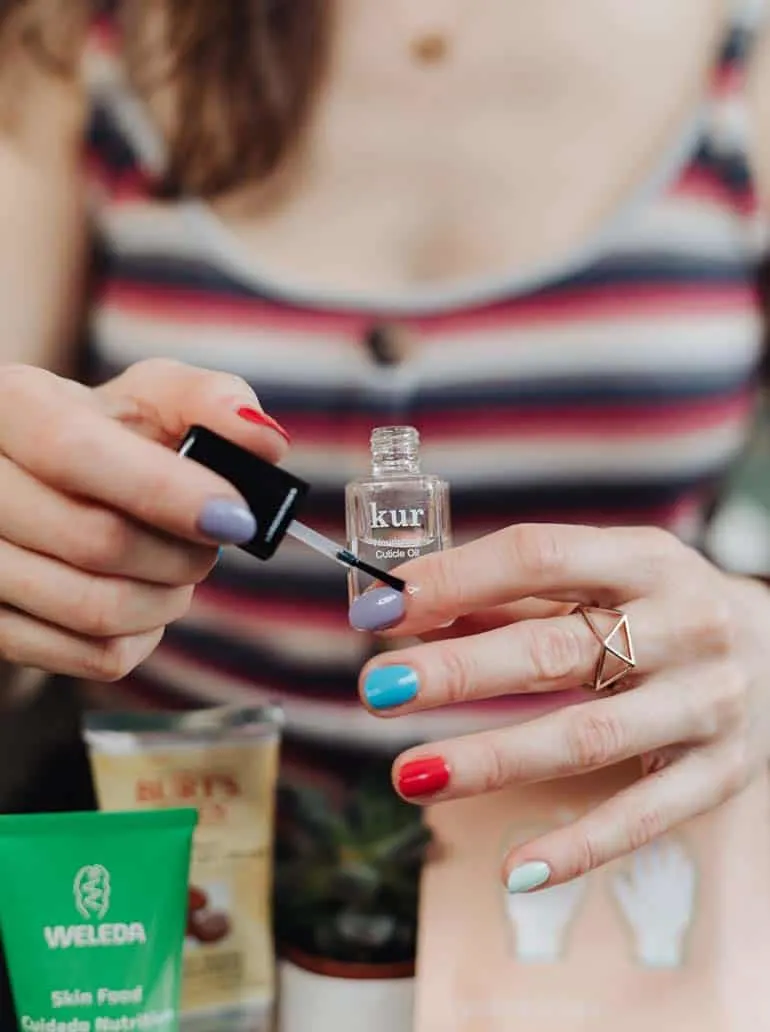 4. LondonTown's Kur: Nourishing Cuticle Oil
I just love this Kur cuticle oil from vegan & cruelty free brand, Londontown. Not only does it intensely hydrate hand & toe cuticles, but it also strengthens your nails.
It gets absorbed rather fast, considering it's made up of oils. I also find that it also makes any mani or pedi last a whole lot longer!
The packaging, in a nail polish bottle, with a polish wand & all, is a nice touch! A little of this product goes a long way, too. I've had my bottle for well over a year & I have only gone through half of it.
5. Burt's Bees Lemon Butter Cuticle Cream
Yep, another Burt's Bees. Quite frankly, they hit the nail on the head with their hand products, including the Lemon Button Cuticle Cream!
This one comes in the same packaging as the hand salve, either in a 6oz format and a handy travel-size tin.
It is a lot more travel/purse friendly than its Londontown counterpart. It's a thick vs runny consistency & smells like freshly juiced lemons!
Best Moisturizing Hand & Cuticle Mask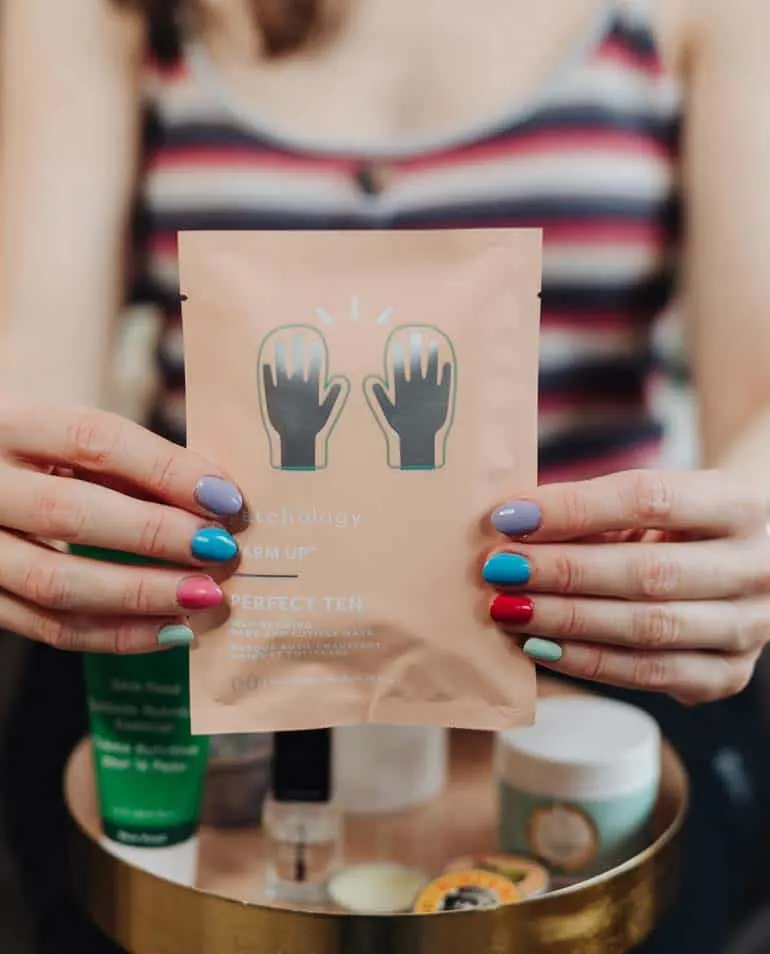 6. Perfect Ten Self-Warming Hand Mask by Patchology
Patchology's Perfect Ten Self-Warming Hand Mask is all kinds of amazing. I mean, I love Patchology products.
Their lip & especially under-eye patches, are miracle workers. I also reviewed their incredible Wink & Kiss Flashpatch.
This self-warming hand mask is very high-tech. The serum-infused space-looking mitts are to be kept on for 10 or more minutes & leave a fabulous softness to the hands. They also do a stellar job a moisturizing the cuticles.
Best used in the evening, so you can leave the gloves on for longer & allow the serum to linger on you hands & nails all night long. And like other Patchology products, the serum smells light, refreshing & delicious!
Don't Forget to Scrub First!
Before applying any mask or hand cream, I would highly recommend giving your hands & feet a good scrub. This will slough off dead skin, and allow the ingredients to penetrate more effectively.
This way, you can fully benefit from the nourishing effects of the above hand moisturizers & cuticle creams.
7. Moisturizing Body Scrub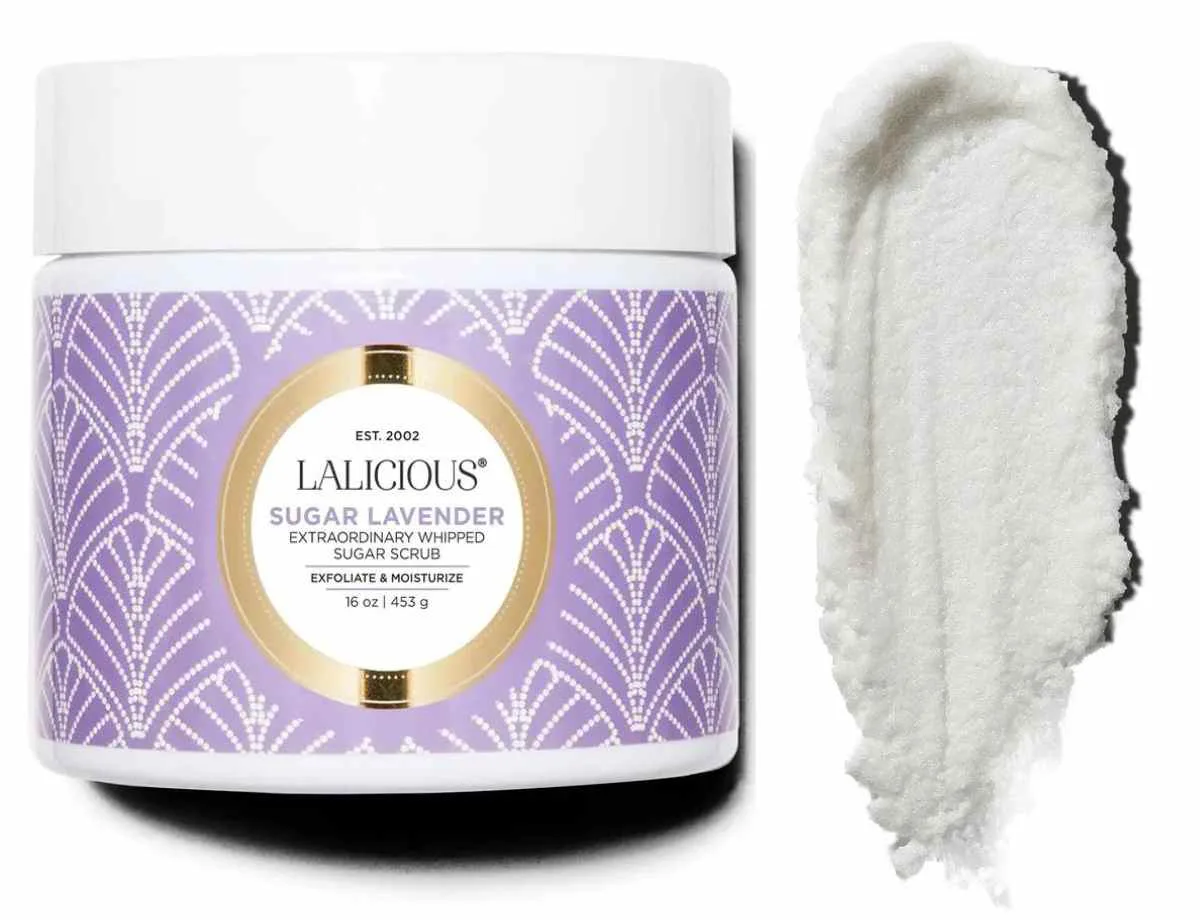 I'm currently in love with Lalicious' Extraordinary Whipped Sugar Scrub. With its fine granules & non drying formula, it's the perfect exfoliator. Just add a little water & it gently, but effectively scrubs away!
Doesn't hurt that is smells delicious & leaves your hands feeling baby soft! Comes in multiple scents & can be used on the whole body. This product is paraben, sulfate & phthalate free.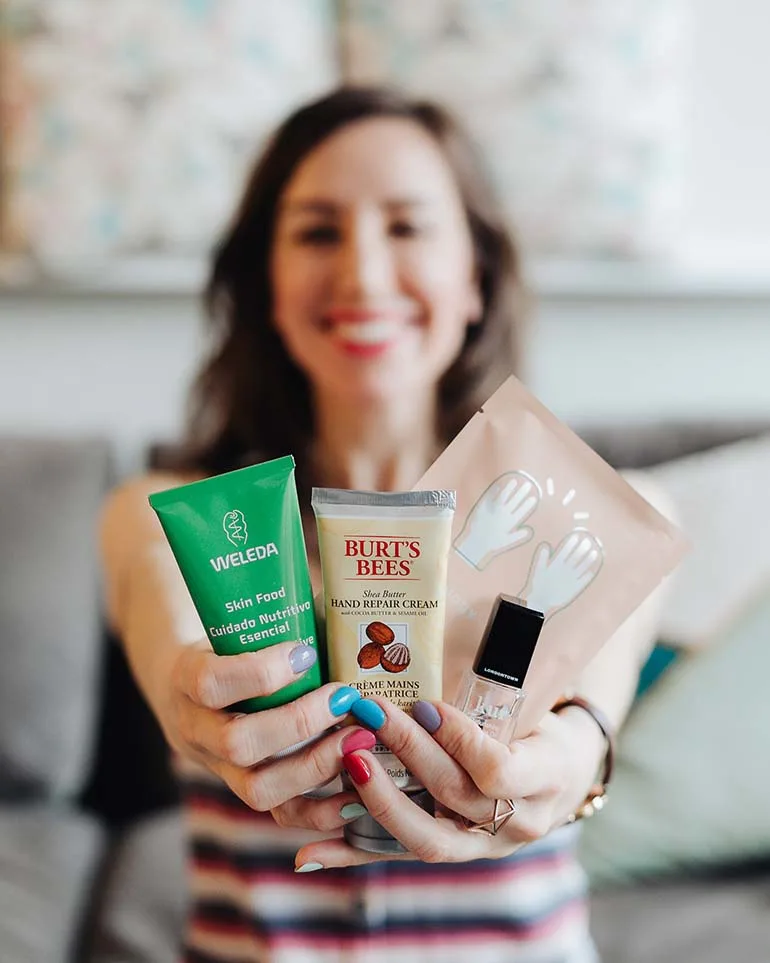 ---
So now that you've had a glimpse into my remedies on how to cure dry hands, tell me. What is the best moisturizing hand cream & /or cuticle oil you've ever tried?
Shop All Moisturizing Hand & Foot Products:

xo ShoeTease
Cristina is the chief editor, fashion & shoe expert here at ShoeTease. As a seasoned stylist and women's fashion & shoe designer, she boasts over 20 years of experience in the fashion industry. She loves crafting effortless outfits for ladies both online and off and believes that styling advice should be accessible to everyone. Whether you're a styling pro or just starting out, Cristina's here to guide you on your fashion journey! Learn more.