**Please note that this brand no longer exists, but check out my post about the best Canadian shoe brands for many similar styles!
Who says summer's ending? Not me! I'm certainly doing everything I can to keep it alive. This includes pairing one of my summeriest sandals (these new gold wedge cork sandals from Canadian brand I Want Shoes) with a tropical print dress.
Nothing better than strappy sandals & a palm print dress to keep one's mind at the beach (even when strolling through the busy, traffic laden streets of Toronto!).
I also have a style post on these cute bow wedges you can take a peek at 🙂
Gold Wedge Cork Sandals & Palm Print Dress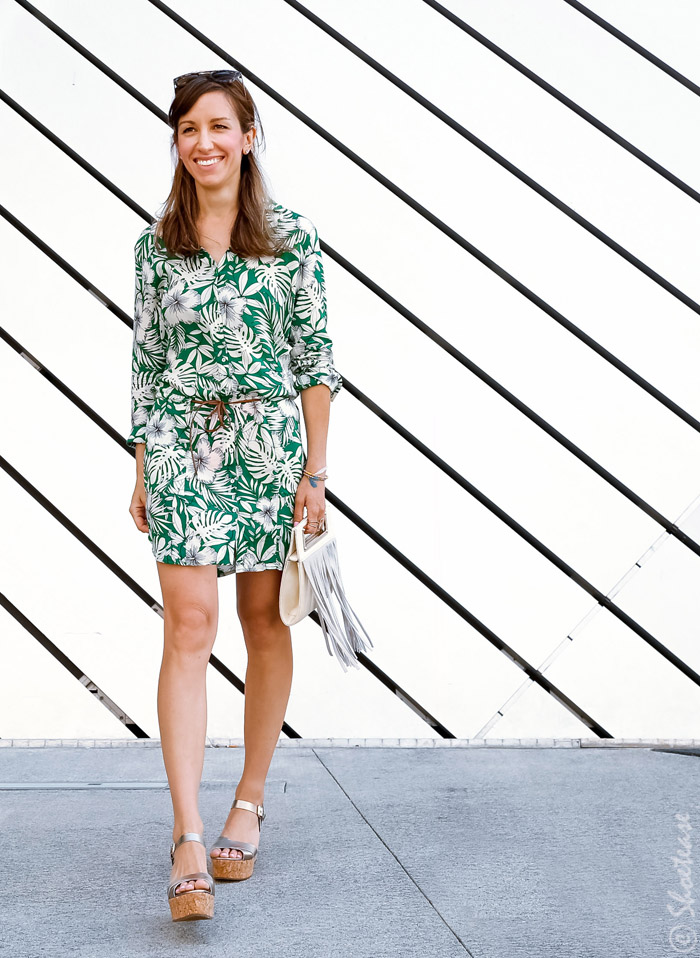 This cork platform sandal (that verges on being a flatform, really) is a lot more versatile than you'd think. It looks great with my tan, thank you for noticing 😉 The muted gold upper looks great with any color & can be dressed down for the beach or primped up for a chic dinner soiree. Also a great option to wear with jeans. This is one of the best shoes to wear with flared jeans & looks great with boyfriend jeans as well. Although I'd avoid skinny jeans with wedges that are almost flatform-like myself. It may make you look like a cartoon, but that's all personal preference, right?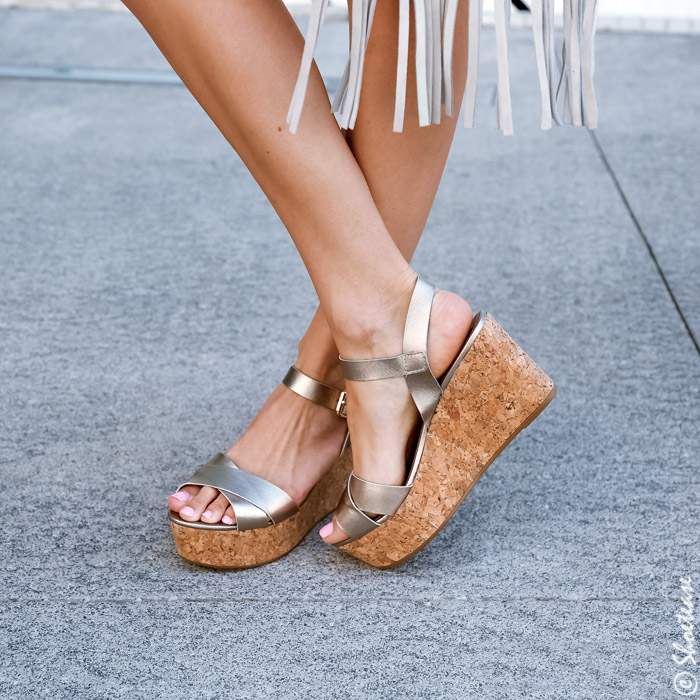 I fell in love with this green tropical print dress from Esprit when I was in Italy this summer. They sadly pulled this US-based brand from all of North America. Which sucks. It was my go-to when I was younger & is still an affordable fashion brand, designing both staple & trendy items. On the flip side, I know I won't be seeing anyone else in Toronto wearing it. What can I say? I try to be a tad original with my clothing choices, especially with statement-making pieces such as a palm print dress! So happy to have managed to score it on sale too!
I'm all for floral prints, but as I'm a fan of green, I love me a solid print. I'm loving shirt dresses these days in particular, because you can wear them pretty much anywhere & they pair exceptionally well with most shoe types. Of course, the specific palm print I'm wearing makes shoe & accessories styling more restrictive, but with its longer sleeves & collar, you won't necessarily look like you're headed straight to the beach. You can make it more casual with a similar gold wedge cork sandals like I did. And you can even wear it out for dinner with a more elegant shoe, such as a black strappy sandal. Stuart Weitzman's Nudist or Steve Madden's Stecy would be a great choice!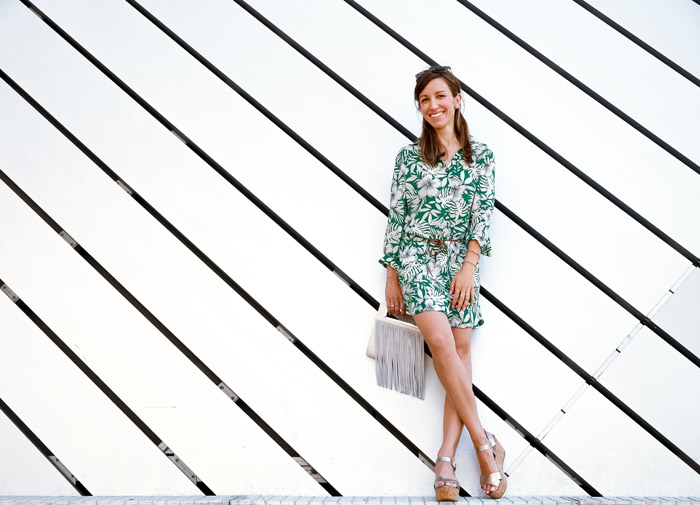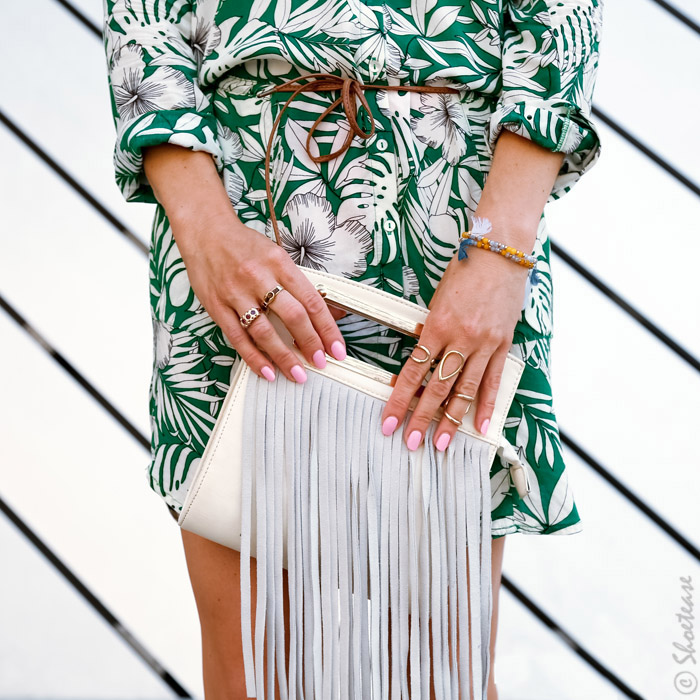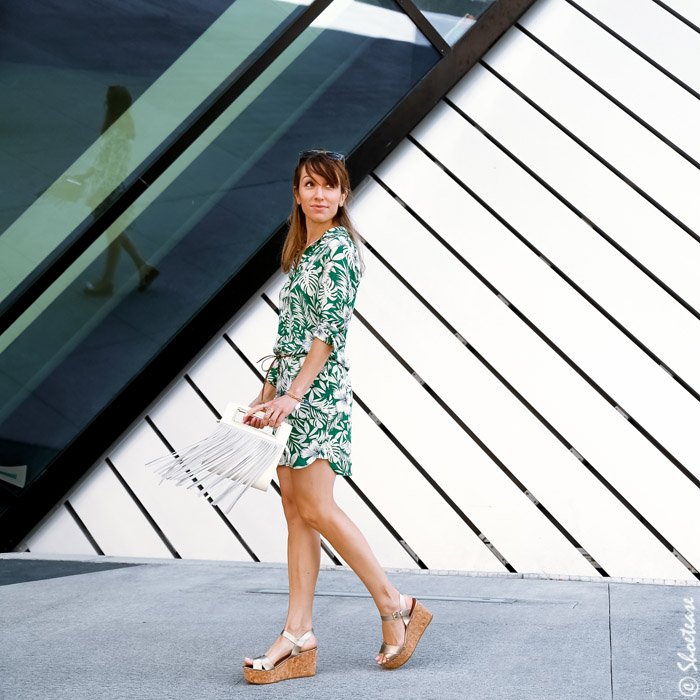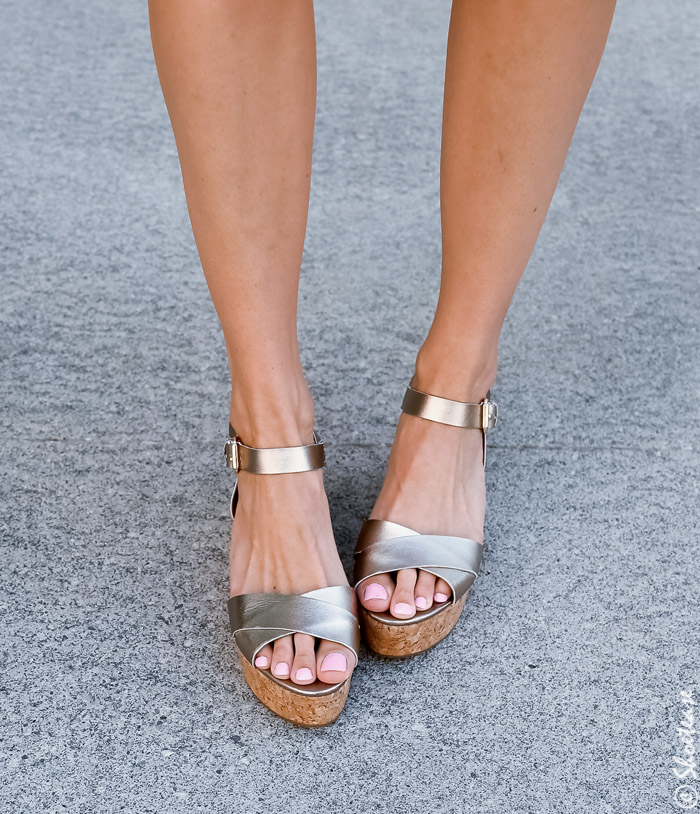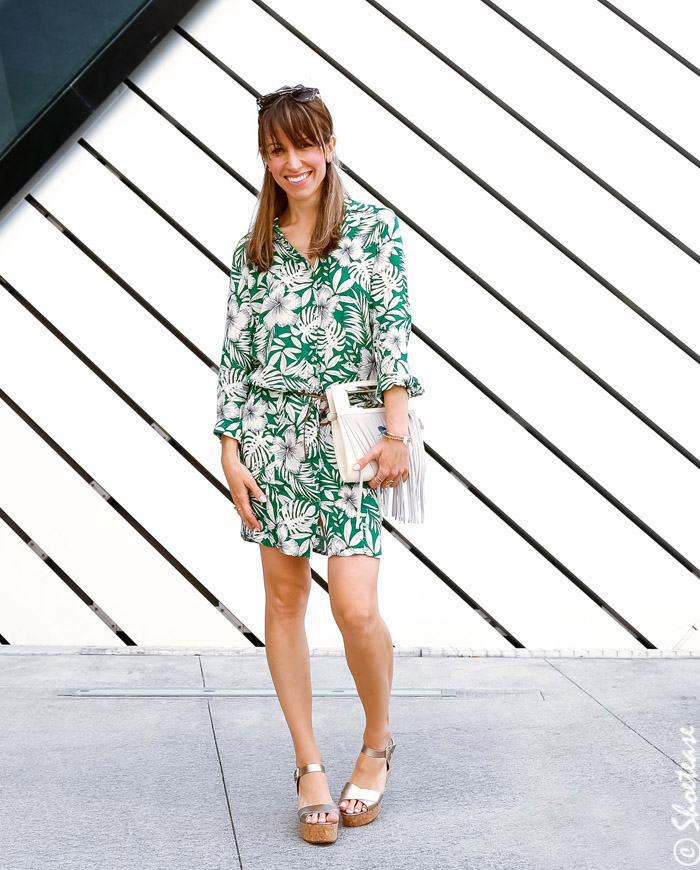 Palm print dress: Esprit. Gold platform wedges: I Want Shoes. Fringe Purse: Winners
You can find these fun gold wedge cork sandals from iwantshoes.ca. They're currently on sale for a steal (50% off from an already affordable shoe), so I'd hurry there quick! Read my review on this locally designed (& Brazilian made) newly launched shoe brand that creates fun, cute shoes for women, here.
Love this dress & shoe pairing? I do too! Check out some other options on what color shoes to wear with a green dress!
xo ShoeTease