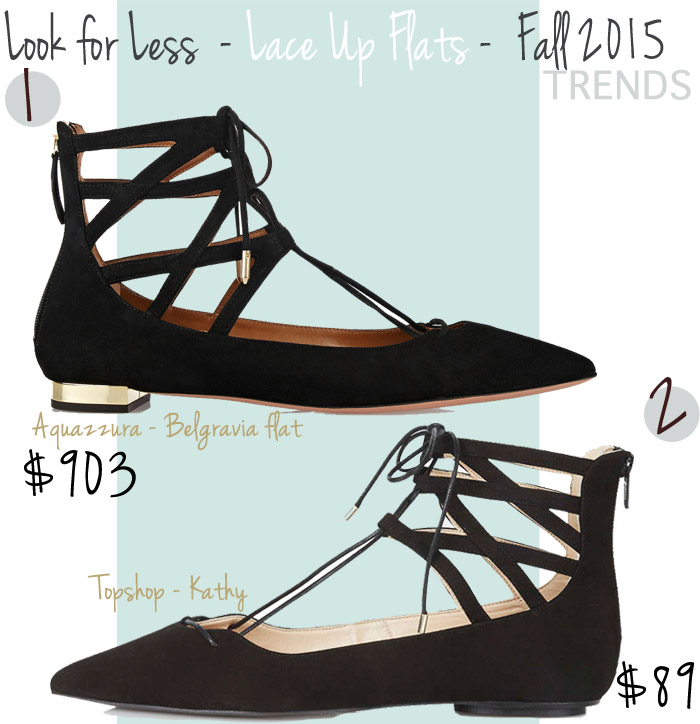 You can't escape these. Aquazzura's black lace up ballet flats continue to make an statement coming into Fall 2015. Yep, that's one whole season after their introduction! The "Christy" pointed toe flat, shown after the jump, has been making a prominent impression on fashionista feet worldwide. But these black lace up flats — both designer & look for less versions — are getting huge screen play on fashion bloggers' social media feeds right now too. Great to know that Topshop, among many other fast fashion retailers, have got you covered with 3 of their own wallet-friendly Aquazzura flat shoes for the upcoming Fall/Winter season!

And if the major lace ups are not your thing, it comes in many different strappy pointed toe flats versions as well. As a major shoe trend for Fall 2015, this corseted detail ballerina flat is the perfect transitional shoe, not to mention a sassy yet simple back to school (or back to work!) flat shoe. But if you'd rather not pay the designer shoe price, rest assured that many lace up ballet flats, at a multitude of price-points are readily available. But the classic black flat is still my favorite kinda laced up shoe. If Audrey Hepburn were still kicking around, she'd surely be spotted wearing these on the street! Here are the ones featured above. Click on the link if you'd like to shop 🙂
Aquazzura Lace up Ballet Flats for Less from Topshop
Topshop isn't the only retailer who has made great Aquazzura black lace up ballet flat dupes! Although I do prefer the quality of Topshop's copies (especially the "luxe" designs made from leather), other brands have done a great job at imitating the high fashion look. Even some high fashion labels themselves. Take a look, below!
Shop designer & dupe black lace up ballet flats:

xo Cristina