**Update: this cute brand is no longer available, but for I've compiled a list of all the best current Canadian shoe brands for women that you must check out!**
I was thrilled to review these cute nude bow heels with curvy wedges from new, affordable brand I Want Shoes, which is designed here in Canada. As I previously mentioned, I'm not usually one for cutesy shoes or heels. Yet this pair, with its neon-filled bows, were too darn adorable to pass up! I've also styled these great gold cork wedges, to have a looksie there too!
But when it came to styling these flirty nude heels, I was stumped at first. I don't own midi skirts, nor do I have any clothing reminiscent of any appropriate vintage era, which was my first styling instinct when thinking of what I should pair with these high heels.
However, it was by playing dress up rummaging through my closet that I soon realized these adorable wedge heels with bow are at lot more wearable with casual, everyday clothing items than you'd perhaps initially think. And in a variety of outfit combinations as well. I don't know about you, but I prefer to dress myself in real life clothes rather than theatrical costumes! It's called "street style" for a reason after all 😉
Cute Nude Bow Heels with Wedge Styling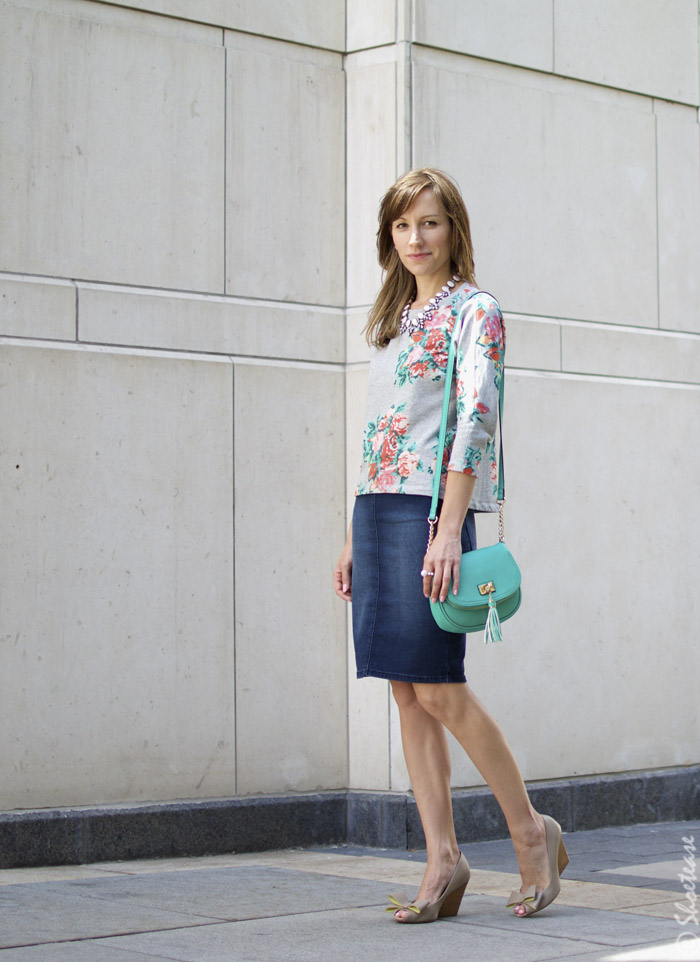 So I grabbed some pieces from my closet, both new & old, reaching first for my favorite clothing material: denim. If I were to chronicle my outfits each & everyday, I would have to say that whether jeans, jacket or shirt, something made out of either denim or chambray is likely to appear on me. And it's not just about the full on denim & double/triple denim trend coming even more prominently into effect. I've always been a serious denim lover. I mean, who in doesn't own a few pairs of jeans & at least one denim jacket anymore?! So this stretchy high waisted denim pencil skirt from Guess (see it styled with platform sandals, here) was the perfect start to styling the outfit in full.
Paired with my fave new floral sweatshirt from Comptoir de Cotoniers (a much missed French fashion brand of mine that sadly isn't sold in Toronto or anywhere in Canada that I know of), things started to come together. I went a little girlier than usual with a pale pink bedazzled necklace, 'cause you know, why not add a little more fun above the ankles as well!? These heels are currently 50% off at www.iwantshoes.ca, or shop similar at the bottom of the post!
How would you style these nude bow heels for yourself?!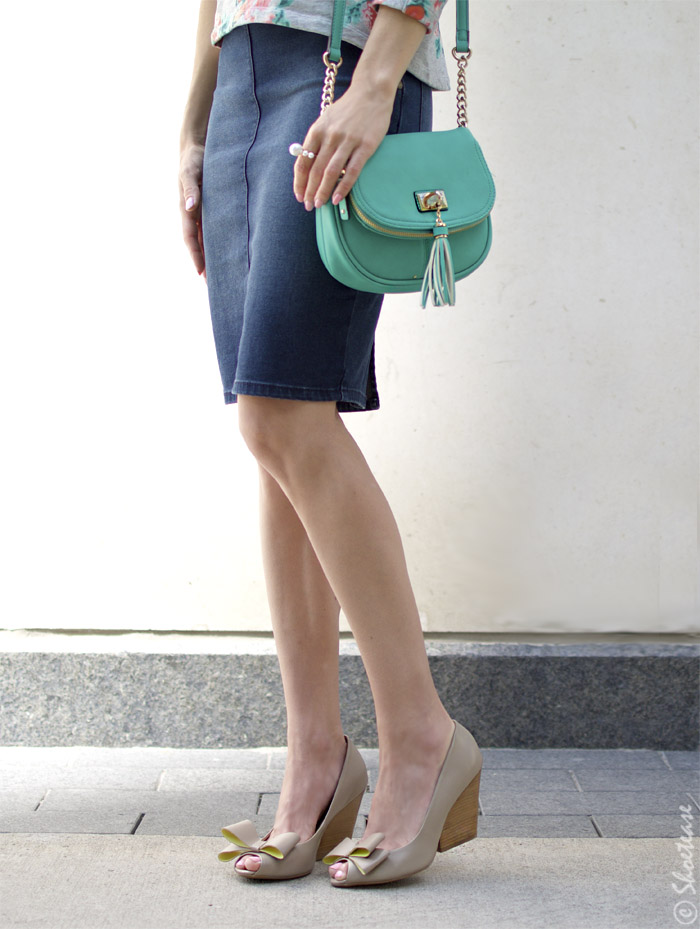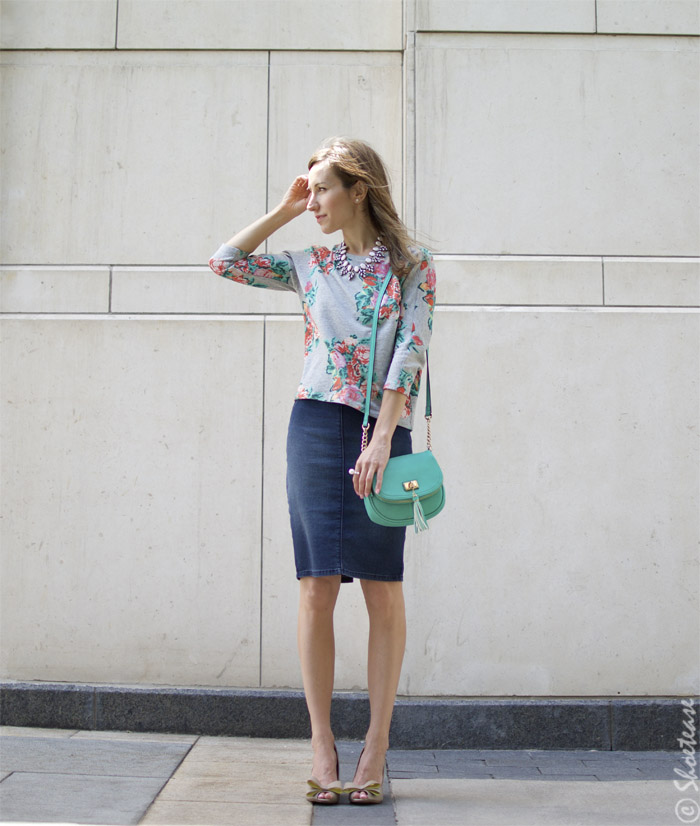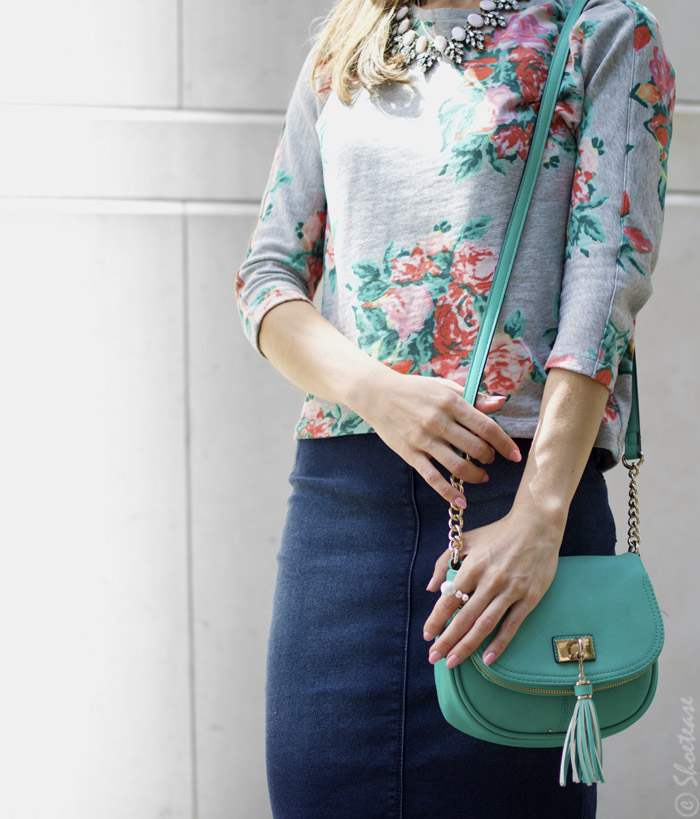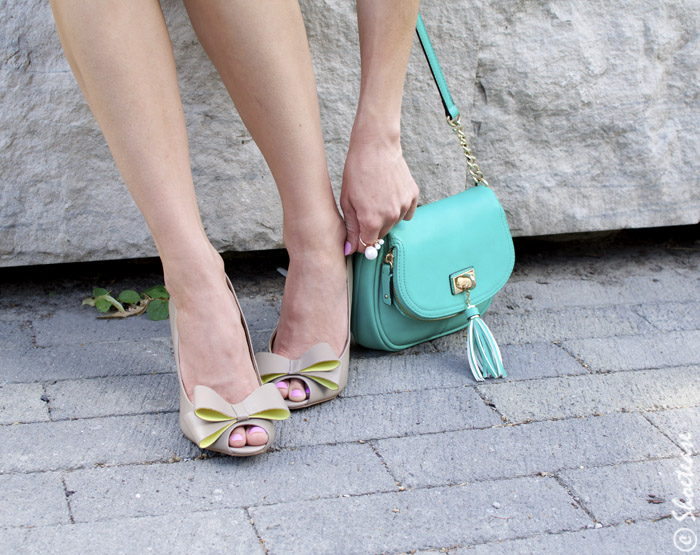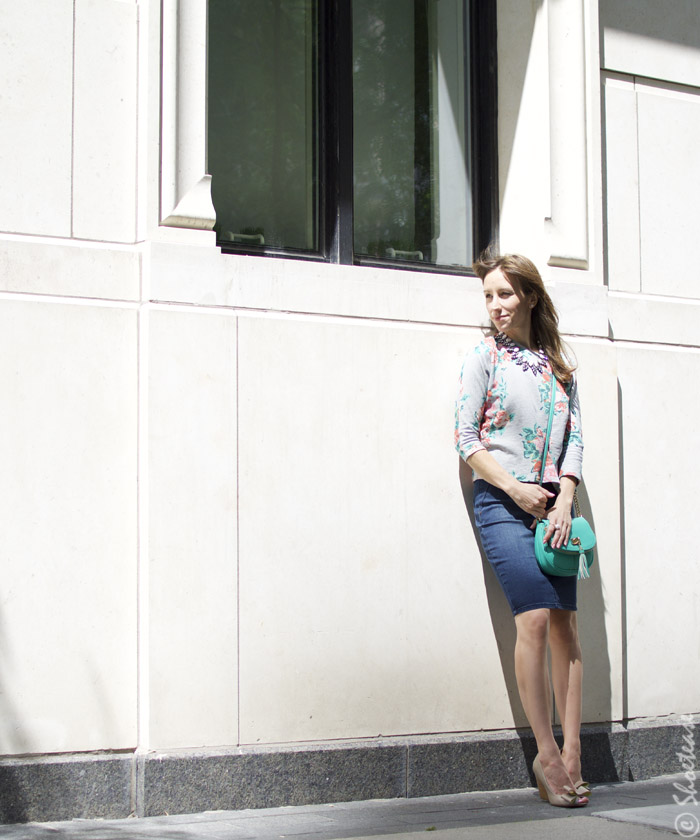 Nude bow heels: c/o I Want Shoes. Denim Skirt: Guess c/o Dixie Outlet Mall. Sweatshirt: Comptoir des Cotoniers. Purse: Aldo. Necklace: c/o SammyDress
Shop similar beige wedge heels:

xo Cristina