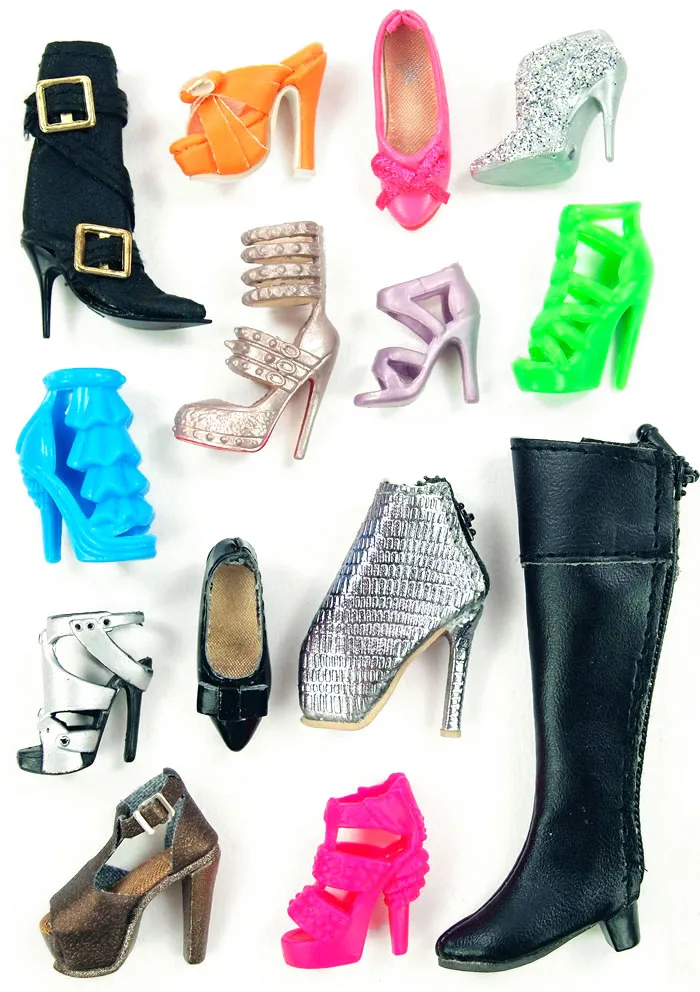 Think Barbie doll shoes merely consist of typical 90s style "Barbie" pink high heel pumps? If so, you're in for a great BIG shock!
Let's just say that Barbie's shoe closet has somewhat, "expanded" since our youth. Well, mine anyhow!
Cutest Designer Barbie Doll Shoes

RELATED POSTS:
Unless you're specifically into miniatures & Barbie styling, you've probably no idea of the amazing selection of Barbie shoes, clothing & lifestyle items that exist today.
No more dowdy "stewardess" type outfits. No more simple silly frilly fashion. And definitely no more basic plastic pink houses for this lady! No Ma'am.
Barbie's all about high fashion nowadays. Heck, I don't blame her! I mean, did you know that Christian Louboutin designed a collection specifically for Barbie? Inspired by his actual women's shoe designs?
They're so delicious, I almost want to eat them! Each Barbie Louboutin shoe even comes with its own original shoe box, signature red shoe bag & everything! And perfectly crafted REAL designer Christian Louboutin sandals, is just the start.
From Alexander McQueen "Armadillo" heels, to Jeffrey Campbell, Giuseppe Zanotti & Vivienne Westwood-inspired shoes & boots, B definitely has her pick of the designer shoe litter. How lucky is she?!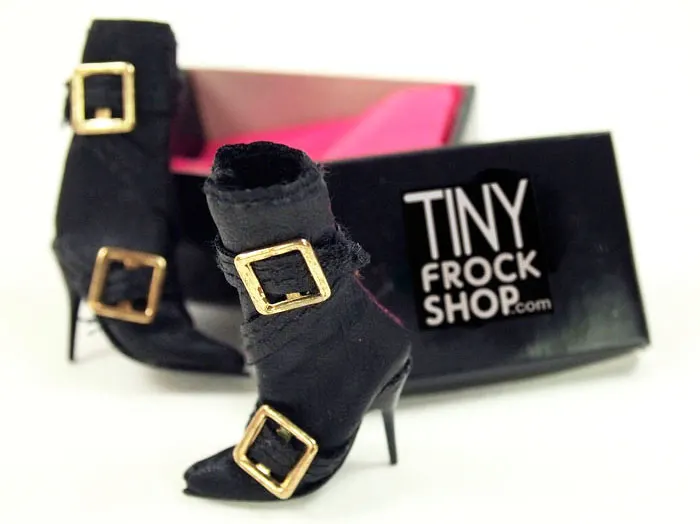 Vivienne Westwood "Skyscraper Seditionary" inspired buckle boots
But from what I hear, getting your hands on these perfect little plastic heels isn't always that easy. It can be quite tedious to find specific Barbie doll clothes & accessories that you might looking for.
And Ebay & Kijiji don't offer the greatest online retail experiences. And let's not mention the lack of customer service! So knowing where to find these little treasures is key.
Really, wouldn't it be amazing to find the crème de la crème of Barbie doll lifestyle products including doll shoes, furniture, fashion & even sweet rides, all in one fashionable online shop?
Well, Tiny Frock Shop is that place! And it's nothing like your ordinary Barbie doll clothes shops. And not only because it carries a heck of a lot more stylish dolly shoes than most online destinations.
With a mix of homemade & commercially produced second hand goods, there's a reason behind Tiny Frock Shop's amazing aesthetic.
Before creating her Barbie consignment shop, owner & founder Pamela Thomspon had a successful career as a New York City fashion designer. Dubbed the "Satorialist of Barbie" she has worked as head designer for the likes of Anna Sui & Betsey Johnson, just to name a few.
After a relocating to Chicago with her family, Pamela's thirst for fashion needed to be quenched. The colorful result was Tiny Frock Shop.
It takes just a one quick glance to see that this idea was born from an actively creative mind! It definitely takes talent to create such perfectly curated & screech-inducing cuteness that this little used goods shop embodies!
In addition, Tiny Frock Shop also features trend forecasting for the 12″ beauty based. What the WHAT you ask? Yep, the shop analyzes trends from each & all of the most prestigious Fashion Week shows & caters the results to Barbie! See the fabulousness of trending Barbie fashion on TFW's Facebook page.
Looking for more than Barbie doll fashion? Well fear not, fine folk! The Tiny Frock Shop doesn't just sell Barbie Doll Shoes & Barbie doll clothes. You can also find the following dolly goodies:
Pre loved & new in box special edition/vintage Barbies. Don't worry ladies, Ken is there too, along with other famous 12" dolls
Housewares, crafts & vehicles (loving the pink Vespa currently available!)
Barbie Pets
Men's doll shoes, clothing & accessories
Beauty products
Sewing patterns
Dolly Books
Not only are the contents of this itty bitty shop incredible, but the team has a fashionable & distinctive personality to go along with it. Take 6 1/2 year old CEO Lily.
She probably knows more about fashion & managing her creative team than most adults I know in the industry. HA!
Seriously, you have to go check out this go-to lifestyle destination for all things Barbie. It'll tickle you…pink!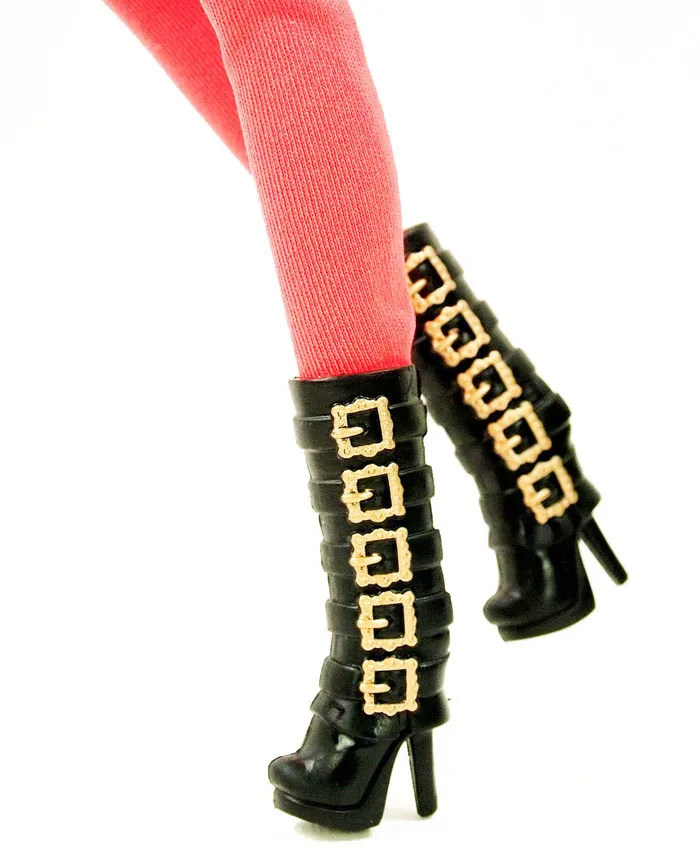 Thanks to Pamela for providing me with these wonderfully curated images just for ShoeTease!
xo ShoeTease
Cristina is the chief editor, fashion & shoe expert here at ShoeTease. As a seasoned stylist and women's fashion & shoe designer, she boasts over 20 years of experience in the fashion industry. She loves crafting effortless outfits for ladies both online and off and believes that styling advice should be accessible to everyone. Whether you're a styling pro or just starting out, Cristina's here to guide you on your fashion journey! Learn more.