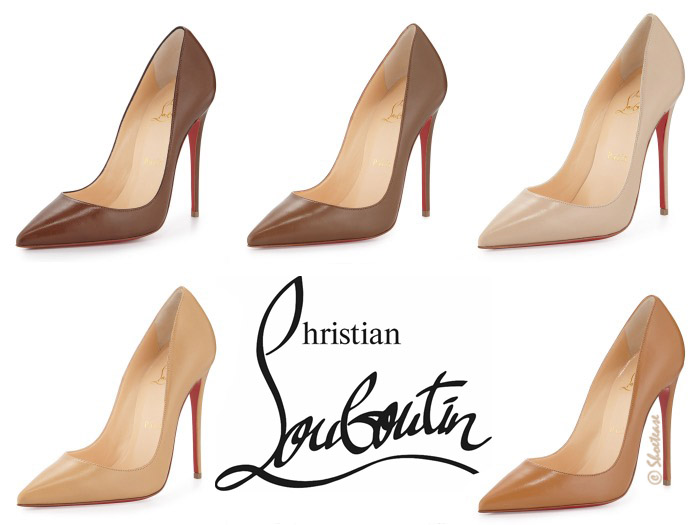 The world's most famous French shoe designer introduced the shoppable array of "nude" shades of stiletto heels for Spring 2015. The hue selection of Christian Louboutin new nude pumps, available from "fair blush" to "rich chestnut, can be purchased right now (well, 'till they sell out, of course!) at Bergdorf Goodman. The 5 nude heels can be yours in the "Pigalle Follies", "So Kate" & "Iriza Half D'Orsay" styles. But what's the great, more recent news you ask?
---
Shop Christian Louboutin "Les Nudes":

---
Now the 5 Louboutin nudes have expanded to include the curvy "Deepik" along with the covered platform peep-toe "Vendome". These two new additions can be found on Louboutin's online store. So yes, that's a total of 5 styles you can purchase to match your skin tone! But this is simply the start for Christian Louboutin's "Les Nudes", who will introduce more shades in the near future, so to complete his collection. And surely he will be extending these beautiful new hues onto different shoe styles as well.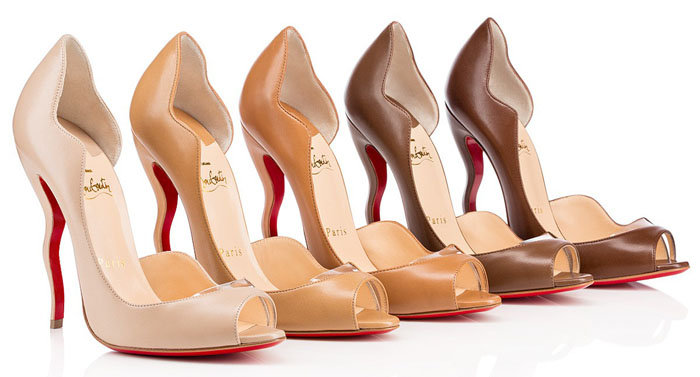 The fashion world is not only known for its lack of diversity, but for its controversy-riddled cultural appropriation and insensitive naming of collections & products. This includes "nude" or even "flesh" for that matter, more often than not associated with that of a simple beige or blush, which sadly exemplifies the "white priviledge" that continues to exists within our society. Remember the whole kerfuffle with Band-Aid brand?!
So kudos to Louboutin for taking a stride in the right direction by broadening our visual definition of the term "nude" & hopefully getting closer to debunking the prevailing norm that nude=flesh=white. 'Cause, you know, more than one skin tone exists in the world. I know, right, SHOCKING! Politics aside, every gal should be able to enjoy the benefits of what a nude heel has to offer: elongated/elegant legs & its ability to compliment pretty much any color of dress and outfit.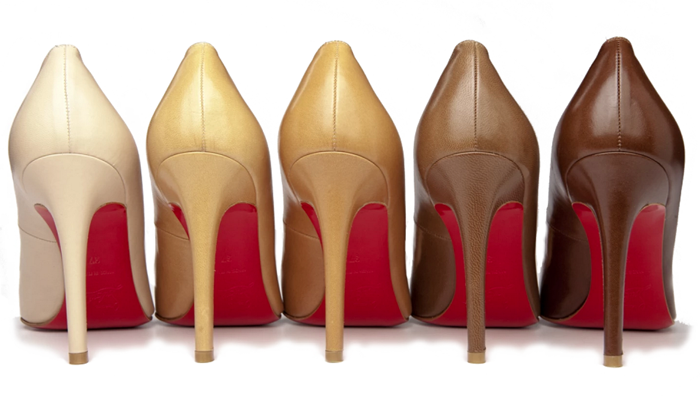 But could these Christian Louboutin new nude pumps be a gimmicky marketing ploy? Possibly. What they aren't, though, is a completely novel idea: both Jimmy Choo & Steve Madden have a small handful of tan-to-brown hued high heeled pumps in their collections. What is novel to Louboutin's "Les Nudes", is that when the set is complete, in will include a total of 7 shades. So when the 7 Shades of Nude comes around, no more purchasing a nude shoe that kinda-sorta matches one's unique skin tone. Because even at 5, I agree with Louboutin himself, who is well aware that this number just isn't sufficient. I mean, if you take a good look at the three successful ladies chosen to model a trio of the nude tones, only Jane Keltner de Valle, who just so happens to be the palest of them all, has found an actual tonal match.
Ready to buy a pair or two, but don't know which Loubie shade of "nude" will match your naked stems? Well, dearies, there's of course an app for that: Louboutin Shades. And if you're itching to get your hands on a pair of these, better act quickly as these puppies are going to sell out – fast!
Rather shop local? See where to buy Christian Louboutin shoes in Toronto, here!
References + Photo Credits: Washington Post, Bergdorf Goodman