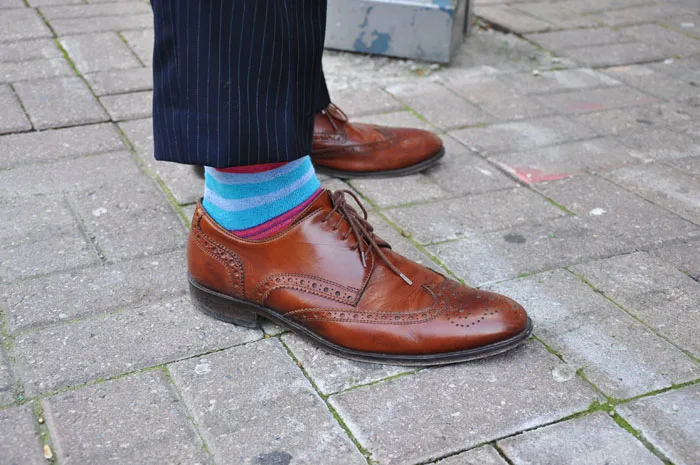 Brown Wingtip Brogues – Johnston Murphy
I was walking along the Bloor & Bay Street area, looking to capture some great women's street style Toronto shoes & heels in action. Needless to say, I got a little distracted by men's brogues instead!
I just love how some Torontonian guys are styling their brown & burgundy shoes with fun & colorful striped socks. I don't regularly feature or really ever feature, men's shoes, but I just couldn't help myself!
I mean, men's street style brogues never looked so good, now have they?!
I know this sock thing has been a trendy for a while, but I haven't seen it in action very much. And the people of this Canadian city, especially men, tend to lean towards a conservative manner of dress.
So I was pleasantly surprised at what I saw with my own eyes! Socks are a great & easy way for men to highlight their shoes & add a bright punch to their look (as are colored shoe laces, btw).
I mean, if you're going to the office, you're likely going to need socks anyways, right? So this holiday season, why not get even the most conservative man some novelty socks to style with his brogues?
Stripes, as featured in this post, are definitely the most tame of the funky socks out there & a great place to start if you're uneasy about wearing or gifting attention-grabbing ones.
If the man whose Christmas socks you'd like to stuff with, uhm, socks this holiday season is at all adventurous, there are some really great polka-dot & original patterns to choose from too. All in a seemingly never-ending variety of colors.
In terms of deciding which hue to match with what shoe (ha, I even rhyme!) & general styling tips on the matter at hand, see my thoughts after the pictures, below.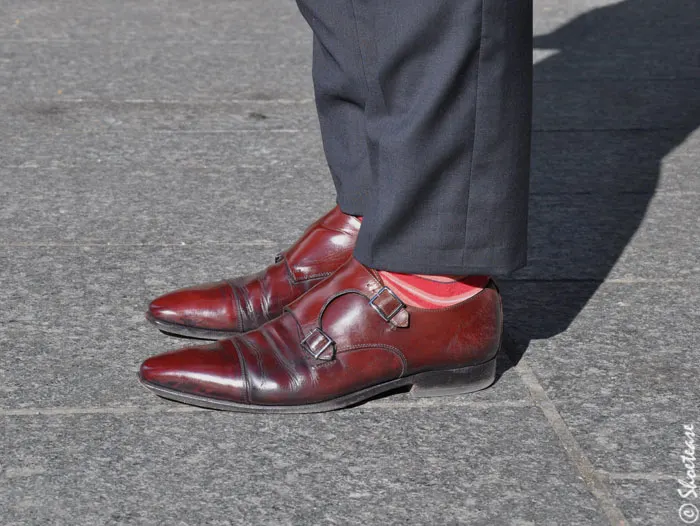 Burgundy 2 Buckle Monk Shoes – Canali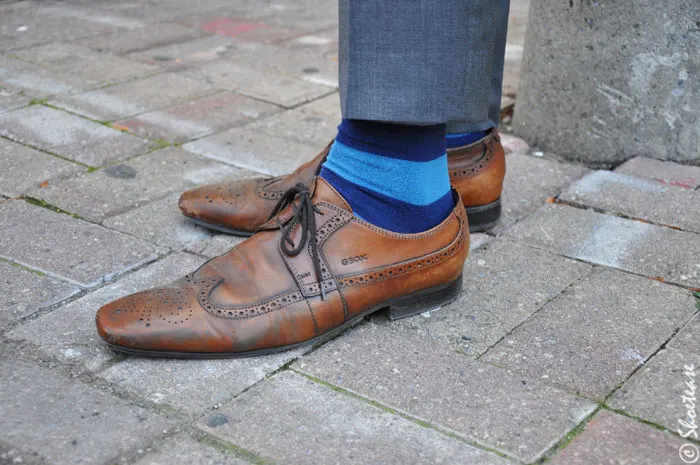 Brown Square-Toe Brogues – Geox
How To Style Men's Brogues with Colorful Socks
Brown Shoes: green & blue shades provide the greatest contrast & grab the most attention.
Black Shoes: All colors will contrast well, but the brighter the better! I suggest a lime yellow/green for greater impact. No black socks if you don't separate your blacks & whites in the laundry, thanks.
Burgundy Shoes: Like brown, greens/blues contrast best. But be weary of green, unless you're partial to Christmas color matching.
Grey Shoes: Tone on tone grey socks to be subdued. Want contrast? Go neon or go home!
Hemlines: Please make sure the pantsuit legs are hemmed to the opportune length. Trust me on this one: TAILOR!
Faux-Pas: I'm not gonna have to discuss white tube socks with you here, am I, folks?
If you missed Monday's post, check out the colorful trending New Balance street style sneakers I spotted in Toronto's second busiest business centre this Fall.
xo ShoeTease
Cristina is the chief editor, fashion & shoe expert here at ShoeTease. As a seasoned stylist and women's fashion & shoe designer, she boasts over 20 years of experience in the fashion industry. She loves crafting effortless outfits for ladies both online and off and believes that styling advice should be accessible to everyone. Whether you're a styling pro or just starting out, Cristina's here to guide you on your fashion journey! Learn more.