There are certain sneakers where you need to make a conceited effort to style in a chic way. And then there are ones like these New Balance 420 animal print sneakers, that require zero to none. With a subtle beige & grey snake print effect on a stark white base, these NB Tokyo Design studio shoes are a quasi-feather light sneaker that combine functionality & fashion with no-sew technology. Oh, & they're also on sale! See how I've styled them & how they fit, below.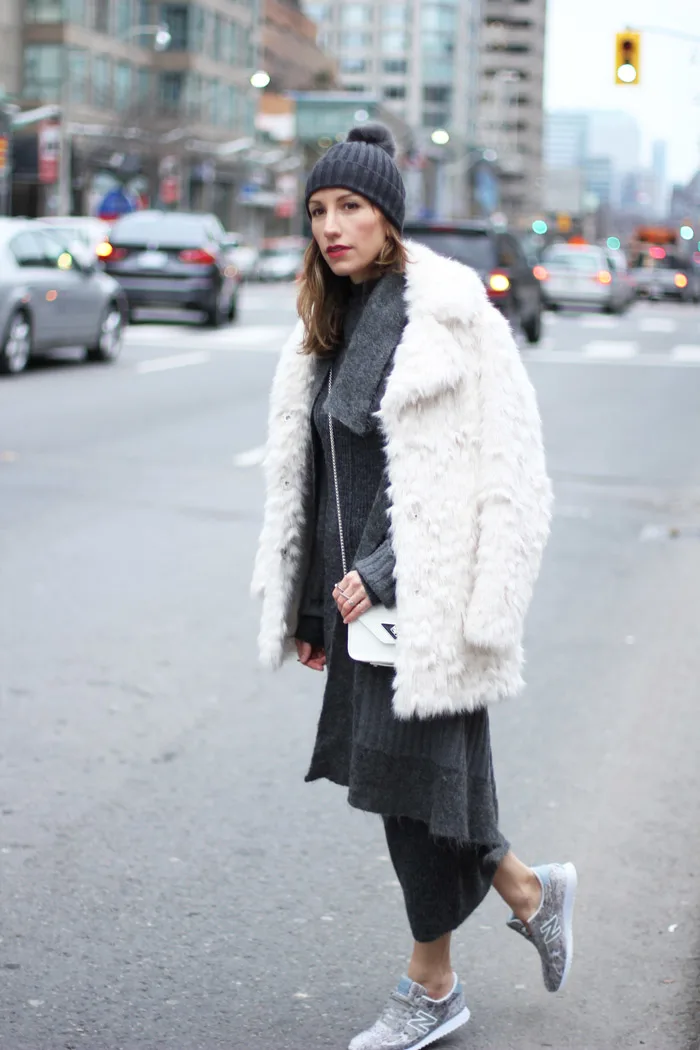 Reptile print New Balance 420 sneakers: c/0 New Balance. Furry coat: Topshop. Knit maxi dress: Wilfred from Aritzia. Pom pom beanie: Banana Republic. Rings: c/o Shop for Jayu. Purse, old
---
Shop the Look:

---
New Balance 420 Animal Print Sneakers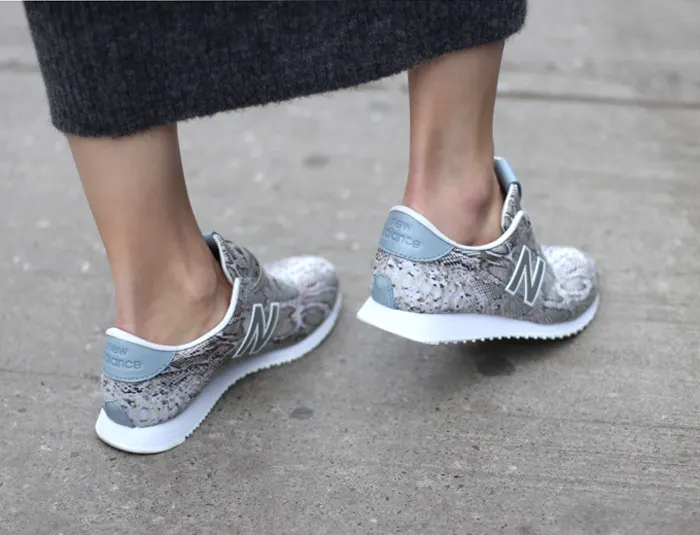 I love a good sneaker, as I'm currently obsessed with flats. I just can't get around as fast as I'd like to in heels. And finding a less ubiquitous, sleek design in a sneaker is also a challenge. That's why I'm captivated by these snake print ones. As of late, I've been wearing a heck of a lot of blacks & greys, so these mix in perfectly with my current fall/winter closet, also helping me blend a little better with my urban Toronto landscape. Greys to match the dreary grey days!
How do these fit? Well, I'm happy to say that the New Balance 420 style of sneaker fits my slim foot to a T. I've a serious problem finding any shoe, but especially flats, where my foot doesn't slide around inside. These are perfect (& fit true to size as well). They're also incredibly lightweight, making them ideal for travel. I'm really liking the grey on beige on whites, which look beautiful with a greyscale monochrome outfit in the winter & fabulous with a little white or black dress in the summer. The discreet semi-opaque overlay fused on top of these reptile print sneakers is for sure the coolest part of this shoe!
If you like the New Balance 420 animal print sneaker style, you'll love the leopard & zebra animal prints that they created in addition to this snake print version! Definitely worth checking out!
See more street style and fashion posts here!
xo Cristina