Tall boots, particularly black ones, have been consistently trendy for the past couple of years. This current season, however, there's been a trend EXPLOSION of very, very high boots. Just like these "Caldren" Nine West over the knee boots featured in this street style post. Which isn't surprising, considering the vast array of them we saw on so many designer runways for Fall 2015. Simply over-the-knee, these boots are no longer! And bloggers, celebrities & fashionistas alike seem to be either wearing them, or searching for the perfect ones. But finding the right pair for your budget can be difficult. The cheaper versions look, well, cheap & most of the high end OTK boots are unattainable in price for regular earthlings such as myself.
So how to look for that perfect tall boot at a decent price-point? Find out, right on after the jump!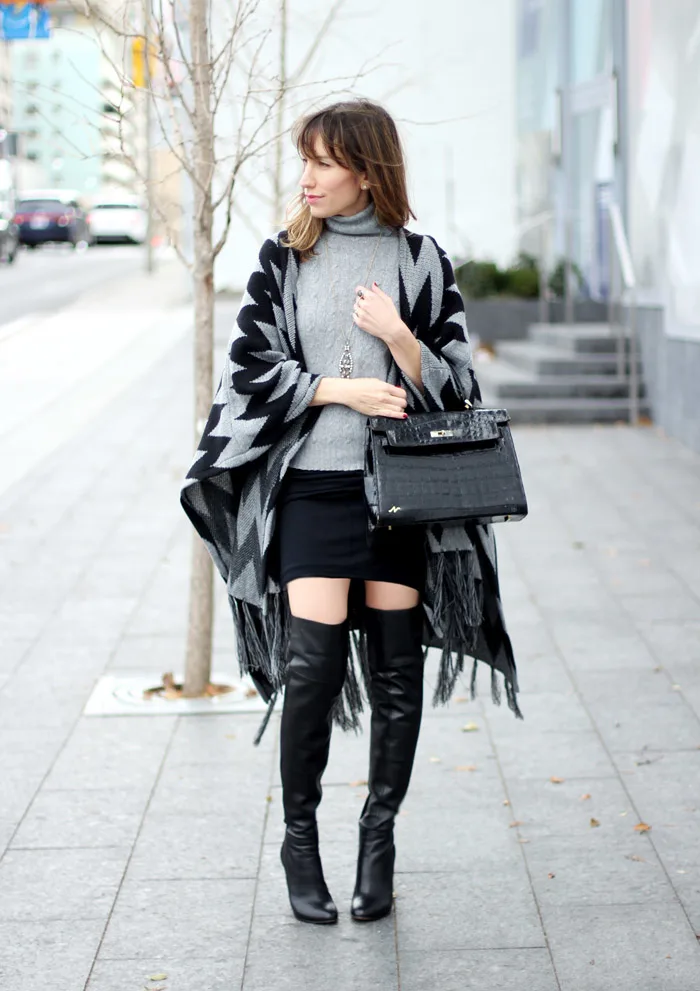 Black leather over the knee boots: c/o Nine West. Zig Zag Poncho: c/o Marshalls Canada. Necklace & silver rings: c/o Shop for Jayu. Stone ring: Winners c/o Dixie Outlet Mall. Croc purse + Sweater: vintage
---
Shop the Outfit:

---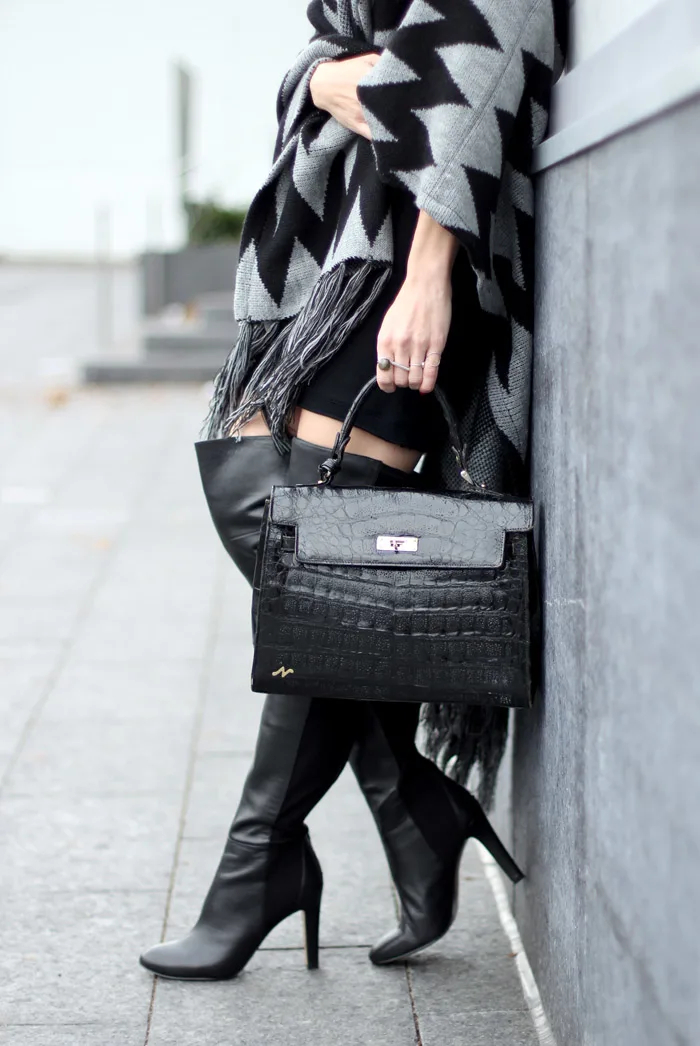 Over the Knee Boots: Save or Splurge?
There are a slew of OTK boots on the market & everyone from Fendi to Forever 21 has concocted their version. Should you splurge or should you save on this particular boot trend? Well, this one's a bit tricky. Most because of the 2 particularities:
As this footwear trend is a little extreme & rather unsubtle, it'll likely be a fleeting one. That's just a hunch. I mean, it's not your black ankle that'll continuously appears fresh each season. And when trends are as prominent as a mid thigh high boot, they tend not to last very long.
These boots use up a heck of a lot of material. 99.9% of the time this means that when opting for a seriously budget-friendly high boot, it'll be made of a low quality faux material. Translation: they'll look like cr@p. Guaranteed. No matter how 'haute' the rest of your outfit may be.
So essentially we're stuck in a bit of a catch-22 with this one. Splurge & they'll likely look dated by Fall 2017. Go wallet friendly & you'll likely end up with boots that might as well have been bought at the dollar store. Not that there's anything wrong with dollar stores (I'm a frequent patron myself, actually!), but I'm sure we can all agree that quality products the loonie stores do not sell. So what to do, you ask?
Well, my advice if you're opting for a leather thigh high look, is to scan mid-level brands that use actual leather where it counts the most (sorry vegans!). My Nine West over the knee boots, shown here, are a great example. They have real leather uppers at the front, yet the side/back portion is essentially a large elastic. This not only allows for some give when walking and to accommodate different calf widths, but it also lowers the cost of the boot. Now these boots aren't "cheap" by any means. Their mid-range $250 US ($325 CAN) cost is a heck of a lot less pricey than their designer counterparts. Such as Stuart Weitzman's leather "Highland" for instance. This one clocks in at around $850 US. Think that's expensive? Well, let's not even get into the cost of a luxury OTK boot! Lucky for us, it's sale season (with boxing day fast approaching) & those mid-range 200-350 boots will be (hopefully!) grandly discounted. This way you can get the look of a high end OTK boot, all while paying a tidy lower price for it. If you're a common shoe size like myself, though, you'd better get there before they're all sold out!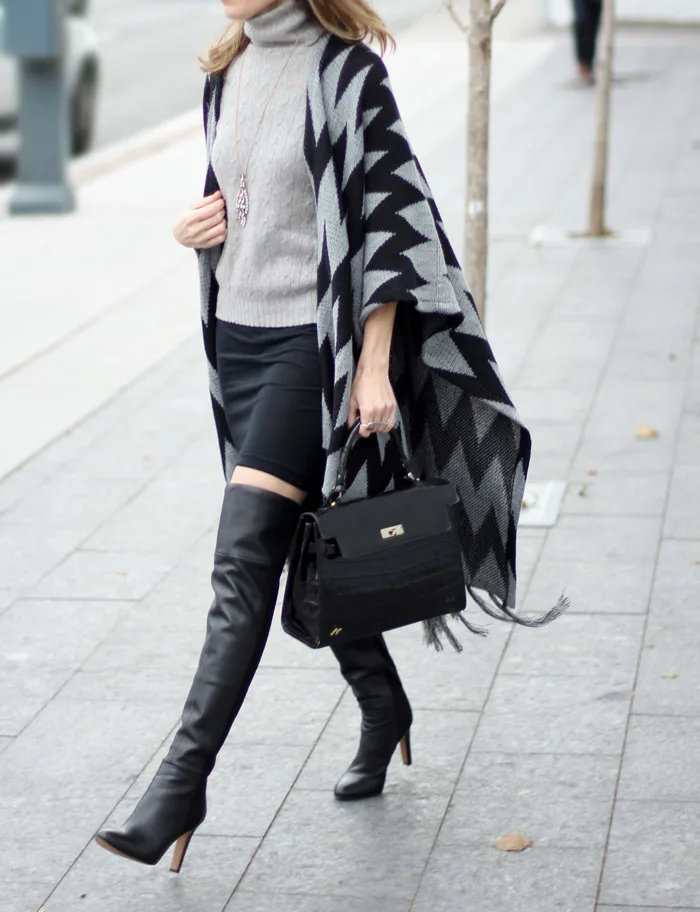 If you're on a very tight budget, I'd recommend steering clear from nappa leather-looking boots. Faux leather, more often than not, will look like obvious plastic. This shouldn't actually be surprising; that's what fake leather is actually they are made of! And the non-porous material will not only make your feet & legs sweat buckets, but the plasticky looking material will cheapen your entire look. Non-leather pumps & ankle boots can get away with less than stellar faux looks, because they don't use that much of it. It's less obvious. Over-the-knee boots, however, attract a ton of attention. Nope, discreet these are not, not even in black!
Faux suedes on the other hand, are generally more visually attractive at a better price point. Of course, if you're looking at fast fashion retailers, they'll never be at the Stella McCartney level of faux (she's a hard-core fashion vegan), but they'll still be better than faux nappa-esque leather. Worth noting that many brands such as H&M have premium quality versions of their shoes that use real suede (be it, a lower grade one) but still be able to offer a good looking boot at an affordably decent price.
I've been asked about these Nine West boots since I posted them on my Instagram & Twitter and most people love them. I know I do! They look as glam as they are comfortable to walk in. Their barely 4″ thicker heel & almond toe really help with the comfort factor. These do however, fit me rather wide, as I have slim calves & ankles. Nothing a thicker sock can't fix, though! I have to say I appreciate the roomier thigh portion. I don't know how I'd be able to walk normally without it!
Check out more outfit styling here!
xo Cristina