New & Improved Valerie: My favorite wingtip tassel loafers for Women!
Affordable luxury. These words ring like magic to my ears! Especially when we're talking about shoes. I am a shoe blogger after all 😉
It's now become the norm that most affordable fashion shoes for women are made in China & lined with a plasticky material. Not so fun in the summer months, am I right?
So there's a large space in my heart & soul for stylish shoes that break away from cheap materials & construction and towards a more artisanal approach to shoemaking. While still being within one's reach. Even if you're on a tight budget, like yours truly!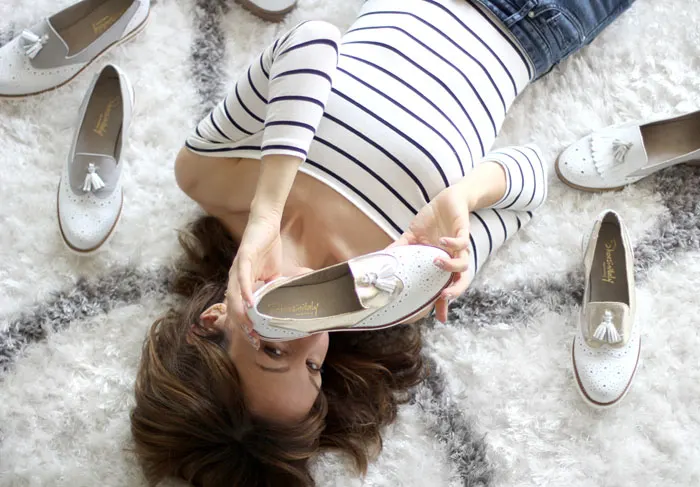 Striped off the-shoulder top: H&M. White tassel loafers: c/o ShoesinItaly
That's why I love these types of loafers! The "Valerie" is a wingtip loafers from ShoesinItaly so much: they are made of luxurious Italian leather & handmade in, you guessed it, bella Italia.
If you recall, I spoke quite fondly about these women's double tassel loafers last Spring, while styling them in an outfit post. I still wear them a ton & get a serious amount of compliments everywhere I go!
For Spring/Summer 2016, Valerie's gotten an exciting update. What's different? She's become more minimal on the upper, while much more interesting on the bottom! How, you ask? Well, she no longer has a golf-inspired fringe kiltie, exposing more of the contrast material below it, which I love.
The outsole (the most exciting part for me – yeah, I'm a shoe nerd lol!) has a newly added optic white rubber sandwiched between a rugged-looking brown rubber, to five the outsole visual depth & the wearer some height!
Not only does it give the classic tassel wingtip loafer an edge (I do love me a bright white sole!), but the gummy rubber acts as an amazing shock absorber, making these flats even more comfortable, not to mention lighter in weight than before!
The new Valerie comes in 10 gorgeous colors, shades & metallics to suit anyone's fancy. Wear them to the office or out & about with a pair of denim jeans. Your only problem will be just choosing one 😉
I opted for neutrals, but I absolutely love the contrast black leather as well as the contrast blue version! Loving the original version? Fret not, as some sizes are still available in the 2 remaining colors. Whether you love the previous or update versions, you can
FYI: These Italian leather loafers fit true to size.
Considering these come at a full price of $129 USD (clocking in at just over $100 with the ShoeTease discount!), that's an amazing price for a high quality, handcrafted pair of Italian shoes! #yourewelcome.
See my latest summer outfit posts featuring these fab gold & white loafers with a striped maxi dress, here!
Photography by Leo Shen (Photos 1-4, 6, 7)
xo ShoeTease
*This post is brought to you in collaboration with ShoesinItaly. All opinions and observations are my own*