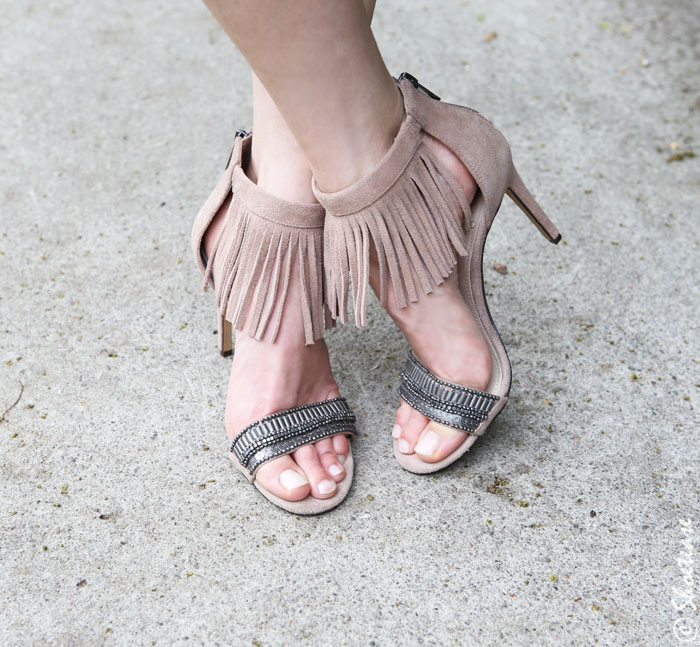 If you follow my shoe blog at all, you'll know that I prefer edgy styles over lady like or bohemian looks. But ya know what? Life's short! I mean, heck, why not go beyond your comfort zone? So I grabbed my fave suede beige fringe sandals by Vince Camuto that I scored at a shoe outlet sale & styled them with something a little different.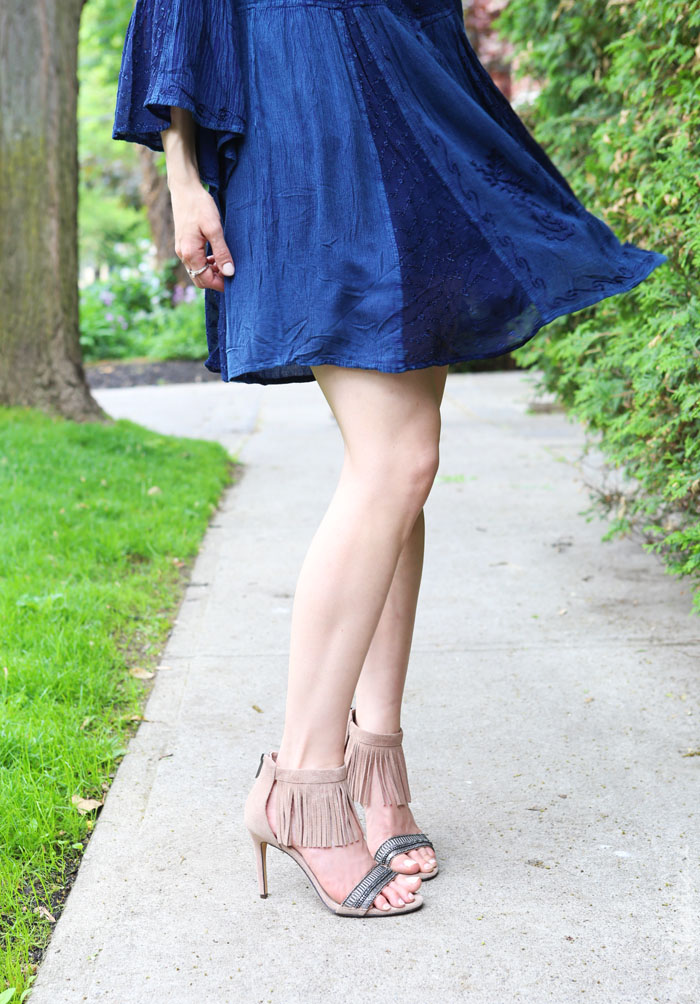 Fringe, tassels, not matter what you want call them, have been a major shoe trend (not to mention general fashion and street style trend!) for well over a year now. And let me tell you, I am all in for this trend, especially with my shoes & accessories! This Vince Camuto "Trumen" pair is the first fringe shoe recently owned & I absolutely love them! Because they match my skin tone, they're a great way to wear a very trendy item without it being too much (not to mention making them more wearable for future seasons).
The antique silver beading on the toe strap is a fun touch as well, differentiating them from the ubiquitous fringe-only-on-the-ankle-strap sandals. Not that those are any less lovely, but safe to say a little less original at this point! And, of course, these beige fringe sandals are the perfect color shoes to wear with a navy dress! This exact Camuto sandals is still available (some colors on sale too – see end of post for shopping links).
The great thing about fringe shoes is that you can take a city chic/clean cut or free-spirited bohemian spin to them. No matter how "fringey" your shoes actually are. I obviously chose the latter look for this outfit post and it felt…well, different. Not that I wear constrained business like attire at all, but the airy 70s hippie vibe has never been my thing. At least I never thought it to be. Because any time I've ever dressed in that manner, I looked like I'd been transported into the present from a different era. Essentially I looked like I was wearing a Halloween costume!!
But when I found this navy bell sleeved mini dress from Winners Bloor St, I knew I had to have it, despite its bohemian style. Had it been a maxi dress, I would have thought differently (read: overwhelmed!). I love the more subdued navy color vs. the usual white lace dresses around. And it's a dress that can ease it's way into one's Fall wardrope (oh–sorry!–let's not talk about the colder months ahead, shall we?!).
But how to style a bohemian dress with the right shoes sometimes a little trying. Your choices are the following:
Pair it with the simplest minimalist high heel sandal like Stuart Weitzman's Nudist (the shoe that seems to match any outfit known to man!!)
Gladiator sandals, tall or otherwise (no surprise here)
Fringe sandals – Obvs
Flip flops (depending on the flop, sometimes these work!)
Which, in the end, isn't a bad selection, only kinda limited. For the Spring/Summer that is. Fall/Winter opens up many more possibilities, such as ankle boots, combat boots etc.
What's your go-to shoe of choice to pair with a bohemian style dress?
Fringe Sandals: Vince Camuto c/o Designer Shoe Warehouse Sale, Navy Dress: Winners, Necklace: H&M, Bracelets: c/o Psihii
xo Cristina