Summer is the perfect time to break out your espadrilles! Today on shoe-tease.com, I'll show you how to wear espadrilles outfits for women in various styles.
Thankfully these stylish and comfortable shoes can be worn with so many different outfits. Styling tips on what to wear with espadrilles will include the right outfit, purse and accessories, so you'll be ready to create a fashionable and put-together look in minutes!
From classic espadrilles to espadrilles flats, platforms and lace-up wedges, these are fantastic casual shoes that go with everything. They are great shoes to wear with dresses, jeans, rompers & shorts & more!
Whether you are going on a vacation or just want something new to wear for spring or summer, read on for some great espadrilles outfit ideas!
What are Espadrilles?
Espadrilles are types of shoes that have a flat, rope sole and typically come in a slip-on style. These shoes originated in Spain and have been around for centuries. They were originally worn by peasants and farmers as a comfortable and affordable shoe option.
Today, espadrilles have become a classic shoe style worn throughout the world, especially during warmer months with summery clothes.
Different Types of Espadrilles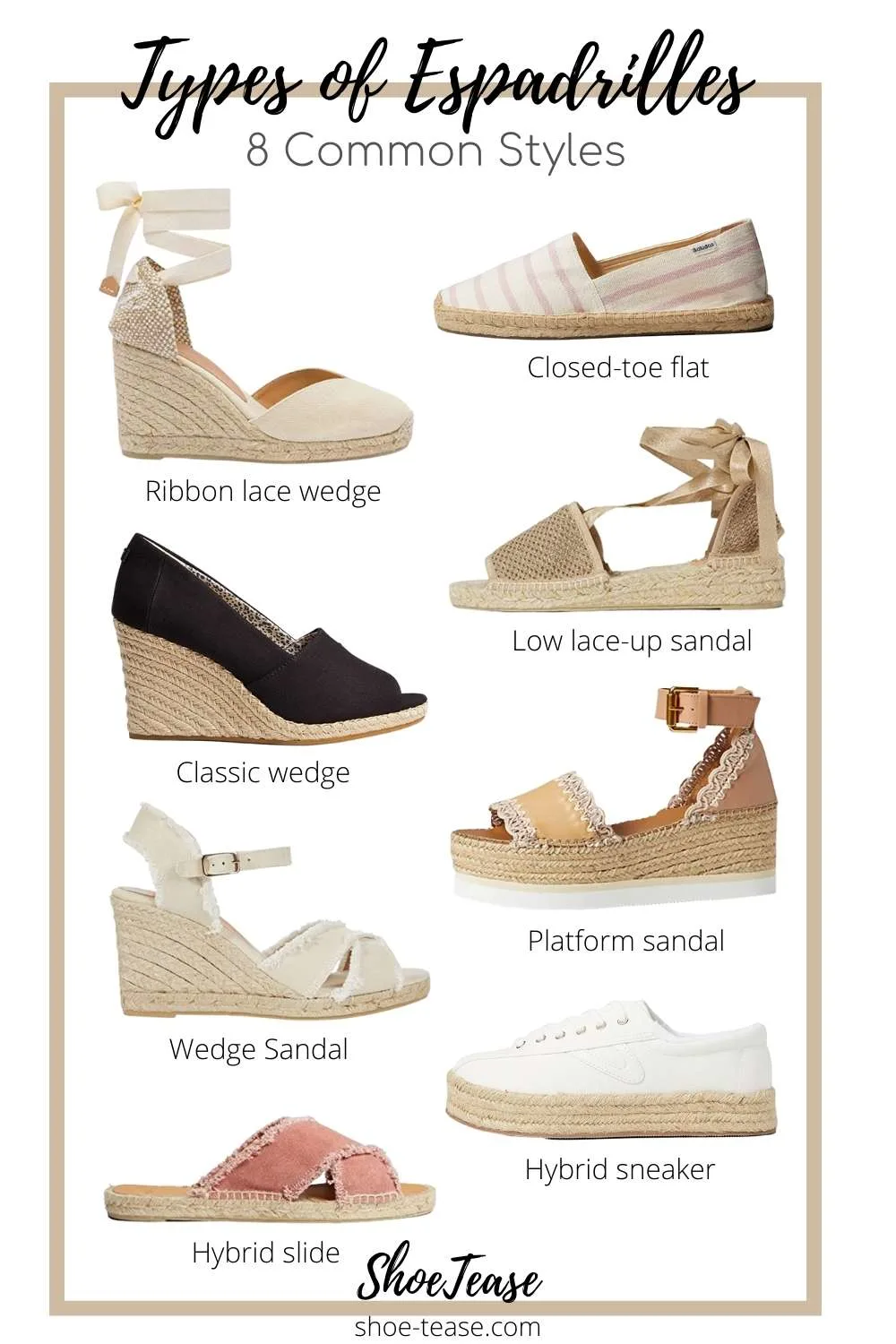 There are many different types of espadrilles available for women. Classic espadrilles are typically made of canvas or linen with a jute rope sole.
The style you choose will contribute to the overall look of your espadrilles outfit. There are a few popular styles available for women today:
Espadrille Flats: are classic espadrilles, that have a flat sole with rope detail around the exterior outsole.
Espadrille Wedges: the most popular espadrille style for women either closed-toe or peep-toe with a rope covered wedge. Classic espadrille wedges ribbon ties at the ankles, but these can also have an ankle strap instead.
Espadrille Flatforms: sandals or shoes with flatform sole with rope detailing
Espadrille Slides: backless version and open-toe
Espadrille Mules: slip-on, backless closed-toe shoes
Hybrid Espadrilles: are shoes that add espadrilles details to another shoe type. For example, an oxford, loafer, or sneaker with an espadrille sole, platform or wedge.
Now that you know what espadrilles are and the different types available let's move on to how to wear them!
How to Wear Espadrilles: A Woman's Style Guide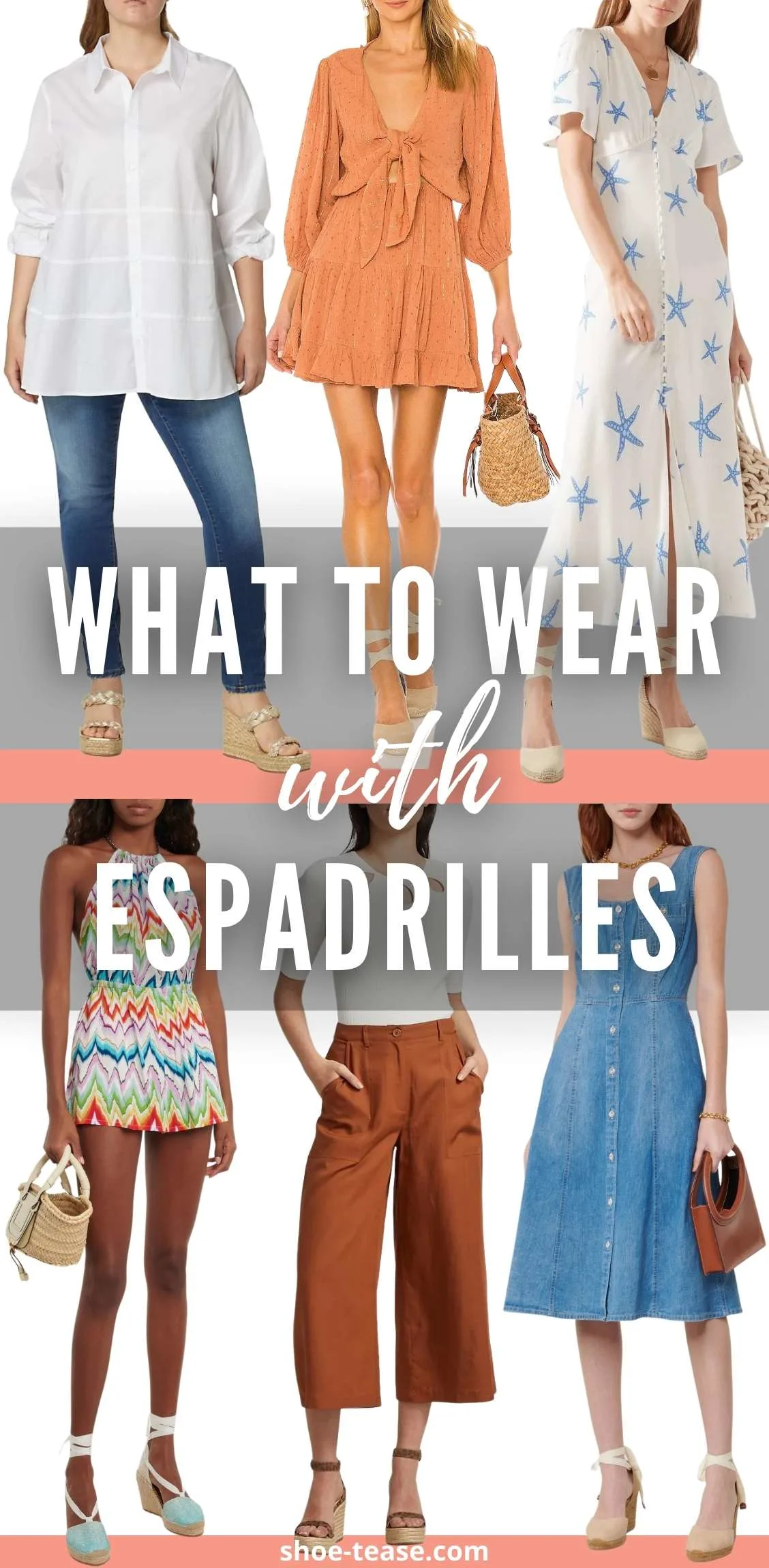 Espadrilles are such versatile shoes and can be worn with so many different casual and elevated outfits. Here are some styling tips on what to wear with espadrilles outfits with different clothing:
1. Espadrilles with Dresses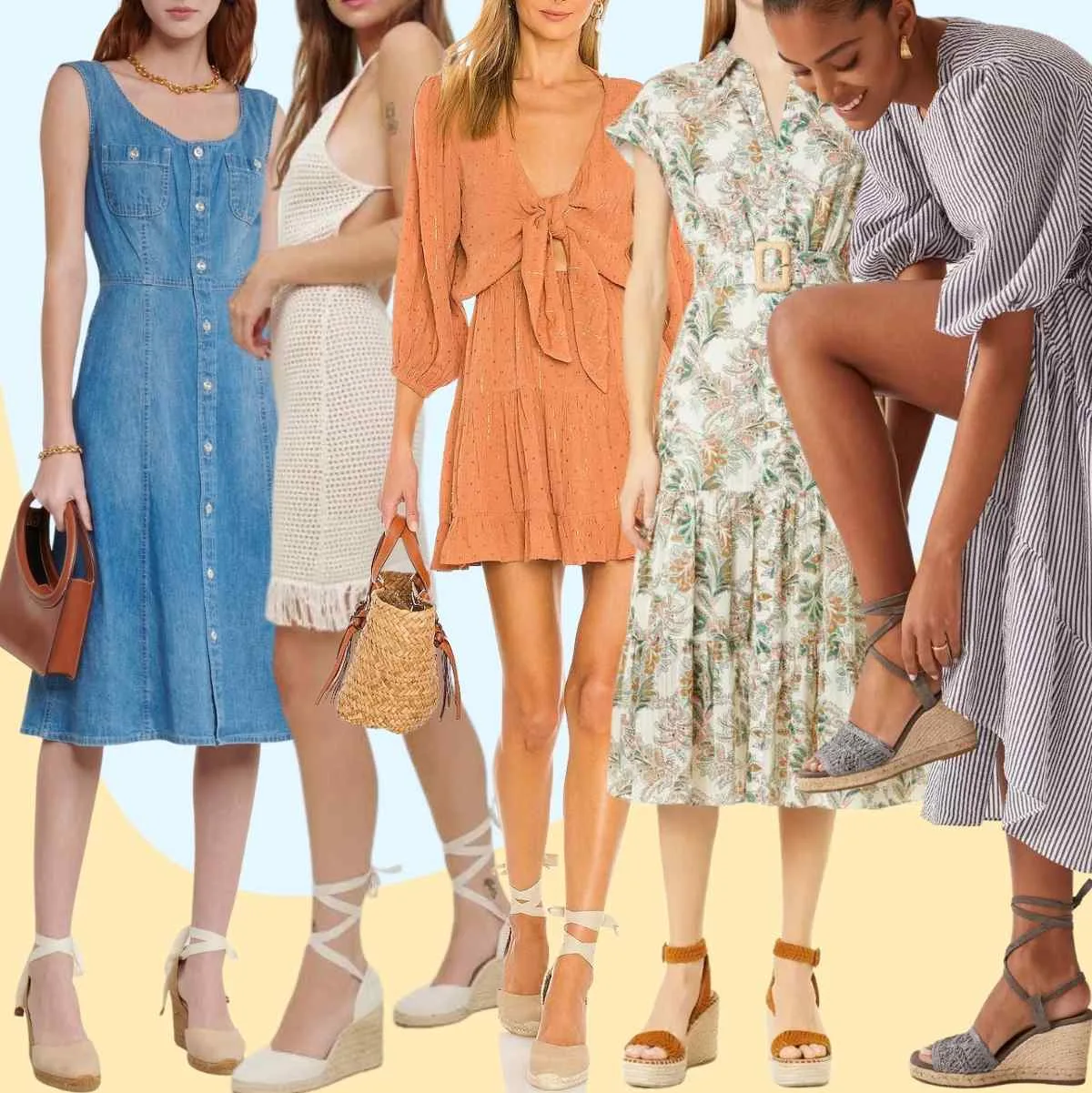 Dresses make great outfits with espadrilles all summer long! They're comfortable, stylish, and will go with just about any dress in summer. Here are a few tips on how to wear espadrilles with different types of dresses.
How to Wear Espadrilles with Dresses
Mini dresses: Pair espadrilles with a mini dress for a fun and flirty look. Opt for a bold print or color to really make a statement, or keep it simple with a classic black or white dress. Add a denim jacket or cropped neutral trench for a touch of warmth.
Maxi dresses: Espadrilles platforms & wedges look great with flowing maxi dresses. They add just the right amount of definition to the ankle, and can help to create an illusion of height if you're petite. You can choose a maxi slip dress, or opt for a loose-fitting or tired dress for a more relaxed outfit.
Boho dresses: Espadrilles are the perfect finishing touch to any boho outfit. Choose espadrilles platform or wedge espadrilles with intricate details like braided straps or tassels in neutral or deep jewel tones.
Shirt dresses: Espadrilles wedges can be worn with classic neutral shirt dresses for a preppy work look. Opt for espadrilles in complementary neutrals and add a structured handbag or crossbody. For a looser, more relaxed shirt dress, cinch it with a rope-style belt that matches your shoes. Add a contrasting tote bag to complete the look. Or go for a utility shirt dress and any espadrille shoes for a rugged look.
Knit dresses: slip or button-up knit dresses look great with a refined leather or metallic espadrille wedge for a put-together look. Choose espadrilles in complementary colors or neutrals, adding a small handbag for a chic espadrilles outfit.
2. Espadrilles with Jeans
The classic shoes are the perfect way to add a touch of casual elegance to any outfit, and they work especially well with jeans.
How to Wear Espadrilles with Jeans
Wide Leg jeans: wide leg jeans can be tricky to style, but wedge or platform espadrilles are the perfect solution. They're a comfortable way to add height to your legs, even more so if you're wearing high waisted jeans. I love a pair of classic neutrals, such as black or beige, but a metallic pair will add a pop of shine as you walk.
Straight Leg Jeans: I love straight leg jeans because they can be easily dressed up or down. For more casual outfits, reach for loosely cuffed straight leg jeans, canvas espadrille flats or sandals, a semi-tucked in boyfriend tee and a straw bag. Or elevate the look with a sleek ribbon-laced wedge, crisp shirt, oversized blazer and classic leather purse.
Cropped jeans: Cropped jeans, whether wide leg, flare or capris, are a perfect match for espadrilles. Whether you choose a pair of classic canvas espadrille flats or a taller wedge, cropped jeans will allow them to shine. Choose a pair of chic tufted Chanel or Gucci loafer-style espadrille, or a printed or embellished pair, for an added pop of personality!
Flare jeans: For a funky espadrilles outfit, flare jeans are what you need! Pick a pair of extra long flares with sky-high espadrille platforms or wedges, a tucked-in tee and a fringe bag for a boho vibe. Or wear a pair of kick flares and studded lower-heeled espadrilles, a rocker tee, for an edgy look.
3. Espadrilles with Shorts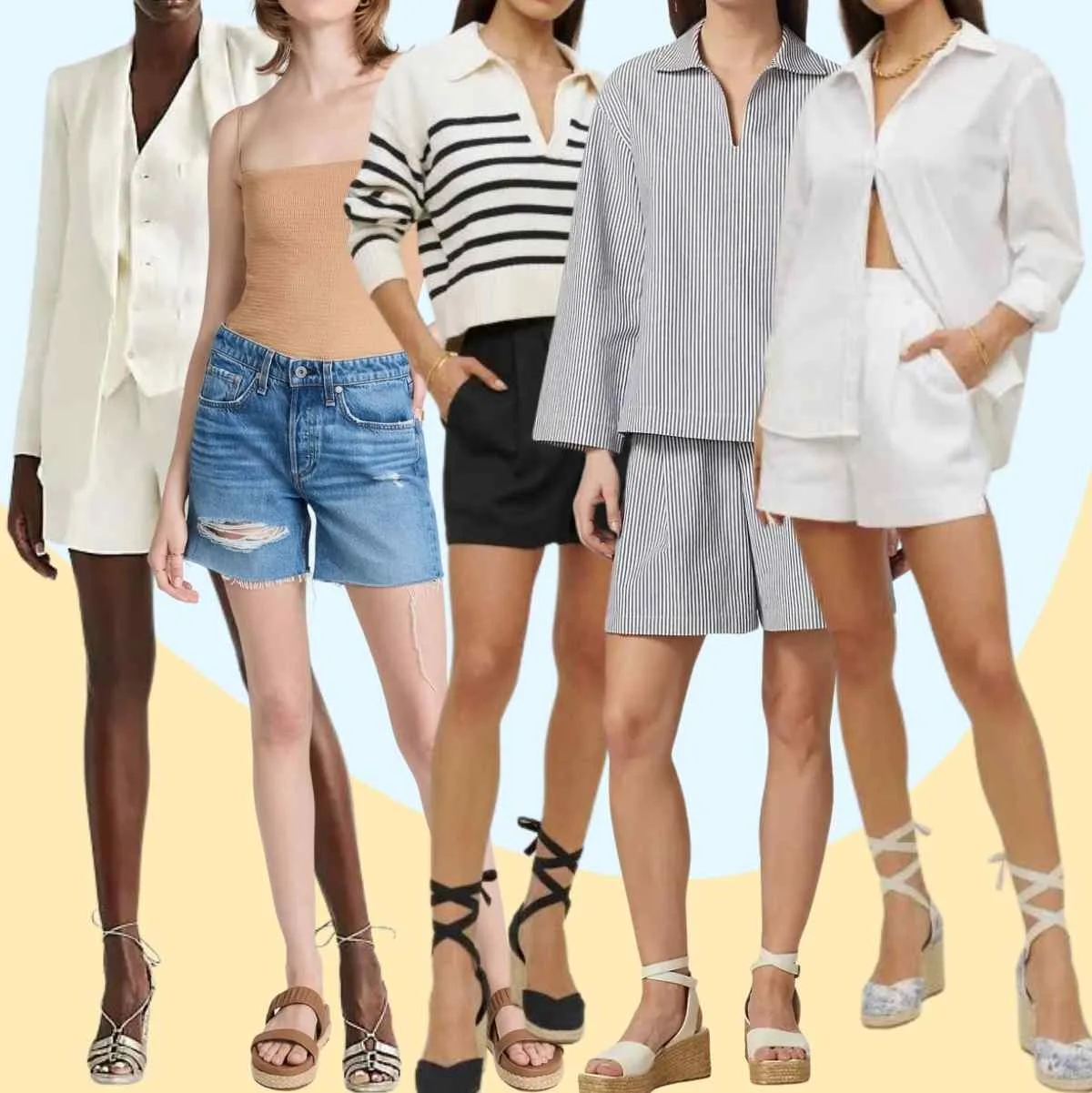 Espadrilles are the perfect summer shoe and can be worn with a variety of different shorts. And depending on the shorts and shoe style, along with top and purse choices, it can be dressed up or kept uber casual.
How to Wear Espadrilles with Shorts:
Denim shorts: For a more casual look, pair espadrilles with distressed blue denim shorts or cut-off jean shorts, and a simple espadrille flat or sandal. For a casual chic look, go for espadrilles wedges with dark denim or black denim shorts and a pair of leather or metallic espadrille wedges. A simple tee or linen shirt with a blazer will give your espadrilles outfit with shorts a je-ne-sais quoi touch of sophistication.
Tailored shorts: These are another great option for espadrilles and can be worn for a variety of occasions. For a casual summer meeting, paired with a matching jacket, crisp linen Bermuda shorts will be a winner.
Drawstring shorts: A great choice for a beach vacation or backyard BBQ, soft, laid-back drawstring shorts pair well with espadrille flats in natural shades like white, cream, or tan. Add a tight tank and brown leather crossbody and summer hat to complete the look. A denim jacket makes a great add-on for chilly summer nights.
Leather shorts: If you're looking to add a touch of edge to your outfit, try pairing espadrilles with leather shorts. Try a black and white look with black leather paper bag waist shorts and matching leather espadrilles. Add a white fitted top and a structured leather bag for a chic summer night out. Or keep things neutral with a pair of flared beige leather shorts, white espadrille wedges and a soft white blouse for a more polished look.
4. Espadrilles with Rompers & Jumpsuits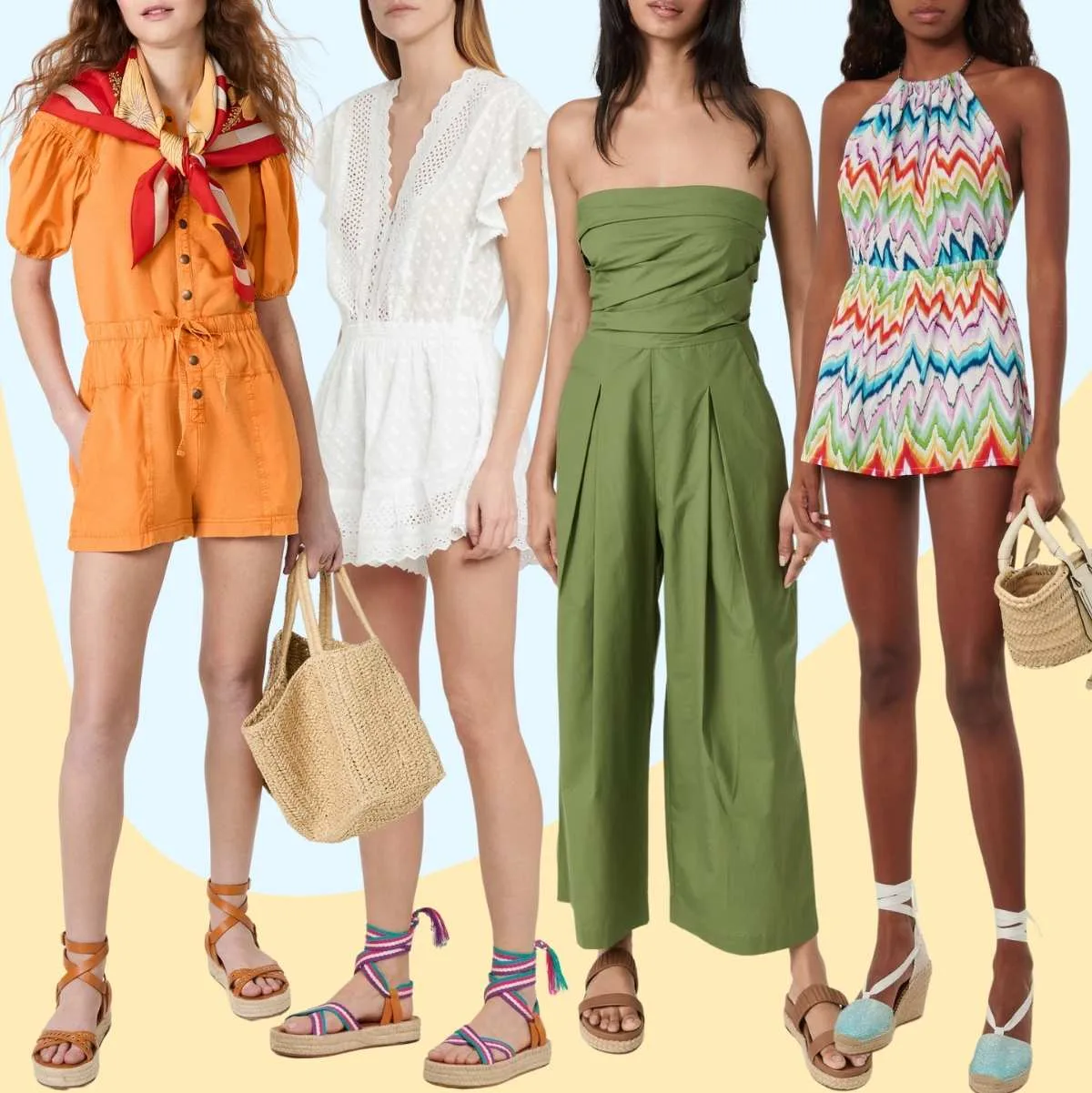 Espadrilles outfits are a summer staple and can be worn with a variety of different rompers and jumpsuits, from casual to more elevated.
A romper is a great option for a more casual look, especially a looser style in a more billowy fabric. These pair well with all types of espadrilles. Just grab a classic leather crossbody purse and you're good to go!
For a more elevated look, pair espadrille wedges in black or gold with a structured romper or jumpsuit. Add a small, sleek handbag, hair accessory and minimal gold jewelry for a summer cocktail party or a night out.
5. Espadrilles with Skirts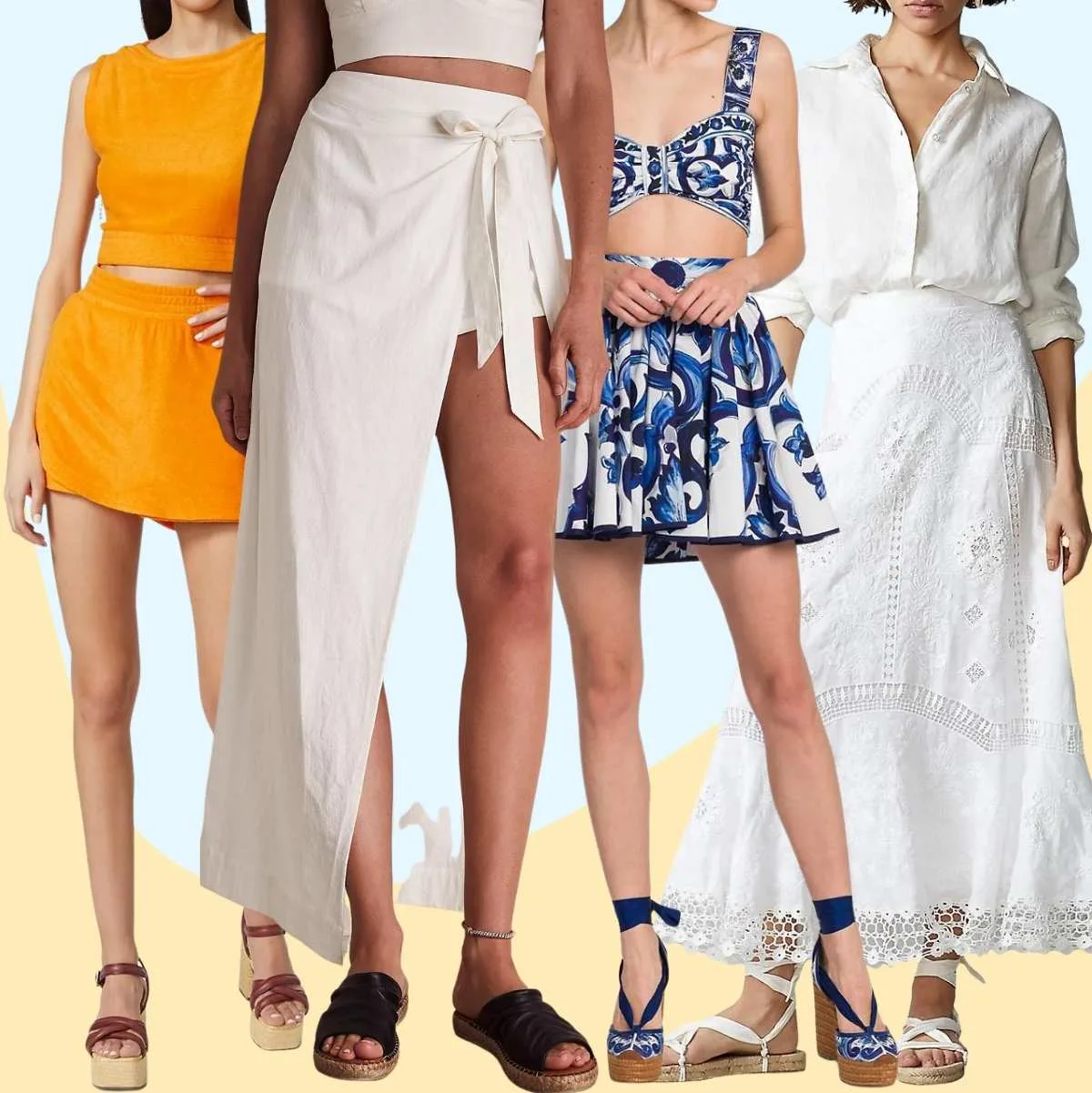 Espadrilles are a great option with denim mini skirts, leather flare skirts, maxi skirts and midi skirts. I love a matching set of skirt and top, but there are a slew of other styling options out there! Here are a few espadrilles outfit ideas with skirts:
How to Wear Espadrilles with Skirts
Denim Skirts: The casual vibe of the espadrilles perfectly complements the denim skirt. Add a minimal tank, crossbody bag or canvas and some slick sunglasses for a glamorous finishing touch. The choice of hemline and style is up to you. The most distressed the denim skirt, the more casual; the darker the wash, the easier it is to dress up with a leather wedge espadrille.
Leather Skirts: For a more dressed-up look, pair espadrilles with a leather flare skirt. The contrast between the edgy leather and the casual espadrilles is unexpected and fashion-forward. Try pairing them with a fitted tee or blouse and statement earrings. Choose a knee-length skirt for a more conservative look, or have fun in a leather mini.
Maxi Skirts: If you're looking for a more relaxed outfit, try espadrilles with a maxi skirt. This is a great option for days when you want to be comfortable but still look chic. Add a tighter top with a tiered or voluminous maxi to a wedge espadrille style. Just add a cropped jacket and some layered jewelry for a boho look.
Midi Skirts: Perfect for when you want to show off a bit of leg, slip into a pair of espadrille wedges with a slim-fitting side-slit midi skirt. Just be sure to choose a skirt that hits at the narrowest part of your calf to avoid looking frumpy. Any espadrille style will do, but a wedge or platform espadrille will lengthen your legs.
6. Espadrilles with Dress Pants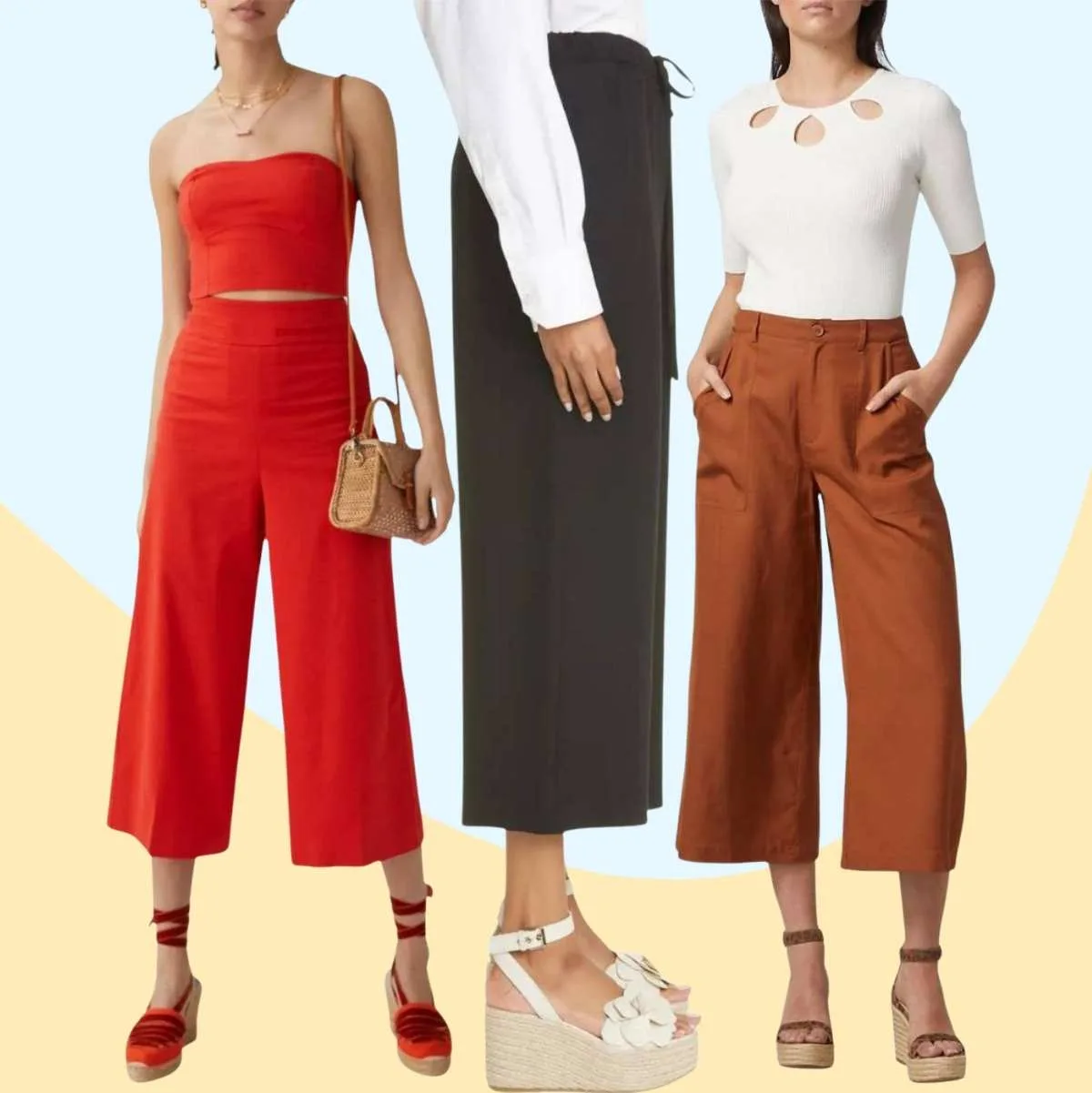 One of my favorite ways to style espadrilles is with dress pants. From wide leg dress pants, cropped dress pants, leather pants and culottes, it'll be hard to run out of outfit options!
How to Wear Espadrilles with Dress Pants
Wide leg pants: The flowing silhouette of the pants looks great with the relaxed vibe of the espadrilles, and you can experiment with different lengths (cropped, ankle length or baggy) and materials (I love a soft cotton or linen in summer) to find what feels most flattering.
Cropped Pants & Culottes: For a more daytime-appropriate look, pair espadrille with cropped dress pants or culottes. The shorter length of the pants will help balance out the proportion of your outfit and keep it from feeling too heavy.
Leather pants: When you're feeling daring, leather pants with espadrilles look amazing. I love contrasting a slim pair of straight leg leather pants with flirty wedge espadrilles, with ribbon ankle laces for contrast. The key is to keep the rest of your outfit relatively simple to let the shoes & pants shine.
7. Best Accessories for Espadrilles
How to wear espadrilles – especially how to complete the look – depends on what accessories you choose to complete your look. These will determine if your espadrilles outfits will look casual or more dressy. Here are a few suggestions below:
Accessories for casual looks:
To pair with casual, nautical, mesh or classic espadrilles, I love rattan, crochet, fringe, wooden and tortoise detailing. Think straw bags and hats, crochet totes, purses and sunglasses made entirely or with wooden and/or tortoise detailing. These give off a summery, earthy and laid-back vibe.
For jewelry, choose anything that gives off a boho vibe, including feather, beaded or wooden earrings, stacked bracelets and layered necklaces. However, you can also opt for minimal jewelry if that's more your style.
Accessories for elevated looks:
Espadrilles that will elevate your look can be classic wedge styles made of metallic, leather or satin fabrics. To refine your espadrilles outfits – especially if you want a city vibe rather than a beachy one – reach for structured or leather purses.
Contemporary or classic shapes and designs work well. Think black or tan leather handbags, crossbodies and purses with slick black sunglasses. Choose fine gold jewelry for necklaces and rings especially. For earrings, you can opt for minimalist studs or try a pair of small to medium gold hoops.
Statement pieces can work well if the occasion calls for it. If you want to add something more to your hairdo, a thin or chunky headband can be an option.
8. How to Wear Espadrilles for Work – Business Casual Outfits
Although espadrilles are often considered a casual shoe type, they can also be paired with dressier clothes to create more polished outfits. Here are a few ideas:
Pantsuits & Skirt suits: A suit is always a safe and professional choice for work. Add a pair of espadrilles to your look to add a touch of fun and personality. Just be sure to choose espadrilles that are in the same tone for a streamlined look.
Tailored Trousers: If you're looking for something slightly more casual than a pantsuit, try pairing espadrilles with tailored trousers. This is a great option for days when you want to be comfortable but still look put together. Just add a blouse and some statement jewelry to complete the look.
Printed Pants: Have some fun with your outfit by pairing espadrilles with printed pants. This is a great way to add some personality to your look. Just be sure to choose a top that is the same color as your pants to avoid looking too busy.
9. How to Wear Espadrilles for a Beach Look
There's nothing quite like espadrilles for a beach-ready look. Especially those made of canvas, denim or eyelet material. Whether you're pairing them with a cute sundress or wearing them over your bathing suit, espadrilles are the perfect way to add a touch of summer style to any outfit.
Plus, high quality espadrilles sandals, shoes and wedges are super comfortable and easy to slip on and off. Here are a few tips on how to wear these espadrilles around the beach or pool:
Shirt dress Cover-Up: Wear a maxi shirt dress over a bathing suit or bikini, adding a pair of wedge espadrilles or slip-ons.
A Crochet Dress: pair one over a body suit or bikini for a great combo. Add a sunhat, a canvas tote and a pair of chic espadrille sandals or flats and you'll look great by the pool or by the ocean sipping a cocktail (or two!).
Denim Shorts for the Win: With a cute pair of ribbon ankle strap espadrille peep-toe wedges, add frayed cut-off jean shorts, a bikini and a sheer cropped or oversize tee or tank. Extra large sunglasses and a straw hat will make you beach-ready! Or go extra casual with a pair of some canvas espadrille flats.
Breezy Summer Dress: A tropical printed breezy dress with espadrilles sandals can take you from the beach, to an early dinner. Easy to throw over any swimsuit, and will look great with a chic straw handbag paired with rope detailing of the shoes.
10. How to Wear Espadrilles in the Fall
Can you wear espadrilles in the fall? Absolutely! Although espadrilles, with their breezy (not to mention non-weather proof!) rope outsoles, are great for warmer, months, they can also make a great option for transitioning into fall.
For fall, instead of canvas or light espadrilles materials, opt for leather options. Closed-toe shoes are preferable for fall, so try loafer espadrilles or a pair of wedge espadrilles pumps, opting out of a lace-up ankle detail or any ankle strap altogether. Here are 3 fall espadrilles outfit styling tips:
Longer leather shorts are a great option. Add a blouse, an in-tone plaid blazer and a pair of closed-toe leather espadrille wedges or slip-ons and you're all set!
Cropped or longer dress pants make a great combo to a wedge espadrille. Try a pair of black pants, tan or black espadrilles, or a light sweater, layered with a classic trench
A light sweater dress is another option with heeled or flat closed-toe espadrilles for fall. From a short one to a bodycon side slit knit version, espadrilles are great shoes to wear with a sweater dress to keep you warm in the first days of fall!
---
Reknown Espadrilles Brands:
Where to Shop for Espadrilles:
---
Final Thoughts on How to Wear Espadrilles Outfits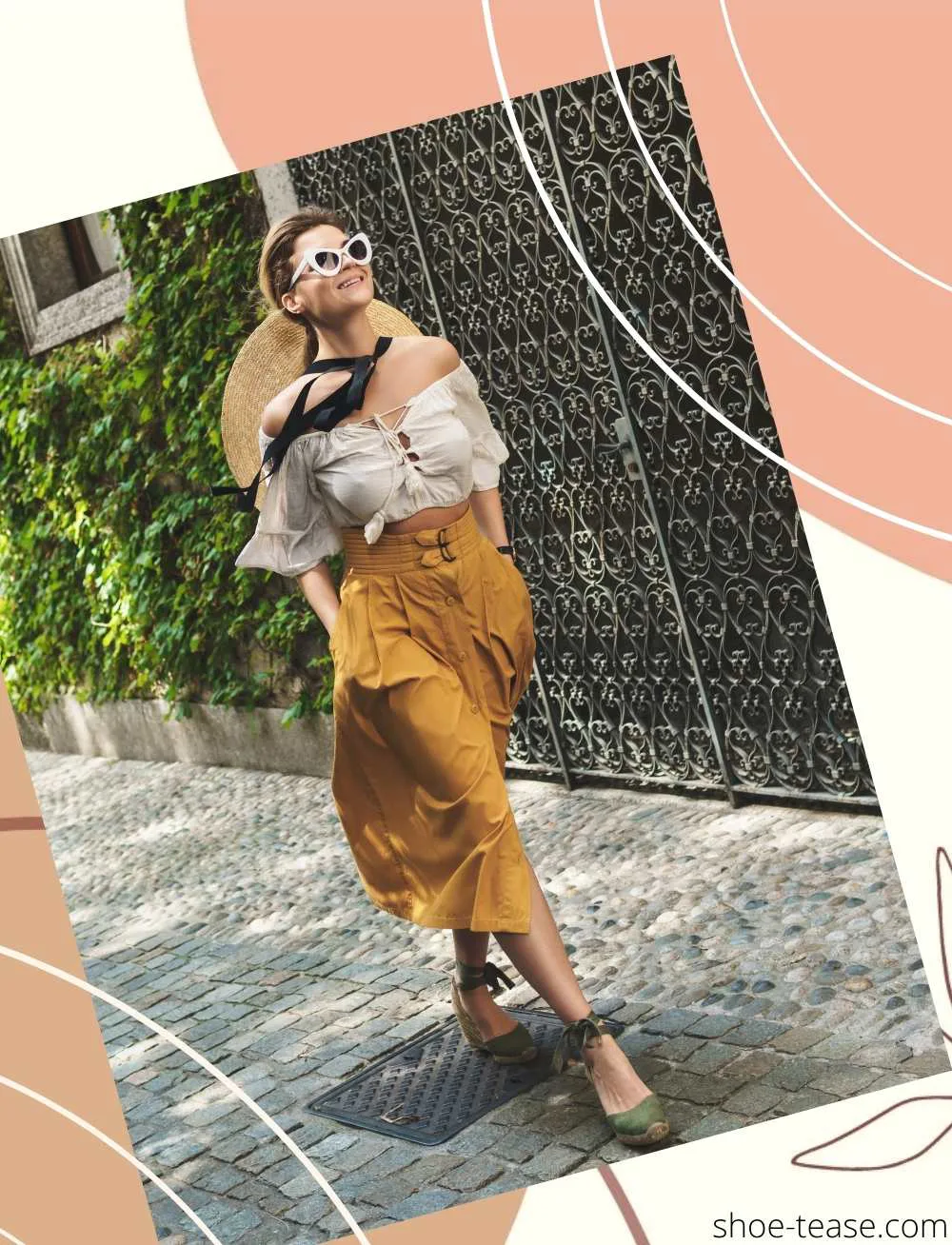 As you can see, when choosing what to wear with espadrilles, there are a variety of options available for women! Espadrilles in their many forms can be dressed up or down to create a variety of different looks.
Just pick the right combo of clothing and accessories from my suggestions above and you'll never have to worry about how to wear espadrilles outfits ever again!
Bonus points are that these are a comfortable, breathable shoe type with an easy-going but chic appeal. They are perfect for casual outings. However, these can be easily dressed up for even the most conservative of office looks.
With the right clothing, espadrille outfits can take you from summer days to autumn nights. What are your favorite espadrille outfit go-to's? Let me know in the comments below!
xo ShoeTease
Cristina is the chief editor, fashion & shoe expert here at ShoeTease. As a seasoned stylist and women's fashion & shoe designer, she boasts over 20 years of experience in the fashion industry. She loves crafting effortless outfits for ladies both online and off and believes that styling advice should be accessible to everyone. Whether you're a styling pro or just starting out, Cristina's here to guide you on your fashion journey! Learn more.