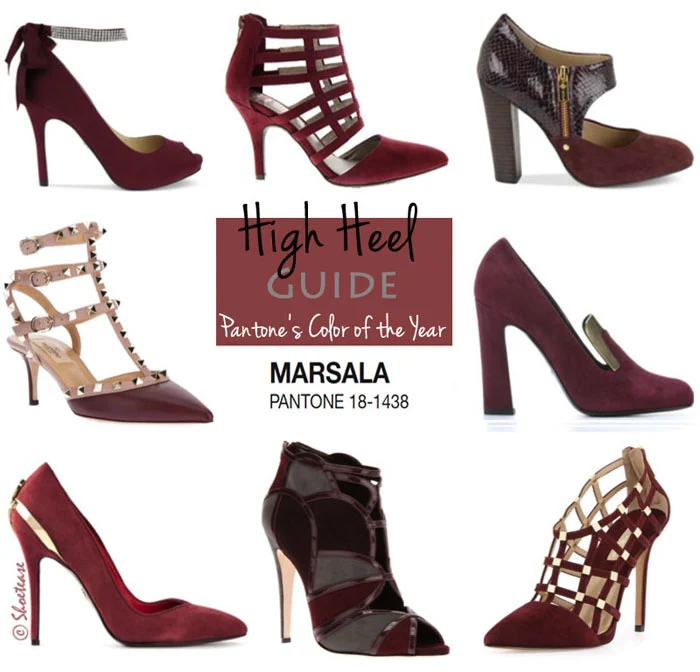 The coming year is looking to be all about Marsala heels! If you haven't heard, Marsala has been crowned as Pantone's Color of the Year for 2015. (Pssst, check out the more recent Rose Quartz shade, crowned half color for 2016!).
Quite frankly, Marsala is the perfect original, understated color for a high heel pump, shoes & general accessories. Not to mention a great substitute for red shoes! So why not jump on the bandwagon already? See the ultimate guide to designer Marsala high heel shoes & those of the same shade on sale from the current Fall/Winter collection, after the jump…
In terms of footwear, Marsala is a great shoe shade for a conservative office heel & a fashionable new color for wedding heels & bridesmaids shoes. And while you're at it, why not add to your Marsala shoes with a perfect matchy-matchy nail polish & dainty clutch in the hue of the Italian fortified wine?!
The color has actually been received with mixed emotions. Some see it as a rich, zen, natural color while others viewing it as a less than stellar shade evoking images of earthiness that we would rather not picture, such as butchered meat (and that's me downplaying it for ya!) Personally, I see Pantone's Marsala, named after the sweet wine, as a powdery burgundy (or lighter "oxblood" as it's preferably called this season); perfect for those who would prefer a muted color but dislike common shades such as brown or beige.
Although not a cheerful a color as 2014's Radiant Orchid & other previous Pantone selections, I wouldn't go about nixing it so fast. It's surely an original & a great alternative to bright red & saturated burgundy. You know, if you're tired of those shades already! But if you want to be on point & fabulously trendy, here are the best high-end designer picks (most on sale!) & just as beautiful heel styles for under $200.
Check out my outfit post on how to wear platform heels in a rich shade of Pantone approved Marsala, right here!
Buy Designer Heels in Pantone's Marsala Color
Get Your Marsala Heels Under $200
Check out other shoe trends for the current season!
xo Cristina M.
Cristina is the chief editor, fashion & shoe expert here at ShoeTease. As a seasoned stylist and women's fashion & shoe designer, she boasts over 20 years of experience in the fashion industry. She loves crafting effortless outfits for ladies both online and off and believes that styling advice should be accessible to everyone. Whether you're a styling pro or just starting out, Cristina's here to guide you on your fashion journey! Learn more.