Summertime is the perfect season to break out your sandals and show off your pedicure. But what do you do if your feet are not quite ready for summer?
You can rock closed-toe shoes and sandals! I've been doing it for the past 2 years because that's how little time I have for foot care!
Thankfully, many trendy and classic shoe styles work great as closed-toe summer shoes. And nope, not all are sandals.
Today on shoe-tease.com, I'll share 12 ideas for closed-toe shoes and even closed-toe sandals (I'll explain that contradiction below!) that are perfect for summer.
Whether you are looking for a new pair of work-appropriate closed-toe shoes or just want to cover up some unsightly toes, don't worry. I have all the shoe-shopping tips and shoe types to have you covered for summer. Literally!
But before I do, let's look at 3 things to look out before shopping for or selecting closed-toe shoes for summer.
3 Tips for Selecting Closed-Toe Summer Shoes & Sandals
A – Pick Breathable Shoe Materials
You might not ever think about the material of your shoes. However, if you're looking to wear closed-toe summer shoes, they better not trap heat & make you and your feet uncomfortable!
Look for natural materials such as cotton canvas, mesh, and raffia. Even lace! Looking to wear leather? Genuine leather is a natural material (obvs!) that is also breathable. However, you want perforated or laser-cut leathers to add ventilation for warmer days.
B – Insoles are Important!
Don't forget to look at the insole aka the shoe's footbed. Avoid synthetic or plastic materials that will trap sweat and have you slide in your shoes, causing odor and/or blisters. I mean, the main reason for shoe odor is sweaty feet, after all!
If that can't be avoided, there are many ways to make shoes less stinky and keep feet dry. Some easy tips are to wear no-show socks, or to switch out the insole (if the shoe's original one comes out).
There are also nifty charcoal insoles that you can add on top of your shoe's insole to absorb moisture and prevent odor. More info in this post!
C – Pick a Ventilated Shoe Construction
How the uppers (top part) of your closed-toe summer shoes are made is also essential. Open-backs, open sides and cut-outs will allow air to circulate inside your shoes. Woven or multi-strap shoes create many gaps for this to also occur.
Huarache sandals, Fisherman sandals, along with any super strappy shoe can work well for hot summer months, while also covering up most of your toes.
Closed-Toe Sandals for Summer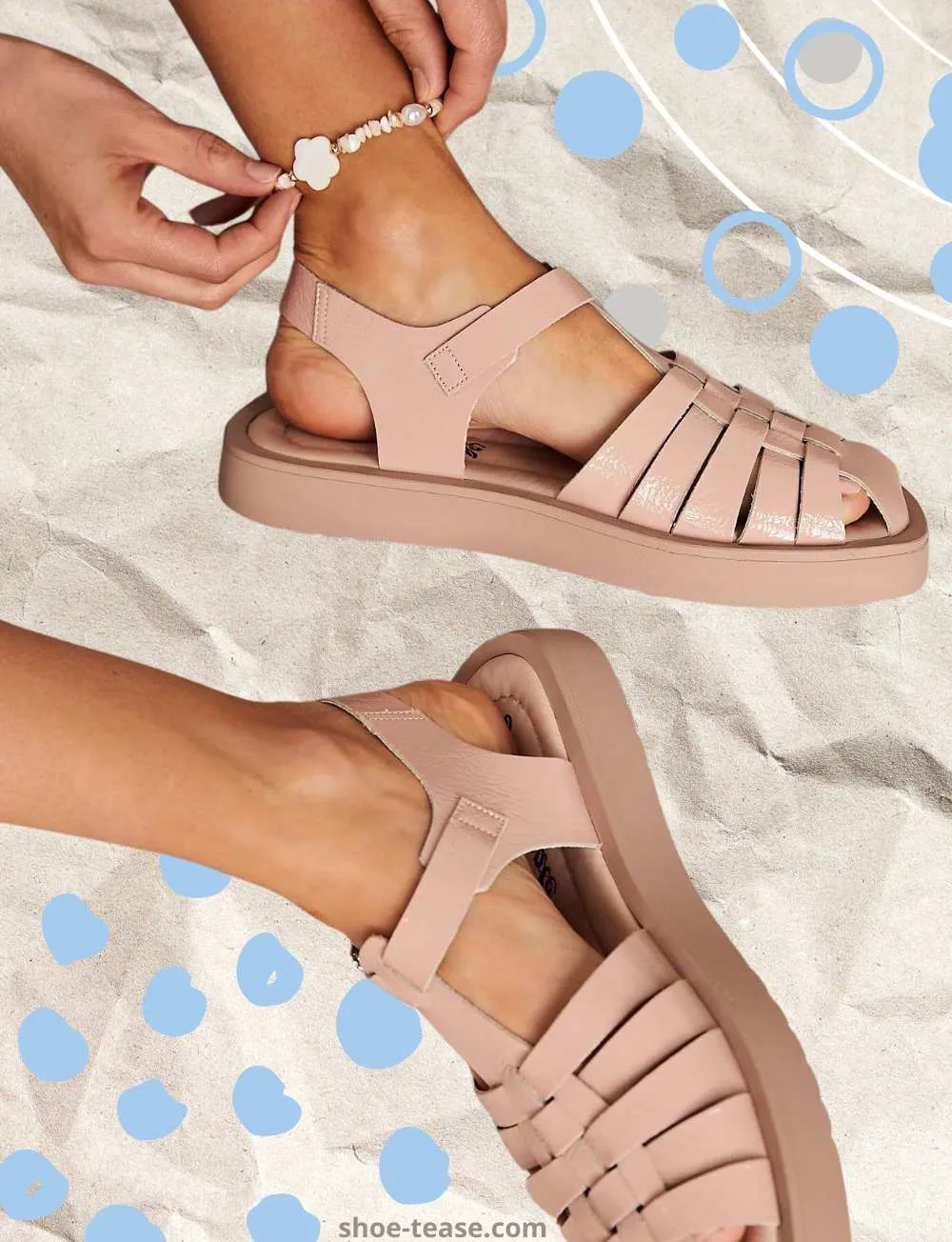 Ok, so closed-toed sandals might make little sense to you! I mean, as I specifically stated in my post about all the types of sandals: what makes sandals, well, sandals is an open-toe.
However, there are a few sandal types that defy that definition. While others get around it via a technicality, such as a caged construction or super-strappy design.
Here are 4 such closed-toe sandals for summer:
1. Huarache Sandals
A Classic type of sandal that is often forgotten is the huarache sandal. Yes, they defy convention by being an actual closed-toe sandal for summer or beach vacation that work great to keep feet cool.
Usually made entirely of leather, these are comfortable, breezy shoes that will add texture to your casual outfits. You can find many Huarache sandals in store in
There are shoes that are like sandals but have straps all over them, so they cover your toes. They're called woven shoes. You can wear them as closed-toe sandals in summer, or when it's hot outside, say on a beach vacation.
2. Fisherman Sandals
Fisherman sandals are coming back in style for women, strongly! I have seen them in every shop this season and they're a versatile sandal that can be worn for various occasions.
Although most people known fisherman sandals in the jelly shoe form, there are a slew of lovely leather and printed versions that can complete a more casual work or low-key outfit.
Yes, you can still wear jelly shoes, but being plastic, your soles will likely heat up and slide around.
Shop Fisherman Sandals: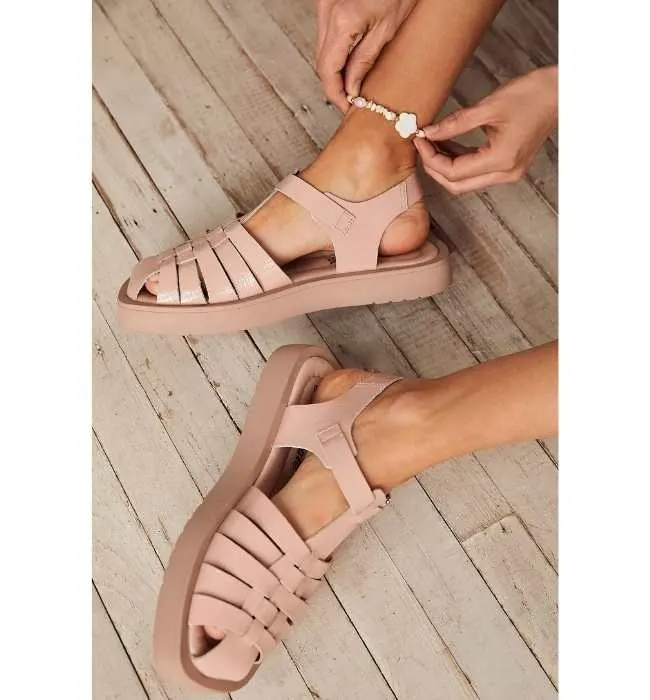 3. Strappy Closed-Toe Sandals
Are they Huarache or fisherman, or just strappy sandals of a hybrid nature? Doesn't matter when they're this cute and hide any toe imperfections! I find these actually look better without any pedi polish, but that's just me!
Wear them with a midi skirt, a little black dress, or with a linen suit, these strappy closed-toe sandals can be dressed up or down.
Shop Strappy Closed-Toe Sandals:
Closed-Toe Summer Shoes: 9 Ideas for Work & Play
4. Cut-Out Flats
Are they flats or are they sandals? That is the question! Easy to wear and charming, cut out flats, add holes and vents to allow feet to breathe better during summer- close-toe and all!
The more cut-out there, the more air will circulate. I love a flat with cut-outs along the foot's inside portion, like a D'Orsay. But you can also find a slew of cut out designs from slides, flats, loafers and even booties!
Shop Cut-Out Shoes: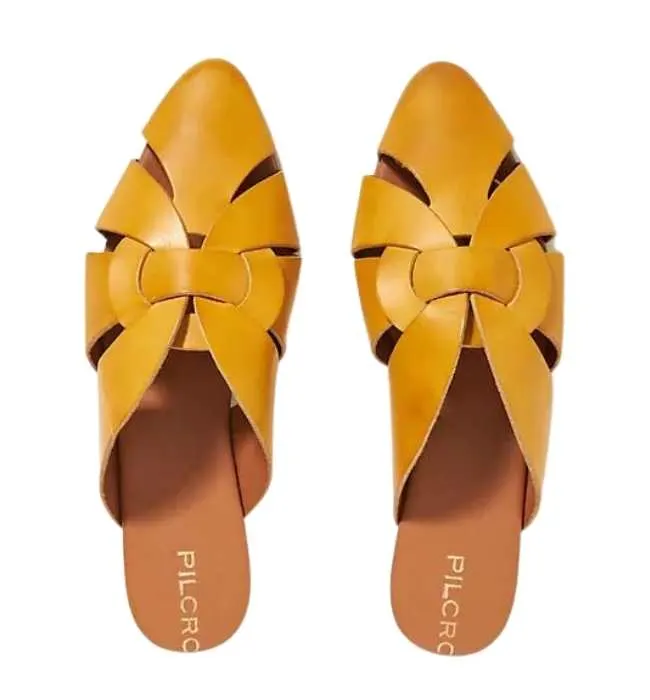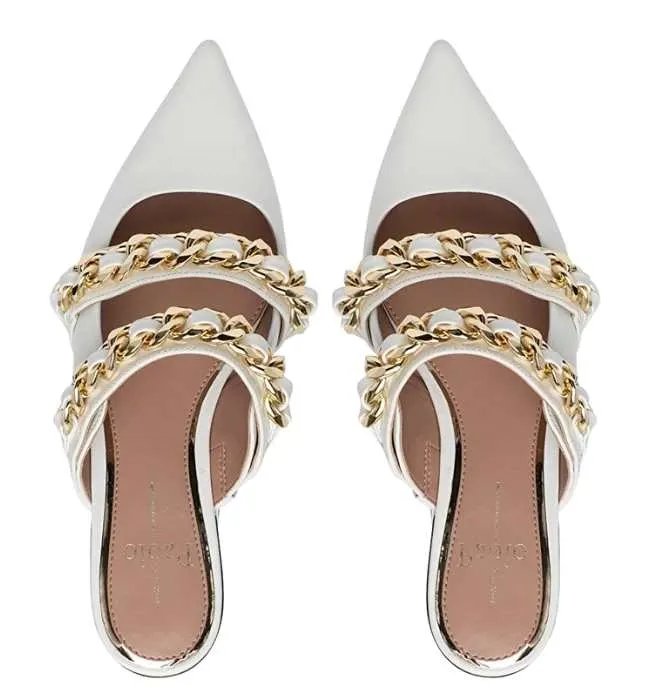 5. Basket Weave Shoes
Shoes made with a basket weave aesthetic were all the rage 2 years ago, but still continue to trend and look current. I love their relaxed look and how they will cover any foot imperfections!
And lucky for us, the multiple open spaces allow lots of breathability, making these ideas closed-toe shoes for summer. Select woven shoes in lightweight materials such as raffia or fine leather. The looser the weave, the better!
You can find ballerina flats, heels, and even loafers made of these leather uppers!
Shop Woven Shoes: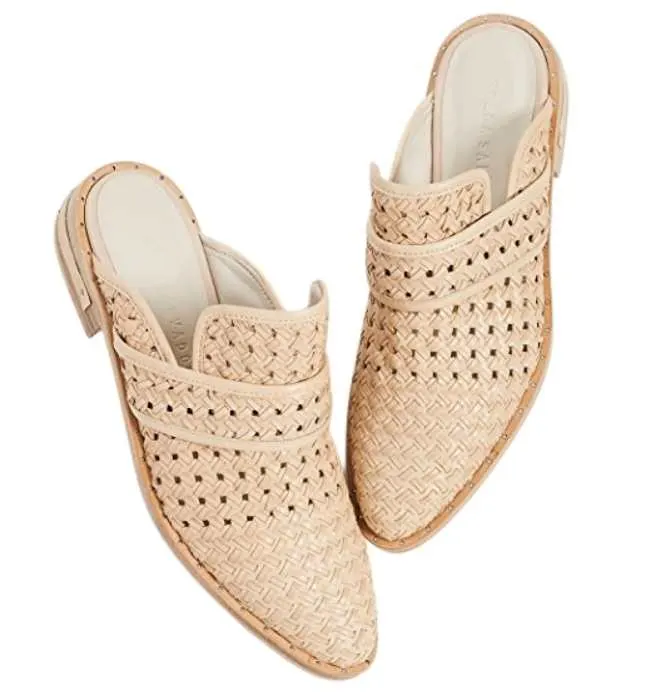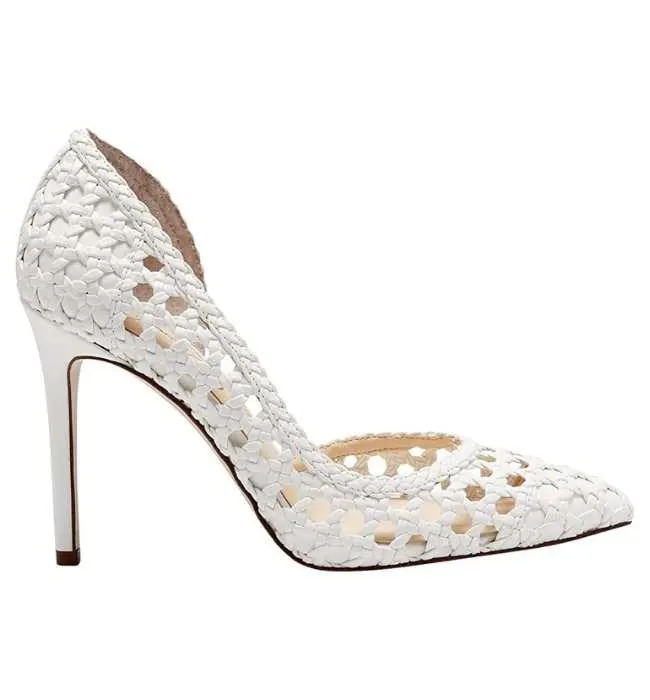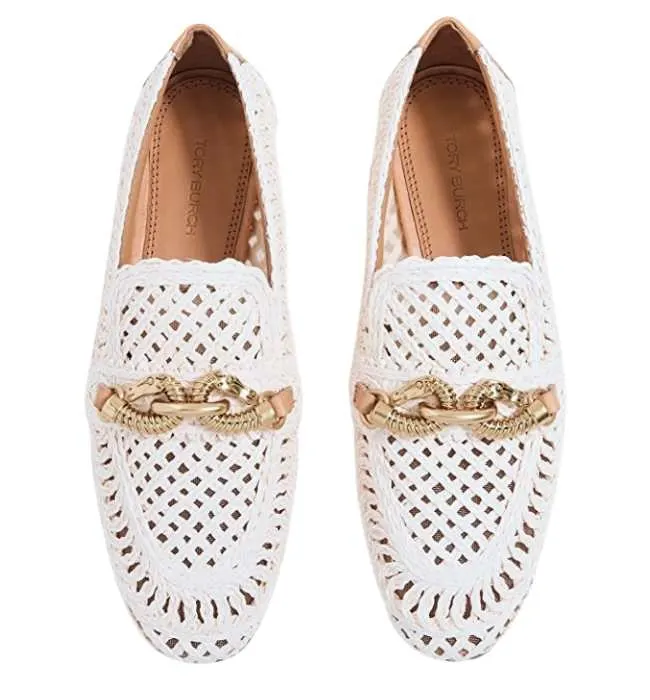 6. Mesh Sneakers & Dress Shoes
Mesh shoes – especially sneakers – are not only trending, but they allow your feet to breathe, even in hot temperatures. Think Vessi, On Sneakers and Adidas Ultraboost.
Other great mesh footwear types exist if sneakers aren't your thing or are inappropriate for the occasion. These include flats such as ballerina flats, slides and oxfords, like Cole Haan's Stitchlite). Heck, even mesh pumps are a thing thanks to Bottega Veneta!
Rothy's makes a fantastic variety and comes highly recommended not just for breathability purposes but also for comfort. They also make great travel shoes!
7. Laser-Cut Oxfords & Flats
If work-appropriate summer footwear is what you're looking for, these closed-toe shoes are it! All the flare and 'seriousness' of a conservative work shoe, with a bit more flare & breathability.
Opt for genuine leather oxfords, or flats to minimize heat. You can find some simple laser-cut to more quirky cut-out pairs. I have a great pair of metallic gold leather ones I adore wearing in summer with dresses and shorts.
8. Canvas Tennis Shoes
I talk about how canvas sneakers and canvas shoes are shoes that go with everything. But what is also true, is that these easy-to-wear, lace-up or slip-on sneakers make great summer shoes.
From Keds, Vans, Taos and Superga canvas classics, there's a style for everyone. Wear no-show socks to keep feet dry, or opt for a moisture-absorbent insole.
9. Espadrilles
Espadrille flats or wedges make great summery shoes that are closed-toed. Pick a lightweight canvas or mesh pair.
You can opt for a black or dark color for work, or play around with prints, stripes and bold colors for fun! Learn how to put together espadrilles outfits in my dedicated post.
10. Slingbacks
With a back ankle strap and open back, letting the air into your shoes, slingback pumps or flats make great closed-toe summer shoes. Make sure the insole is absorbent so that you don't slip & slide in your shoes!
Shop Closed-Toe Slingback Shoes:
11. Mules
Another win for open-back shoes with mules! These closed-toe shoes make great summer shoes in breathable leathers, mesh and woven fabrics.
Look for cut-outs or perforations around the toe to allow your toes some fresh air! There are so many different styles of mules, including shape and heel height that you won't have any problems wearing mules outfits to suit your look for most occasions.
12. Clogs
Yes, clogs are a type of mule, but they surely deserve their own section! Great for summer, spring and fall, natural material clogs (leather and woven materials) are great closed-toe shoes for warmer months.
Bonus is that you can find clog styles in laser-cut, cut-out, woven and sandal styles.
With their wooden heels and laid-back aesthetic, they work well with everything from skirts, shorts, dress pants and dresses. Learn via my other post how to wear clogs with everything!
Shop Summer Clogs: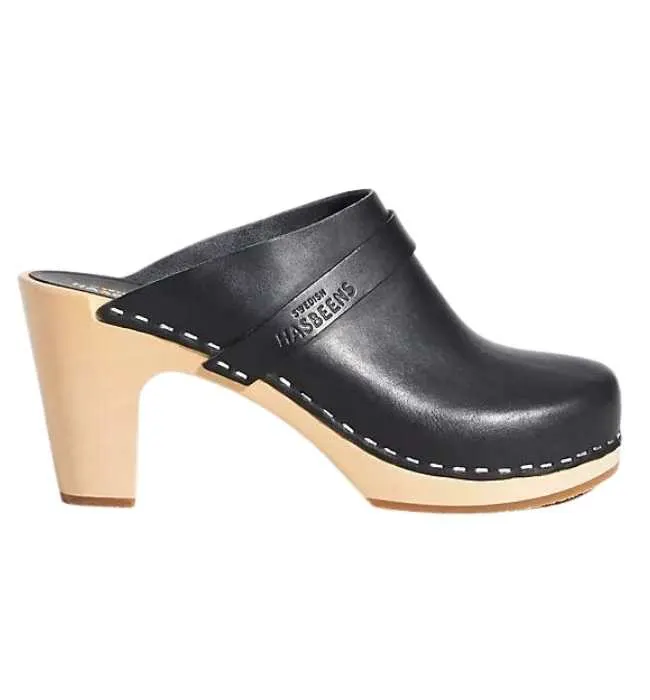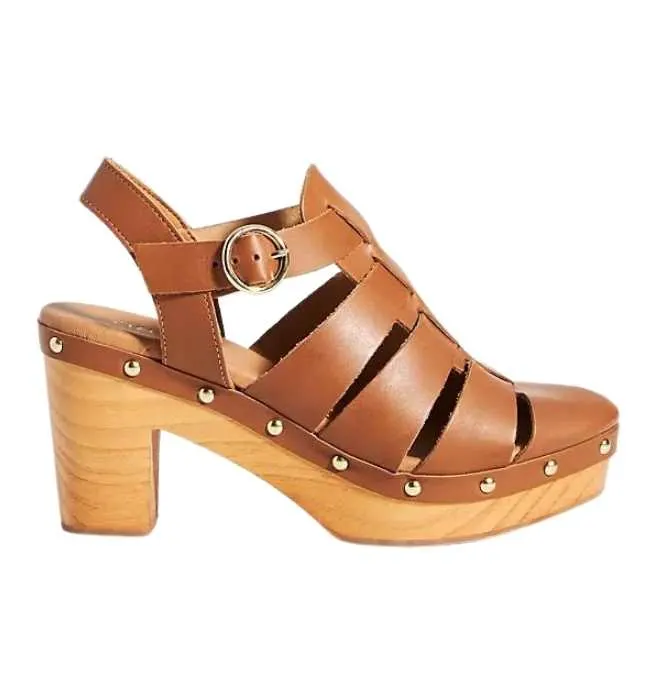 13. Breathable Shoe Brands
If you have to wear closed-toe shoes and none of the above fit the bill, don't fret! Some footwear brands specialize in breathable shoes, and Geox is my fave. Geox has an outsole technology that allows air to circulate in the shoe, no matter the shoe's material.
I have a faux leather pair of patent combat boots. Although these aren't closed-toe summer shoes, the usually non-porous plasticky nature of the upper material should make my feet sweat. But even on warmer Fall days, I've worn them and they've kept my feet cool!
Shop Geox flats, sneakers and more at Zappos, Farfetch, YOOX and Neiman Marcus.
Closed-Toe Shoes to Avoid in Summer
If your feet don't sweat, then you can wear any shoes you'd like! For the rest of us, there are a few shoes and materials and I would avoid. These include shoes with PVC, plastic, and vegan leathers (also plastic!).
If you're going to opt for Crocs or Jelly shoes, I would add a pair of socks, or make sure they have lots of cut-outs!
Final Words on Closed-Toe Summer Shoes & Sandals
If you're not quite pedi-ready but still need a summer shoe option (or just have ugly toes!) closed-toe sandals are a great choice.
They come in many different styles, so you're sure to find one that fits your personality and style. Whether you're looking for something smart casual, very casual or even dressy, there's a closed-toe shoe and sandal for your needs!
Have you tried wearing any of the above closed-toe sandals or shoes during warm summer months?
xo ShoeTease
Cristina is the chief editor, fashion & shoe expert here at ShoeTease. As a seasoned stylist and women's fashion & shoe designer, she boasts over 20 years of experience in the fashion industry. She loves crafting effortless outfits for ladies both online and off and believes that styling advice should be accessible to everyone. Whether you're a styling pro or just starting out, Cristina's here to guide you on your fashion journey! Learn more.