Is it really a Kimono? A jacket? Some sort of robe? Well, a bit of each, really! It's difficult to wear one without looking like you're in your jammies, but that's what a solid pair of statement heels are for. After all, they can make or break an outfit, am I right!?
Floral Print Kimono Jacket & Bamboo Heels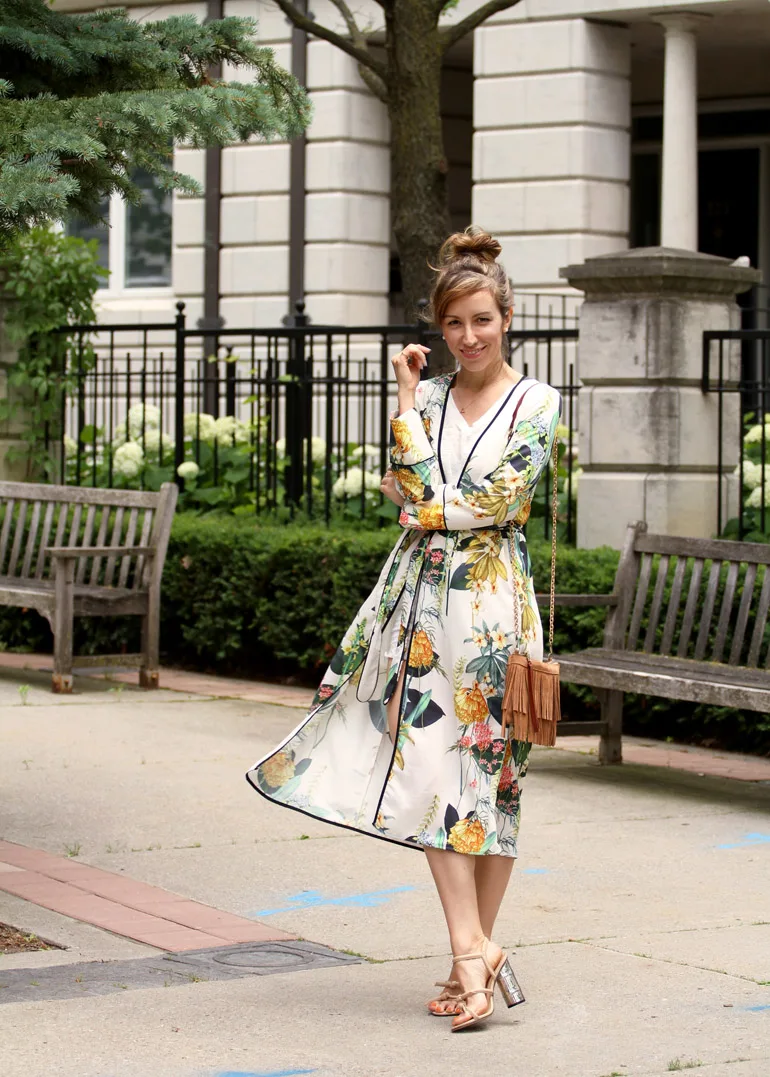 Shoes: Aldo Outlet (c/o Dixie Outlet Mall). Floral Print Kimono: Zara. Purse: Brave Leather. Necklace: c/o Prysm. Nail Polish: Moov Cosmetics "Upon a Lilac Sea" (vegan).
---
Shop similar items:

---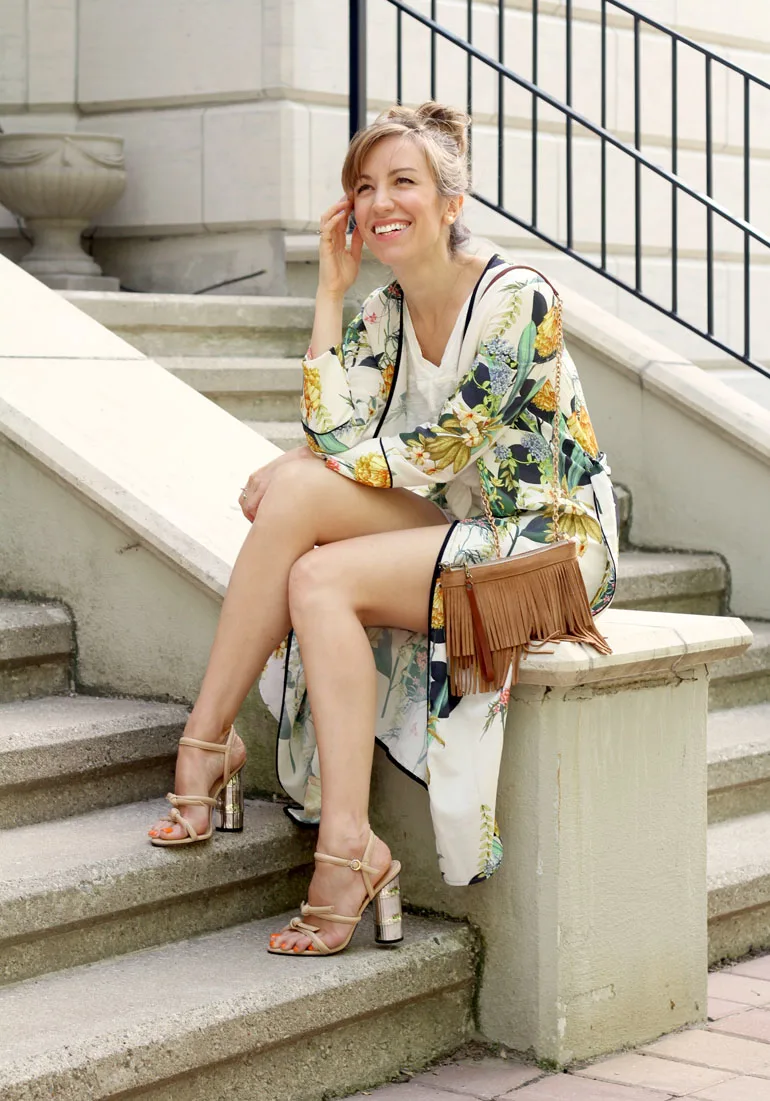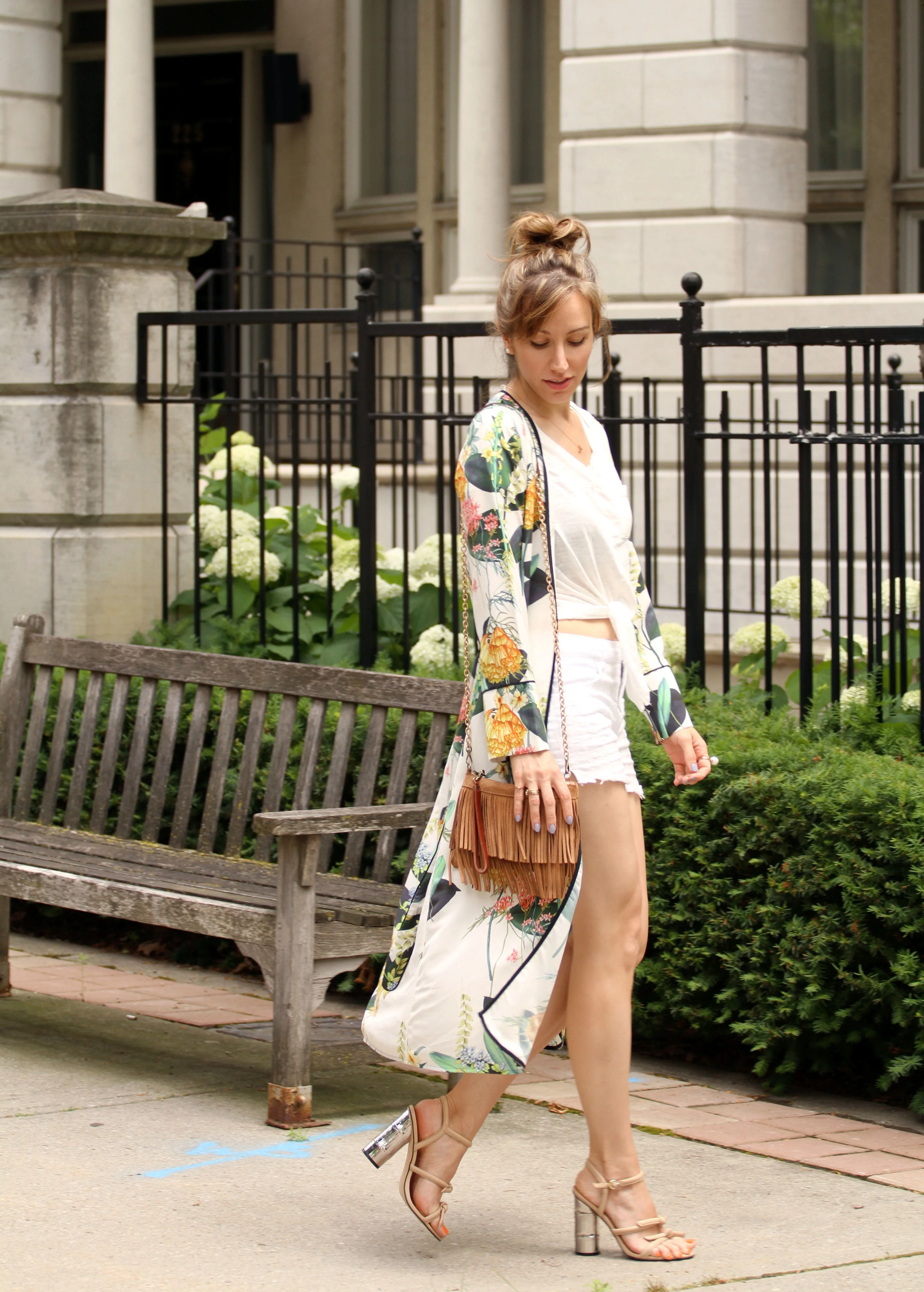 There are two particularly difficult summer trends to style: rompers & Kimono-like robes. And I think the secret of not looking sloppy wearing them is your choice of footwear. Of course, as a shoe blogger I would, right!? I mean, each floral print kimono is different, but on the whole, the more casual the shoes, but more "boudoir" your look will be. And no, that's not really a good thing in this case!
I was hesitant to buy a kimono, but this beautifully printed one from Zara caught my eye & I nabbed it. And I'm not gonna lie: it stayed in my closet for a while before I felt comfortable enough to wear it. But on a hot summer's day, feeling inappropriate in short shorts & crop top, I decided that this robe was the (somewhat ironic) perfect addition to make me feel less undressed in the city.
So that's where these funky Aldo Shoes heels I scored at Dixie Outlet Mall came into play. They, also, had been in my closet ready to wear, but sadly left untouched on the shoe shelf…until now. I fell in love with both the look & their comfy full leather feel. The bamboo-like heels are even more amazing looking in real life & the block heel makes them rather effortless to walk in.
These high heels elevate the kimono jacket from bedroom attire to street wear, while the heels themselves end up feeling more casually chic combined with the rest of the outfit. Shoes to steer away from if you're uneasy about wearing one of these kimono-like jackets? Sneakers & flip-flops!
Next time, I think I'll wear my floral kimono as a dress, as it can certainly double as one. A 2-in-1 item in one's closet always comes in handy! A shout-out to my blogger friend Diana for this Brave Leather fringe purse.
She had a contest last month on her Insta & I actually won. Me & it have been inseparable all month! It's actually the 3rd giveaway I've won this Spring/Summer, so I'm hoping my recent luck will win me some fun adventures, but more importantly, more shoes 😉
How are you wearing your floral printed Kimono jacket?
Check out more street style looks, here.
Photos 1-6 by: Conrad C. Photo
xo Cristina