Leopard print shoes & other fall shoe trends from the current 2014, or even previous seasons, make a great base for an easy Halloween costume.
That is, if you're willing to take it to over-the-top, total look territory. Do so & you've got yourself simple, homemade, Oct 31st attire that's so bad, it's great! So as we all love shoes over here,
I'm banking on most of you having one of the following footwear types in your shoe closet: leopard print shoes, cobalt blue shoes, or fringe boots to act as a base for your new fashion faux-pas turned Halloween outfit.
All other clothing can be easily borrowed from friends if they're so willing.
3 Easy Halloween Costumes Using Fall Shoe Trends
1. Leopard Print Shoes + Leopard Clothing = Wild Cat or Clueless Fashion Blogger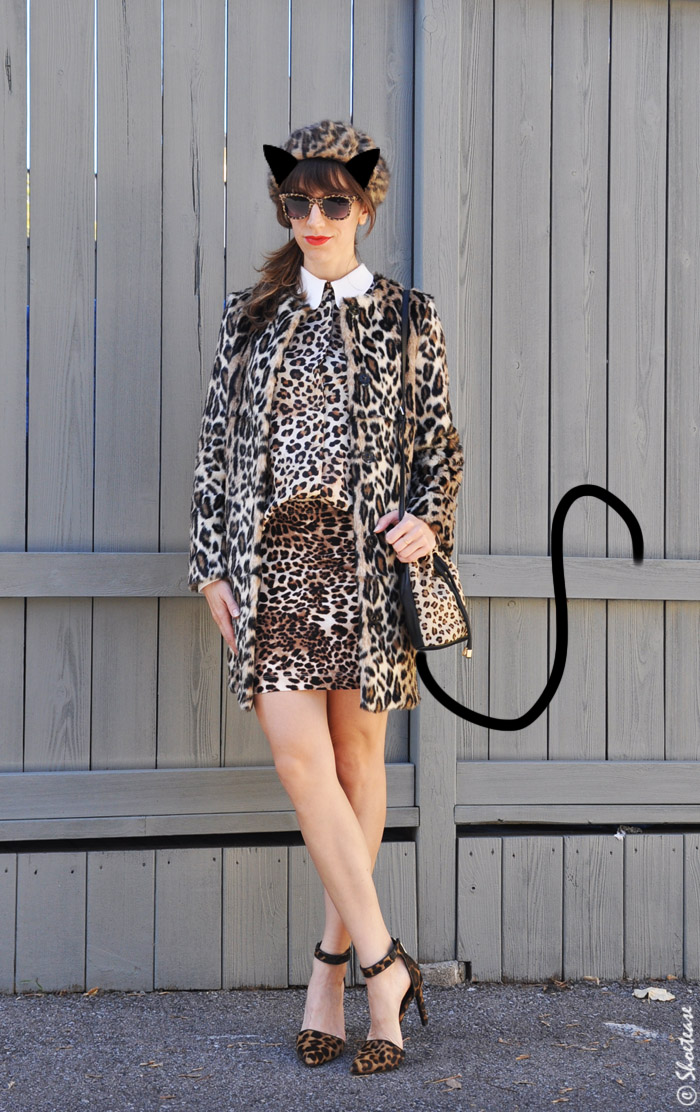 Let's start with one of my favorite recurring fall shoe trends: leopard print shoes. Now we've all seen how to style leopard heels in an aesthetically pleasing manner, but that's not what we're going for over here. Obviously.
So if to your trendy spotted shoes (I'm wearing a pair from the current InStyle for Nine West Collection), you add leopard print clothing, purse, hat, heck even sunglasses, you've got yourself an easy full-on kitty cat (or dare I say Leopard, BWAHAHHA) halloween costume. I
'd highly recommend you add on some cat ears & tail for a full-on feline effect (see first pic, above). Otherwise, your costume will surely be misrepresented for that of the Clueless Fashion Blogger.
This is a solid alternate outfit choice, if I may say so myself. No joke here folks; I've actually seen fashion bloggers dead-pan it in head-to-toe animal print & I'm not gonna lie: it's given me a good laugh on a rainy day!
So if this Halloween you decide to cover up in cheetah, leopard, or something of the sort, sans kitty accouterments, you've got yourself the perfect fashion police costume too!
So the question is: to be a feline lady, or a walking & talking fashion-faux pas? I'd personally go for the latter; it being much more ironic & such. Proof that leopard print is not a neutral when worn head-to-toe!
Learn about actual stylish ways how to wear leopard print shoes. Opting for a leopard print dress? Check out my post on what shoes to wear with a leopard print dress!
2. Cobalt Blue Shoes + Clothing = Grover or Crayola Marker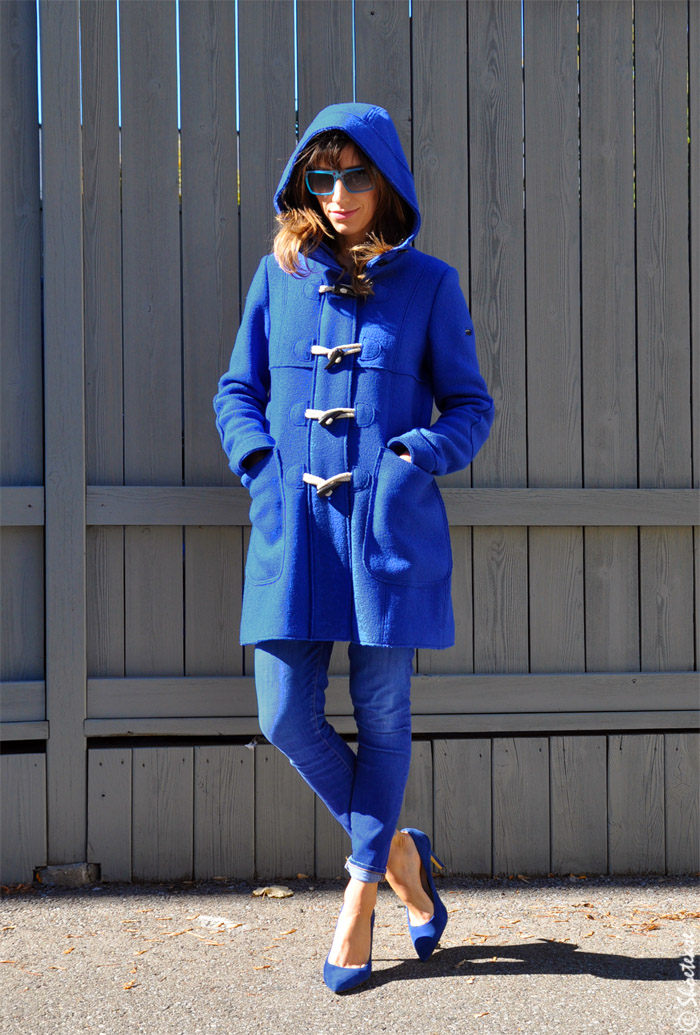 Less dramatic than the leopard print shoes trend (but even easier to pull together), cobalt blue shoes will get you some good Halloween costume mileage, if worn with the proper bright blue attire.
Now if you're going for the Grover look, I'd add on a homemade mask of the Sesame Street character, or carry around a small version of the guy himself. Just so that the lesser TV cultured folk get the gist of what you're going for.
If you can't find the cute Grover doll, I'd recommend grabbing a ubiquitous Tickle-Me-Elmo from your nearest niece or nephew/Craigslist toy posting & spray painting it blue. But to make the BESTEST impact would be to style your costume with cobalt UGG boots.
Yes, they exist & they're on sale. Stop squealing with delight now, I'm being bitchy. That's right: so disastrously ugly that nobody wants them, but they can be YOURS for the lucky discounted price of whathaveyou just so you can get your Grover on!! See photoshopped image, below.
However, there's a catch: I'm not telling you where to get them. It'd be against ShoeTease policy, really, & I'd be scared you'd eventually get lazy, take a liking to them & wear them out in the open as a regular pair of shoes & that my friends, I could not handle.
Grover not sexy enough for ya? Take the cobalt total look plunge & transform yourself into a human Crayola marker!
Just add white face paint (I take no responsibility for the political correctness or lack thereof) & make a simple matching blue felt hat, stapling it into a cylindrical form. Place on head & voilà!
3. Fringe Boots – Hyper Hippie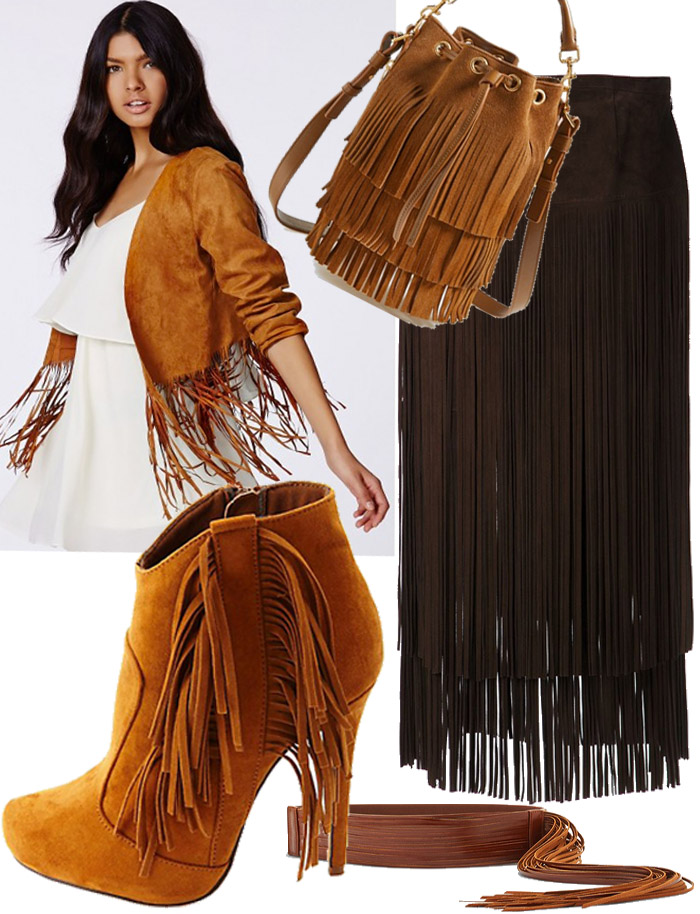 The last, but not least, easy Halloween costume based on a fall shoe trend (& another unfortunate full fledged look I've seen fashion bloggers proudly wear) is the fringed shoe, mainly manifested in boots this season.
I actually love boots with a touch of fringe, but as I've yet to own a pair (yes, I know: shocking!). I was unable to model this third look for you (how many clothes/shoes do you think I have, really?!), so I've put together a collage to inspire you.
Now, depending on what type of fringe boots you wear, you can either go for either a country-western hippie, or culturally unethical urban-hippie-meets-Pocahontas-type, as pictured above.
Or just simply morph into a literal poster child for Free People, albeit wearing a $4,000 designer skirt & $2,000 bucket bag. Hey, I didn't say these easy Halloween costumes would come cheap! 😉
Happy Halloween costuming!
xo ShoeTease