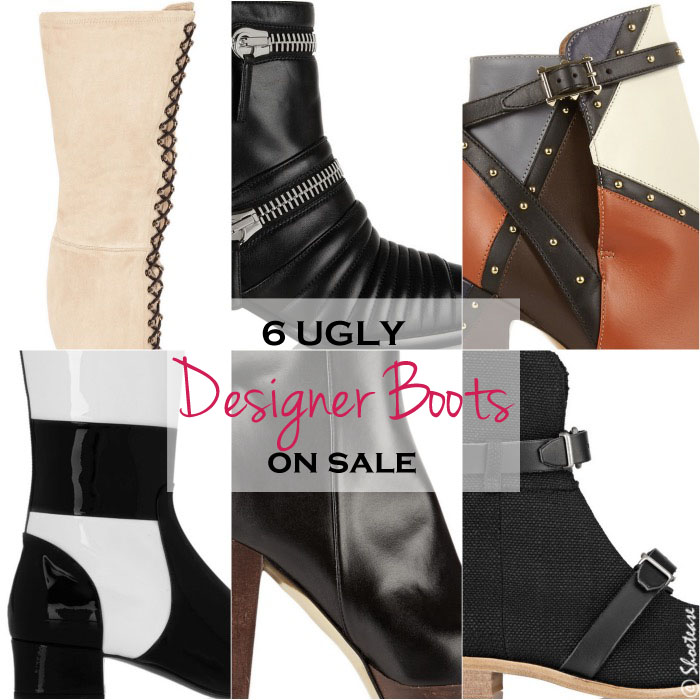 It's been a while since I've written a Freaky Shoes post. But I think I'm making up for it by showing off 6 particularly ugly boots that I found in the clearance section of a couple online retailers. These are designer boots, btw, so even the more shameful. Not their best designs, surely. Apparently they're having trouble selling these monstrosities. Coincidence? I think not!
There are a few key elements in my books that qualify footwear items as "ugly shoes", and these particular uglies definitely fit the awful footwear bill. What are these aesthetic boundaries that bring a shoe from being ok to not-a-chance? Here are my top 5 criteria.
What Makes Ugly Boots, Ugly
Well first of all, if a shoe is overly clunky & unsexy. By "unsexy" I mean it's not sinuous; missing that sole-to-heel-to-upper fluidity that renders shoes (especially heels) the lust-worthy objects that they usually are. Add extra ugly points if a heel's fluted, a-line or just looks like it belongs to a far different type of shoe.
Unfortunate color pairings. Yes, a shoe can be beautiful, but add a bizarre blend of colors & you're on the high heel road to footwear hell.
Taking a vintage look too literally. I get it, designers scrounge around the globe for retro pieces to inspire present-day collections. But what really differentiates the good designers from the bad, is their ability to visually align the item with current trends & tastes. And although I can understand some footwear gear being walked down the fashion runways for pure viewing pleasure, these designs usually won't make it to the retailers. Mostly because they'll have one heck of a time selling them!
Confused, hybrid footwear. Certain combos work, such as mule/boot or sandal/bootie when done right. Always interesting to see when this mix is done wrong, like with these Lagerfeld black "sandals". But when proportions are off & nonsense is made, then: Hermès, we have a problem.
Any element that is hoof-like or animalesque. Or anything that reminds you of a living, breathing, animal. Period. You know those Martin Margiela hoof-style boots or those Louboutins with paw-shaped toes? No excuse in my mind for either! If you haven't seen them, please do click. At your own risk!
Now that you've got a little idea of what elements for me, make a shoe cringe-worthy, let's look at the aforementioned 6 atrocities.
1. Strange Over the Knee Boots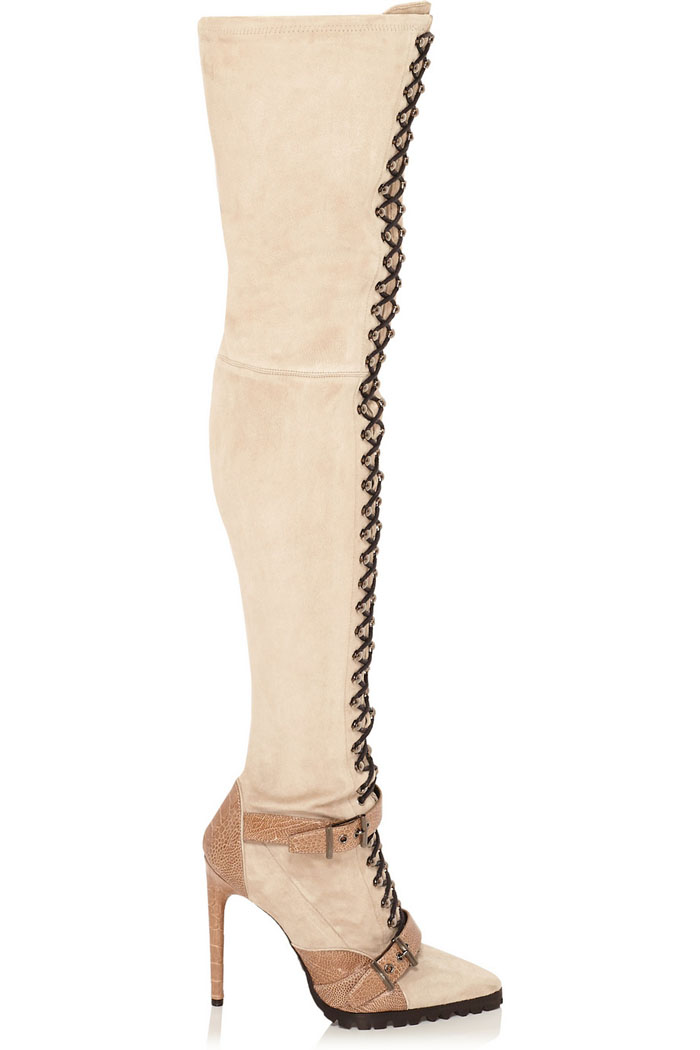 I wouldn't know to begin with these terrifying tall boots by Emilio Pucci. The shape is great, the heel is fab & I'm loving the track outsole, but what's going on with that hideously quasi-pale-skintone suede & the contrast criss-cross stitching lacing at the front? Reminds me of the flesh dress that the crazy in Silence of the Lambs was concocting, albeit much less couture-like. And don't even get me started on the tan ostrich straps. So bloody tacky & terribly irrelevant. Yes, yes, pun intended!
2. Clunky Shame of a Boot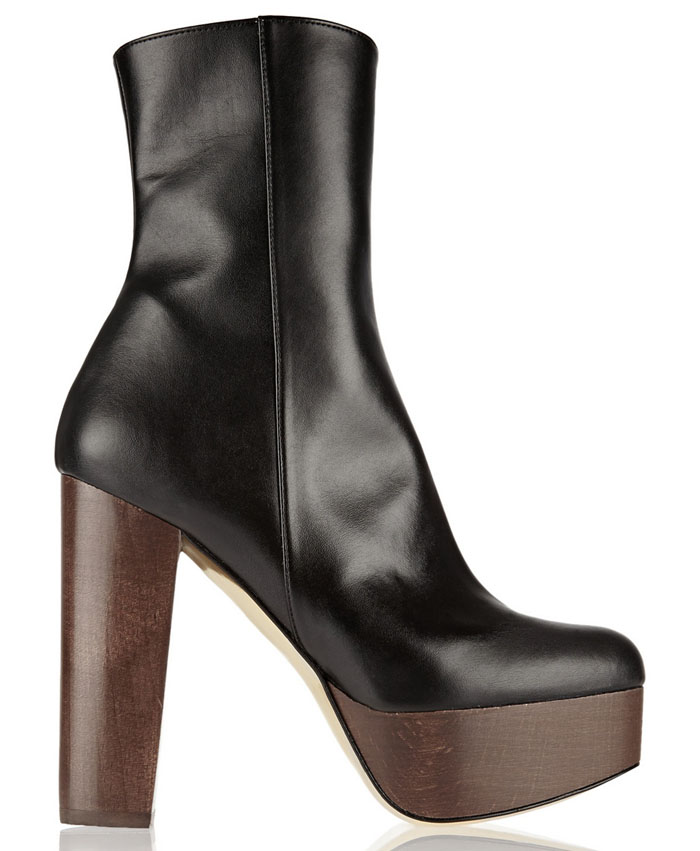 Not only is it terribly clunky & would be a terribly unflattering addition to any outfit, but these Stella McCartney ankle boots have a heel that appears to be veering off of the shoe itself. The pleather upper is far too 'tight' with respect to the fluting bottom. The brown contrast visible platform & heel just adds insult to injury. Please refer to "ugly shoe" section #1.
3. Dysfunctional Bootie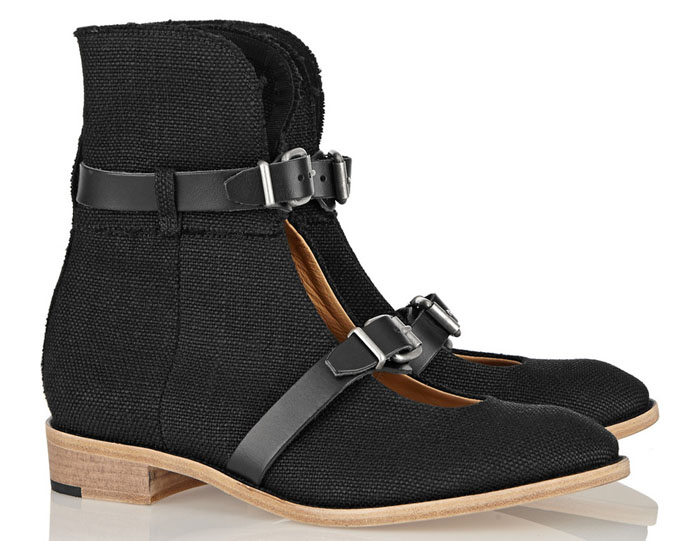 Is it a strappy pump? Is it a boot? Which season does it belong to? You shouldn't have to ask so many questions about a shoe. If you do, something ain't right. And these ACNE Studios ankle-whathaveyous are really, wholly & entirely not right. The belt loops are perplexing. And the canvas upper is truly appalling. Ugly boots, plain & simple. That is, if boots are what they truly are!
4. Straight-to-Factory Mod Boot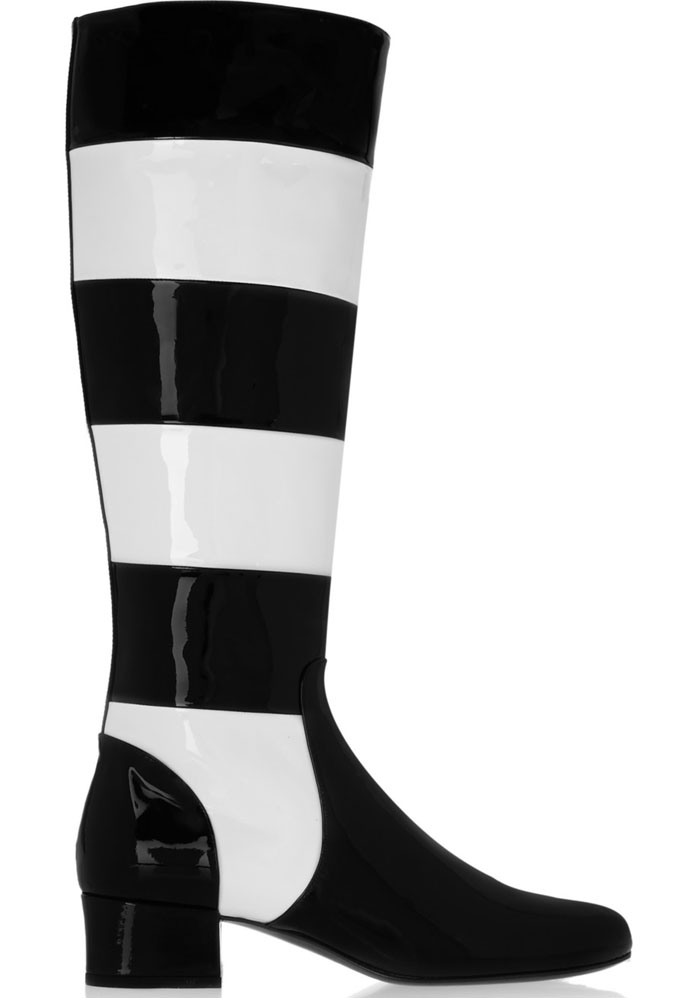 Yes. A prime example of when a designer isn't capable or willing, or a bit of both, to make a vintage style suit the current times. They just shipped the mod sample made in the 60s, right to the factory with no style sheet. Not only, the black/white color-blocking draws even more attention to the hideous boot. And really? Patent leather? It's hard to look away from this Saint Laurent knee boot.
5. Too Much Ankle Boot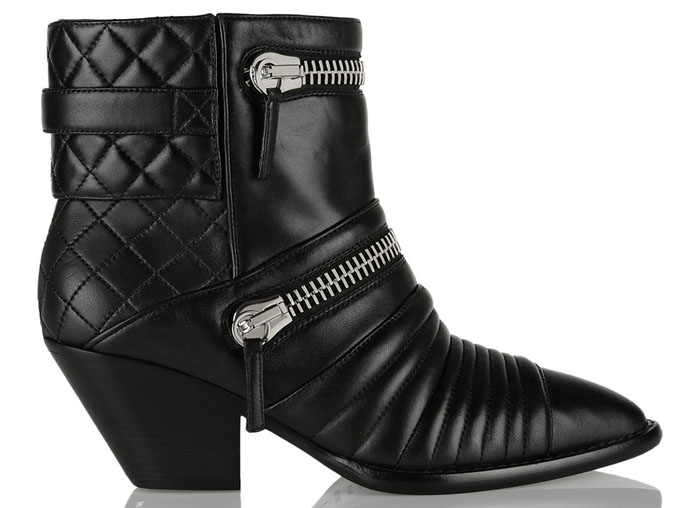 Other than the fact that there are too many things going on in this 1 boot (the over-size zippers, the quilting, the padding, the western boot inspiration etc upon etc) the front portion kinda reminds me of a wrinkly Shar Pei. Or a weirdly wrinkly alien. Neither of these connotations can make anything other than any shoe, ugly. We can thank Giuseppe Zanotti for these!
6. Very Wrong Valentino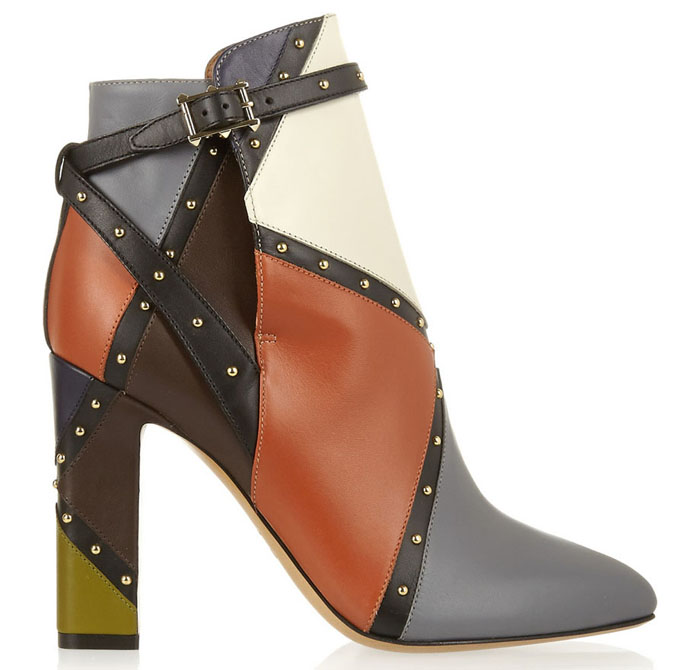 So many rights with this rad Rockstudly designer, yet last fall/winter season gave birth to so many visual nightmares. This is clearly one of them. It's not that the colors are particularly hideous, it's the pairing of the 6 (yes, six unlikely colors!), along with the strappy studded element that is just confusing. And what's with the puke-green triangle at the base of the heel? Terrible. I'm sorry, but if I'm going to be dropping $1,186.50 on a shoe SALE item, it better be mind-blowing. In a good way of course.
That is all.
Unless you want to take a closer look at the ugly boots, below. Betting they'll be giving them out for free in no time!

xo Cristina M.