Bloggers & stylists alike rave about how certain shoes & high heels (especially nude ones!) can do wonders for your legs, making them look longer & leaner.
This particular shoe blogger does! But how do we make all that leg we show while wearing said heels look its best?
If we're wearing high, sexy heels to accentuate & make our legs longer, we certainly shouldn't neglect the legs themselves! What makes for the healthiest-looking pins is smoothness & glow.
And today I'm going slightly off topic from shoes towards leg & foot care, to share 3 easy steps on how to get shiny legs naturally, all year round.
Because what's the point of flaunting your legs in fashionable stilettos if your legs are looking dry and dreary?
How to Get Shiny Legs That Glow in 3 Steps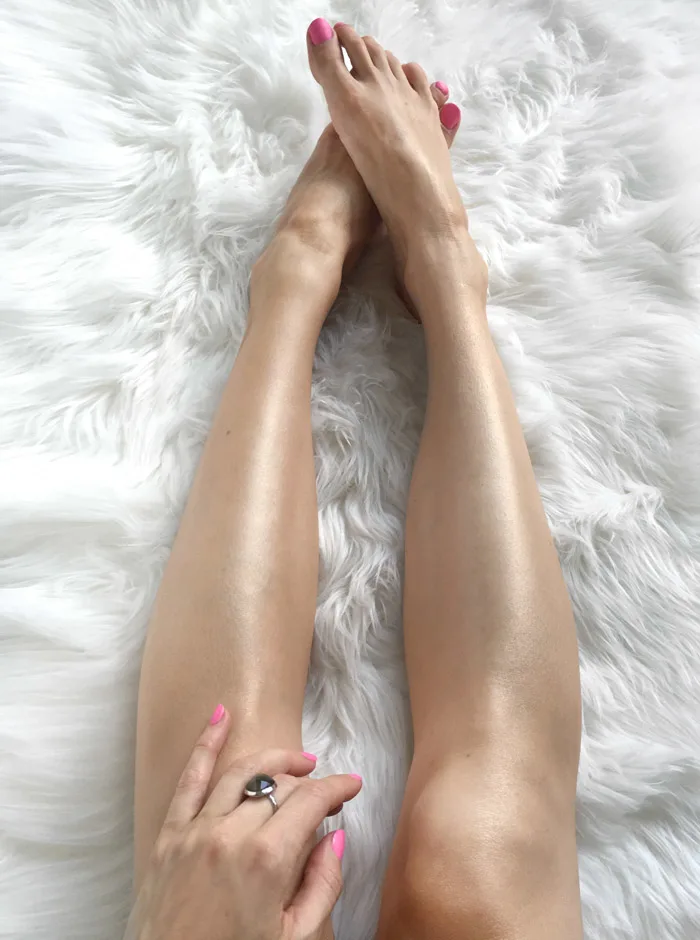 ---
Shop my favorite products:

---
1. Exfoliate Your Legs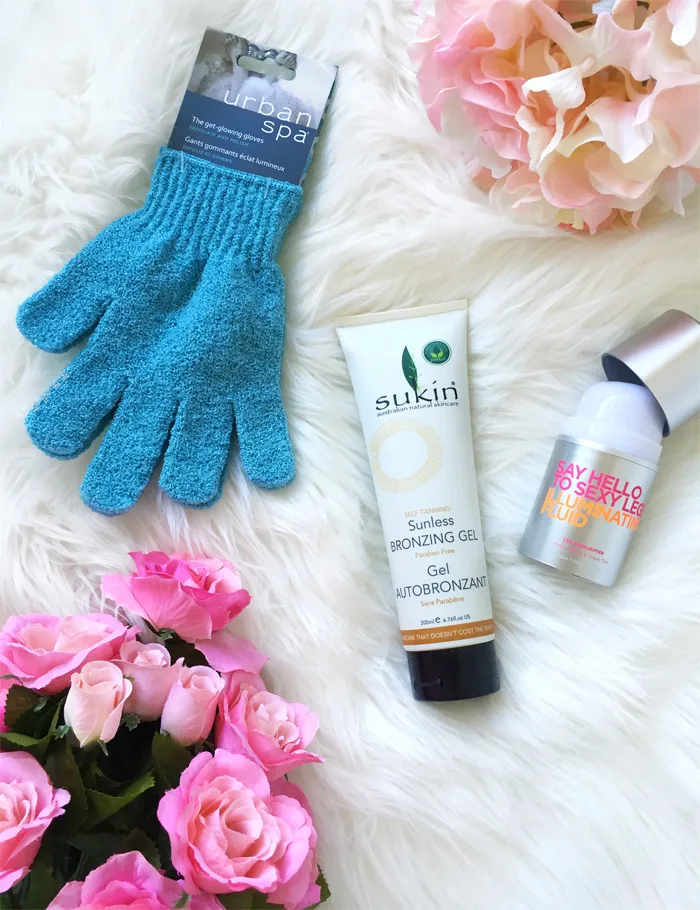 The first step on how to make legs shiny is to exfoliate. And I mean really exfoliate them. Yes, I know there are lots of body scrubs & loofahs around, but nothing works better at smoothing one's body & legs than exfoliating bath gloves.
These gloves last for years, are easy to clean & give the best buff you could ask for. They will slough off dead skin in seconds, prepping your legs for moisturizers to sink into &/or self tanners to work their magic.
But some exfoliating mitts work better than others. If you're like me and don't have particularly sensitive skin, you'll want the scrubbiest gloves out there!
My favorite pair is from The Body Shop as the grit is a lot finer and gives the best buff possible. I've been using them for years. Coming a close second are Urban Spa's get-glowing gloves, featured above, that I found at Whole Foods.
---
Shop Exfoliating Bath Gloves:

---
2. Give Your Legs a Healthy Glow with Self Tanner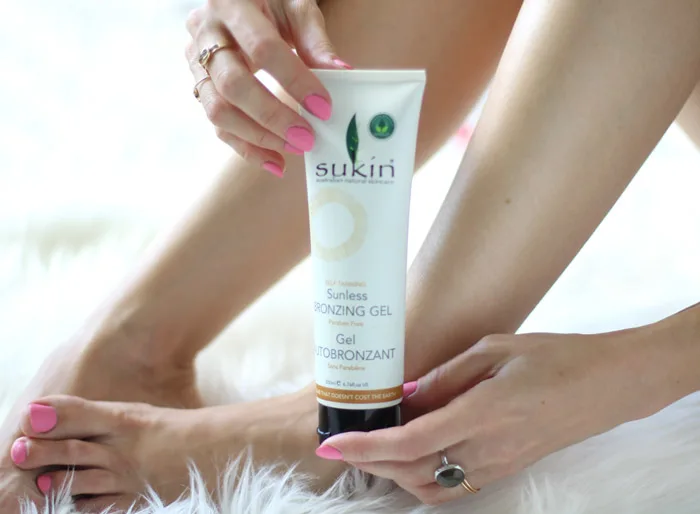 I'm pale & take forever to get any sort of real tan. Yeah, my legs tend to glow in the dark vs. glow from radiating health! And as we all know, the sun's harmful rays are bad for our skin.
And don't even get me started on tanning beds! Yet self-tanners can be just as harmful, which is why I usually steer clear of them.
I like my products as crap-free as possible, but most self-tanning creams are anything but. So I was so happy to find Sukin's Sunless Bronzing Gel, a product that is free of most harmful ingredients – which happens to be the same natural beauty brand I use to wash & moisturize my face.
Sukin's bronzing gel is sulphate, paraben, mineral oil & detergent free (among many others: the list is long!) & works miracles at giving a bronzing (vs "orange-ing") effect to the skin. A
t roughly $20 bottle, this product is a little pricier than its standard drugstore counterparts, but boy, does a tiny amount of this gel go a long way! It dries super-fast too & doesn't have any strong toxic odors that most self tanners do.
If you use it even a couple times a week, it really builds a natural looking color that I've never been able to attain with anything but real rays. J
ust don't forget to exfoliate well prior, to get the most even "tan" possible 🙂 You can find this product at Whole Foods & other stores that cater to natural products, or online, below:
---
Shop Natural Sunless Bronzing Products:

---
3. SKin Illuminator for Shiny Legs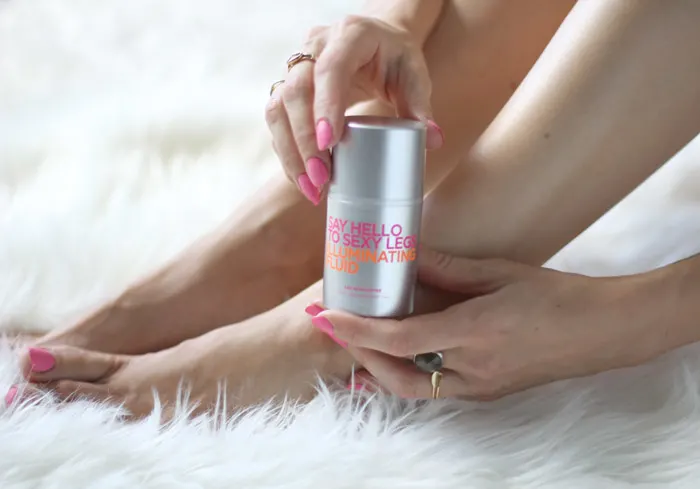 Whaaat? A highlighter for legs? Yes, M'aam! For the finishing touch, I have never found a product that could make legs as shiny as products by Say Hello To Sexy Legs can.
I was given a sample at the last Reward Style affiliates meeting, and wow is this product ever amazing! UPDATE!!! This product is no longer available, but they have a new product called Say Hello to Sexy Legs Glow Butter and it's supposedly even better than the first!
Smoothed on strategically all along the mid thighs to the knees & shin bones, not only does it reflect light and literally bronze your legs, it gives them a captivating, otherworldly glow. It dries lightning fast (so spread it quickly!), doesn't rub off on clothing & is paraben, phthalate & mineral oil free.
You could easily use this to highlight shoulders, neck & cleavage too for a special night out! Say Hello to Sexy Legs also sells leg-enhancing products that you can check out below, along with other illuminating creams:
---
Shop Illuminating Creams:

---
Of course, I couldn't possibly end a post talking about how to get shiny legs without mentioning 2 important things we should do daily to make the above 3 step process work best.
Drink lots of water to hydrate & purify the skin
Moisturizing your legs & body with whatever oil and/or cream work best!
What are your beauty secrets to glowing, shiny legs?
xo ShoeTease