Sandal weather has finally arrived here in Toronto & I'm thrilled! Yet, do you & I both have 100% sandal-ready feet? Possibly not. Enter a Burt's Bees Coconut Foot Cream review.
Could this be the best natural foot cream for your TLC-needing feet? Find out, after the jump!
Before I get into my in-depth review of this coconut foot cream by natural product maker Burt's Bees, a little introduction to the newly added foot care section to my shoe blog.
Why blog about foot care you ask? To be blunt: because unkempt feet are disgusting. And nothing ruins a great pair of open-toe booties or sandals quite like dry, unbecoming toes & heels.
I think I speak for all of us when I say that nobody wants to see that! So I'll be taking a look at some foot creams, lotions, potions & gadgets and letting you know how they work, so that you don't have to.
Burt's Bees Coconut Foot Cream Review
Burt's Bees: The company
So first up is Burt's Bees Coconut Foot Cream. I'm sure most of you have heard about or used a Burt's Bees product. I've been using their lip balms for ages & Burt's Baby Bees were my go-to products for body & diaper care when my son was a wee one.
They boast a high percentage of natural ingredients & are sustainers of green initiatives with a philosophy towards the contributing toward the Greater Good.
They care about the environment & what we put onto our bodies. Tree-hugging aside, they make some great stuff.
As a newly minted Pout app Ambassador, I received a slew of BB products c/o the company & their coconut-based natural foot cream was one of the many. See my Instagram post here for the full haul!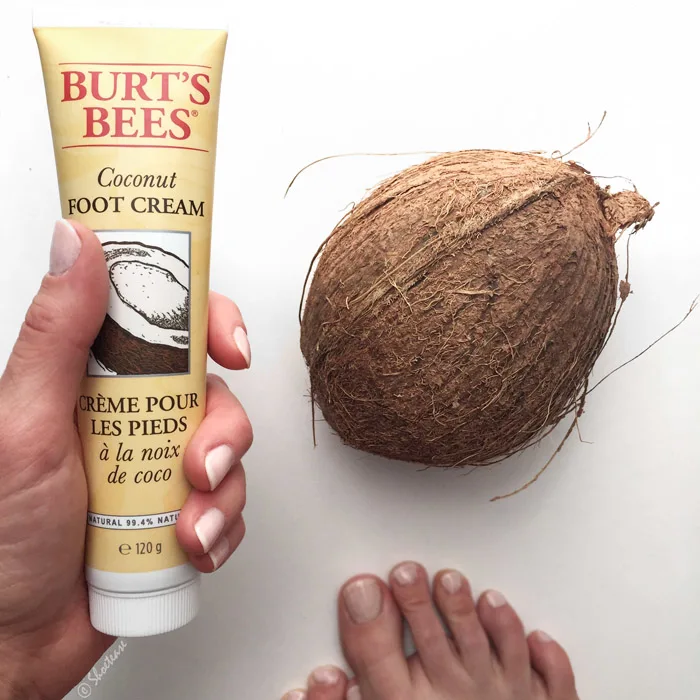 I don't know about you, but my skin is still feeling flakey & feet are in disastrous shape thanks to last winter.
Needless to say, my feet really need some love as I haven't been doing my due diligence. They are regularly dry & I should know better. So I was happy to come across a product that was new to me.
Now, before using the foot cream, I followed their instructions, which I would suggest you do before applying any foot lotion, really:
Soak feet in warm water for 10-15 minutes
Dry your feet & rub gently with a pumice stone (I personally rub ferociously, but to each their own!)
Massage the coconut foot cream into feet, paying close attention to heels and calloused skin (obvs)
Wear cotton socks overnight to soothe and seal in moisture (really important with this product, see why below)
I followed all the above mentioned steps & here are my thoughts:
Effectiveness: 9/10. It's an extremely slick & moisturizing product. Great for cracked feet. It makes your feet feel smooth & silky. They were literally shining as soon as I put it on & still 'glossy' the next morning! The best natural foot cream for dry feet that I've experienced in a long time. Just be aware that this isn't a product you can just put on right before sliding into a pair of flip-flops. It takes a while to absorb & your feet will be slippery, so I highly recommend keeping those hydrated feet inside some cotton socks.
Scent: 8/10 It has a pleasant rich coconut scent, with a light burst peppermint. Of course, smell, like taste, is relative, but I love it!
Consistency: 6/10 Calling it a foot "cream" is really a misnomer. I was expecting it to have a thick, hand-cream like quality. You know, "cream" + "cononut" in my view = thick. But this is one VERY liquid product. It basically has the consistency of warm, gooey honey. I learned that the hard way after I lost a ton of product to the floor & my clothes, (thankfully nothing got stained!). Note: open face-up to avoid spillage & do the need au naturel. Yes, I mean naked.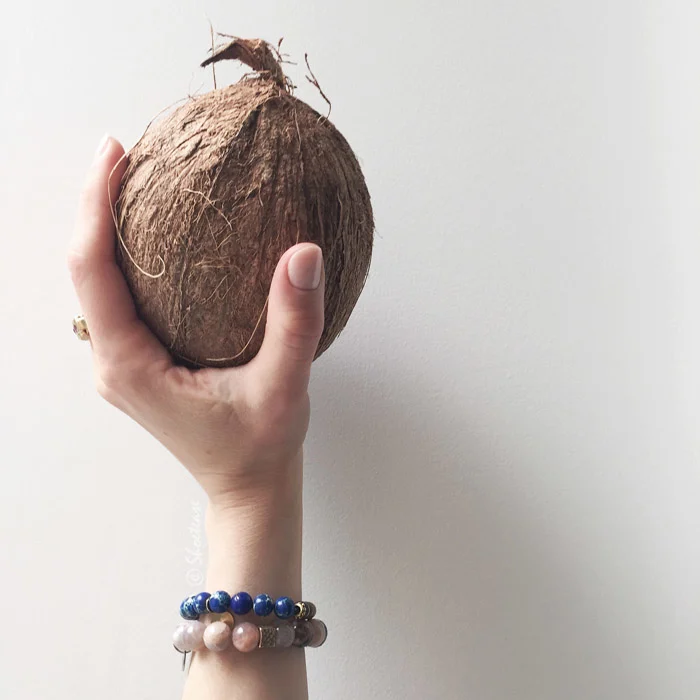 Other facts about Burt's Bees Coconut Foot Cream:
Cost: $14.99 CAN per 120g tube
99.4% natural
Not tested on animals
12 month shelf-life
Recyclable packaging
Not a vegan product
Overall this natural foot cream does what it's supposed to do: moisturize even my own dry, cracked feet. And if you're willing to overlook the runny consistency, then I highly recommend it.
It's a great way to attain get-ready feet just one sock-filled sleep away!