Styled: Fringe Sandals, Off the Shoulder Stripe Top & Oversize Bag
"They" say you shouldn't incorporate too many fashion trends into one outfit & I agree. Since my shoes are usually fairly trend-based (or just plain weird!), I try to keep my other "trendy" clothing items to a bare minimum. Usually one. In this case, I decided to pair my fabulous brown fringe sandals from Ssh-oes with an off-the-shoulder stripe top.
Turns out, it's a little Audrey Hepburn meets Arianna Grande. Only without the ponytail 😉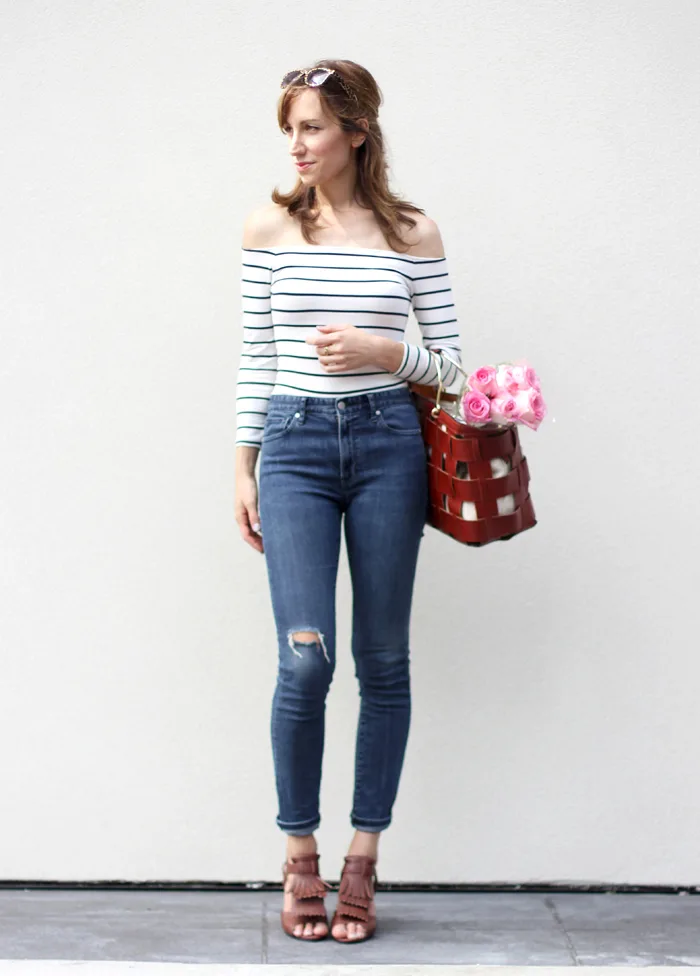 Brown Fringe Sandals: Ssh-oes (also similar below), Off the Shoulder Stripe Top: H&M, Weave Bag: Zara, Skinny Jeans: old (similar below), Maniure & Pedicure: Jamberry Nails
Shop the Look:

Instead of going for one of those ubiquitous frilly styles out there (which are cute, but I've seen enough of them to last me a lifetime!) I went with a tight off the shoulder top. This, I also found to be the perfect cold shoulder top that actually stays put.
As I mentioned in a previous post when I wore a loose tropical off the shoulder top, these shouder baring tops take a lot of getting used to. You know, hard to get around in, all the while attempting to avoid a wardrobe malfunction.
This cheap (under $15 in the US, $20 in Canada) yet cheerful little striped bodycon version of the popular top, does not! And it's also a great piece to accentuate the shoulders (obviously) while making a small chest area look, uhm, bigger than it really is! Way to work with those horizontal stripes when you're dealt them!
These comfortable heels are of the 2 Spring/Summer Ssh-oes from this quiet shoes brand that I recently reviewed. They're comfy, chunky heeled sandals that will pair well with almost everything. Including this woven faux-leather bag of almost the same shade!
Cutest thing about these sandals is their three layers of kiltie-like fringe, giving them a ton of depth and extra interest. A dowdy pair of brown heels these are definitely not! They also come in brown 🙂
xo Cristina
Cristina is the chief editor, fashion & shoe expert here at ShoeTease. As a seasoned stylist and women's fashion & shoe designer, she boasts over 20 years of experience in the fashion industry. She loves crafting effortless outfits for ladies both online and off and believes that styling advice should be accessible to everyone. Whether you're a styling pro or just starting out, Cristina's here to guide you on your fashion journey! Learn more.