As you may already know, I went outfit & shoe shopping at Dixie Outlet Mall (& through this experience gained a new perspective on how to wear platform sandals. But more on that later…). With $200 to use up in as many shops as possible, I had 1 specific mission: putting together an outfit while saving as much as possible. Now that might seem easy enough to you, but the "She Who Hunts Finds" challenge came with a bunch of it's own, well, challenges!
But first, here's the outfit:
(Fab Photography by Che Rosales)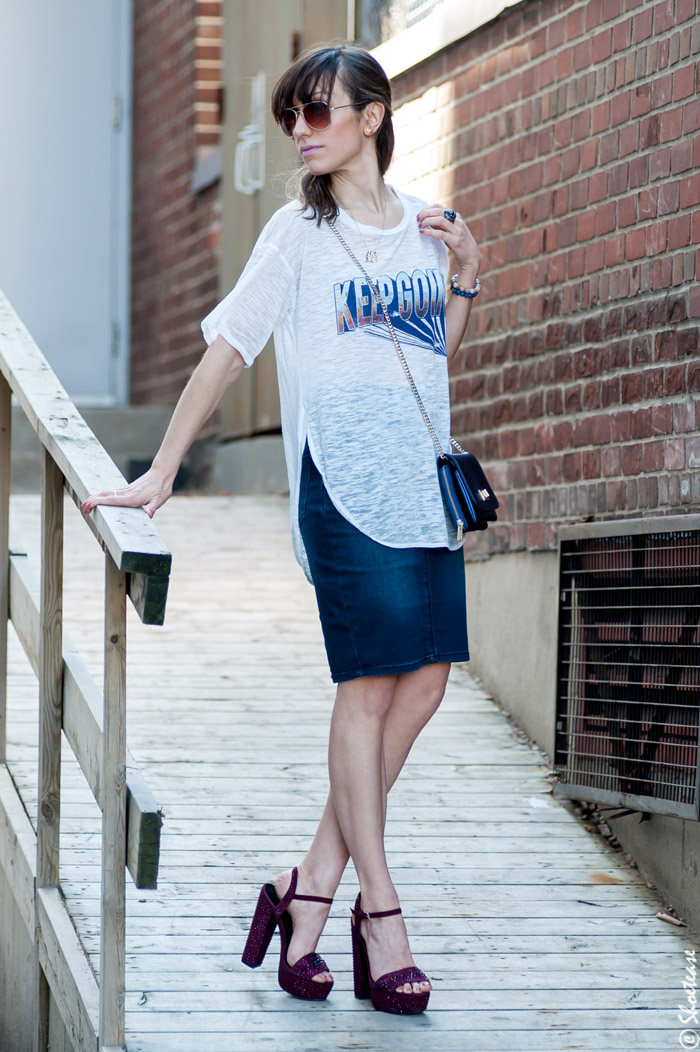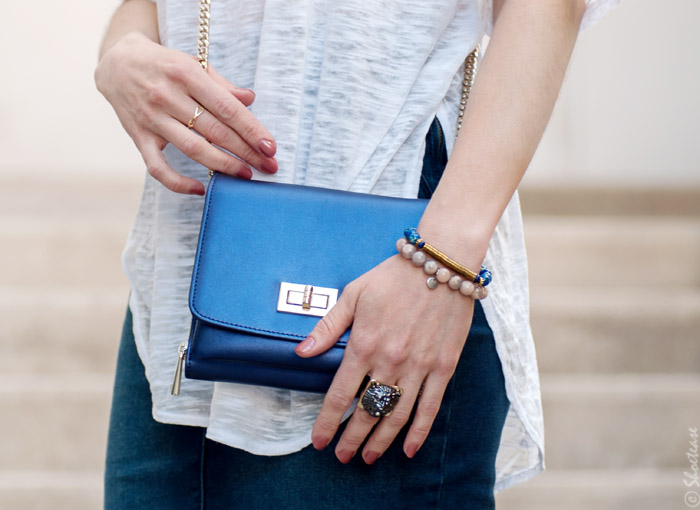 I swore to myself that I had to find the trendiest, most OUT THERE shoes & I think I accomplished that. My heart was set on a 70s look complete with killer platform sandals & a pair of new flares. I lucked out with the former–a sparkly pair from Aldo–but since the only flare jeans available in my size were from the Guess Factory Store & weren't long enough to work with these über platforms, I had to devise another plan. I've always equated how to wear platform sandals with flare pants, myself. But as there is nothing worse than having the wrong hemline with the right shoes, I headed back out to see what alternatives I could find. Because NO, I was definitely not letting go of these chunky heels! Luckily, I spotted this cute high-waisted denim pencil skirt from Guess. The rest came relatively easily:
A trip to Aéropostale for the printed t-shirt (love how the seams part at the sides& hangs low in the back to hide my newishly acquired "winter-was-far-too-long"derrière).
Danier Leather Outlet for the purse. It actually took me a while to decide…sooo many choices! I love the metallic sheen on this little cross-body & its spectacular deep blue color.
Then I grabbed these aviators from Sunglass Outlet.
Last, but not least, I found gold jewelry to match the purse hardware: a pretty monogrammed "M" necklace, arrow stud earrings, Katy Perry Collection lion ring with pearl insert (too cute!) & infinity ring, all at Claire's for $2 a pop. Huge clearance sale on already discounted merchandise. Lucky me!
…..When I checked with Guest Services I had spent a total of $199.98. Mission accomplished! So how did I do in the savings department?
How much I saved at Dixie Outlet Mall
Platform sandals: Aldo Shoes – saved $90
Denim pencil skirt: Guess Outlet – saved $15
Tee: Aéropostale -saved $8
Purse: Danier Leather -saved $60
Aviators: Sunglass Outlet -saved $7
Earrings + Necklace + 2 Rings: Claire's – saved $30.35
Total: a WHOPPING $210.35 in savings. Beat that!
So I got this outfit for over 50% off, while aiming for as many quality items as possible. Hmm…I think I must be some sort of discount shopping superhero BWAHAHAH!
But I did have some obstacles that were thrown my way during my Dixie Mall adventure. Let's just call it my shopping "kryptonite" shall we? You know, because shopping & blogging ain't that easy, folks 😉
Some of the shops had Spring 2015 merch in addition to their outlet stock that wasn't on sale or discounted, so I had to exclude those items (meaning: lots of pretty things I couldn't grab!)
Trying to find separate pieces from different stores when you're perusing a huge mall of 100+ shoes & clothing retailers is tough. I wanted to put 5 different outfits, not merely 1!
I shouldn't have pre-planned an outfit in my mind. My own stubborn stupidity, really; I should have just gone with the flow when I got there. Especially since I had never been & didn't know what to expect.
I wanted to buy a zillion pairs of shoes, which temporarily (but ever so often!) distracted me from my mission. You can see a my thorough shoe shopping experience at Dixie Outlet Mall here. So many great buys!
I got hungry from all the walking & ignored it for longer than I should have. Shopping while hungry is never a good idea!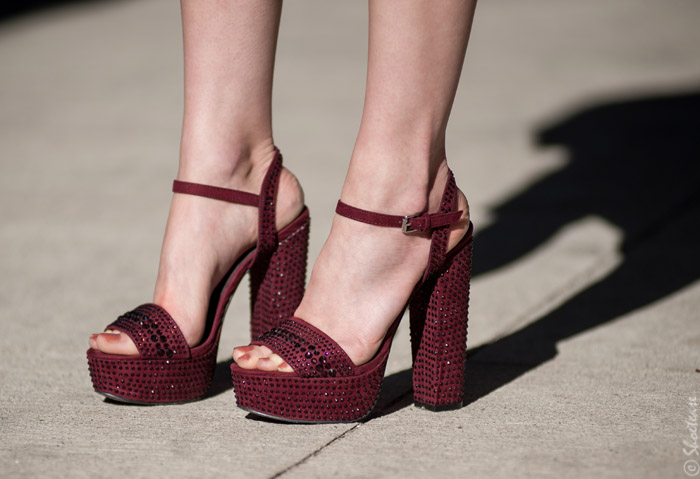 I hope I've motivated the deal-hunter in you & inspired you on how to wear platform sandals sans flares! I mean, just because they're a 70s comeback shoe trend, doesn't mean your whole outfit has too look like it came straight out of the era! Yes, I've learned that too 🙂
Now here's your chance to find your perfect outfit by entering to win your own $200 Dixie Outlet Mall gift card!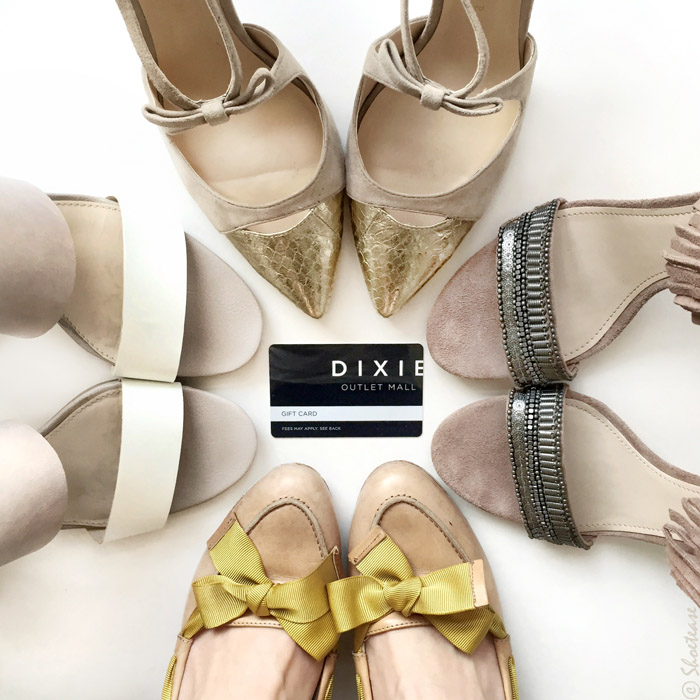 NB: Beaded bracelets c/o Psihii & jacket were not purchased at Dixie Outlet Mall.
CONTEST IS NOW CLOSED. Thanks to all who entered!
Contest starts Sunday May 4, 2015 12AM and ends May 11, 2015 12AM. 1 Dixie Outlet Mall gift card worth $200 CAN can be won by 1 winner only. Winner will be announced the following week, randomly drawn by Rafflecopter. The winner will be contacted by email and will have 72 hours to claim their prize. Prize is non-transferrable. Applicants must be over 13 years of age and be residents of Canada.
Good luck!
xo Cristina M.
**This post is brought to you in collaboration with Dixie Outlet Mall. All opinions expressed are my own**