In my quest to get my hands on & feet into more black shoes (guessing I'm the only shoe obsessed gal on the planet who strives for this kind of shoe banality as some might call it!), I found an unlikely candidate in the western style ankle boot department.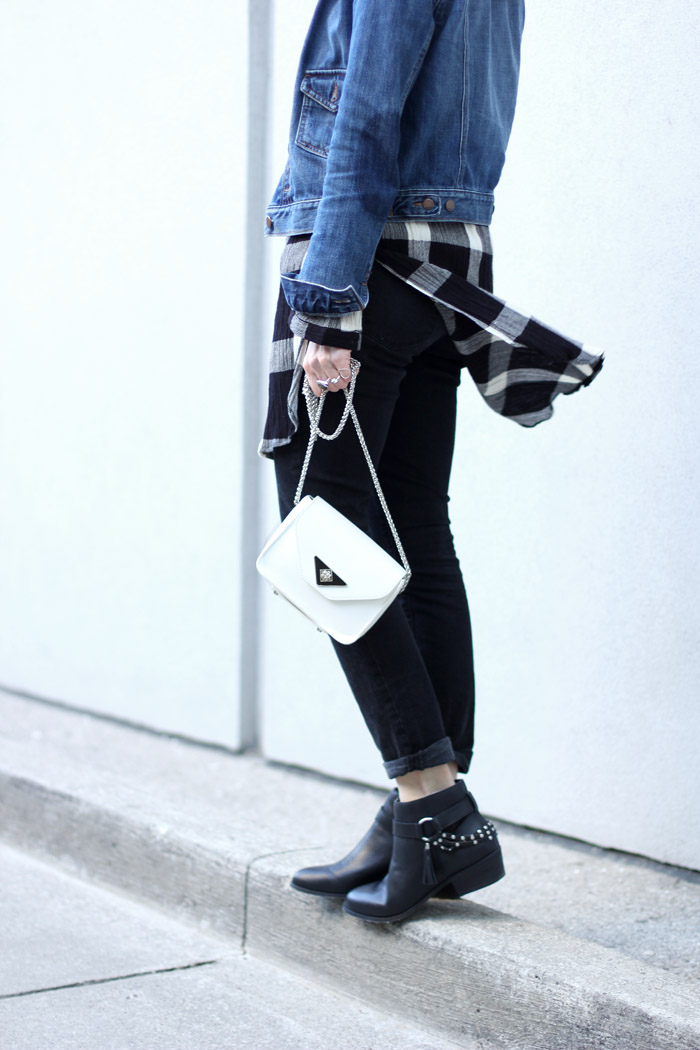 Western Ankle Boots: c/o Chinese Laundry – on sale! Check shirt: Zara. Denim Jacket + Skinny Jeans: GAP. Rings: c/o Winners & Shop for Jayu.
---
RELATED POSTS:
---
I'm calling these an unlikely footwear candidate. Because, plainly put, I'm not a huge fan of Western boots at all. It's just never been an aesthetic I've naturally gravitated to.
However, give me a cute ankle boot inspired by both cowboy and moto boots, add some extra metal studs & tassel detail and I'm sold. I'm a true sucker for edgy footwear!
Not only that, but these black ankle boots are made of a great looking genuine leather & are a cinch to slip & out of. With enough of a heel to give me a lift, but a low & wide enough one to keep me comfortable walking all day, these are quickly become my go-with-everything boots. And of course, there is no denying that low boots are the perfect boots to wear with skinny jeans!
Definitely a shoe closet staple for transitioning into Spring (or away from it)! Truly happy I gave these Western style ankle boots a chance 🙂 They will look so cute with even the plainest of Spring dresses. I can't actually think of a dress or outfit these wouldn't pair well with!
But for now I'll stick with some serious layering amidst the hot/cold/warm/freezing temperature jumps we're having here in Toronto.
Worth mentioning that these Chinese Laundry "Seasons" boots also have a dense rubber outsole with decent traction, which alway helps with these on & off Spring showers!
What's your go-to Spring footwear style of choice?
Photography – Leonard Shen
Check out more street style <— here!
xo Cristina