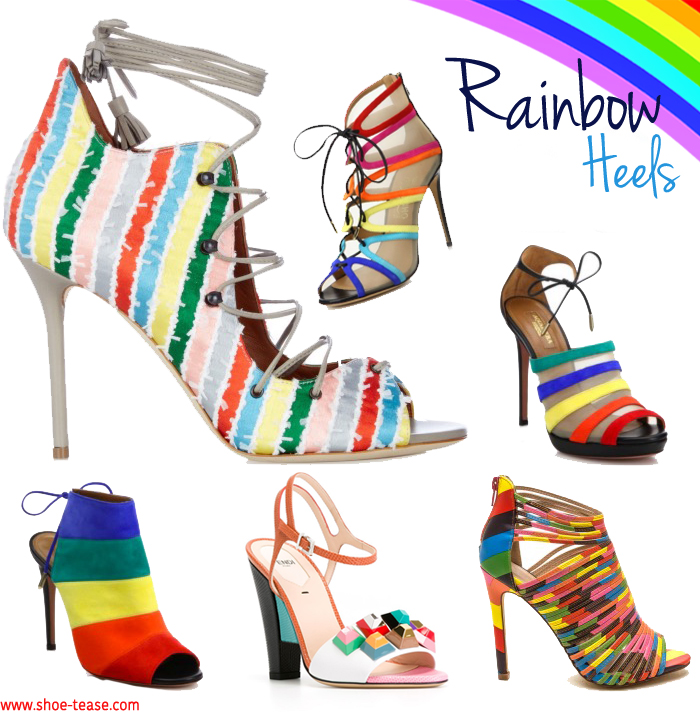 While doing a little online window shoe shopping in many a shoe e-boutiques, I instantly fell in love with Aquazurra's rainbow peep-toe sandals. And after a bit of poking about I noticed that rainbow colored heels seem to be quite the trending shoes right now. And don't worry non-heel wearers: multi colored flats are also available for Spring 2016!
Micro Trend Spotting: Rainbow Heels
The many designers partaking in this footwear micro trend are doing a great job at delivering a great selection of these multi toned delights! I believe my first Spring 2016 shoe gush was over Fendi's rainbow studded sandals, snapped by me below. Spotted at Holt Renfrew in Toronto last week, I've had a difficult time getting them out of my mind! And they come in so many versions, it'll be difficult to find one you won't like.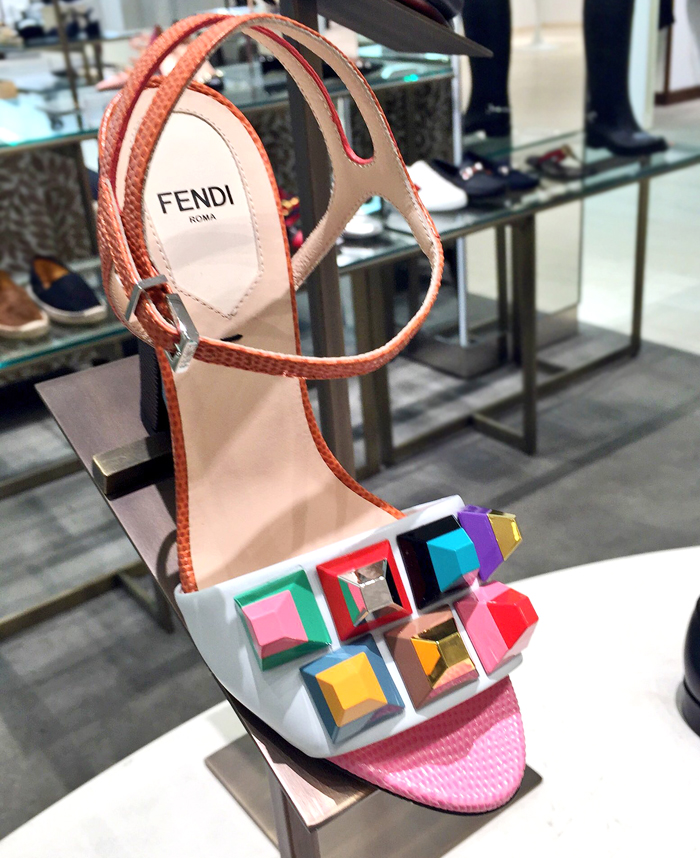 Aquazurra, of course, takes the rainbow cake, with a slew of perfect rainbow sandals to fawn over for days. If I could afford these, I'd take one in each style, please & thank you!
Hover over each shoe, below, to get shoe details & where to shop:
Shop all Rainbow Heels:


What to Wear with Rainbow Heels?
Although rainbow fashion can often be perceived as tacky, rainbow shoes are a fun deviation from the everyday shoe, whether it be a stark black pump or a bright blue sandal.
Rainbows are so punchy & multifaceted, it's hard to not take notice. And if you're wearing pretty rainbow heels, then you'll be noticed for all the right reasons! Quirky shoes usually do that 😉
Which is why rainbow heels, flats, sneakers & shoes in general will look best with white or denim. Keeping it simple is key, so you can go neutral or pair with one of the hues in the shoes. Personally?I'd just go with a denim cut off jean & a crisp white shirt. It's what all the cool kids are wearing!
Would you get your feet into a pair of these stripey shoes this Spring? If not, maybe Rose Quartz shoes are more for you!
xo Cristina