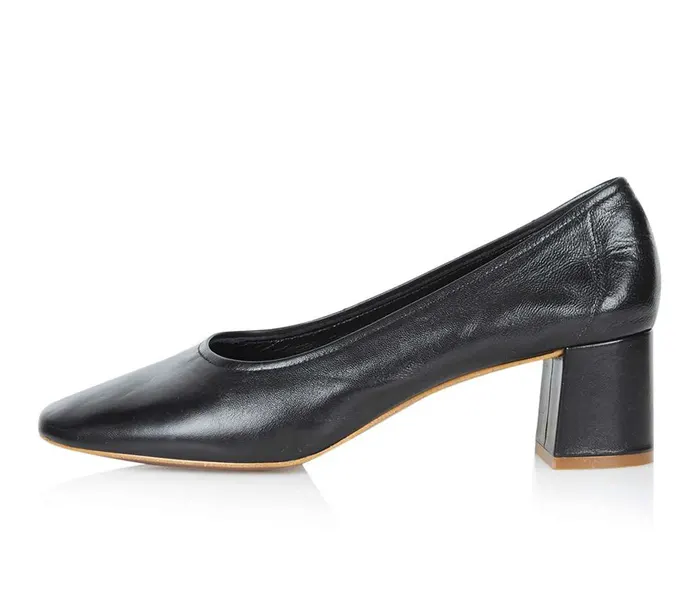 Lack of toe cleavage. Check! Chunky heels. Check! Low heel height. Check! Rounded-meets-square toe. Check! Yep, all of these components make up the aptly dubbed grandma shoes. Love them or hate them, granny shoes are one of the current Spring 2016 shoe trends that are hard to unsee.
Let's discuss…
OK, so old lady style shoes aren't new. We've seen Chanel's black cap-toe sling-backs all over the concrete runways, worn by fashion editors & bloggers alike. (This here is a pretty good dupe, if you're interested). And homely Maison Margiela-esque pumps appeared here & there last year. And let's not forget Ferragamo's "Vara". Ick.
I initially debated sectioning this article off to the ugly shoes section of the shoe blog, but it's too much of a blossoming trend not to list it as such. And it has certainly come to the height of its popularity. Or maybe that's just me hoping.
With various fast fashion brands developing their own equally horrid versions (image above from Topshop – $132), using Lanvin's ballerina pumps as a jumping off point (right below – $595), my point is pretty much proven.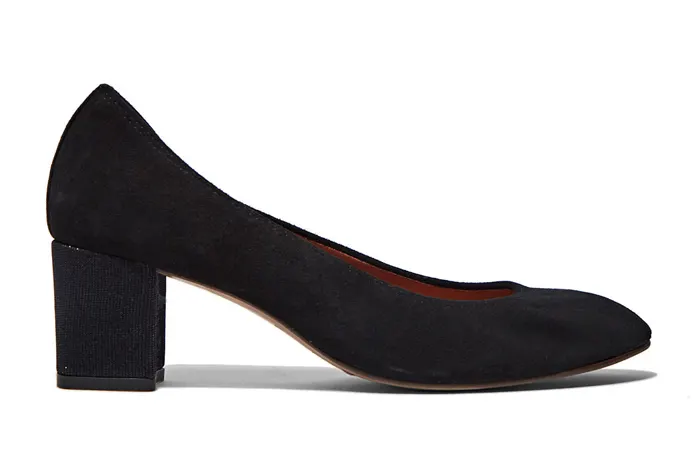 These old lady shoes are like ballerina flats with an elastic opening (that already have no appeal to begin with), put on a stumpy heel. And although I do love me a good blocky heel, these trending shoes lose their quasi sexy chic factor, when mixed with the other more "homely" footwear elements as delineated above.
But that's the Italian-shoe-designer-loving me talking. Looking fuddy duddy-esque is apparently all the rage & the look the cool fashion IT girls are striving for. And with a very French laisser faire, don't-need-to-please-anyone attitude, these will be difficult for anyone other than a purebred Parisian goddess to pull off. Or those that are just too darn gorgeous & feel their beauty must be dulled down by their footwear. Because, you know, nothing accentuates our coolness more than doing everything in our power to pretend we're not!
I mean, I feel your pain, lovely readers. Sometimes we must choose not to shine. Allow our sparkle to me dulled. Or however you want to put it. I totally get it. And this trending shoe is certainly capable of achieving that end.
So if you're one of these tall, drop dead beautiful ladies who just needs them shoes like grandma had, here are the "greatest" (by that, of course I mean least appealing) picks in store for Spring 2016. Yes, I know it too: grandma would be proud. I think.
But upon reflection, not all of these old lady shoes are all that bad. They're certainly not completely geriatric in quality. I think we've all seen worse. Then again, that's not saying much.
So I've divided this post by hard core granny shoes (extra ugly points for opting for the white or tan versions!) vs. the lesser evil versions. You know, the ones some of us might consider wearing. Maybe in researching this post & looking at so many of these shoes, I've become numb to their blandness!? You tell me!
1. Grandma Shoes: The Real Deal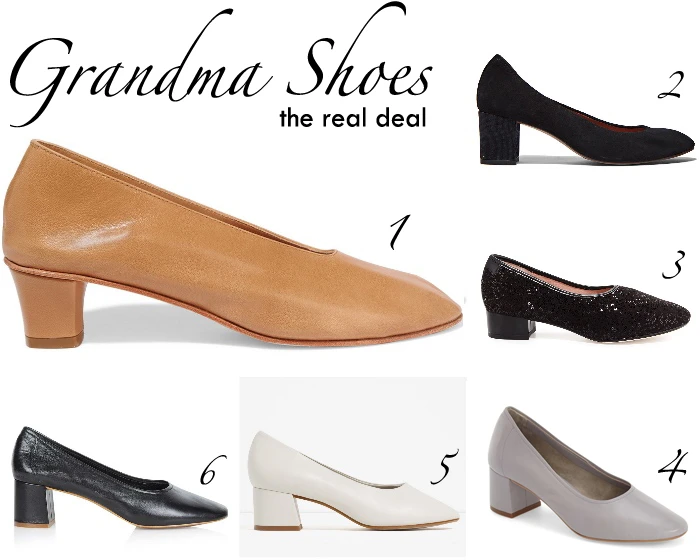 1 Martiniano. 2 Lavin. 3 Taryn Rose. 4 Topshop. 5 Zara (here). 6 Topshop.
---
Shop the Shoes

---
I would personally scare my neighbours if I wore anything like these shoes for grandma. Then again, I do lack the leg height & svelteness to pull them off (not to mention my lack of high end designer handbag & perfectly tailored coat required to steer one's gaze away).
However, because the concept of a lower, larger heel & comfy slipper-like upper does sound appealing, I have also selected some not-quite-as-ugly options to suit the lesser victims of fashion, below. You'll noticed I've added my own reasoning as to why this selection is not so terrible!
2. Grandma Shoes with (some) Appeal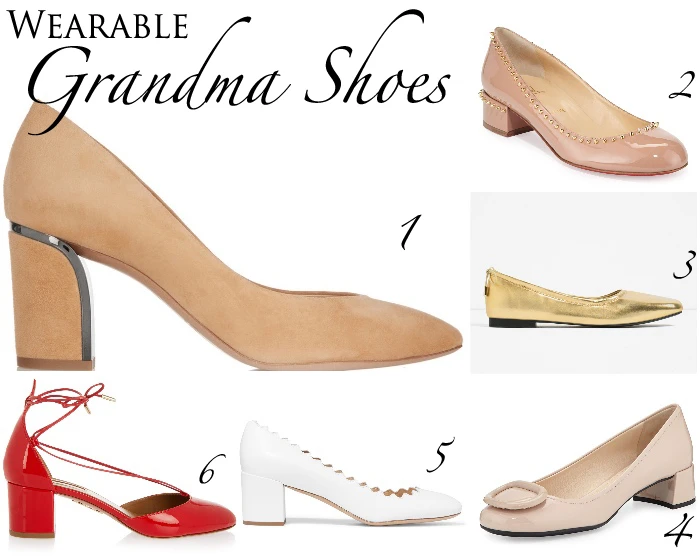 1. Chloé: the extra heel height & metallic detail gives it an edge
2. Christian Louboutin: studs & extra toe cleavage anyone?
3. Zara (here): just not so bad in flats: homeliness expected
4. Prada from Neiman Marcus: so retro looking, it's pretty much vintage
5. Chloé: scalloped detailing steals the show
6. Aquazzura: Red, patent & strappy. Need I say more?
---
Shop these Shoes

---
Blame it on a higher heel, a lower vamp (translation: shows toe cleavage!), an interesting detail or a retro MOD feel, but some of grandma shoes are more 'wearable' for the less than supermodel statured woman. For instance, I'm oddly attracted to the grey suede pump below, from Shoes in Italy ($119), with its thinner heel & metallic detailing.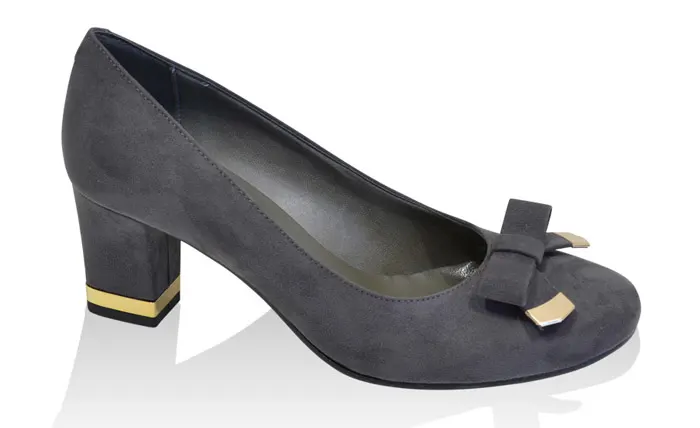 It's surely no coincidence that most of the above are high end designer styles. Then again, Lanvin came up with the worst of the bunch, so maybe it is!
What's your take on granny shoes? Would you ever wear them?
xo Cristina