I usually opt for sensible shoes, but every so often I run into a pair of heels that are too difficult for me to pass up. Just like these amazing clog-inspired, wooden platform heels with black patent leather & gold studs from Nine West. I couldn't help myself. Kinda like I couldn't with this tropical print off-the-shoulder top. It's a little insane too (and for more than the bright colors!).
Spring Outfit with Wooden Platform Heels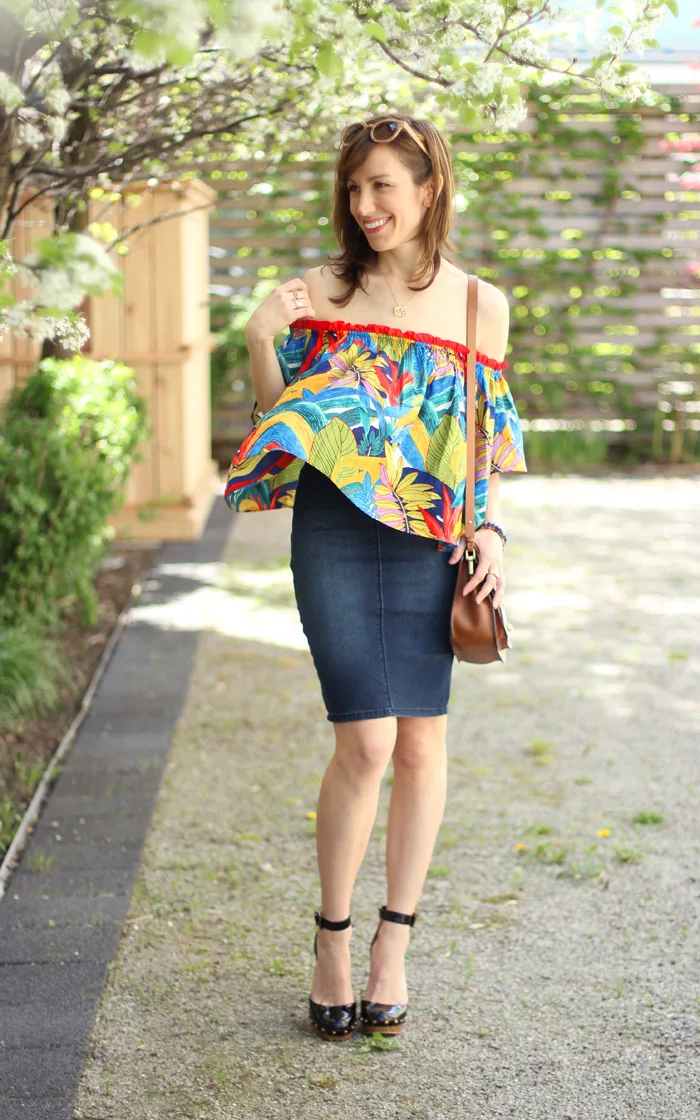 Wooden Platform Heels: c/o Nine West Canada (on sale!). Brown Purse: Zara (May 2016). Gold Leaf Earrings: Shop for Jayu. Beaded Bracelet: c/o Psihii. Off the Shoulder Top & denim pencil skirt: old, see current options below.
Shop the Look:
---

---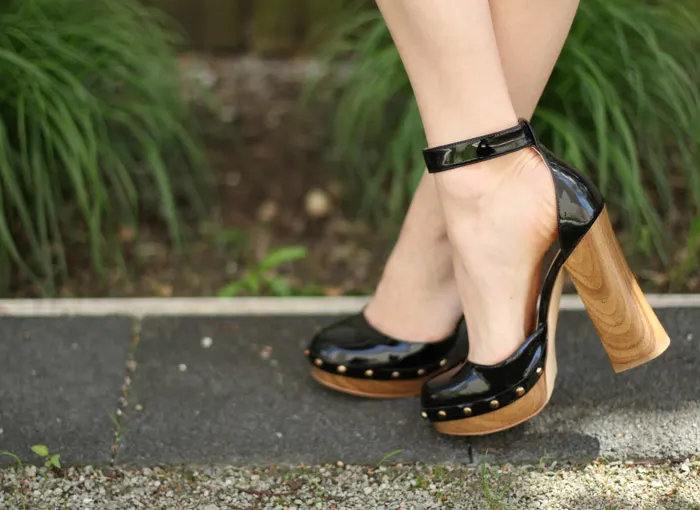 You'd think being confronted with such out-there heels like this Nine West "Cuzin" style, that there'd be a lack of clothing options to wear them with. Yet, there are so many outfits from my wardrobe that I could style them with, I had trouble condensing it to just one for this post! Perfect with maxi dresses, wide leg jeans or a cute little romper, they're a cinch to pair up. And in all of their 5″+ high heeled glory, it's become in essence, they are actually pretty neutral.
Now, these platforms aren't actually made of wood, but the wood effect on the heel & platform were an instant sell to me. Not only are platforms & wooden heels a prominent Spring 2016 shoe trend, but this wooden look with its realistic grooving & detailing reminiscent of a clog (gold studs included) was just too fantastic to go unnoticed & not become part of my overflowing shoe closet.
I spotted them the first time at the Nine West Canada Spring 2016 preview & was completely taken aback by the crazy! I mean, they are 70s style clog heels with curved, insanely high heels & patent leather uppers. They also come in a fabulous cobalt blue suede, beige snake print or warm brown leather. In any colorway, your everyday minimal heels these are not!
And neither is this off-the-shoulder top. It's bright, tropical & quite frankly, I have no idea how anyone can walk more than a few steps in these things & not have them snap right off the shoulder & in/around one's neck. Bought last year from Anthropologie, without having had a chance to wear it until this Spring, it's certainly is going to be challenge to keep on without flashing the world, unless I don't move my arms. I'm Italian, so you can imagine how utterly impossible that is going to be!
So back to these NW wooden platform heels: they are fabulous, but are they comfy? Ok, people they're over 5 inches, what do you think!? I have to admit that although I won't be wearing these anywhere I'd need to walk more than a block in, they're not in any way painful.
Chalk it to the 1″ platform, block heels, padded sole or rounded toes, but the difficulty for me is more my ability to walk gracefully in them. Then again, I am the wimpy shoe blogger used to strutting in a maximum height of 3.5″ heels, so take my comments as you will 😉
See more outfit posts <– here!
xo Cristina
Cristina is the chief editor, fashion & shoe expert here at ShoeTease. As a seasoned stylist and women's fashion & shoe designer, she boasts over 20 years of experience in the fashion industry. She loves crafting effortless outfits for ladies both online and off and believes that styling advice should be accessible to everyone. Whether you're a styling pro or just starting out, Cristina's here to guide you on your fashion journey! Learn more.