WARNING! The following images may offend most humans & certain animals.
Most of us peek at runway photos from the world's most fashionable cities in search of shoes trends & fashion inspiration for the upcoming seasons. But have you ever found yourself somewhat miffed to utterly appalled at the ugly shoes certain designers have in store for us? Well, folks, this season is no exception. And from the responses to my Fall 2015 Shoe Trends post, you certainly feel more baffled than anything! Riddled with what both you & I deem to be a slew of offensive footwear, I present you with the 10 ugliest shoes from the Fall 2015 runways. Just hit "Read More" at your own risk, kay?!
10 Ugliest Shoes – Fall 2015 Runways
"To fug or not to fug" was recently answered with a uniform YES by 99.9% of the top designers presenting in Paris, New York, London & Milan. Yes, I get it, there's a need to put on a show (and what a show they put on for Fall 2015!) but was it at the expense of good taste? Possibly. But either way, they got what they wanted: a reaction. And one so gargantuan from ShoeTease that it warranted a full post.
And to be honest, I kinda love it. If you've followed my shoe blog since the beginning, then you know what my "Freak Shoe Friday" posts were all about. For those of you unfamiliar, I basically took a shoe that I truly disliked & dug into it like a shoe hating mean girl. I still do it sometimes. And usually on Friday. By the way, TGIF!
1. Prada's Futuristic Lego-Inspired Boots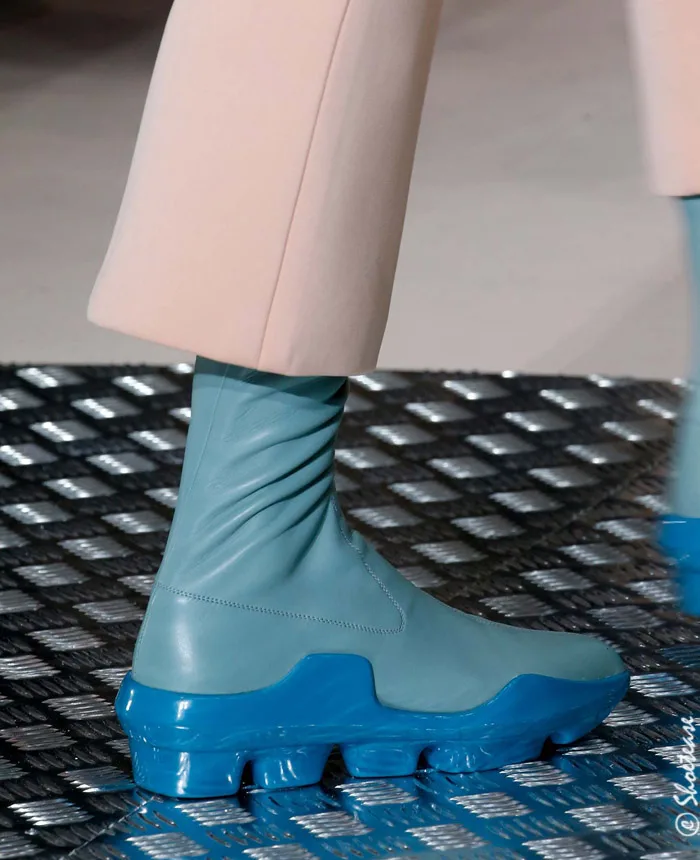 Actually, scrap that. These are more Megablocks than they are lego thank you very much! And I should know; I'm toddler toy schooled! But gosh darn, Prada, what shoe pickle did you get yourself into again this time?! I get it the 60s are back, but why-oh-why would anyone need to unearth them flawed futuristic visions of many a decade past? I don't know. But the mix of the shiny, Fisher Price-esque outsole & stretchy, latex-like boot shaft makes me cringe. And this, I'm a Lego lover myself. Take a look at these amazing Lego shoes & tell me you aren't smitten!? These ones shoes from Fall 2015? Not so much.
2. Fendi Plush Toy Boot Wedges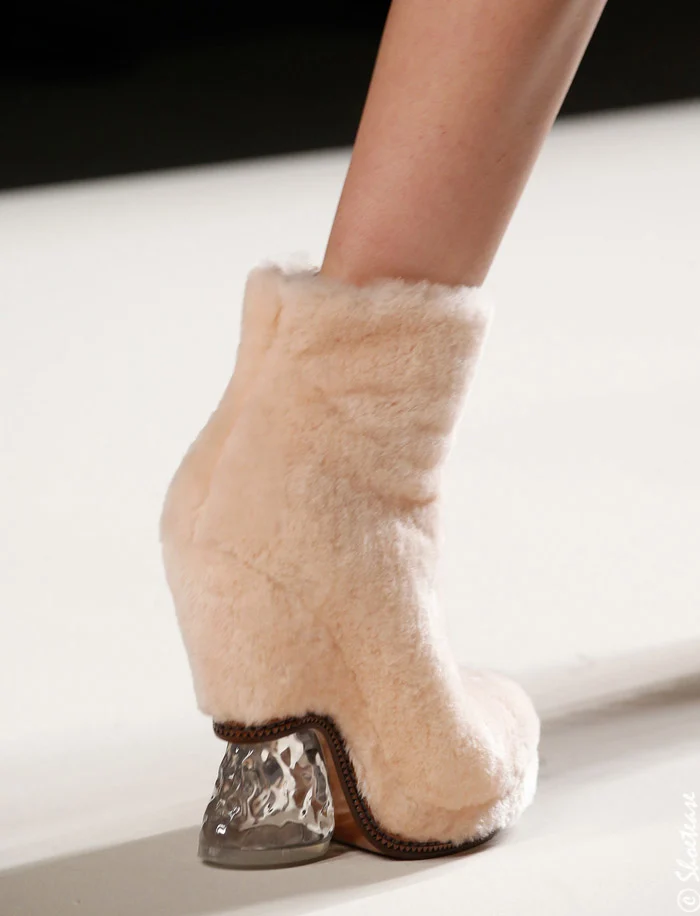 If this furry peach boot designed by Fendi were a stuffed animal, it'd be cute. I'd want to cuddle the sh#t out of it. Sadly, though, we are talking boots here, people. There's something to be said about keeping certain materials in their place. You know, kinda like thick carpet-esque fuzzy fabrics to the likes of, say, carpets (SHOCKING!), teddy bears & possibly even slippers. But put it on a high heel (even a very cool, textured plexiglass heel) & no one's having any of it. Unless you're possibly Susie Bubble or the Beckermann Twins. Or Furries (google it!) who want to take their getup to the next level with high-end footwear. But if you're more into clothing than costumes, better step away.
3. Maison Martin Margiela's Dowdy Dum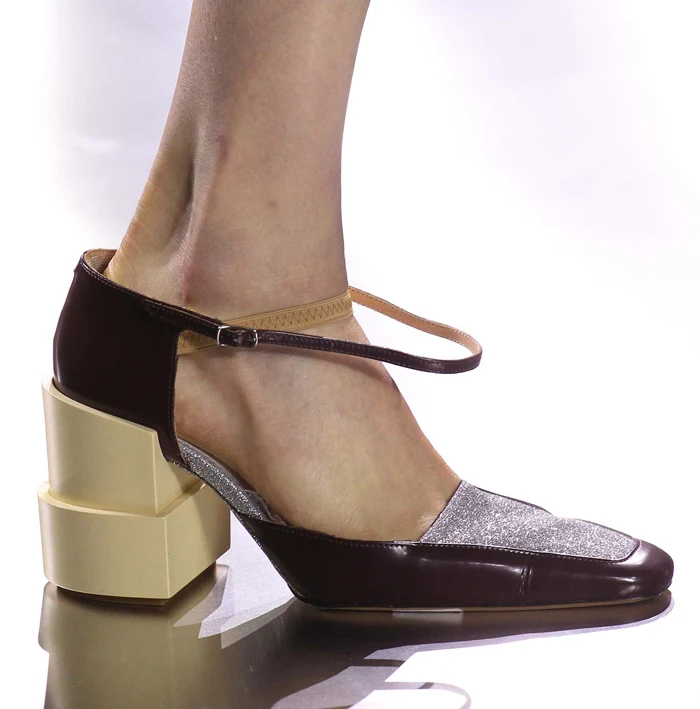 When I see a shoe such as Maison Martin Margiela's ankle strap pump, above, I want to say I get it. I want to say I understand the play of proportion, shape & aesthetic convention. But need a design so painfully ugly to look at? I mean, it's not quite a pointed toe, it's not quite a square toe. And don't even get me started on the 'flesh' tone ankle strap to compensate for the useless oversized one. Ugh. And the off-putting colors? Well, to give them some credit they did add a bit of sparkle!! Must be to avert your eyes from the rest of it. Not sexy & hardly avant garde, I say no thank you to one of the absolute ugliest shoes from the Fall 2015 runways. The double block high heel I could, however, work with. Just without the rest of the shoe!
4. Narciso Rodriguez's One-Eyed Monster Mule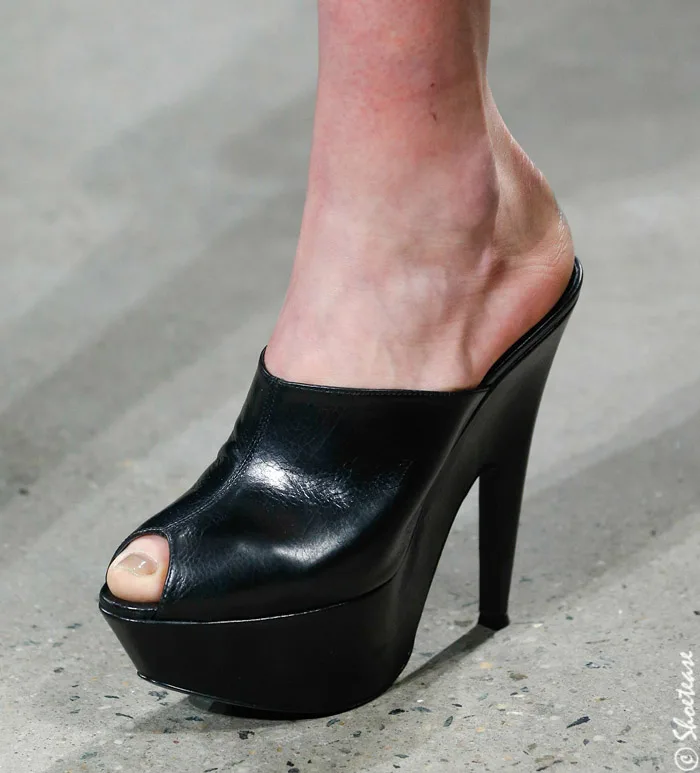 Peep toes are a bit of an issue to get just right. Open it too much & make it too shallow and it looks odd. Make the gap too small and it, well, looks like this. The shoe itself is not that bad, albeit a little stripper-meets-Rick Owen, but Narciso Rodriguez's shoe designer failed to take the "when worn" aesthetic into consideration. All I can see when I look at this slip-on mule is a one eyed shoe monster. Do you see it too?
5. Gucci's Toupée Shoes Times Three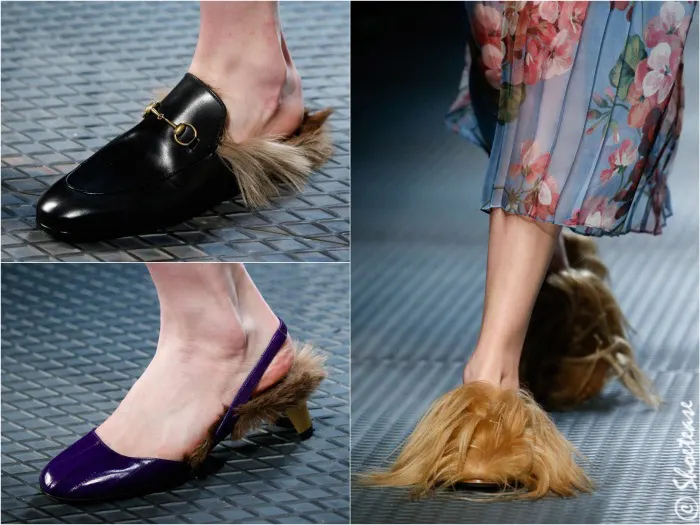 I really, really tried, but I couldn't pick just one. All three Gucci (yes, GUCCI!) ugly shoes from their Fall 2015 runway show are terrifying in their own special way. Although the slip-on loafer (which could have been a fine men's shoe influenced flat without the hair) is a kinda funny, the rest are appalling. The hairy toupée shoes are something one should use solely to make moping of floors easier. And the purple ones, with their furry back insole & looks-like-it's-about-to-snap-off kitten heel is frustrating just to look at! It could have been a cute little shoe without all the added elements. I'm crying a little inside now…Happy however that the Gucci shoes were altered for the better in retail stores. Check out the more wearable version of these silly looking shoes, below: is available at Net-A-Porter without the furriness. Still miffed about the heel on the sling-back though!

6. Bottega Veneta's 60s Latex Disaster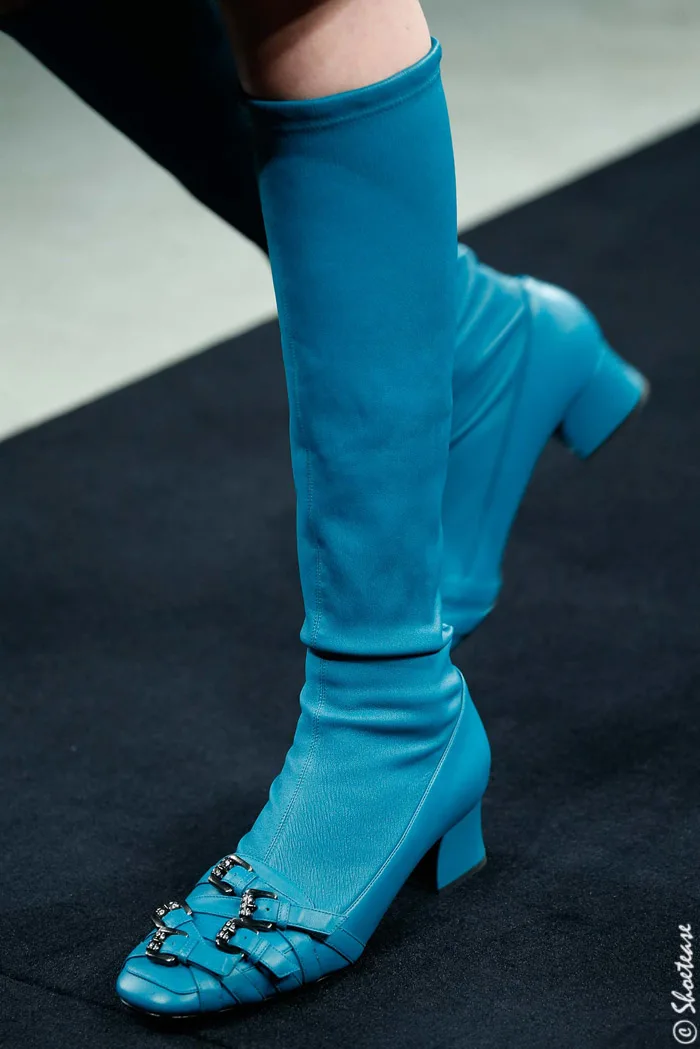 Ok, so I might have something against turquoise shoes with a 60s-era inspired aesthetic. I do get retro throwbacks & all, but to be so literal about it (low block heel & square toe) & in such a difficult color, no thanks. There's just nothing appealing about this shoe at all. The slightly fluted heel, the multi buckle front. Maybe I'm missing something. Are you hating on this Bottega Veneta shoe as much as I am? Because if you know the fantastic shoes this brand is able to create, I'm thinking the footwear designer has since been replaced.
7. Comme des Garçons Paper Bag Slip-Ons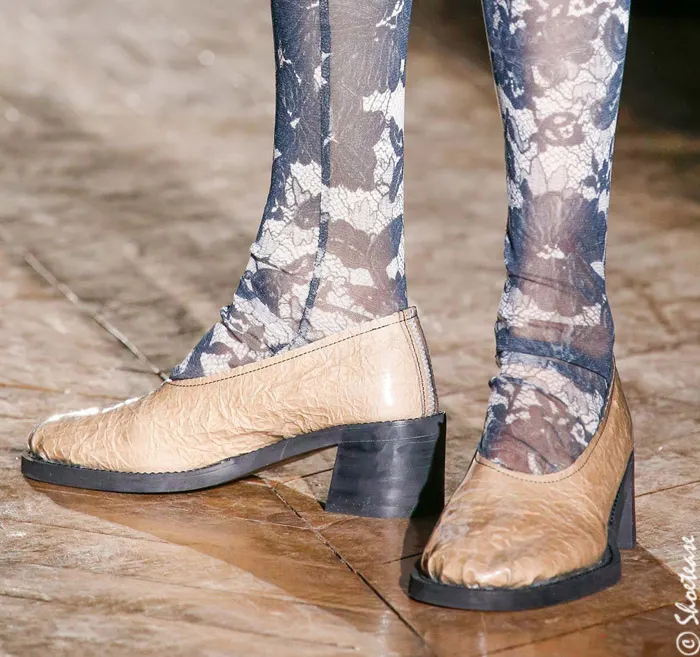 From the crinkly paperbag-like texture, to the crumpled upper meets outsole, I just can't come up with much to say about these chunky heeled Comme des Garçons shoes from their Fall 2015 collection. They're just that bad. And probably intentionally so. Which just makes me sad. Moving onto possibly more greener pastures….
8. Alexander Wang's Heavy Metal Flatforms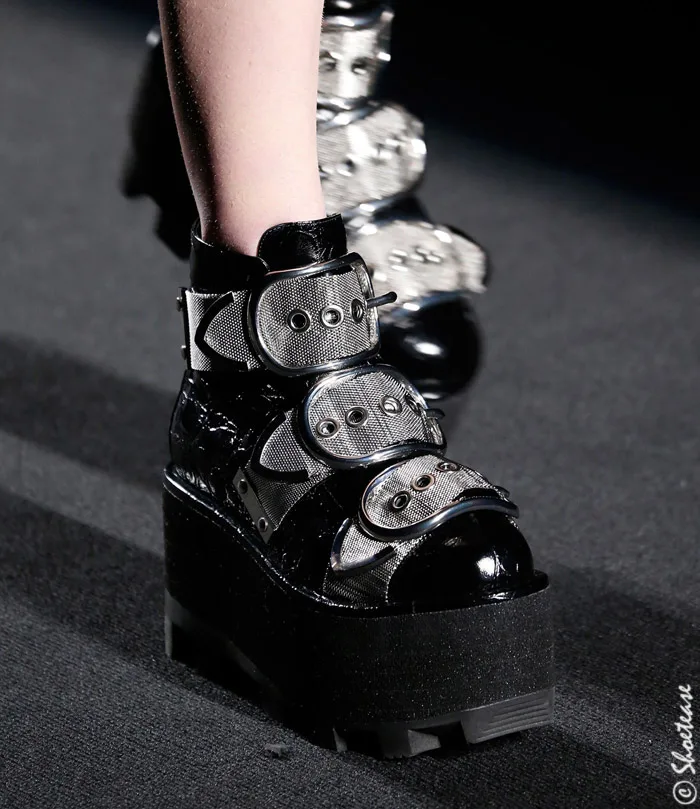 There are Emo shoes, then there are Emo shoes on crack. And to think he used to make wearable shoes, Alexander Wang does Emo so well. Too bad the other 99% will not find them suitable for either the office, casual meetings or formal footwear occasions. This is something a teen punk would wear. Possibly. I'm just not sure you can get 'em to don them at the designer price or convince them to swap their Converse Chuck Taylors for them either. Actually, I know! Vampires!! Yes, vampires would TOTALLY wear these! And that frightening kid from Tokio Hotel.
9. Vivienne Westwood's Hairy Beast Booties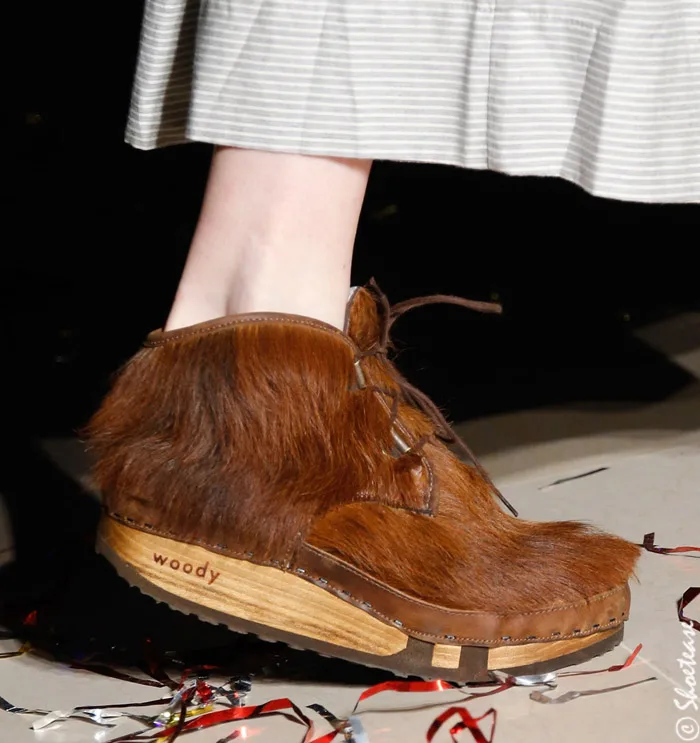 Unlike the Gucci's hairry shoes that are more amusing than entirely offensive, Vivienne Westwood's Yeti boots are the latter. I mean what ever happened to pony hair (calf hair) with its neatly trimmed coif? I. Just. Can't. With these. In the words of a five year old, these boots "make me want to barf".
10. Céline' Granny Bejeweled Poop-Colored Pumps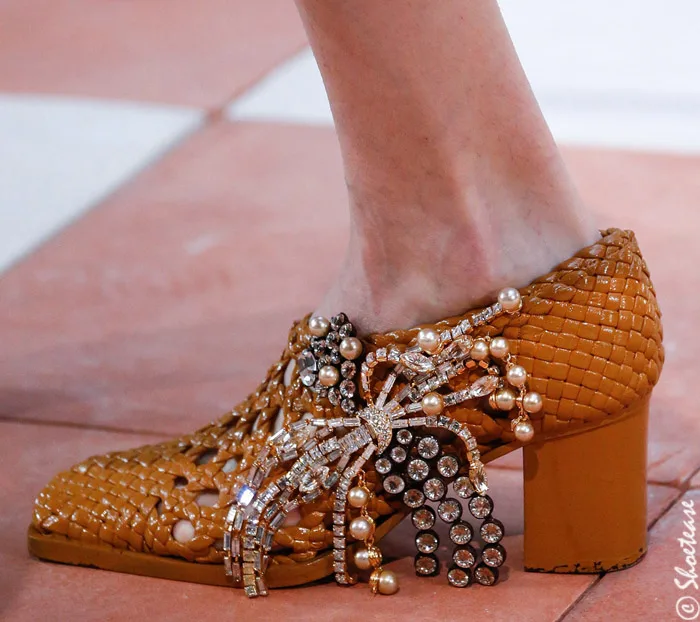 Speaking of bodily functions…another horror of horrors, more aligned with poo than vomit, if I may say so myself. And if you're thinking "that shoe doesn't look poop-colored at all", well, then folks, you've just never had a baby have ya?! Generally speaking, I'm more for sexy shoes. But I'm happy to extend my love towards different shoe types too. HOWEVER, what the heck is this monstrosity courtesy of Céline? Be it, the overgrown broche-like bling attached to the side is rather quirky cool with vintage charm, the rest of it makes no sense. First of all, a woven upper for Fall? Puhlease! Maybe this is meant to be inspired by something your great grandmother would wear? I don't know about your granny, but mine wouldn't be caught dead wearing these. And as she has since passed on, so I would know.
Tell me the truth: were your eyes terribly pained from the actual eye sore that were the top 10 ugliest shoes from the Fall 2015 runways? Well, you were warned, ladies & gents!! If you're a true masochist, take a look at other ugly shoes your favorite retailer is selling here. For those who'd rather look at something more elegant & refined, why not feast your pretty little corneas on the absolute best runway shoes from the Fall 2015 designer catwalks? Yep, there's a post for that too!
Did you find these designer shoes as ugly as I did?
xo Cristina
Photo Credit: style.com
Cristina is the chief editor, fashion & shoe expert here at ShoeTease. As a seasoned stylist and women's fashion & shoe designer, she boasts over 20 years of experience in the fashion industry. She loves crafting effortless outfits for ladies both online and off and believes that styling advice should be accessible to everyone. Whether you're a styling pro or just starting out, Cristina's here to guide you on your fashion journey! Learn more.