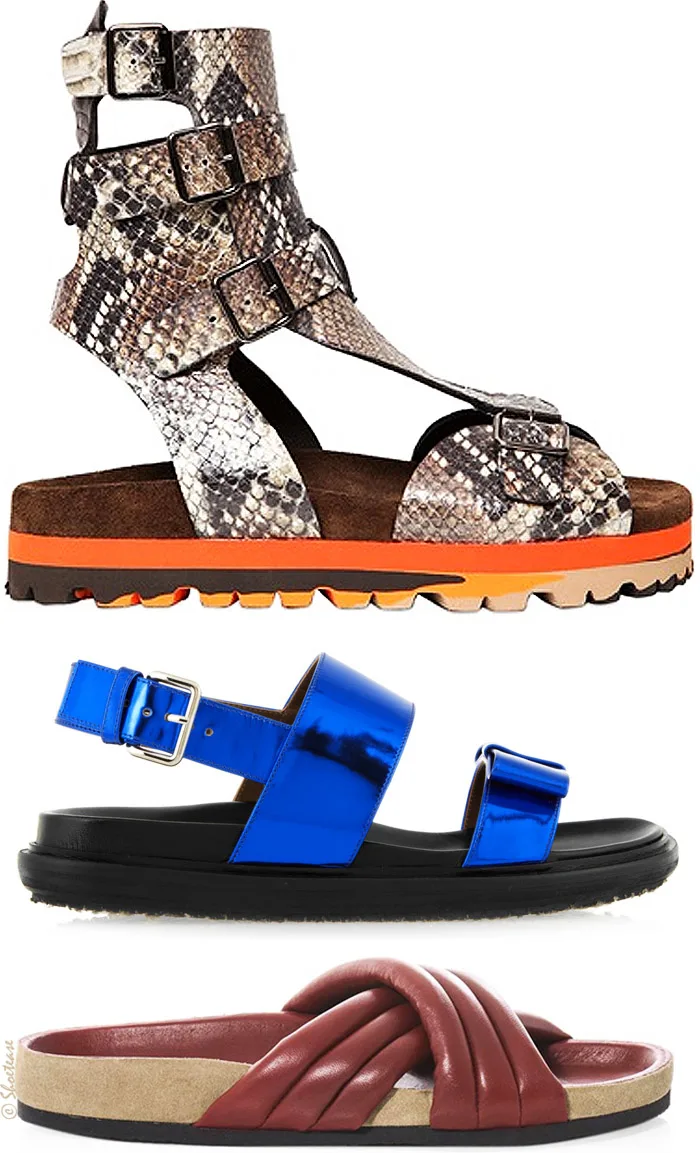 Top to Botton: MSGM python sandals, Marni cobalt-blue mirror sandals, Isabel Marant "Holden" slides
Designer Birkenstock & Teva-like sandals: I wouldn't categorize them as ridiculous shoes. I wouldn't really categorize them as ugly, either. Ridiculously ugly, however? Uhm, yep, that sounds about right. I mean, I'd get it if Jeffrey Campbell or someone of the calibre was creating & enabling a freak show footwear trend for Spring 2014. Or rather, creating another. It's been done many a time. Like here. Here. And here.
But for the likes of Givenchy, Balenciaga & MARNI (in my mind, being the worst, repeat offender of the season), to join in on the fun? No. No. And Just. No. But the most insulting thing about these weird-looking shoes (I'm gonna stop you right there – I don't CARE how comfortable they are!), is the cost. Up to $1000 for a frumpy looking slip-on. Are you freaking kidding me? Some "stylish" fashionistas are even wearing them all over Paris, New York in Milan with socks. And not just any socks. The tube variety (proof: here).
I mean, seriously, if you need to get onto the geriatric trend, just get yourself a real pair of Birkenstocks, which are non only cheaper, but actually designed for comfort above all else & then tack on some glitter. Rhinestones. Lacquer. Heck, even rocks. Whatever floats your boat. Just like Heidi Klum did a few years back. Actually, this sounds like an interesting DIY project. Keep an eye out for a post?! I may or may not be kidding.
But then again, people are still swooning over UGG Boots. So, really, what the heck do I know?!
That is all.
PS: Feel free to browse the wall of shame featuring the current offenders, below:
xo ShoeTease
Photo Credit: luisaviaroma.com, net-a-porter.com, google.com
Cristina is the chief editor, fashion & shoe expert here at ShoeTease. As a seasoned stylist and women's fashion & shoe designer, she boasts over 20 years of experience in the fashion industry. She loves crafting effortless outfits for ladies both online and off and believes that styling advice should be accessible to everyone. Whether you're a styling pro or just starting out, Cristina's here to guide you on your fashion journey! Learn more.