From Botox to giving the boot to natural hair care, here are the top 5 beauty decisions I made in 2018 (that I will likely repeat in 2019) that have had a positive impact on the way I look & feel.
I've been pretty lucky that most of my life I've had easy to manage hair, good skin, plump lips & makeup was just an added kick if I was feeling la-di-da. Easy to say that my relationship with beauty was fairly low-maintenance.
I'm no supermodel, complete with a broken nose & completely asymmetrical face, but I was dealt some good enough genes that didn't require me to do much to look, well, decent.
Fast forward 5 years and stress & age has finally started catching up to me. I mean, not so much to warrant any sort of self loathing, but seeing myself looking tired & weathered, made me feel tired & weathered.
So in 2018 I decided to take my experimenting with different products up a notch & dabble in more intense procedures that I was curious about. And to see if they gave me any results. I mean, if not now, when?
My Top 5 Beauty Choices of 2018
1. Rejuvenating my Hair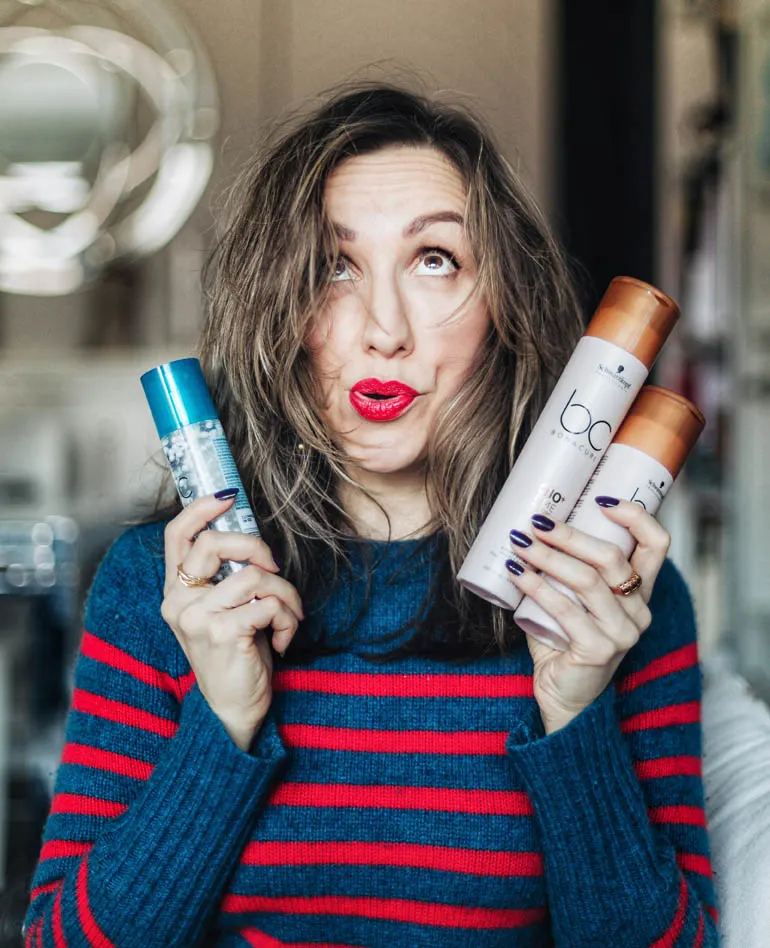 With age & after childbirth, my once bountiful head of hair started thinning out & sprouting serious greys. It also become dried out by the layers of highlights needed to cover up said greys. Ugh, can we ever win?!
Shitty to age, but grateful that I get the chance (just so you know). But I digress…
It's no secret that I'm a huge fan of natural, organic beauty. I even wrote a post about my favourite natural beauty products, last year. It's also not a secret that clean beauty doesn't cut it in some areas. Ageing hair being one of them. Well, for me, anyhow.
So I decided to try something a little different, after I attended the Schwarzkopf Professional event for their BC Bonacure line last Fall. It's the first of its kind to incorporate popular skincare ingredients into haircare & there isn't a fellow blogger I've met who doesn't absolutely love it.
After a hair specialist determined that the Q10 therapy was the best fit for my hair (no surprise that it's the "time restore" aka anti-ageing one, ha!), I began using the Q10 Micellar shampoo & conditioner and it has since transformed my hair. Friends & even the BF – who quite frankly notices nothing, ever– saw a remarkable youthful shift in the look of my hair.
I sometimes add in the BC Bonacure Collage Volume Boost whipped conditioner as my part of my in-shower hair routine when I need an added dose of oomph. I also use their silver Color Freeze shampoo 3-4x a month for toning down any highlight brassiness.
Other products that have been particularly helpful to replenish moisture after towel drying my hair have been:
If I'm looking for extra glam, volume-filled hair, I can always count on Design Me's Puff Me, which is a miraculous volume boosting powder like no other product out there. There's also a lighter version of the product, but I'm all for getting as much poof as possible!
I've linked to these products from different retailers worldwide below:
---

---
2. Lip Care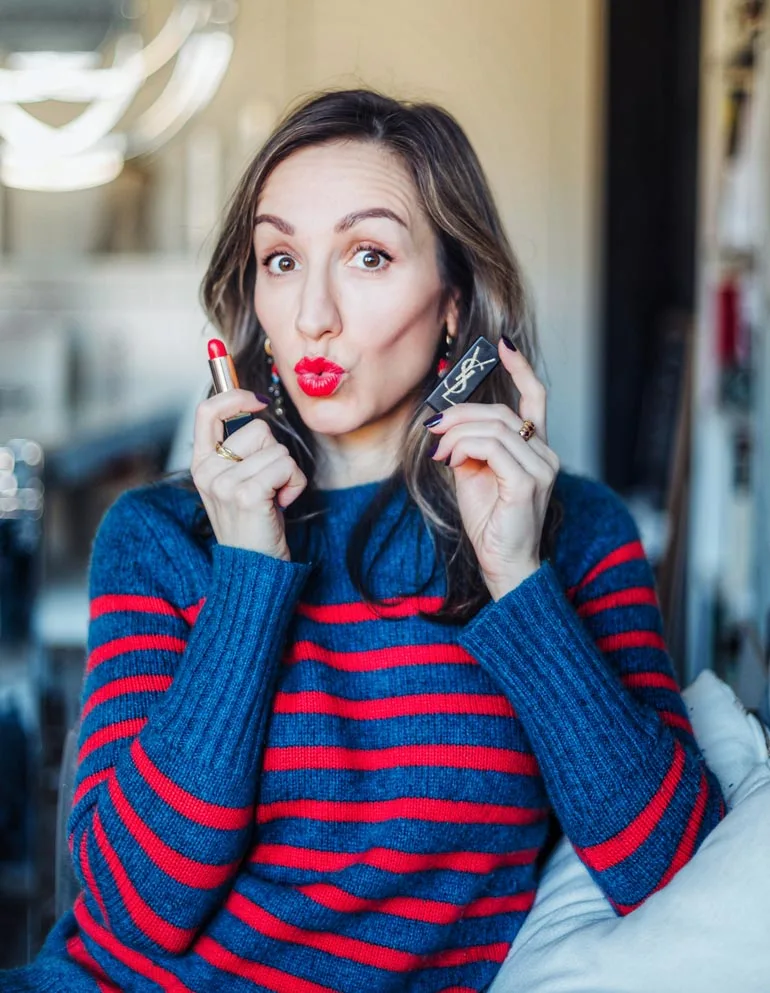 Although I've always used lip balm to keep my lips soft & moisturized, I started noticing some cringe worthy lipstick bleed past my lip line a couple years back. The signs of moisture lack along with upper lip volume loss, propelled me to make some changes.
Attending beauty events such as the Murale by Shoppers Drug Mart previews, in addition to many a purchase from Whole Foods, I was able to test out some new & new-to-me products. Currently this is my lip care ritual:
I scrub my lips with Fresh's Sugar lip polish after brushing my teeth in the morning. It sloughs off dead skin & leaves my lips moisturized. It smells & makes your lips taste delicious!
I apply Veneffect's anti-ageing lip treatment on & around my lips. It both hydrates & prevents lipstick bleed
I have some fave lip balms at the moment: Province Apothecary's repairing + conditioning balm, (sold out in most places, but available at Whole Foods), Miss Envy's organic Chocolate Mint & Bite's agave lip mask. I used whichever one is on hand, throughout the day.
Investing in a great lipstick (& actually wearing it!) has also given a serious boost to my face & general aura. I alternate between vibrant orangey-red (Clarins Jolie Rouge in 701 Orange Fizz is a fave) to a more classic, cool red in YSL's Rouge Pur Couture – 01 Le Rouge.
There's something so extra & exciting about walking around with a bright pout! It also helps make lips look fuller, without the filler (at least for this part of my face, bwahahaha!).
---

---
3. New Eyebrows, AKA Microblading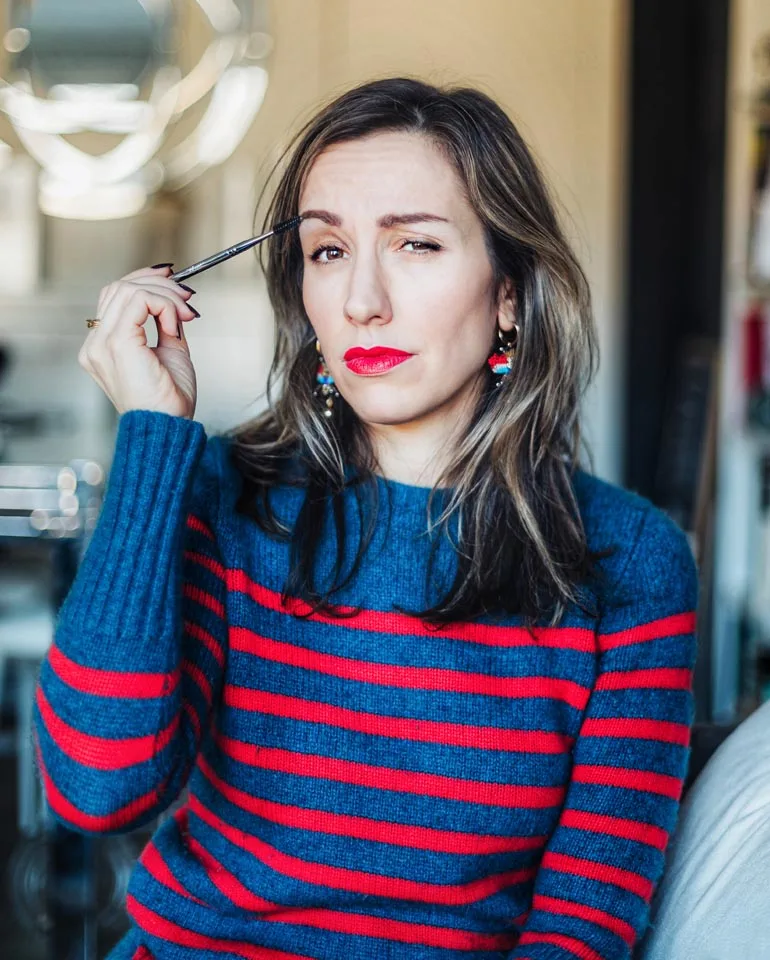 The biggest game changer for my face has by far been getting me some proper eyebrows. Not that I didn't have any before, but I did grow up as a teen in the 90s, where over-plucking to get those Drew Barrymore thin eyebrows were all the rage.
And despite years of aestheticians telling me to "grow them out", so they could even out & fill out, they just never did. So leave it to me to get my first — and likely ever — tattoos…on my face! And let me tell you, I should have done this years ago.
Although they weren't perfectly executed (the tattoo strokes didn't take on certain parts of the brow & they weren't particularly symmetrical) it was a still huge beauty win.
My new brows completely altered my face, making my eyes pop out (in a good way!) and minimizing my huge forehead. And it even made me look younger (a benefit that hadn't even occurred to me).
Yes, it does hurt and yes, it's not the cheapest of cosmetic procedures (I got an intro rate of 450, which included a touch up) but I highly recommend it for women & men like me, who have wonky, not very full eyebrows.
I mean, imagine waking up in the morning & having a full set of non-smudgeable eyebrows with little to no maintenance. Oh, the possibilities, I tell you!
Now, almost a year after getting my brows microbladed, they're starting to fade out. And as you can likely see in these photos, I'm needing a touch up, which I hope to get sooner rather than later.
To even out, fill in & amplify my brows, I use Plume Brow Pomade which also nourishes the brows (Chestnut is my fave shade) & The Brow Gal's 03 tri color palette, both of which I've reviewed here.
---

---
4. Straightening My Teeth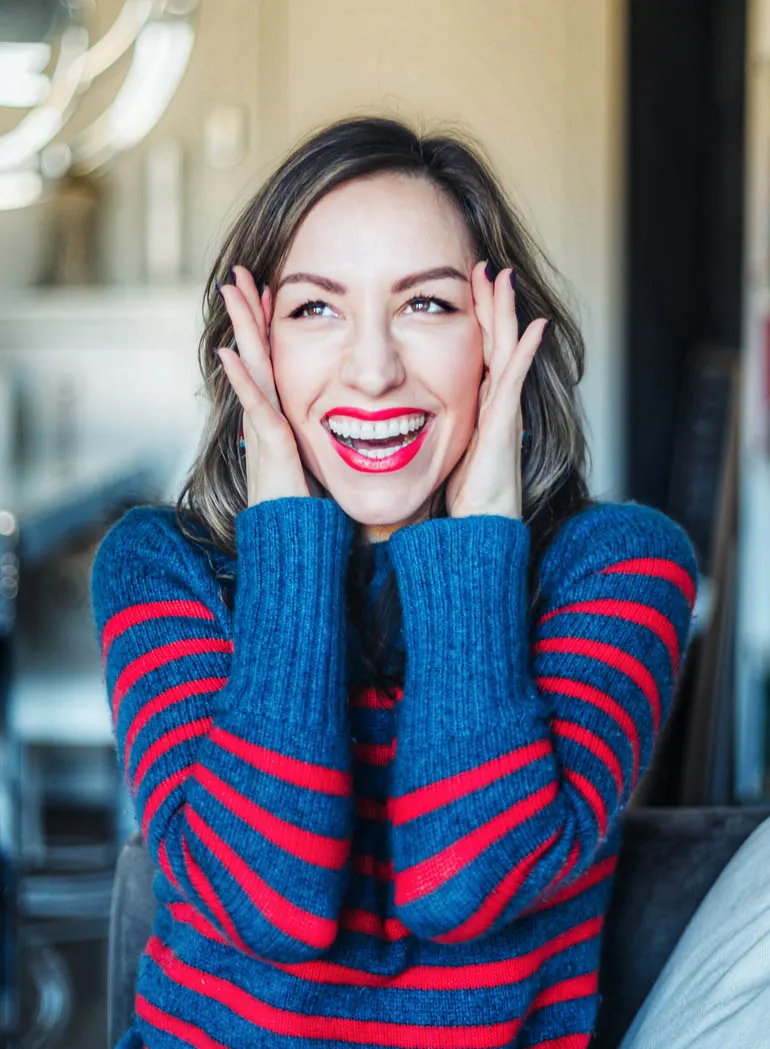 This one was coming for a while, but orthodontics not being covered by insurance, I procrastinated this to the end. And I didn't even do it for the aesthetics.
As I never required braces on my bottom teeth & hence never needed a wire to keep them from moving, they began slowly crowding (common with age – yep, that again!).
So before my two bottom teeth made a complete 180 degree turn, I endured 9 painful months of Invisalign. Although the specifics as to why I didn't love the product will have to wait for another post, it did do the trick.
It both saved me from a potential few years of being in classic bracket braces & really changed my smile for the better. Let's hope those retainers I put in every night keep them in place!
5. Filling out my Face – AKA real reason you came to read this post!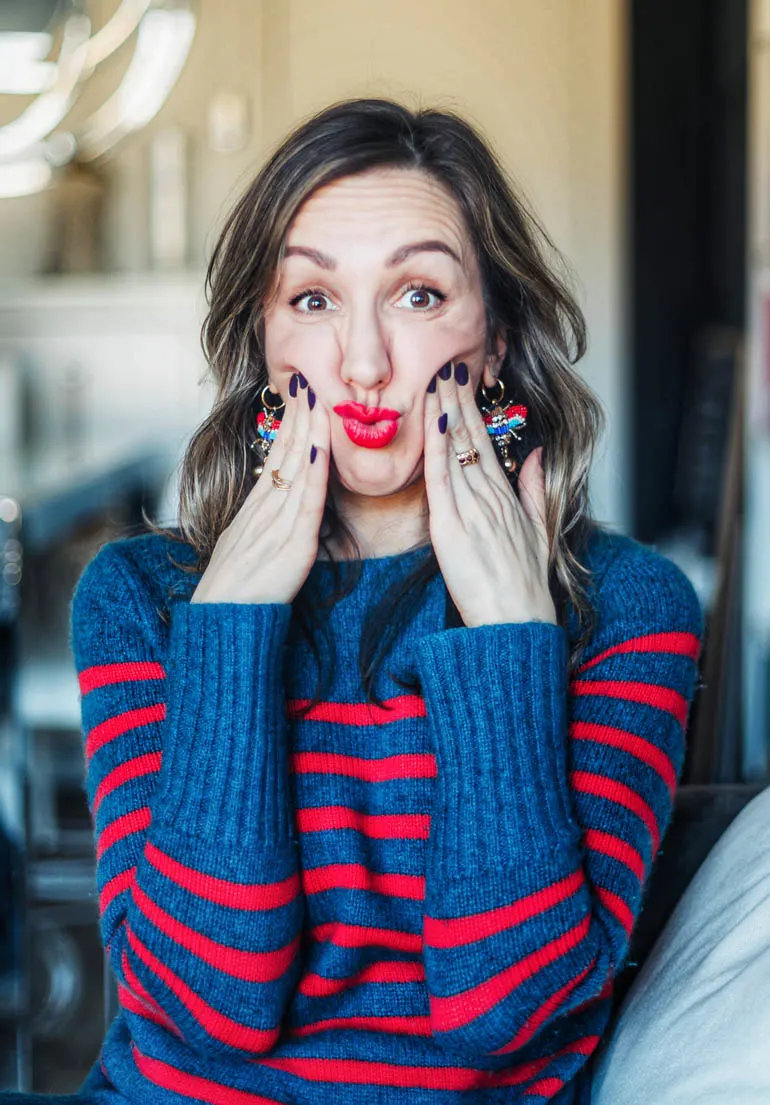 Two things are for sure: "older" — aka over 35 years old — bloggers (unless it's part of their brand) barely talk about their age, nor do they dare mention using Botox or fillers (or getting any sort of plastic surgery for that matter).
It's a little ironic, considering how often they will let readers & peepers in to the most intimate aspects of their life, but not disclose these, uhm, secrets.
But to each their own, as they say. And although I might not disclose my life story, I have absolutely no qualms about openly sharing my first experiences (experiments?) with these type of procedures.
Aside from a mole removal here & there, I had never had any invasive cosmetic procedure. But last summer, I decide to more seriously dabble in a little freeze & fill. Why?
Well, over the past 5 years my face has, in fact, started to "fall". It's referred to as volume loss & having a thin frame & an oval face (and no Eastern European cheekbones to hold it all up!) doesn't work in my favor. And the hollowing around my cheeks was a major player in making me look, well, almost my age, and very very tired (even when I wasn't).
I went to a highly regarded dermatologist in my area for both Botox & fillers. He is known for being conservative in his practice (as in, he flat out refuses to let his clients look like a blowfish). In the end, I just wanted to get back the volume I had lost, not change my appearance.
Filler
I believe he used the Voluma brand as a filler, and it really did lift up my face in a subtle way. He didn't use much product, but it almost completely eliminated my marionette lines aka nasolabial folds (Google it!). This in turn made my face look well rested.
The results, however, weren't as smooth as I would have liked, so I've gone back to get some anomalies adjusted. As of writing this post (and taking these photos) I'd say 3/4 of the volume has since been metabolized.
Botox
I decide I wan't going to walk around frowning (a side effect of thinking apparently), looking angry with the side effect of premature wrinkling. So I gave Botox between my eyebrows a try.
This injectable helped to temporarily incapacitate certain muscles I was using in my Grinch frown, making it more difficult for me to do so, albeit not impossible. As you can tell from these photos, my face is still pliable vs a frozen, unexpressive Kim Kardashian-like face!
And as per the result of my little injection here and there, no one, other than yours truly, was none the wiser. Which was kinda the point.
Both treatments have begun to wear off & while I'd love get maintain my cheek volume back & look less angry while going about my merry way, it's a bit of a budget buster. So I'll have to think twice about whether these procedures are worth the cost.
---
That sums up my top beauty products & best cosmetic choices of 2018. Some you've maybe tried, others, maybe not. I feel that these ones I've listed have made me look & feel my best.
In this day & age, I feel that any honest account of real life needs a disclaimer, so here you have it: yes, we are all beautiful as we are. No one will ever be you & that you is what makes you special.
But if you think about it, from simply putting on a dab of blush, or using that acne cream, or wearing those flattering jeans or slipping into those high heels, doing those squats, we are all in some way or other — unless you're Amish — catering to our appearance. And yes, many of us are trying to maintain our youth, both physically & mentally.
Mentioned earlier, growing older is a privilege & one that I'm thankful for. Young or older, we're all beautiful in our own particular way, but personally, I'm not ready to look the older part quite yet. And I do it for no one else but me.
xo Cristina
Like this post? Come read my comprehensive clean beauty post, below:
https://www.shoe-tease.com/2018/07/04/best-head-to-toe-natural-skincare-products-spring-summer-2018/
Cristina is the chief editor, fashion & shoe expert here at ShoeTease. As a seasoned stylist and women's fashion & shoe designer, she boasts over 20 years of experience in the fashion industry. She loves crafting effortless outfits for ladies both online and off and believes that styling advice should be accessible to everyone. Whether you're a styling pro or just starting out, Cristina's here to guide you on your fashion journey! Learn more.