These nude bow heels would look fabulous with a little summer dress or those blogger-favorite midi skirts. But they're also great shoes to wear with boyfriend jeans.
So for those of us more prone to pant dressing, these pumps easily replace a pair of casual sneakers or flip-flops. Yep, these stylish heels are that comfortable & can easily spruce up a casual denim-clad outfit!
I chose just such outfit, as A) I'm more likely to wear them like this day-to-day and B) my legs are so pale they might actually scare people off the internets. And my shoe blog…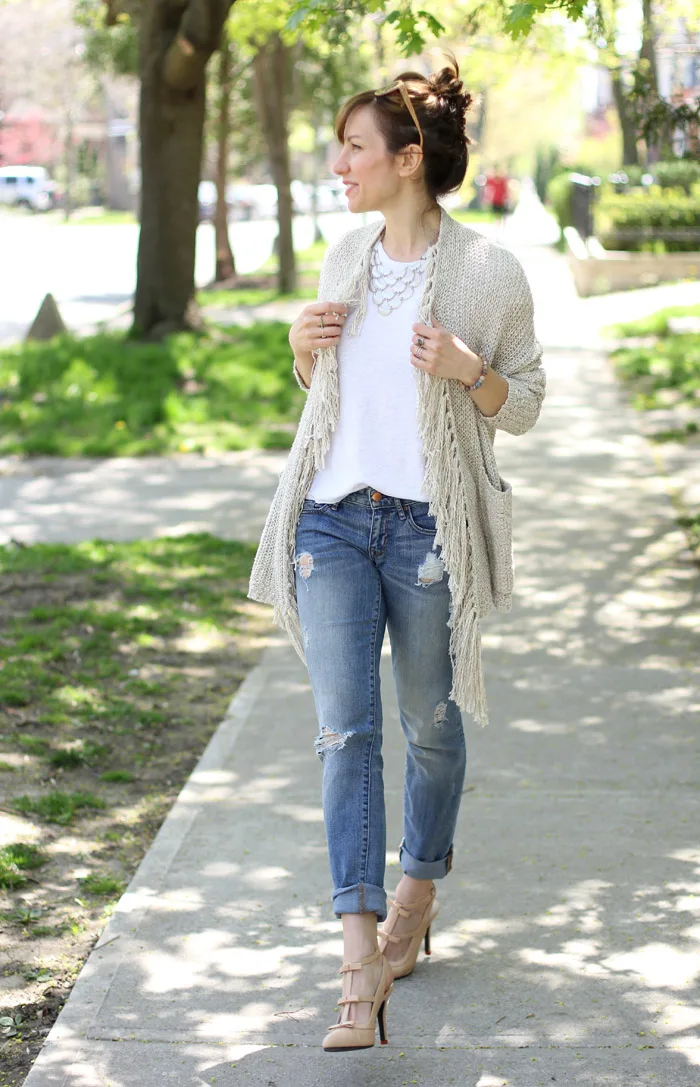 Nude Bow Heels: c/o Ssh-oes. Fringed Cardigan: Denim & Supply (here for US). Necklace: c/o Shop for Jayu. Bracelet: c/o Psihii. Jeans, Tee, Sunglasses: old, but similar styles below.
---
Shop the Look:

---
I was thrilled to receive these Ssh-oes by Mary Arnett beige bow pumps, along with an equally cute pair of tassel sandals from their Spring 2016 collection, which I blogged about recently. Didn't read that post? Tisk-tisk, take a look at my review of these engineered-to-be-quiet shoes, here!
These nude for me pumps are so feminine with their great heel shape and understated triple bows & are easy enough nude heels to wear with pretty much anything. Even with sweatpants, I'm sure. Ok, not totally sure about that one, but I may try it out to see how that pans out (I'll keep you posted!) 😉
I don't own a lot of beige, not even beige shoes (the only others I can think of are my Nine West pumps that have a slightly darker tone), as I have more shades of blush in my shoe closet. I also own little to no beige clothing (I prefer grey), but you wouldn't necessarily think that this so by looking at this outfit.
I fell in love with this Denim & Supply by Ralph Lauren fringed cardigan sweater from Hudson's Bay during their Bay Days a couple weeks back & am in love. Light, mild weather sweaters are hard to come by, especially made of natural, breathable materials (this one is a cotton/linen blend, no synthetics in sight!). Actually, just like the shoes that are made of soft leather, inside & out.
With its lateral pockets & fringe front, it was just too hard for me to resist, so I grabbed it. It was on sale, so it was like some sort of sign from the fashion gods. An effortless throw-over-anything, for those chilly Spring/Summer evenings (or even daytime hours, if you're in Toronto or surrounding areas right now!). And a fun piece to wear with these shoes. As a grey/black/pops of colors dresser, this is a more laid back palette that I may try again soon. It's just so zen. And don't we all need a bit more of that in our lives!?
These pretty nude bow heels have easy 3″ virtually silent stilettos that are easy to walk in. And they also come in black. You can grab both styles & others from the current Ssh-oes collection, here.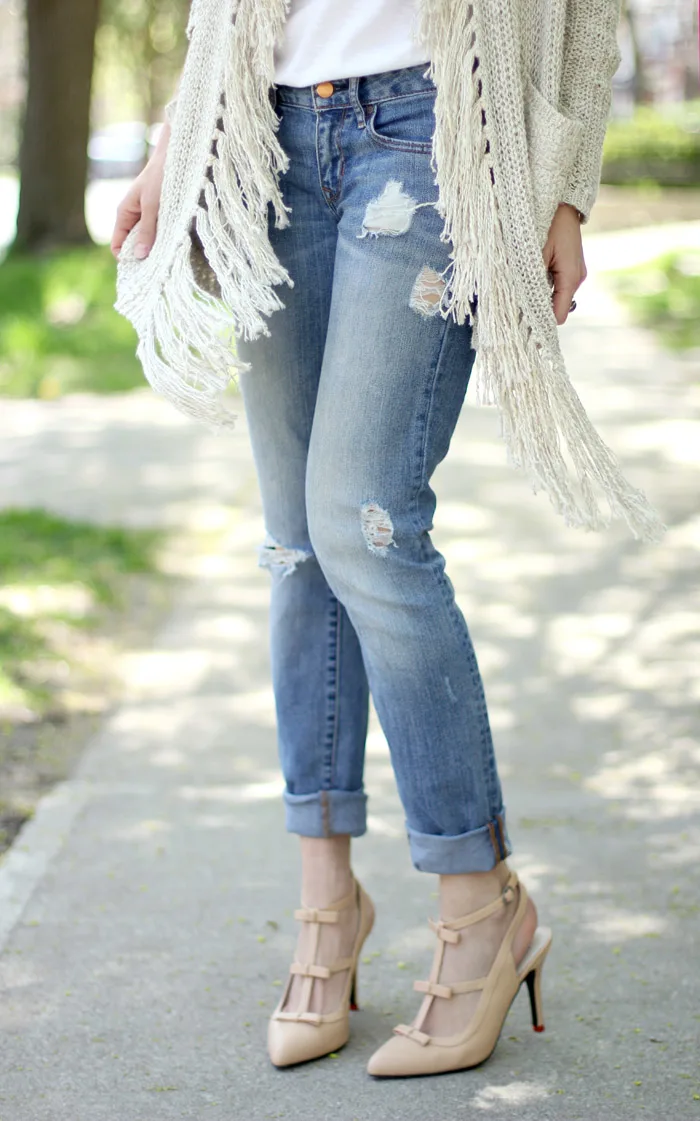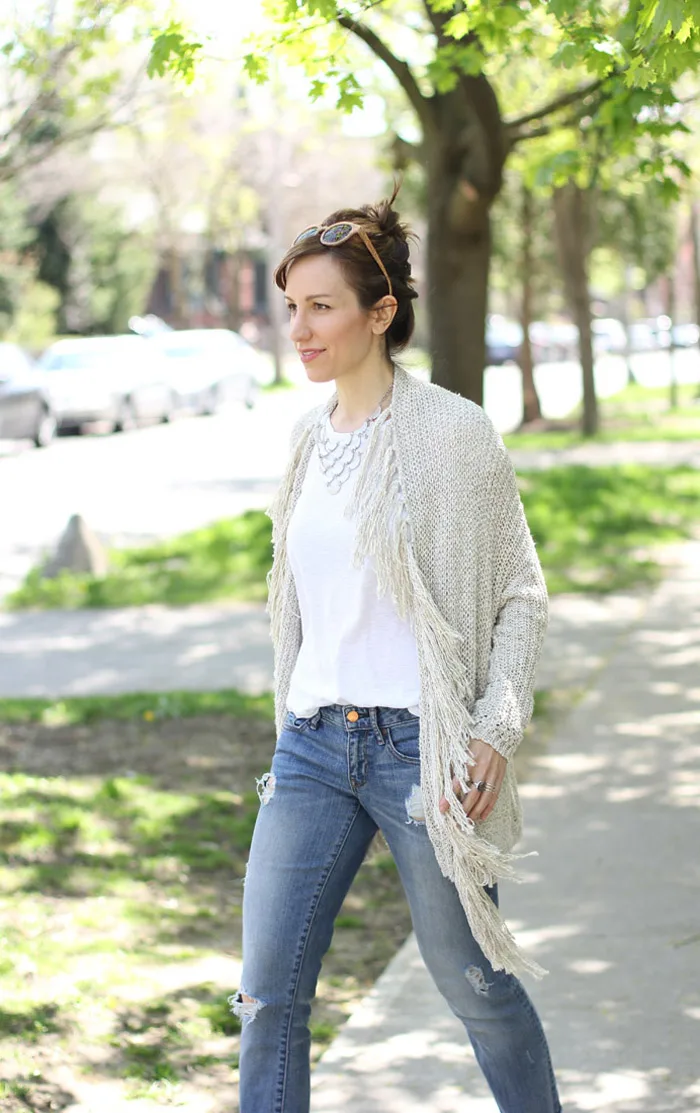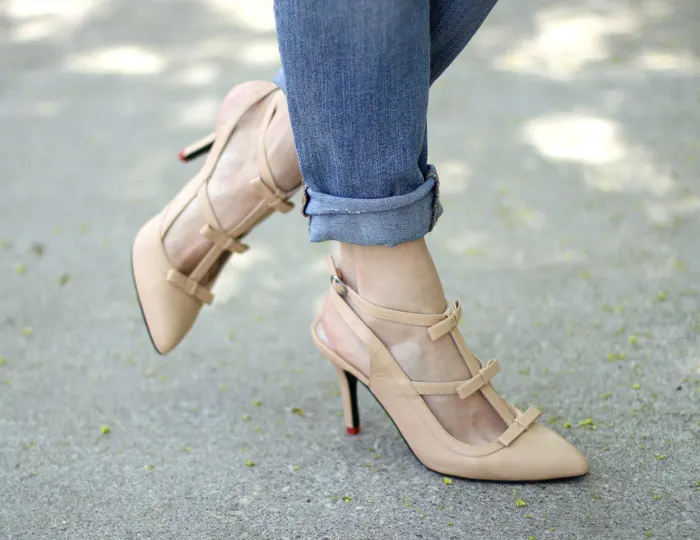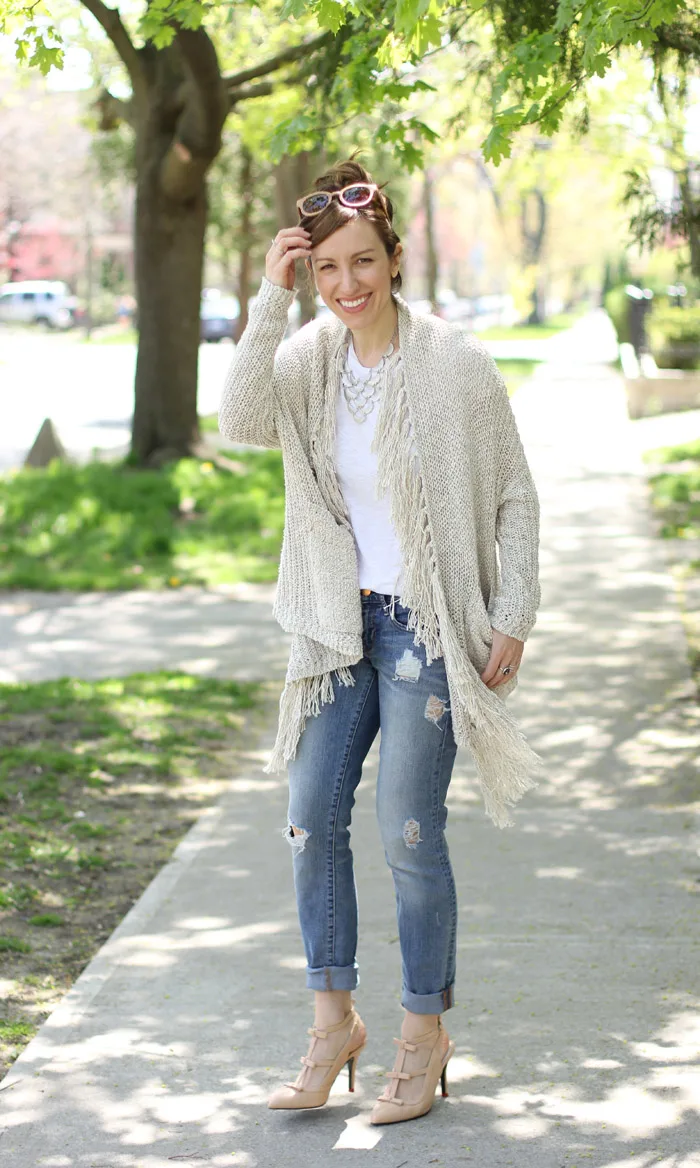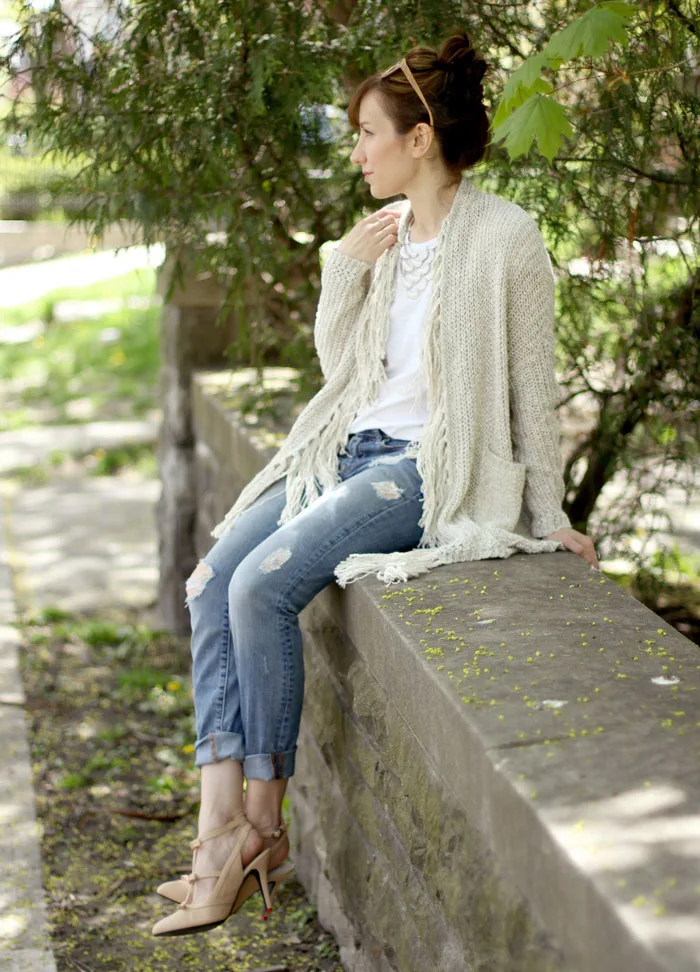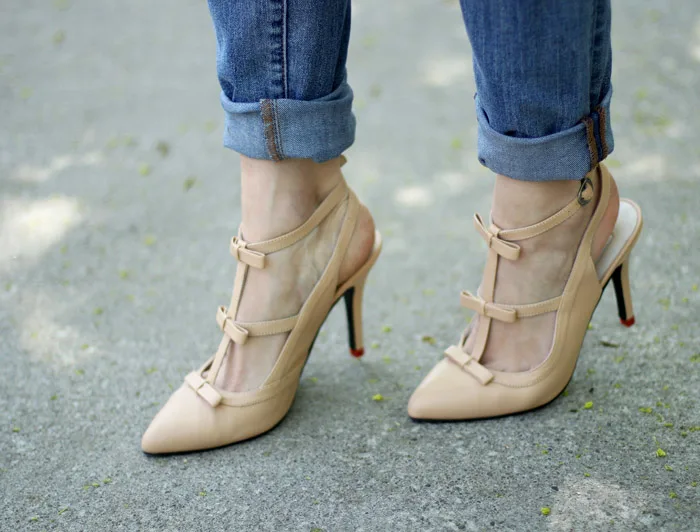 Check out more of my street style looks <- here!
xo Cristina
Cristina is the chief editor, fashion & shoe expert here at ShoeTease. As a seasoned stylist and women's fashion & shoe designer, she boasts over 20 years of experience in the fashion industry. She loves crafting effortless outfits for ladies both online and off and believes that styling advice should be accessible to everyone. Whether you're a styling pro or just starting out, Cristina's here to guide you on your fashion journey! Learn more.