Coachella might be over, but festival fashion fever lives on! Especially when it comes to pom poms. And shoes 😉
Pom Pom Sandals for Spring/Summer 2016
Tassel & pom pom sandals are a huge trend & definite street style hit this Spring/Summer 2016. Even more so than last year. And we all remember these Dolce&Gabbana pom pom boots, don't we? 😉
And with so many designers jumping on the this shoe trend bandwagon, there's a high-heeled, flat, strappy, gladiator designer & budget friendly version for everyone!
If you thought pom poms were a "wintery" accessory, think again! With so many mini to medium pom poms appearing on so many sandals & in various materials (raffia is a primary Spring-y choice!), the furry cold weather myth has been debunked.
Oh and the colors!! They're bright bright BRIGHT, like the rainbow heels shoe trend (that they can very well be considered part of)! Well, with respect to shoes, anyhow 😉 In addition, gladiator sandals are made fun again with cute little poms & trinkets!
Here are the best pom pom sandals available from Spring Summer 2016, divided by designer. Looking for styles under $150? We've got those for you too, as ASOS & other retailers are carrying near replicas of the originals. Just scroll down!
Dolce & Gabbana Pom Pom Sandals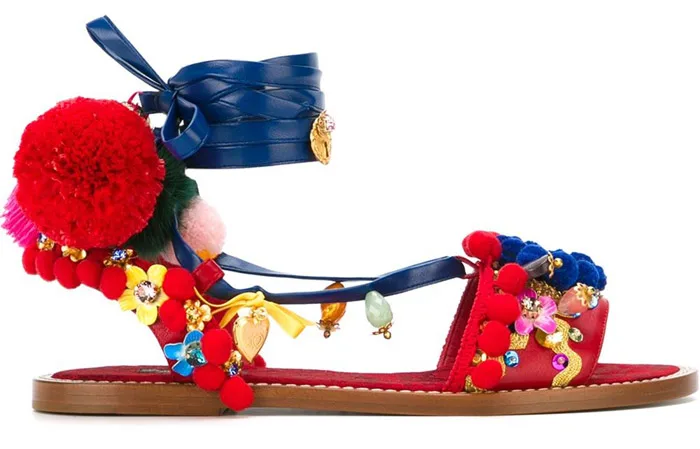 Dolce&Gabbana got themselves into another PR mess about their now infamously named "slave" sandals, pictured above. But the controversy didn't prevent them from s-selling! Then again, they did change the name 😉 Aside from that whole debacle, this designer brand offers some high octave pom pom love for your feet this summer, in many shapes & colors!
Shop the Sandals:

Mabu by Maria BK Pom Pom Gladiators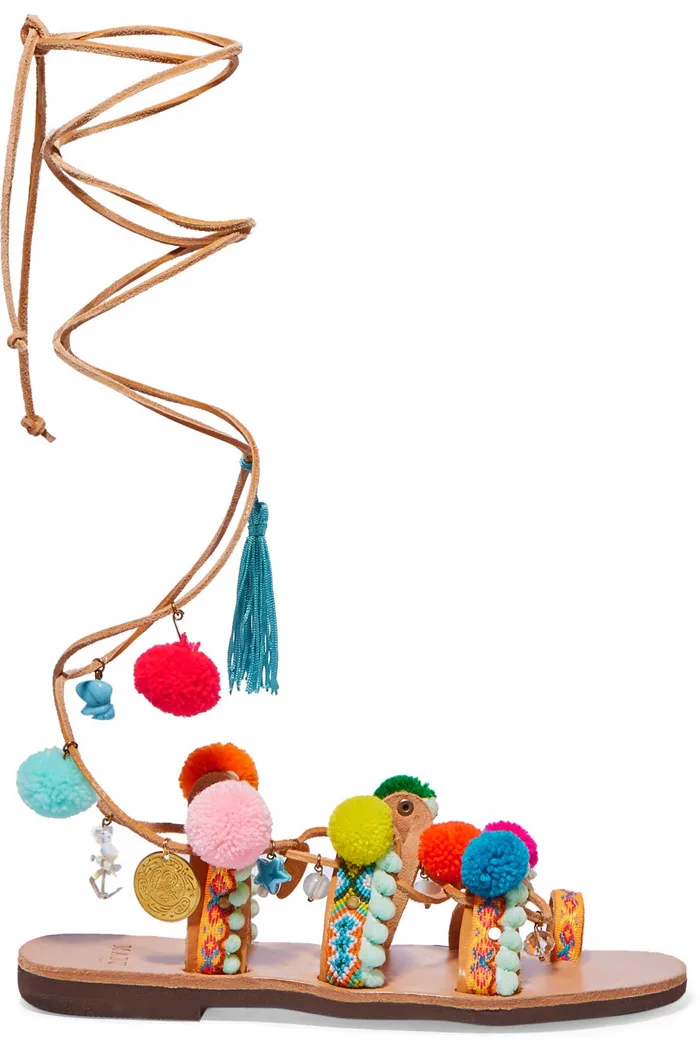 The sandal designer that started it all with her pom pom gladiator sandals is Mabu by Maria BK. With her colorful whimsy & laid back sophisticated flats, these pretties are hard to beat if you're looking for lace ups & gladiators with little ball, pom pom & tassel action!
Shop the Sandals:

Aquazzurra Pom Pom Sandals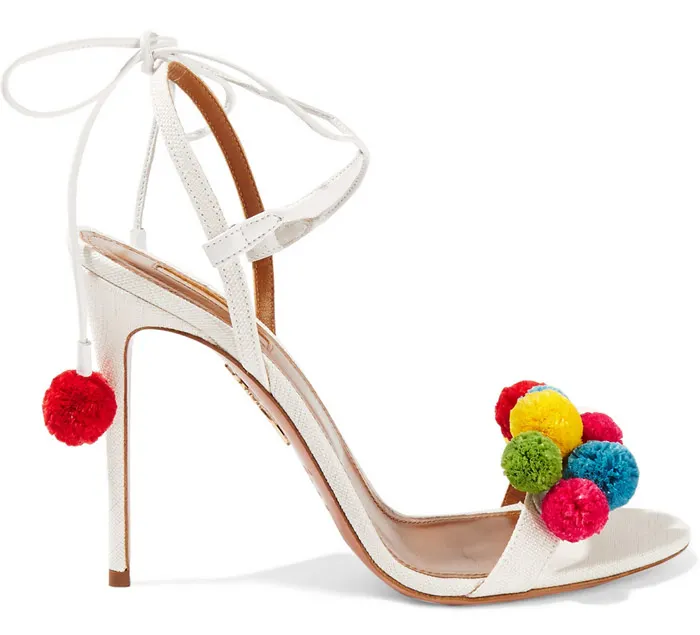 Loving, no, adoring what Aquazzurra is up to with their sandals this season. Last year might have been all about fringe, but this is the definitive year of the pom pom! In so many sexy heel heights, simple flats & block heels, you'll find a ton of little pom poms on each of their shoes!
Shop the Sandals:

Alameda Turquesa Pom Pom Wedges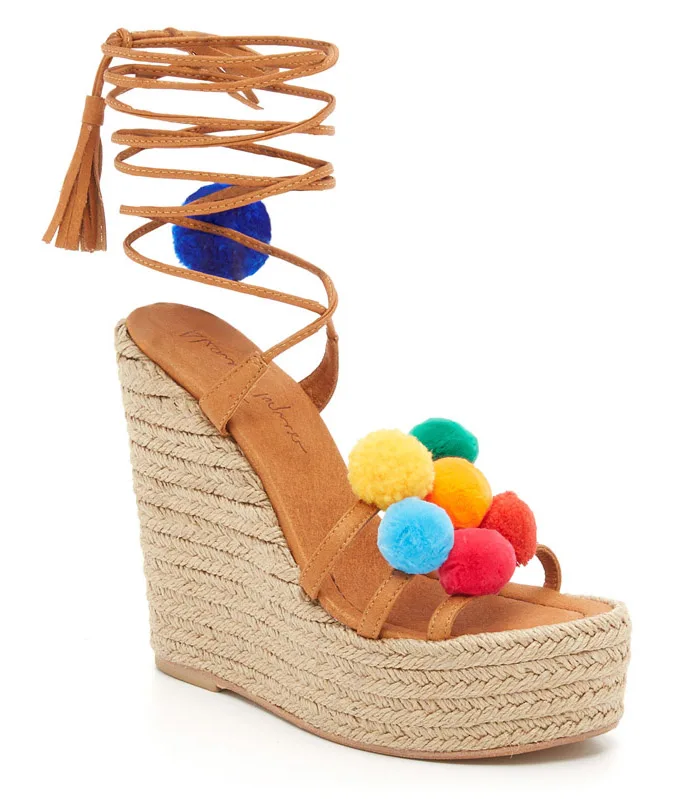 Equally delicious are these towering wedges & many other styles offered by designer Alameda Turquesa. I'm a huge fan of the espadrille meets gladiator platforms above. Need less height? Turquesa's got you covered!
Shop the Sandals:

Elina Lindardaki Pom Pom Lace-Up Sandals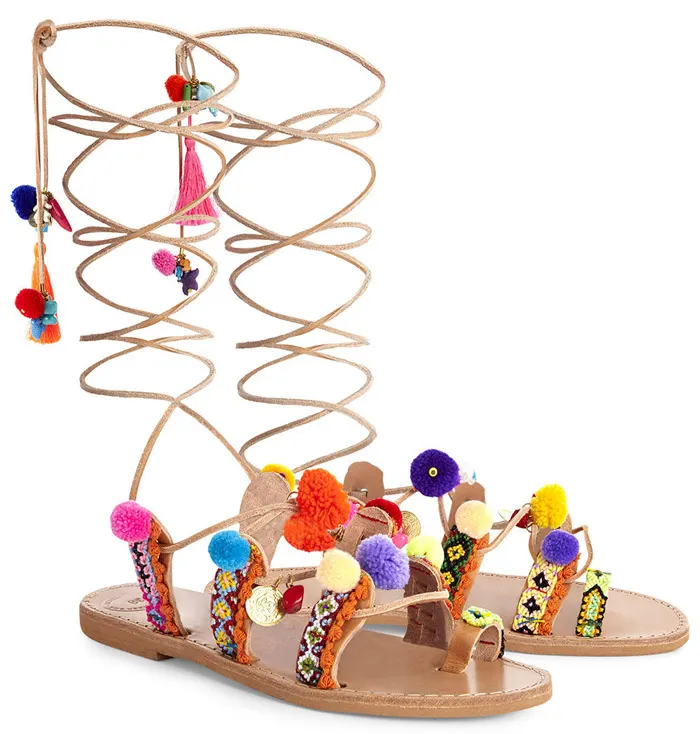 Suspiciously similar looking to Mabu by Maria BK's pom pom gladiators (especially the "Penny Lane"), Elina Linardaki styles are just as gorgeous & ornate. And she's Greek, so she's got the gladiator credentials! And just a fraction more expensive (by $25 or so). These are the ones that garnered a ton of exposure on Pinterest! See her full pom pom sandal collection, below:
Shop the Sandals:

Sophia Webster Pom Pom Heels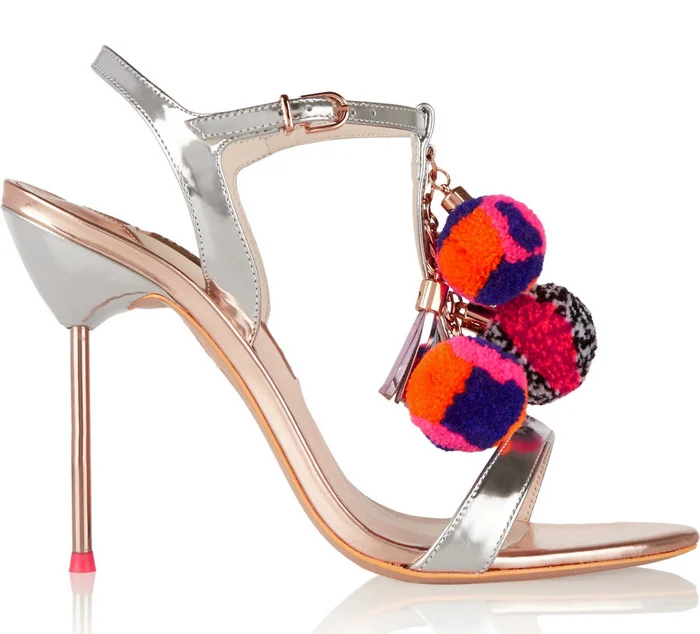 Princess of whimsy Sophia Webster has incorporated pom poms into her sandals before 2016, but she's continued to include them on her sexy, strappy & quirky as ever sandals for Spring 2016. However, you can find a few of her pom pom shoe styles from the previous season on crazy sale right now. See them all below:
Shop the Sandals:

Malone Souliers
Ok, so this designer might just have a couple pom pom sandals left to purchase from its Spring Summer collection, but the pom poms are TO DIE FOR!! Made of stringy leather, these tri-pom heels are a sight to be seen. Especially if you're the one wearing them. A statement these will surely make!
Shop the two colors:

ASOS & Budget-Friendly Styles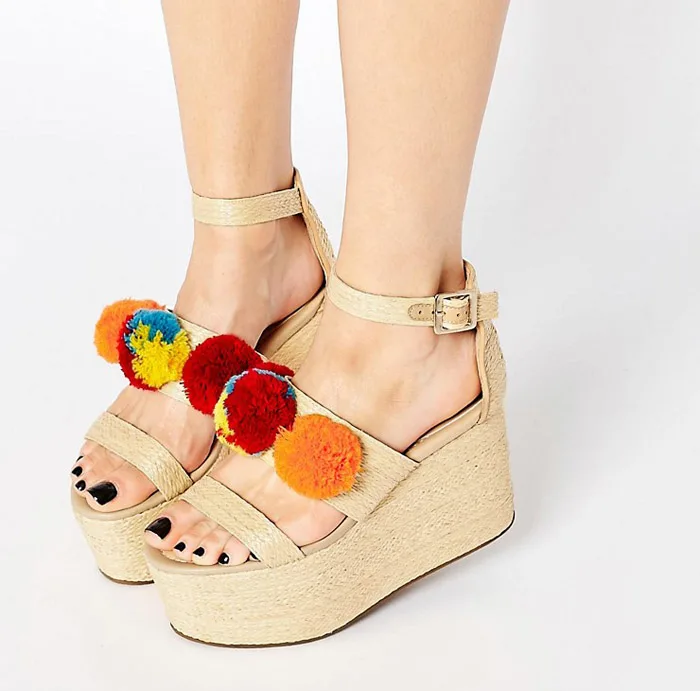 If you're more inclined to shop on the lower end of the price-point spectre for out-there shoe trends (and I don't blame you!), such as these brightly colored pom pom sandals, you're in luck! ASOS & other reasonably priced brands offer some amazing styles right now.
My fave? You guessed it, the pom pom wedge sandals featured above! Stylish & looking very much like its designer counterparts. ASOS brand nails it again with these amazing shoes. Check out these & other contenders:
Shop the Sandals:

xo Cristina
Cristina is the chief editor, fashion & shoe expert here at ShoeTease. As a seasoned stylist and women's fashion & shoe designer, she boasts over 20 years of experience in the fashion industry. She loves crafting effortless outfits for ladies both online and off and believes that styling advice should be accessible to everyone. Whether you're a styling pro or just starting out, Cristina's here to guide you on your fashion journey! Learn more.