Leopard print shoes (specifically in the form of high heels) have been an ongoing obsession of mine for the past 4 years.
Yep, that's a long friggin' time, people! It's like no matter how many animal print shoes I own, I just want more (leopard print ones specifically and even more so for Fall! Which makes sense, given that they are one of the major shoe trends this season.).
And designers & brands are not stupid; they're perfectly cognizant of the power that leopard print anything clothing related, really, have on the psyche of women. So what do they do?
Shoes: c/o InStyle for Nine West
They keep proposing the fun versatile print in different styles of high heels, boots, sneakers & sandals, not to mention the various colours/patterns of the leopard print itself.
So different have these patterns become that I'm sure that in some cases, zoologists would likely no longer consider them to be a "leopard" print, but possibly a "cheetah", "random cat" or even an "alien" form of design. But then again, I'm no scientist!
Technicalities aside, the print that keeps on giving, becomes the print that keeps on selling and myself: the leopard print shoe & fashion victim that keeps on buying. Which never ends, really as the Nine West 2015 collection has some amazing animal print styles unusual colors.
Related Post: What to Wear with Leopard Print Shoes
Unless you've been living under a rock, leopard print is now commonly considered a neutral. Nothing highlights this fact more than its ability to mesh with even the brightest of colors. Remember when we used to pair crayola brights with slack/brown shoes & handbags for aesthetic safety reasons?
We've thankfully come a long way past those boring days of dress! One could even argue that the print of all mothers, the mother of all prints Ms. Leopard, has in fact taken the place of these "safe" shades. And just as well, as it makes dressing so much more fun and whimsical!
Leopard shoes are, of course, the most exciting of the animal printed fashion items. Nope, I have no points to back that statement up: that's just my extraordinarily shoe-biased opinion! Anyhoo, if you're up to pairing some various colors with your leopard print shoes this fall, my suggestions are below: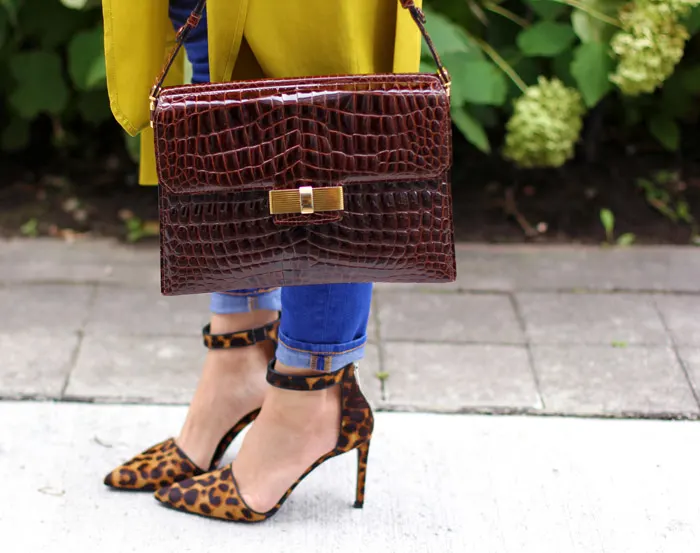 How to Wear Leopard Print Shoes with Bright Colors this Fall:
Do pair bright colored bottoms (best are red, green, blue) with the classic brown/orange based leopard print. The brighter the better!
That being said, do avoid browns & burgundy: they'll wash out the pretty print right off your feet
Do mix with ankle-length pants & midi skirts in cool-toned pastels such as lavender & baby blue
That also being said, avoid mellow yellow, baby pinks & peach tones. They won't do the leopard print as much justice as it deserves!
If you're uneasy with mixing leopard print + more than 1 color together, opt for bright blue/cobalt skinny jeans like I did and keep all other clothing neutral
With many colours + leopard print shoes, it's best to keep larger purses to 1 solid shade & opt for chocolate browns to almost-blacks
Confused? Bewildered? Do ask me questions in the comment section, below & I'll try to help as best I can!
What's your favorite color to wear with leopard print shoes?
Photography by Leonard Chen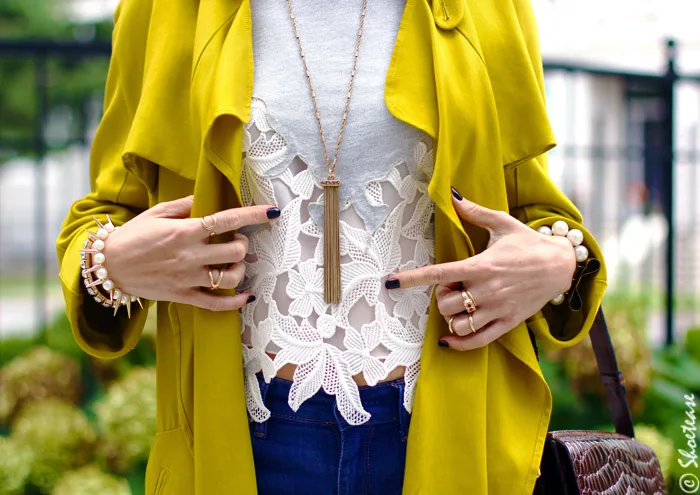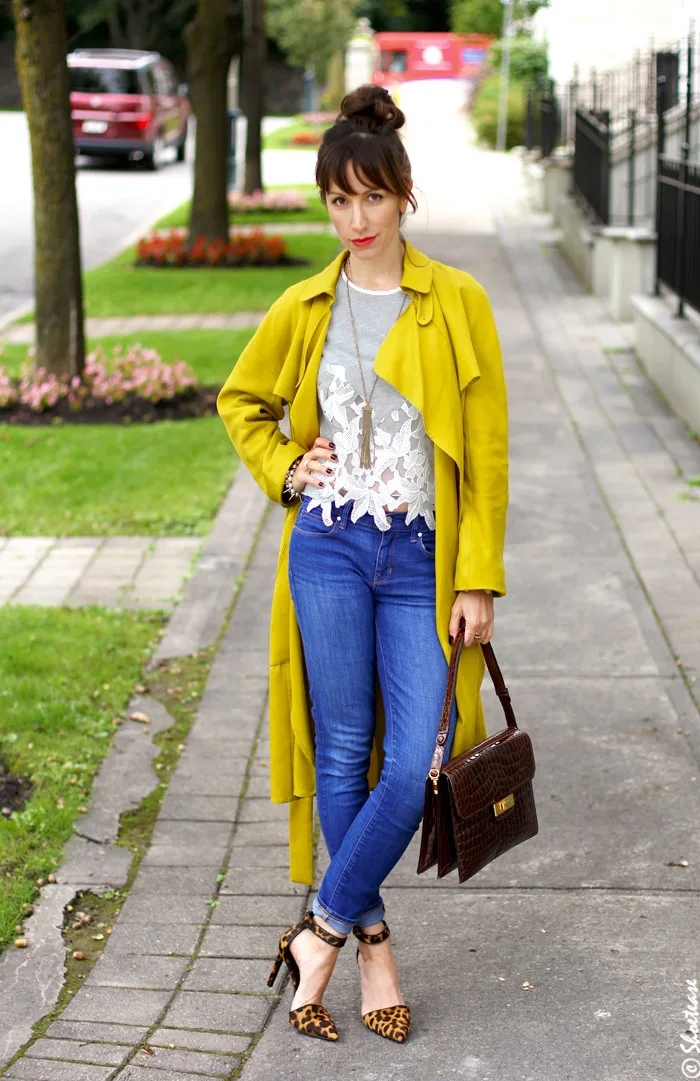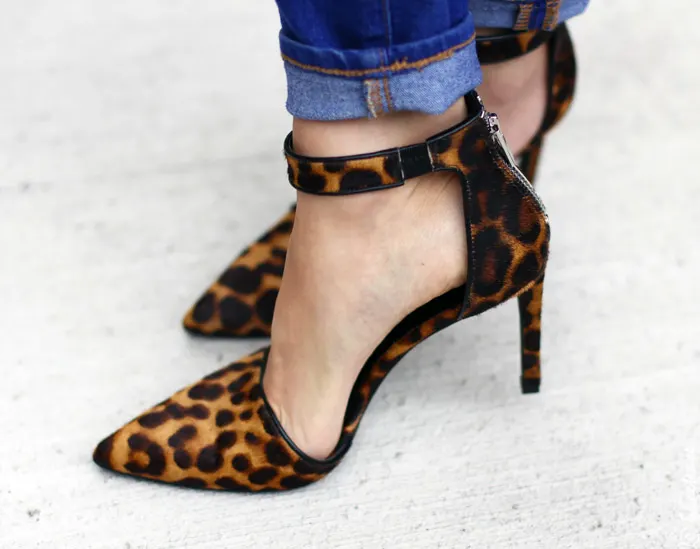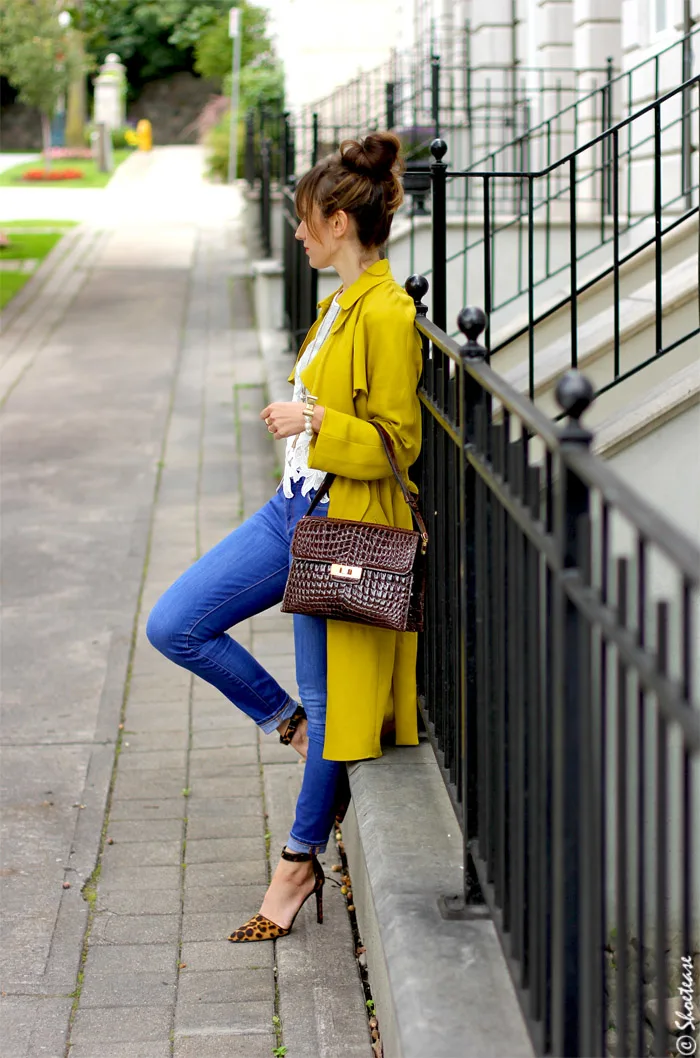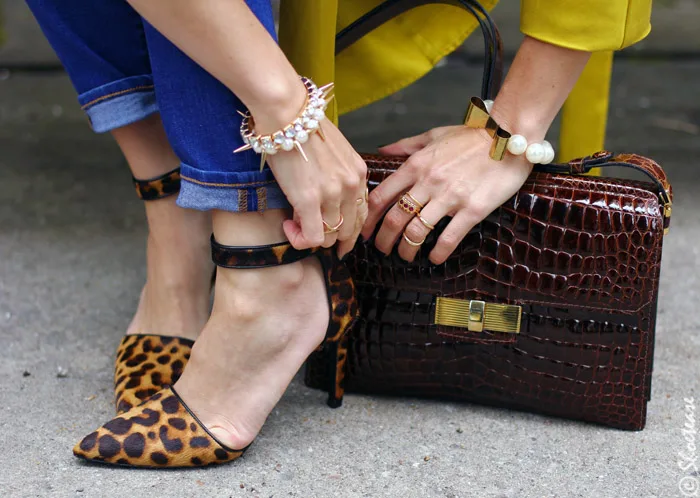 Check out the fab new leopard print shoes (among other amazing shoes!) from the Nine West Fall 2015 shoe collection!
xo ShoeTease
Cristina is the chief editor, fashion & shoe expert here at ShoeTease. As a seasoned stylist and women's fashion & shoe designer, she boasts over 20 years of experience in the fashion industry. She loves crafting effortless outfits for ladies both online and off and believes that styling advice should be accessible to everyone. Whether you're a styling pro or just starting out, Cristina's here to guide you on your fashion journey! Learn more.